Branding Irony: OC High School Students Rebel Against Confederate Mascot
Co-published by The Daily Beast

Will an Orange County high school drive Old Dixie down and replace its Confederate-soldier mascot of 50 years?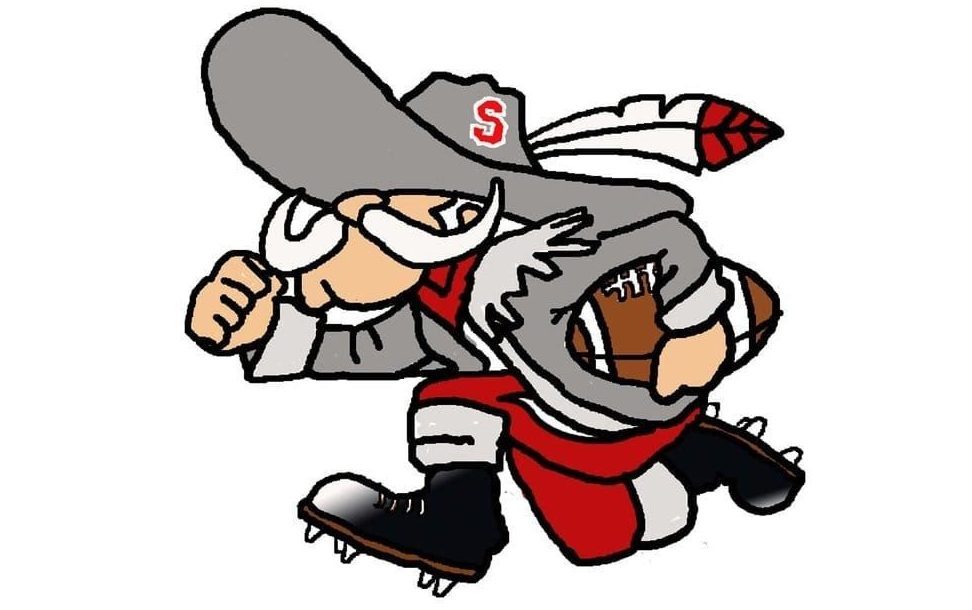 Whistling Dixie: Savanna High School's football-team version of its mascot.
An Orange County icon
of white supremacy
is being challenged.
---
Co-published by The Daily Beast

Savanna High School has a Confederate soldier for a mascot, and defenders of  "Johnny Rebel" — chosen by the student body back during the civil rights movement — argue that the branding is part of their heritage. However, Savanna High School is not in the Deep South, where one might expect such a controversy, but in Southern California's Orange County, a few miles from Disneyland.
Lay-Onna Clark, 15, didn't give it much thought until she and some friends formed a black student union last August, the start of her junior year. It was when they started designing T-shirts that it really hit them: "The mascot supports white supremacy — that one race is superior to another," she said in an interview. Indeed, it literally represents one race fighting to enslave another.
According to a flier handed out by anti-mascot activists at a Thursday, November 2 meeting of the Anaheim Union High School District Board of Trustees, the predominantly white students in the class of 1967 who chose to be represented by Johnny Rebel — a term for a Confederate soldier, and the stage name of a prominent white supremacist musician — did so to send "a clear message that people of color were not welcome at Savanna High School or in Anaheim."
Savanna H.S. Alumnus:
"1999 is when the Confederate flag became a problem. I was in the basketball program… and we hosted Compton High School."
A lot has changed in 50 years. Whites now make up less than 10 percent of the student body at Savanna and, as of the 2010 Census, are but a slim majority in Anaheim. But a lot of things haven't changed, too. The election of President Donald Trump, and subsequent displays of explicit white supremacy in the streets of cities like Charlottesville, Virginia (and a 2016 Ku Klux Klan rally in Anaheim), have served as a reminder of that, driving home what "heritage" means with respect to the Confederacy.
Clark said realizing the meaning of Johnny Rebel — depicted on a large quilt hung behind the board of trustees as a soldier clad in gray, charging with rifle in hand — led her and three friends to campaign for its removal. They approached the school board last fall with their concerns, and the board has responded by initiating a process that seems likely to see Savanna's mascot at the very least rebranded.
On October 25 the Orange County Register reported that 56 percent of students had voted to "rebrand" Johnny Rebel, with another 18 percent expressing support for doing away with the mascot altogether; 26 percent sided with the status quo. The vote came eight years after the school tore down an old, dilapidated statue of the Confederate mascot, the paper noted.
The non-binding vote came after a student-led forum on the issue, and after the school devoted a week to raising "awareness and understanding" of the mascot's place in history.
"I believe this could be a teachable moment for the entire country," Superintendent Michael Matsuda said ahead of Thursday's meeting.
Gabriel San Román graduated from Savanna in 2000. A staff writer for OC Weekly, he's written about how, when he was there, the school still featured the battle flag of the pro-slavery South at its pep rallies. In an interview, he recalled how the school's "rebel" theme used to be even more explicitly tied to white supremacy, and how that required changing.
"Nineteen ninety-nine is when the Confederate flag became a problem. I was in the basketball program… and we hosted Compton High School." With many black students expected to attend the game, the schools' respective principals decided something should probably be done about the large symbol of white supremacy in the gymnasium. "So what they had the cheerleaders do is make a bunch of signs, and those signs were awkwardly placed… to cover the shame of the Confederate flag during that game."
After that, the school began quietly phasing out the Confederacy.
"I think it's happening now because Anaheim has changed, demographically, and with that so has the political makeup of the school board," San Román said of the latest controversy. As the city has become less white, it's become more liberal.
A Johnny Rebel supporter warned of a slippery slope where we "remove all the things in the history books that offend people."
But change should be not overstated. Since she began campaigning against her school's mascot, Clark said she's discovered that white supremacy still lurks in the halls.
Social media — "Snapchat and Instagram" — is where the abuse is most brazen. "They were calling us niggers and all kinds of stuff, saying they were going to jump me after school," she said. She no longer takes the bus home from school; instead, she waits in the principal's office for her mother to pick her up.
But "it's not about feeling safe," Clark said. "I think the mascot is more about people feeling comfortable being themselves." She's not sure what should replace it — "maybe a bird?" — but she wants one "that will make everybody feel equal. Not just for the African-American community, also for the Latino community, the Korean community, Pacific-Islanders. The majority of people in this district. It's not just African-American and white. It's not that type of battle."
Yet it's not a battle without resistance. At the November 2 board meeting, several people, including one man from out of town who said he read about the debate in a local paper, spoke in favor of keeping Johnny Rebel.
And Jeanne Tenno, of the class of 1976, said she is "proud to be a Savanna Rebel," and warned of a slippery slope where we "remove all the things in the history books that offend people — the bad history."
"Let's correct the historical record," she continued. "Give back the American Indians their land; the land that belonged to Mexico; the kingdom of Hawaii. And let's return the land that was stolen from the interned Japanese. Because that's what this is becoming."
A decision on whether to head down that road could come as soon as today, November 6, when the Savanna school board will host a special forum with students at the high school.
---
Update: Anaheim's school district voted Nov. 6 to rebrand Savanna High School's mascot — shedding the Confederate image and name of Johnny Rebel, but retaining the school's  "rebel" identity.
'How Long Will the L.A. Teachers Strike Last?' May Be the Wrong Question
Important byproducts of the walkout include robust dialogues about charter schools and on how much we are willing to invest in public education.
In 1973, Philadelphia teachers went on strike for nearly two months. Cleveland teachers walked off the job in 2002 and didn't come back for 62 days. Last year, teacher strikes in West Virginia and Oklahoma lasted 10 and nine days, respectively.
Nevertheless, just three days after teachers hit the picket line in Los Angeles, the media started to frame the strike in dire terms. One headline in a prominent news outlet asked, "Are the kids all right? LA teachers strike drags into third day with no end in sight," while another asserted, "L.A. teachers bask in support for strike, but pressure grows to settle amid financial losses."
It goes without saying that no one wants a protracted teachers strike; earlier today both sides agreed to return to the negotiating table, with L.A. Mayor Eric Garcetti serving as mediator. All things being equal, kids are better off in school, as are teachers.
But strikes usually happen because all things are not equal. Indeed, the goal of a strike is almost invariably to even the playing field.
Sometimes this happens quickly. Fifty years ago, Chicago teachers staged a two-day walkout that led to pay increases and greater job protections. A year earlier, in San Francisco, a one-day strike resulted in raises and smaller class sizes. But as the teacher strikes in Philadelphia and Cleveland illustrate, quick resolutions are not always possible if progress on the underlying problems is to be achieved.
Part of why some in the media are anxiously wondering when a settlement will occur is the relative scarcity of strikes in modern American society, particularly open-ended work stoppages that affect a much larger number of people than the employees in question. This was a major factor in the reaction to last year's teacher strikes – we are simply not accustomed to seeing labor strife, and having it impact our day-to-day lives.
The unusual nature of a citywide teachers strike in Los Angeles is underscored by the now well-reported fact that the last teacher walkout here was 30 years ago. That means an entire generation has never witnessed picket lines massed in front of a public institution they rely on. Janitors and hotel workers have staged high-profile strikes, but for most of us the direct connection of these actions to our daily routine is minimal.
Conventional wisdom is that the L.A. teachers strike will not last more than a couple of weeks. But the problems at the heart of the strike have been building for 40 years, and may not lend themselves to a quick fix – especially given the stark divide that has arisen between the two sides.
The strike has its roots in the radical defunding of public schools in California, triggered by the 1978 passage of Proposition 13. Layered on top of this is the two-decade-old battle between charter school advocates and defenders of traditional public schools, which has intensified in the past several years.
One silver lining of the L.A. teachers strike is a long-overdue civic conversation about charter schools. This is critical, because a thriving public school system and an inexorably growing charter school movement may not be compatible. Another important byproduct of the strike is a robust dialogue on how much we are willing to invest in public education. Critics of LAUSD have long focused on low test scores and graduation rates, but have seldom been willing to address the fundamental issue of how limited financial resources affect student outcomes.
As the union and the district resume talks, the questions of charter school growth and reinvestment in public schools loom large. If the two sides punt on these in order to achieve a quick settlement, we may see a replay of teacher walkouts in the not-too-distant future. The long-term interests of students, parents and teachers may be better served if the overwhelming public support for teachers forces the district to change course. That could mean looking for new revenue sources, slowing the growth of charter schools that siphon money or Superintendent Austin Beutner pulling back from the expected breakup of the district.
Whether a one-week walkout can produce such a sea change is unclear. For now, the most important question is not how long the strike will last, but how it can achieve the greatest good.
---
Copyright Capital & Main