Recently, we noted that our friends at American Rights at Work called for a boycott of Amazon.com.  As friend-of-this-blog and renaissance-man-about-town Joshua Joy Kamensky notes, however, we need to be more careful with the B-word.
Boycotts are ubiquitous.  Progressives boycott Wal-Mart because of its anti-worker practices and its impact on local economies.  Conservatives boycott stores that say "Happy Holidays" instead of "Merry Christmas."  Los Angeles boycotts (kinda sorta) the state of Arizona over the anti-immigrant SB1070.  Animal rights activists boycott Nestea for animal testing.  Anti-Islamists boycott halal turkeys.  Every time some politician says something idiotic or offensive, people dig up the donor list to that politician, and boycott the corporate sponsors.
But sometimes things get confusing.  Are we boycotting Home Depot to get it to stop using old-growth redwoods, or because it's promoting the homosexual agenda?  Are we boycotting Disney because it treats its workers like crap, or because it's promoting the homosexual agenda?  And what about when a boycott works, such as the campaign launched against Glenn Beck's advertisers?  Geico pulled out as an advertiser—only to then be hit with a boycott by Beck's minions.  I can't tell if it still exists, but back in the day, housemates and I used to subscribe to – and this is really true – Boycott Quarterly Magazine.  How else were we gonna keep it all straight?
Part of the problem here is that (as I've previously alluded to), increasingly we think of ourselves primarily as consumers, and we think of our power primarily as consumer-based.  This alone is a pretty monstrous victory for the right.  The more we think of ourselves as citizens, the more we're likely to be active in the arena of public policy rather than individual consumer choice.  But that's a huge project, and my goal here is more modest: a few humble suggestions for how to approach the question of boycotts.
First, be clear whether you are engaging in concerted activity or simply expressing your displeasure.  For instance, I don't eat meat.  But I don't delude myself that my actions are changing anything.  I just know that I could not live with myself if I participated in what I consider to be morally offensive.  This isn't a boycott; it's a choice.
Second, understand if the boycott is legitimate.  Many pages could be filled on this topic, but this primarily comes down to two questions: Is there a specific demand, and is the organizing entity legitimate?  A boycott called by Greenpeace, or Human Rights Campaign, or a nationally-recognized labor union is simply more credible than a boycott called by someone you're Facebook friends with.  Remember how all of those "don't buy gas today" boycotts brought the oil companies to their knees?  Me neither.
Third and most important, once it's a legitimate boycott, stick with it—even when it's hard or annoying.  When we boycott, we're saying that we feel so strongly about an issue that we're going to give something up; we undercut that message when we limit our boycott to when it's convenient.  If I could boycott Taco Bell for four long years (I said I was a vegetarian; I didn't say I was healthy), then you can stick with your boycott.
The reason this matters is because boycotts are a special kind of call-to-arms.  Different progressives work on different campaigns.  You're on workers' rights; he's on climate change; she's on LGBT rights; and on and on.  Excellent: let a million flowers bloom!
But the minute that a legitimate source calls for a boycott (and we can, of course, disagree on what is or isn't legitimate), the ability to pick and choose is over.  The line has been drawn, and all of us need to be on the right side of it.
Take the recently-ended boycott of the Huffington Post.  As far as I can tell, this was a silly boycott.  It was not well-staffed, it was not well-resourced and it was not well-articulated.  But it had a clear goal, and was called by two legitimate unions (UAW and CWA).  Still, many progressives felt like they didn't have to honor the boycott, and continued to talk to HuffPo reporters, link to HuffPo stories, or, worse still, scab by writing for HuffPo.  Ph.D. Octopus and Jonathan Tasini have some thoughts as to why, but it hardly matters.  The minute we get to pick and choose what picket lines we cross and what boycotts we honor is the minute that we undermine the basic principle of concerted activity.
That's the difference between a consumer choice and a serious effort to effect change.  The key to change is, was, and ever will be concerted activity.
The Power of the Poster
Carol Wells, the founder of the Center for the Study of Political Graphics in Los Angeles, talks to Capital & Main about the enduring power of political art.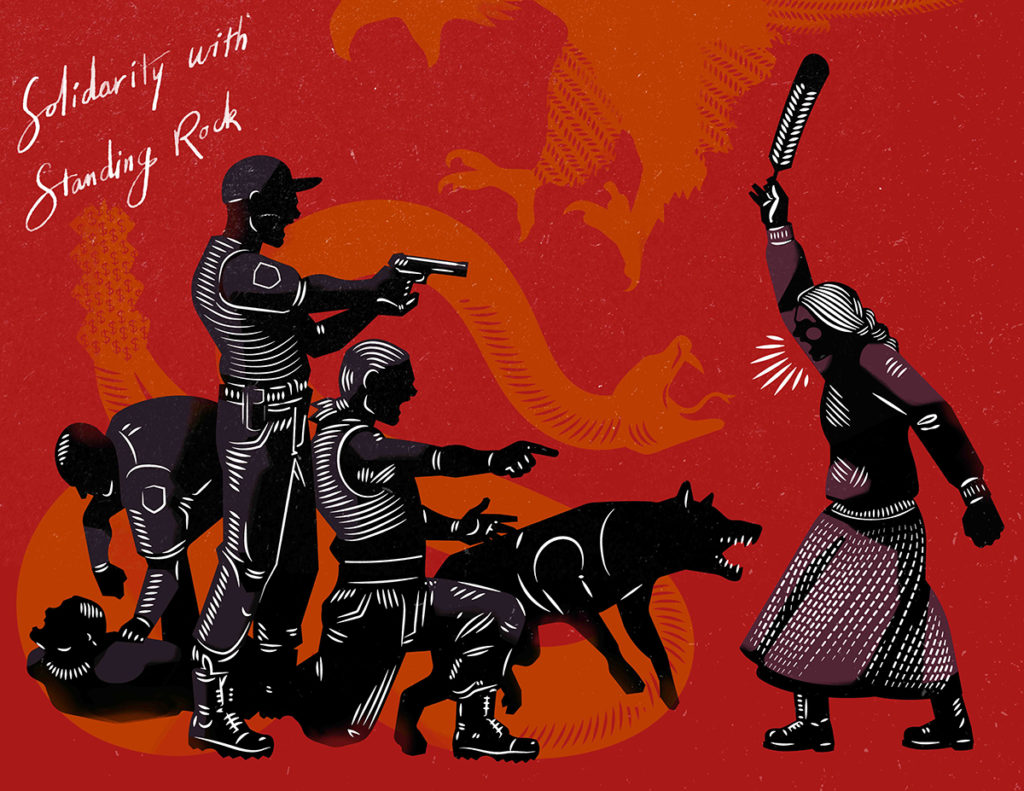 Carol Wells remembers the exact moment she discovered her calling. An art historian at the time, she was on a trip to Nicaragua with her friend David Kunzle, a UCLA art history professor, who was collecting political posters to add to his burgeoning collection. While staying with friends, Wells watched a neighbor's 8-year-old son approach a poster on the wall, stare at it intently, and then start to silently mouth the words. Wells was struck by how engaged the boy was. "In that moment I became obsessed with collecting posters."
Now over 40 years later, Wells is the founder and executive director of the Center for the Study of Political Graphics in Los Angeles. Wells has amassed approximately 90,000 posters, building one of the largest collections of its kind in the world. The Center shares its collection with the public in part through curated exhibits. This year the CSPG has produced Feminae: Typographic Voices of Women by Women and its latest is To Protect & Serve? Five Decades of Posters Protesting Police Violence, running through July 15 at the Mercado La Paloma in downtown Los Angeles.
Since that encounter in Nicaragua in 1981, Wells' obsession with collecting posters hasn't waned. In CSPG's nondescript West L.A. office space, Wells pulls out poster after poster, lecturing passionately on the backstory and cultural impact of each, including one that superimposes text from a New York Times interview with a shocking image of the My Lai massacre ("Q: And babies? A: And babies."). Recently, she managed to sit down with C&M to discuss her passion.
---
Capital & Main: So, you were an art history professor, you happen to see a kid on a trip, and suddenly your life was changed forever?
Carol Wells: Yeah, I'm in Nicaragua alone in the living room with this kid. He's looking around, and all of a sudden, he sees the poster. It was pretty big, bright green, a thick outlines of a woman holding a big basket of coffee beans. And the text in Spanish said, "In constructing the new country, we are becoming the new woman." I see him walk over to the poster and I'm watching him mouth the words. It was a pretty sophisticated concept, so I doubt he figured it out. But I literally had this epiphany: "Oh my God. That's how posters work." You're going about your daily life, and all of a sudden something breaks through the bubble, and it grabs your attention. It's the graphic, it's the color, it's the combination, and it pulls you out of your head and into that poster and it makes you ask a question. "Why is this here? What is this about? What does this mean?" And every time you ask a question, you're a different person than you were before you asked the question.
How many posters do you get a year?
We get between two to five thousand a year donated from all over the world. The bulk of our collection is [from] 1945 and later.
I assume technology has probably hurt the art form, but has it helped get the messages out?
Most people think that, and it's actually not true. Since the internet age started, there's actually a poster renaissance of works on paper. Because you can't walk with your computer monitor in a demonstration. You can't plant your monitor on your lawn.
And you can't put a laptop on the wall…
Exactly. You want to hear a really great story? Truthdig.org published a cartoon [made by] a political cartoonist named Mr. Fish. It was during the Arab spring, and he had superimposed Che Guevara with the stylized beard and King Tut's face, but it had Che's beret. And it [was titled], "Walk like an Egyptian." So, it was a reference to the music, but [it was also] a reference to what was going on the streets of Cairo. I sent it out as our poster of the week to 9,000 people. The very next day, somebody took a photograph on the street of Cairo, with somebody holding a piece of paper with that image on it. A poster can literally go around the world and people will print it out.
What struck me in viewing your exhibits is how many of these posters could still be used today, not only artistically but also, sadly, in the timeliness of their messages.
We had this fabulous poster by Yolanda Lopez, a Bay Area artist, which she first did in 1978. It depicts a young man in Aztec garb pointing a finger like Uncle Sam saying, "Who's the illegal alien, PILGRIM?" And it's a great poster, it's simple, not too many words, funny, provocative. So, we had an exhibit at UCLA in the mid '90s and there were 4 or 5 high school students standing around this poster saying, "Wow, you've got posters up to the minute." And I went over to them and I said, "Look at the date. This is before you were born."
Is that one of your goals with the exhibitions? To show the evergreen nature of this work?
Absolutely. I mean that's why we did the police abuse exhibition now. It basically goes back five decades. It's 50 years of posters protesting police abuse. Mainly in the United States, but also internationally.
What's the goal for CSPG?
Well the aim right now is really to digitize the collection and get it online. We have 10% of the collection digitized. But the mission is to collect and to document, because stories get lost. All the exhibitions, they're showing massacres, they're showing genocide, they're showing police abuse, they're showing all of these horrible things. And people often ask me, "How can you look at this stuff all day long?" I said, "Because the poster artists are optimists. They believe people can change if they have the information."
Yes, that's the reason why they're doing it, right?
That's why they're doing it, and that's why I'm doing this, because I believe that people can change if they knew the truth.
And what happens 20, 50 years from now?
Well, my goal is to stay independent, because the other option is to become part of the university. Universities, for all the fabulous things that they do, they also censor. We did an exhibition at USC in 1992 on the 500 years since Columbus, and how the legacy of racism and exploitation and genocide continues. And one of the board of trustees was Italian and took [the exhibit] as an affront to Columbus. It really wasn't about Columbus, it was about colonialism. And he ordered it down.
Do you have a favorite poster?
I'm always amazed at the creativity and vision of artists. Every week I'll say, "Oh my God, how do they think of that?" But it's always still going to be the poster I saw that kid trying to figure out. It has to be my favorite one because that one changed my life.
What makes a perfect poster?
The right balance between aesthetics and message. If you only rely on the corporate press, the New York Times and L.A. Times, for your information, you're not going to get the side from the street, from the movement, from the activists. The posters are primary historical documents that are recording the issues that were at the time, and the passions that were at the time, and the divisions that were at the time. You're not going to get it anyplace else.
---
Copyright Capital & Main