Recently, we noted that our friends at American Rights at Work called for a boycott of Amazon.com.  As friend-of-this-blog and renaissance-man-about-town Joshua Joy Kamensky notes, however, we need to be more careful with the B-word.
Boycotts are ubiquitous.  Progressives boycott Wal-Mart because of its anti-worker practices and its impact on local economies.  Conservatives boycott stores that say "Happy Holidays" instead of "Merry Christmas."  Los Angeles boycotts (kinda sorta) the state of Arizona over the anti-immigrant SB1070.  Animal rights activists boycott Nestea for animal testing.  Anti-Islamists boycott halal turkeys.  Every time some politician says something idiotic or offensive, people dig up the donor list to that politician, and boycott the corporate sponsors.
But sometimes things get confusing.  Are we boycotting Home Depot to get it to stop using old-growth redwoods, or because it's promoting the homosexual agenda?  Are we boycotting Disney because it treats its workers like crap, or because it's promoting the homosexual agenda?  And what about when a boycott works, such as the campaign launched against Glenn Beck's advertisers?  Geico pulled out as an advertiser—only to then be hit with a boycott by Beck's minions.  I can't tell if it still exists, but back in the day, housemates and I used to subscribe to – and this is really true – Boycott Quarterly Magazine.  How else were we gonna keep it all straight?
Part of the problem here is that (as I've previously alluded to), increasingly we think of ourselves primarily as consumers, and we think of our power primarily as consumer-based.  This alone is a pretty monstrous victory for the right.  The more we think of ourselves as citizens, the more we're likely to be active in the arena of public policy rather than individual consumer choice.  But that's a huge project, and my goal here is more modest: a few humble suggestions for how to approach the question of boycotts.
First, be clear whether you are engaging in concerted activity or simply expressing your displeasure.  For instance, I don't eat meat.  But I don't delude myself that my actions are changing anything.  I just know that I could not live with myself if I participated in what I consider to be morally offensive.  This isn't a boycott; it's a choice.
Second, understand if the boycott is legitimate.  Many pages could be filled on this topic, but this primarily comes down to two questions: Is there a specific demand, and is the organizing entity legitimate?  A boycott called by Greenpeace, or Human Rights Campaign, or a nationally-recognized labor union is simply more credible than a boycott called by someone you're Facebook friends with.  Remember how all of those "don't buy gas today" boycotts brought the oil companies to their knees?  Me neither.
Third and most important, once it's a legitimate boycott, stick with it—even when it's hard or annoying.  When we boycott, we're saying that we feel so strongly about an issue that we're going to give something up; we undercut that message when we limit our boycott to when it's convenient.  If I could boycott Taco Bell for four long years (I said I was a vegetarian; I didn't say I was healthy), then you can stick with your boycott.
The reason this matters is because boycotts are a special kind of call-to-arms.  Different progressives work on different campaigns.  You're on workers' rights; he's on climate change; she's on LGBT rights; and on and on.  Excellent: let a million flowers bloom!
But the minute that a legitimate source calls for a boycott (and we can, of course, disagree on what is or isn't legitimate), the ability to pick and choose is over.  The line has been drawn, and all of us need to be on the right side of it.
Take the recently-ended boycott of the Huffington Post.  As far as I can tell, this was a silly boycott.  It was not well-staffed, it was not well-resourced and it was not well-articulated.  But it had a clear goal, and was called by two legitimate unions (UAW and CWA).  Still, many progressives felt like they didn't have to honor the boycott, and continued to talk to HuffPo reporters, link to HuffPo stories, or, worse still, scab by writing for HuffPo.  Ph.D. Octopus and Jonathan Tasini have some thoughts as to why, but it hardly matters.  The minute we get to pick and choose what picket lines we cross and what boycotts we honor is the minute that we undermine the basic principle of concerted activity.
That's the difference between a consumer choice and a serious effort to effect change.  The key to change is, was, and ever will be concerted activity.

'Skeleton Crew' Is a Play With a Moral Spine
Set in a Detroit automobile outfitting plant, Dominique Morisseau's drama grabs you from the start with its focus on blue-collar men and women, and their struggle for dignity and self-respect.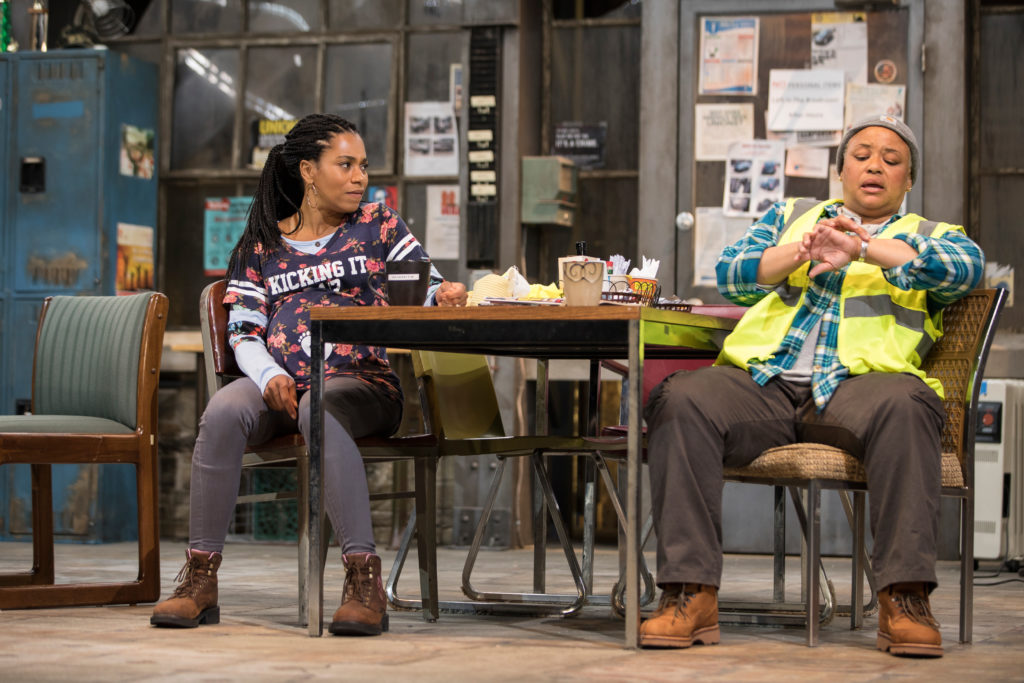 Working-class men and women of color are rarely front and center in today's media and, likewise, are presented all too occasionally on the American stage. So it's buoying to see that trend bucked in playwright Dominique Morisseau's percipient and well-crafted drama, Skeleton Crew. The play is the final installment in her Detroit  Project Trilogy; the first, Paradise Blue, is set in the 1940s amidst displacement caused by urban renewal and gentrification, while the second, Detroit '67, transpires on the eve of the 1967 Detroit riots sparked by a police action.
Directed by Patricia McGregor at Los Angeles' Geffen Playhouse, Skeleton Crew is a play with a moral spine. It takes place in 2008, when the shrinking U.S. auto industry is being further downsized. Morisseau's engaging quartet of characters — Faye (Caroline Stefanie Clay), Dez (Armari Cheatom), Shanita (Kelly McCreary) and Reggie (DB Woodside) – are employed at an automobile outfitting plant. Faye, Dez and Shanita are workers on the line while Reggie (who has a wife and kids, and has pulled himself together after a troubled youth) is their supervisor.
The first three customarily mingle in their break room (designer Rachel Myers' impressively cluttered, dingy and detailed set), trading the sort of familiar barbs and genuine concern for each other common among longtime co-workers. They also face off on philosophy: Upper-middle-aged Faye and the younger, pregnant Shanita take pride in their labor, while Dez, though a good worker, is a malcontent scornful of management and firm in the belief that everyone needs to watch out for himself. He's a thorn in Reggie's side, for while Reggie wants to be supportive of his workers, he must act at the behest of higher management. For his part, Dez resents Reggie's authority, and a palpable unease exists between them.
Besides this male matchup, we're made privy to Dez's attraction to Shanita, who mostly turns away his advances, but every now and then displays a hint of interest. Most poignant is Reggie's regard and affection for the lesbian Faye, which has roots in his boyhood when she loved, and lived, with his now-deceased mom.
These people's various predicaments intensify when rumors spread of the plant's shutdown — a disaster for all, but a particular calamity for the already near-broke Faye who, one year short of retirement, would lose her pension. The crisis forces each of these people to make a choice.
A sound piece of social realism, Skeleton Crew grabs you from the start in its focus on blue-collar men and women, and their struggle against odds for dignity and self-respect. Morisseau not only furnishes these characters a platform for their travails, she endows them with strong values, big hearts and the opportunity to choose between right and wrong.
Unfortunately, the performance I attended did not soar. Many exchanges lacked a fresh edge. The actors certainly had their characters down, but too often they appeared to be coasting on technique. (This seemed particularly true of Clay, who performed the role to great accolades in Washington, DC in 2017, also under McGregor's direction). Additionally, some of the stage movement was not entirely fluid; in confrontations, actors sometimes would just stand and face each other in an artificial way. And Cheatom's interpretation of Dez struck me as a bit overly churlish and depressive: I needed more glimpses of the intelligence and edge that would secretly attract the strong, self-directed Shanita.
The most compelling moments belong to Woodside, well-cast as a man trying his best in difficult circumstances to do the right thing.
---
Gil Cates Theater at the Geffen Playhouse, 10886 Le Conte Ave., Westwood Village; Tues.-Fri., 8 p.m.; Sat., 3 & 8 p.m. Sun., 2 & 7 p.m.; through July 8. (310) 208-5454 or www.geffenplayhouse.org