Blade Runner 2049: The Future Revisited
Blade Runner 2049 not only replicates many of the original film's great qualities, but soars on its own as a stunning modern cinematic achievement.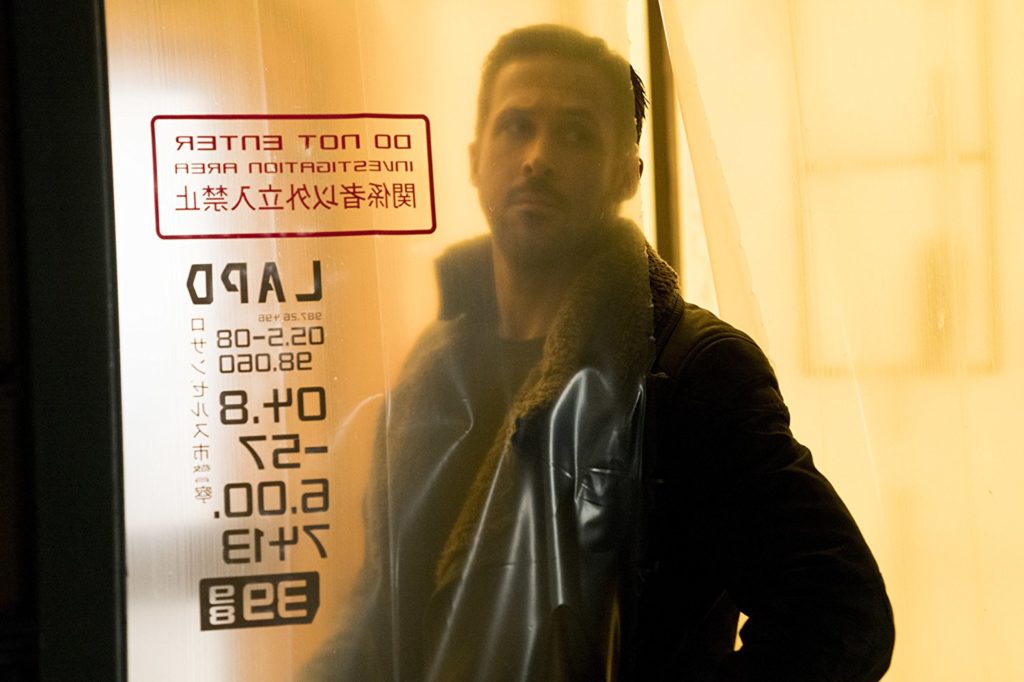 Blade Runner 2049 mirrors familiar plagues: There is mention of a wall that divides the classes, the hiding of a child who is the progeny of illegality, and runaway corporate greed.
---
When Ridley Scott's Blade Runner was released in 1982, it polarized audiences and critics alike. Some found its meditative pace too reflective of its characters' emotional detachment, while others found the mix of noir mien and novelist Philip K. Dick's Orwellian themes of technology's effects on society profound and revolutionary. It took some time for it achieve its status as a classic — a prime example of art and intelligence cinematically coalescing. Now 35 years later, its sequel, Blade Runner 2049, may not have to wait at all.
This go around, producer Scott hands over the directorial reins to Denis Villeneuve (Arrival), who along with cinematographer Roger Deakins and production designer Dennis Gassner, delivers a stunning, harrowing vision of the future, reflective of the current threats plaguing our planet. Earth is a scorched wasteland, besieged by pollution and social degradation. Living trees no longer exist. The only light is from harsh neon signs and hologram ads that illuminate the soulless eyes of the denizens who slog through their lives working for the man. It is in this environment borne by the unholy union of corporations and technology that blade runner K (Ryan Gosling at his best) hunts down rogue older model replicants, or robots, made by a revived Tyrell Corporation. The film starts with K taking down a behemoth replicant, but in the process, he stumbles across evidence of a miracle that threatens to overturn the oppressive nature of this unnaturally controlled world.
Photo by Courtesy of Warner Bros.
Blade Runner 2049 is a miraculous sight itself, a captivating assault on the senses that, beyond its spellbinding beauty, paints a disarming portrait of a society perched on the precipice of collapse. Much like its predecessor, its depiction of society is a dystopian treatise on the brutality of commerce and the embattled human spirit in modern times. Writers Michael Green and Hampton Fancher (who co-wrote the original film with David Webb Peoples) litter their bleak world with a perfect blend of sly references to the original film as well as memorable new lines of dialogue that are sure to become instant classics. Memories are manufactured, holograms serve as mates, and miracles are sequestered away so that hope cannot inspire the masses to throw off their shackles. And like the 1982 model, this Blade Runner edition mirrors contemporary challenges to our society. There is mention of a wall that divides the classes, the hiding of a child who is the progeny of illegality, and runaway corporate greed personified by Tyrell CEO Niander Wallace, a Luciferian Elon Musk-type played by Jared Leto. In Blade Runner 2049's world, dreamers and dreaming are to be damned.
With an apt Kafkaesque moniker, K tortuously searches for the Truth (with a capital T), which leads to a ghostly Las Vegas, where he finds original blade runner Rick Deckard (Harrison Ford), who has been holed up in Sin City for decades. Soon after old and new blade runners meet, all hell breaks out, leading to a lyrical near-perfect denouement. It's a fitting way to bridge the past with the present on many levels — for Ford, for the plot and for the film franchise. (My only criticism is that at two hours and 44 minutes, it's about 20 minutes too long.)
A deft combination of art and social commentary made the original Blade Runner rise above the standard fare of its time. And now, in an age when notable movies largely sport comic-book superheroes with silly superpowers, insulting intelligence and offending logic in virtually every frame, Blade Runner 2049 not only finely replicates many of the original film's great qualities, but soars on its own as a stunning modern cinematic achievement.
---
Homepage photo by Stephen Vaughan – © 2017 Alcon Entertainment
The Power of the Poster
Carol Wells, the founder of the Center for the Study of Political Graphics in Los Angeles, talks to Capital & Main about the enduring power of political art.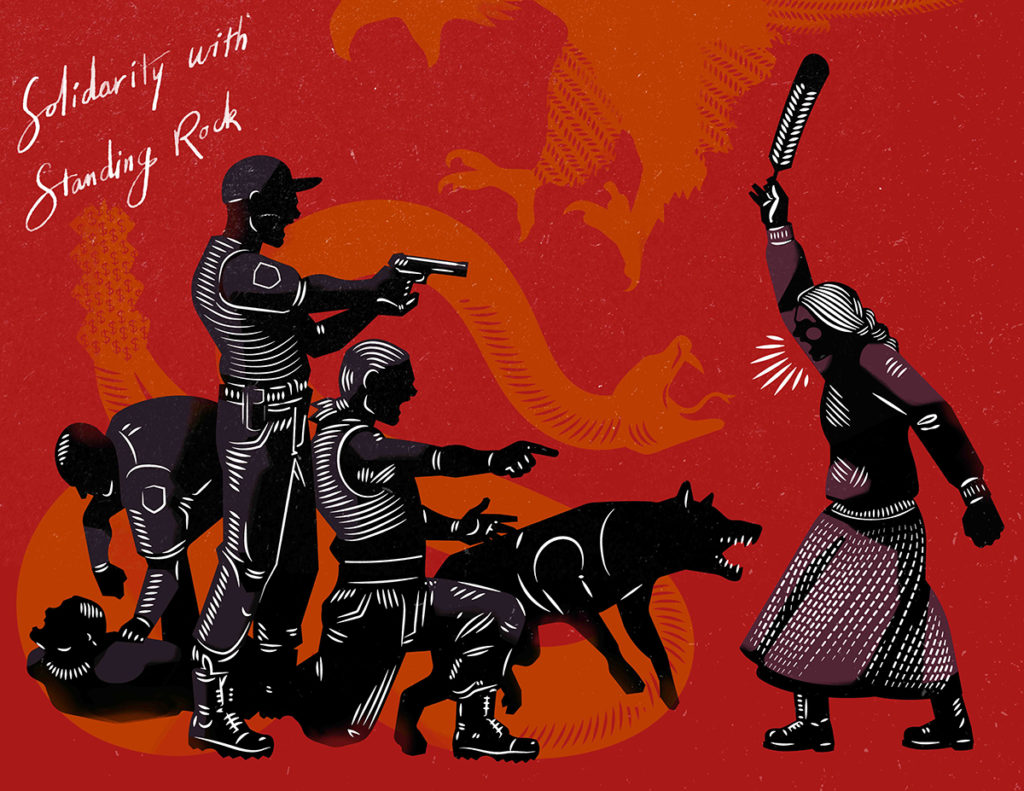 Carol Wells remembers the exact moment she discovered her calling. An art historian at the time, she was on a trip to Nicaragua with her friend David Kunzle, a UCLA art history professor, who was collecting political posters to add to his burgeoning collection. While staying with friends, Wells watched a neighbor's 8-year-old son approach a poster on the wall, stare at it intently, and then start to silently mouth the words. Wells was struck by how engaged the boy was. "In that moment I became obsessed with collecting posters."
Now over 40 years later, Wells is the founder and executive director of the Center for the Study of Political Graphics in Los Angeles. Wells has amassed approximately 90,000 posters, building one of the largest collections of its kind in the world. The Center shares its collection with the public in part through curated exhibits. This year the CSPG has produced Feminae: Typographic Voices of Women by Women and its latest is To Protect & Serve? Five Decades of Posters Protesting Police Violence, running through July 15 at the Mercado La Paloma in downtown Los Angeles.
Since that encounter in Nicaragua in 1981, Wells' obsession with collecting posters hasn't waned. In CSPG's nondescript West L.A. office space, Wells pulls out poster after poster, lecturing passionately on the backstory and cultural impact of each, including one that superimposes text from a New York Times interview with a shocking image of the My Lai massacre ("Q: And babies? A: And babies."). Recently, she managed to sit down with C&M to discuss her passion.
---
Capital & Main: So, you were an art history professor, you happen to see a kid on a trip, and suddenly your life was changed forever?
Carol Wells: Yeah, I'm in Nicaragua alone in the living room with this kid. He's looking around, and all of a sudden, he sees the poster. It was pretty big, bright green, a thick outlines of a woman holding a big basket of coffee beans. And the text in Spanish said, "In constructing the new country, we are becoming the new woman." I see him walk over to the poster and I'm watching him mouth the words. It was a pretty sophisticated concept, so I doubt he figured it out. But I literally had this epiphany: "Oh my God. That's how posters work." You're going about your daily life, and all of a sudden something breaks through the bubble, and it grabs your attention. It's the graphic, it's the color, it's the combination, and it pulls you out of your head and into that poster and it makes you ask a question. "Why is this here? What is this about? What does this mean?" And every time you ask a question, you're a different person than you were before you asked the question.
How many posters do you get a year?
We get between two to five thousand a year donated from all over the world. The bulk of our collection is [from] 1945 and later.
I assume technology has probably hurt the art form, but has it helped get the messages out?
Most people think that, and it's actually not true. Since the internet age started, there's actually a poster renaissance of works on paper. Because you can't walk with your computer monitor in a demonstration. You can't plant your monitor on your lawn.
And you can't put a laptop on the wall…
Exactly. You want to hear a really great story? Truthdig.org published a cartoon [made by] a political cartoonist named Mr. Fish. It was during the Arab spring, and he had superimposed Che Guevara with the stylized beard and King Tut's face, but it had Che's beret. And it [was titled], "Walk like an Egyptian." So, it was a reference to the music, but [it was also] a reference to what was going on the streets of Cairo. I sent it out as our poster of the week to 9,000 people. The very next day, somebody took a photograph on the street of Cairo, with somebody holding a piece of paper with that image on it. A poster can literally go around the world and people will print it out.
What struck me in viewing your exhibits is how many of these posters could still be used today, not only artistically but also, sadly, in the timeliness of their messages.
We had this fabulous poster by Yolanda Lopez, a Bay Area artist, which she first did in 1978. It depicts a young man in Aztec garb pointing a finger like Uncle Sam saying, "Who's the illegal alien, PILGRIM?" And it's a great poster, it's simple, not too many words, funny, provocative. So, we had an exhibit at UCLA in the mid '90s and there were 4 or 5 high school students standing around this poster saying, "Wow, you've got posters up to the minute." And I went over to them and I said, "Look at the date. This is before you were born."
Is that one of your goals with the exhibitions? To show the evergreen nature of this work?
Absolutely. I mean that's why we did the police abuse exhibition now. It basically goes back five decades. It's 50 years of posters protesting police abuse. Mainly in the United States, but also internationally.
What's the goal for CSPG?
Well the aim right now is really to digitize the collection and get it online. We have 10% of the collection digitized. But the mission is to collect and to document, because stories get lost. All the exhibitions, they're showing massacres, they're showing genocide, they're showing police abuse, they're showing all of these horrible things. And people often ask me, "How can you look at this stuff all day long?" I said, "Because the poster artists are optimists. They believe people can change if they have the information."
Yes, that's the reason why they're doing it, right?
That's why they're doing it, and that's why I'm doing this, because I believe that people can change if they knew the truth.
And what happens 20, 50 years from now?
Well, my goal is to stay independent, because the other option is to become part of the university. Universities, for all the fabulous things that they do, they also censor. We did an exhibition at USC in 1992 on the 500 years since Columbus, and how the legacy of racism and exploitation and genocide continues. And one of the board of trustees was Italian and took [the exhibit] as an affront to Columbus. It really wasn't about Columbus, it was about colonialism. And he ordered it down.
Do you have a favorite poster?
I'm always amazed at the creativity and vision of artists. Every week I'll say, "Oh my God, how do they think of that?" But it's always still going to be the poster I saw that kid trying to figure out. It has to be my favorite one because that one changed my life.
What makes a perfect poster?
The right balance between aesthetics and message. If you only rely on the corporate press, the New York Times and L.A. Times, for your information, you're not going to get the side from the street, from the movement, from the activists. The posters are primary historical documents that are recording the issues that were at the time, and the passions that were at the time, and the divisions that were at the time. You're not going to get it anyplace else.
---
Copyright Capital & Main