Blade Runner 2049: The Future Revisited
Blade Runner 2049 not only replicates many of the original film's great qualities, but soars on its own as a stunning modern cinematic achievement.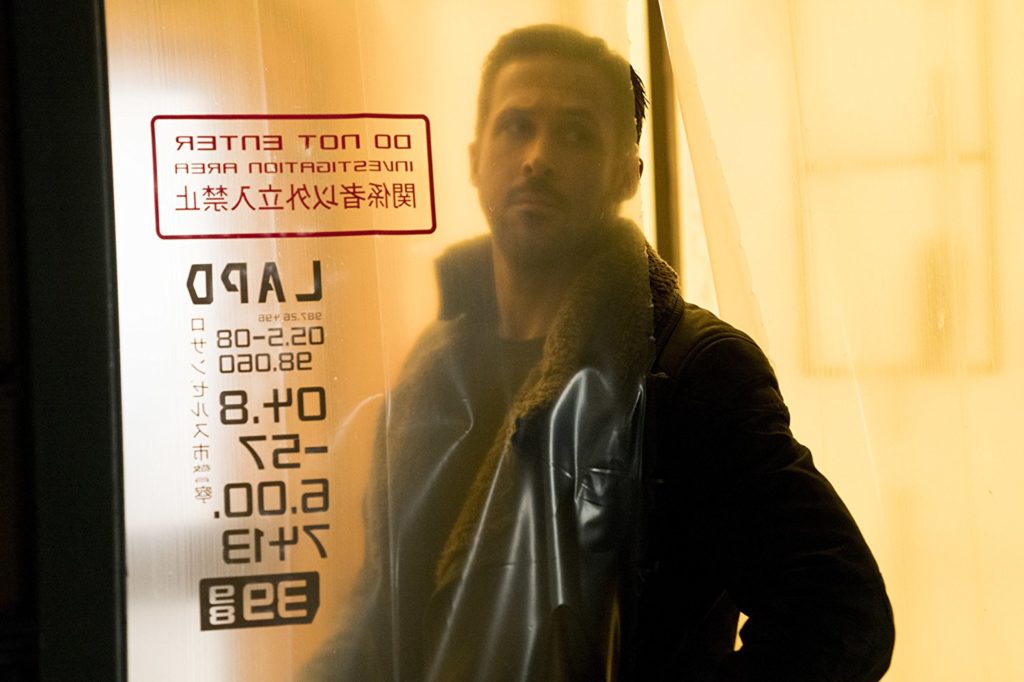 Blade Runner 2049 mirrors familiar plagues: There is mention of a wall that divides the classes, the hiding of a child who is the progeny of illegality, and runaway corporate greed.
---
When Ridley Scott's Blade Runner was released in 1982, it polarized audiences and critics alike. Some found its meditative pace too reflective of its characters' emotional detachment, while others found the mix of noir mien and novelist Philip K. Dick's Orwellian themes of technology's effects on society profound and revolutionary. It took some time for it achieve its status as a classic — a prime example of art and intelligence cinematically coalescing. Now 35 years later, its sequel, Blade Runner 2049, may not have to wait at all.
This go around, producer Scott hands over the directorial reins to Denis Villeneuve (Arrival), who along with cinematographer Roger Deakins and production designer Dennis Gassner, delivers a stunning, harrowing vision of the future, reflective of the current threats plaguing our planet. Earth is a scorched wasteland, besieged by pollution and social degradation. Living trees no longer exist. The only light is from harsh neon signs and hologram ads that illuminate the soulless eyes of the denizens who slog through their lives working for the man. It is in this environment borne by the unholy union of corporations and technology that blade runner K (Ryan Gosling at his best) hunts down rogue older model replicants, or robots, made by a revived Tyrell Corporation. The film starts with K taking down a behemoth replicant, but in the process, he stumbles across evidence of a miracle that threatens to overturn the oppressive nature of this unnaturally controlled world.
Photo by Courtesy of Warner Bros.
Blade Runner 2049 is a miraculous sight itself, a captivating assault on the senses that, beyond its spellbinding beauty, paints a disarming portrait of a society perched on the precipice of collapse. Much like its predecessor, its depiction of society is a dystopian treatise on the brutality of commerce and the embattled human spirit in modern times. Writers Michael Green and Hampton Fancher (who co-wrote the original film with David Webb Peoples) litter their bleak world with a perfect blend of sly references to the original film as well as memorable new lines of dialogue that are sure to become instant classics. Memories are manufactured, holograms serve as mates, and miracles are sequestered away so that hope cannot inspire the masses to throw off their shackles. And like the 1982 model, this Blade Runner edition mirrors contemporary challenges to our society. There is mention of a wall that divides the classes, the hiding of a child who is the progeny of illegality, and runaway corporate greed personified by Tyrell CEO Niander Wallace, a Luciferian Elon Musk-type played by Jared Leto. In Blade Runner 2049's world, dreamers and dreaming are to be damned.
With an apt Kafkaesque moniker, K tortuously searches for the Truth (with a capital T), which leads to a ghostly Las Vegas, where he finds original blade runner Rick Deckard (Harrison Ford), who has been holed up in Sin City for decades. Soon after old and new blade runners meet, all hell breaks out, leading to a lyrical near-perfect denouement. It's a fitting way to bridge the past with the present on many levels — for Ford, for the plot and for the film franchise. (My only criticism is that at two hours and 44 minutes, it's about 20 minutes too long.)
A deft combination of art and social commentary made the original Blade Runner rise above the standard fare of its time. And now, in an age when notable movies largely sport comic-book superheroes with silly superpowers, insulting intelligence and offending logic in virtually every frame, Blade Runner 2049 not only finely replicates many of the original film's great qualities, but soars on its own as a stunning modern cinematic achievement.
---
Homepage photo by Stephen Vaughan – © 2017 Alcon Entertainment

A Spiritual Mystery Play Fails to Enlighten
Yusuf Toropov's drama, set in a contaminated, cancer-ridden community, involves a publisher and his brother — a priest struggling against the local archdiocese.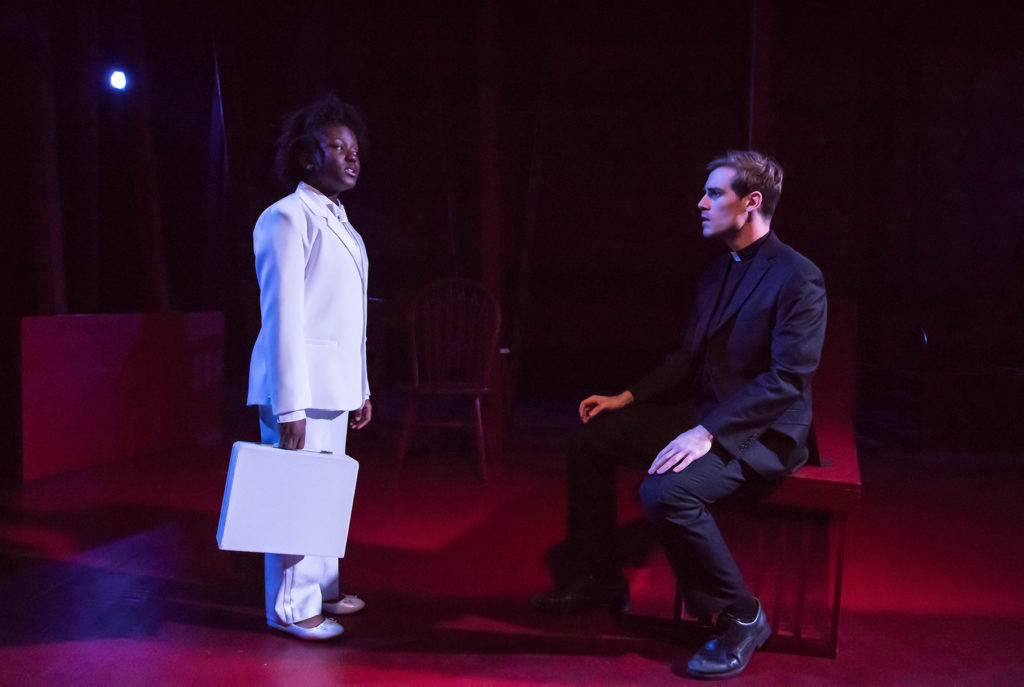 Directed by Chris Fields, Yusuf Toropov's An Undivided Heart, co-produced by the Echo Theater Company and the Circle X Theatre Co., is an aspiring work that aims to be deep but doesn't get there.
The play, running at the Atwater Village Theatre, unfolds on several levels. First, it tells the story of a young Catholic priest who must decide whether or not to publicly expose the pedophiles among his fellow clerics. Second, the work deals with our human struggle to understand why bad things happen with seeming random cruelty (a conundrum whose answers are regularly dispensed by spiritual leaders of all faiths, not very satisfactorily). On yet a third level, the play seeks to express the paradoxical wonder and mystery of life, with an assist from the supernatural.
That's a lot to cover in a little over two hours and, while the production is handsomely staged, its ambitious narrative is diminished by dangling threads, one major improbable setup near the end and too many bits of opaque dialogue.
Tim Wright, Alison Martin and Alana Dietze.
The setting is Holbrook, Massachusetts — a community whose residents have been exposed to contaminants, so cancer is rampant — in the summer of 1992. The story revolves around two brothers, both good guys: Mike (Matthew Gallenstein), a local priest who's written a revelatory book that his superiors want him not to publish, and Max (Tim Wright), an editor, who'd like to help his brother proceed.
When Max arrives at some sort of civic facility (the background particulars of this scene are unclear), he promptly tangles with an angry pregnant clerk named Lynne (Alana Dietz). A few minutes into their altercation, she goes into premature labor, and he rushes her to the hospital — the beginning of a nurturing romance.
Mike, meanwhile, is having strange dreams involving a burning typewriter and a cryptic little girl (Ann'Jewel Lee) who appears to him brandishing a dead cat. The same young person manifests in the dreams of Janice (Tracey A. Leigh, alternating with Jennifer A. Skinner), Max's Buddhism teacher, who is fond of posing riddles. Her favorite: If I am preparing to slice a cat in two, how would you prevent me from doing it?
The narrative shifts between Mike's struggle with his archdiocese, personified by its Cardinal (John Getz, alternating with William Salyers) and Lynne's problems with her dying mom Ruth (Alison Martin, alternating with Sigute Miller), a devout Catholic still in denial over her son's abuse by a priest when he was a youth.
These two storylines are interposed with the baffling dream sequences and Max's (and later Mike's) sessions with the inscrutably smiling Janice and her eschatological brain teasers. One crucial scene that leads to the dramatic climax has Mike looking to entrap an abusive priest (Jeff Alan-Lee, alternating with Jesse Bush) by attending confession with him and pretending to be a pedophile himself. The interchange, in which the priest probes for salacious details, is awkwardly plotted and escalates into over-the-top melodrama.
Cricket Myers' superlative sound design hints at the depth and scope that the playwright himself perhaps had in mind but was unable to attain. Amanda Knehans' set is an effective arrangement of wooden beams, tables and chairs that lighting designer Rose Malone smartly shades with a reddish-orange chroma, like the hues of hell. Elsewhere, she spotlights the players well.
Wright's warm and empathetic Max is highly likable, and he keeps you interested in the scenes he's involved with. Getz is appropriately unctuous as the Cardinal, and Martin draws a richly textured portrait of a not terribly educated housewife, who, buffeted by adversity, still clings to her faith. Michael Sturgis steals the limelight as a singing, simpering cleric. A couple of the other lead performances need refining.
Atwater Village Theatre, 3269 Casitas Ave., Los Angeles; Mon., 8 p.m.; Fri.- Sat., 8 p.m.; Sun., 4 p.m.; through April 22. www.EchoTheaterCompany.com
---
Copyright Capital & Main