Blade Runner 2049: The Future Revisited
Blade Runner 2049 not only replicates many of the original film's great qualities, but soars on its own as a stunning modern cinematic achievement.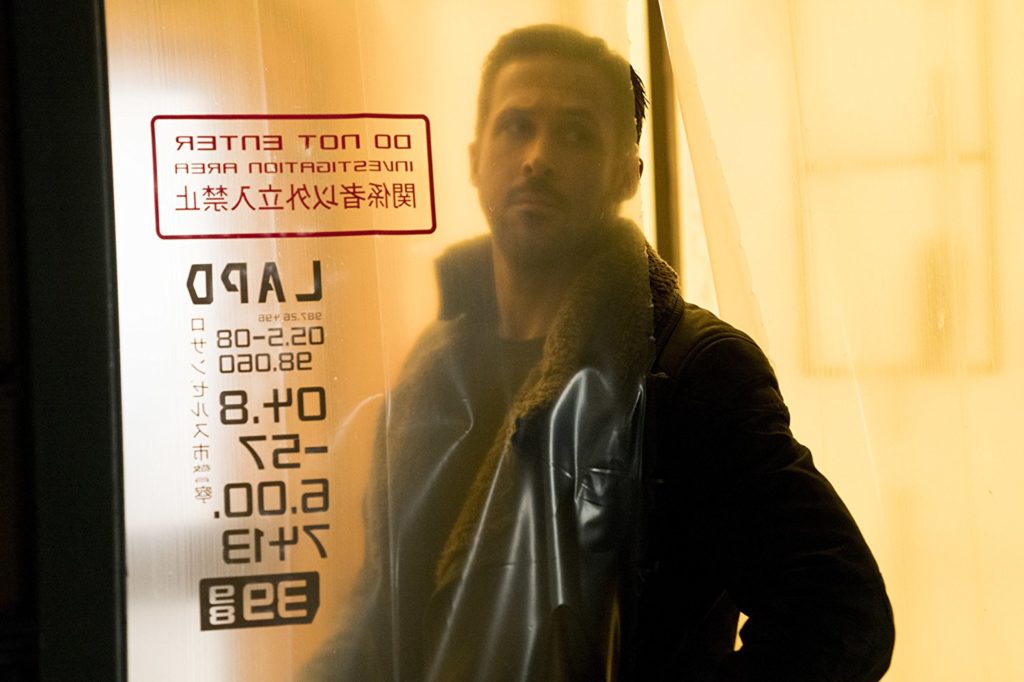 Blade Runner 2049 mirrors familiar plagues: There is mention of a wall that divides the classes, the hiding of a child who is the progeny of illegality, and runaway corporate greed.
---
When Ridley Scott's Blade Runner was released in 1982, it polarized audiences and critics alike. Some found its meditative pace too reflective of its characters' emotional detachment, while others found the mix of noir mien and novelist Philip K. Dick's Orwellian themes of technology's effects on society profound and revolutionary. It took some time for it achieve its status as a classic — a prime example of art and intelligence cinematically coalescing. Now 35 years later, its sequel, Blade Runner 2049, may not have to wait at all.
This go around, producer Scott hands over the directorial reins to Denis Villeneuve (Arrival), who along with cinematographer Roger Deakins and production designer Dennis Gassner, delivers a stunning, harrowing vision of the future, reflective of the current threats plaguing our planet. Earth is a scorched wasteland, besieged by pollution and social degradation. Living trees no longer exist. The only light is from harsh neon signs and hologram ads that illuminate the soulless eyes of the denizens who slog through their lives working for the man. It is in this environment borne by the unholy union of corporations and technology that blade runner K (Ryan Gosling at his best) hunts down rogue older model replicants, or robots, made by a revived Tyrell Corporation. The film starts with K taking down a behemoth replicant, but in the process, he stumbles across evidence of a miracle that threatens to overturn the oppressive nature of this unnaturally controlled world.
Photo by Courtesy of Warner Bros.
Blade Runner 2049 is a miraculous sight itself, a captivating assault on the senses that, beyond its spellbinding beauty, paints a disarming portrait of a society perched on the precipice of collapse. Much like its predecessor, its depiction of society is a dystopian treatise on the brutality of commerce and the embattled human spirit in modern times. Writers Michael Green and Hampton Fancher (who co-wrote the original film with David Webb Peoples) litter their bleak world with a perfect blend of sly references to the original film as well as memorable new lines of dialogue that are sure to become instant classics. Memories are manufactured, holograms serve as mates, and miracles are sequestered away so that hope cannot inspire the masses to throw off their shackles. And like the 1982 model, this Blade Runner edition mirrors contemporary challenges to our society. There is mention of a wall that divides the classes, the hiding of a child who is the progeny of illegality, and runaway corporate greed personified by Tyrell CEO Niander Wallace, a Luciferian Elon Musk-type played by Jared Leto. In Blade Runner 2049's world, dreamers and dreaming are to be damned.
With an apt Kafkaesque moniker, K tortuously searches for the Truth (with a capital T), which leads to a ghostly Las Vegas, where he finds original blade runner Rick Deckard (Harrison Ford), who has been holed up in Sin City for decades. Soon after old and new blade runners meet, all hell breaks out, leading to a lyrical near-perfect denouement. It's a fitting way to bridge the past with the present on many levels — for Ford, for the plot and for the film franchise. (My only criticism is that at two hours and 44 minutes, it's about 20 minutes too long.)
A deft combination of art and social commentary made the original Blade Runner rise above the standard fare of its time. And now, in an age when notable movies largely sport comic-book superheroes with silly superpowers, insulting intelligence and offending logic in virtually every frame, Blade Runner 2049 not only finely replicates many of the original film's great qualities, but soars on its own as a stunning modern cinematic achievement.
---
Homepage photo by Stephen Vaughan – © 2017 Alcon Entertainment

'Skeleton Crew' Is a Play With a Moral Spine
Set in a Detroit automobile outfitting plant, Dominique Morisseau's drama grabs you from the start with its focus on blue-collar men and women, and their struggle for dignity and self-respect.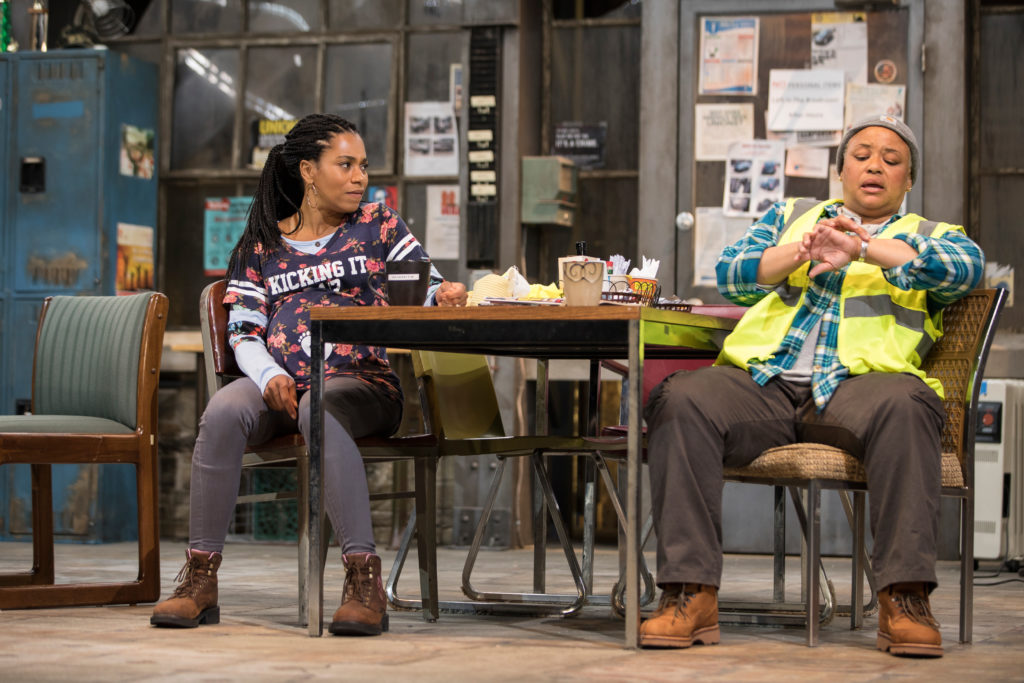 Working-class men and women of color are rarely front and center in today's media and, likewise, are presented all too occasionally on the American stage. So it's buoying to see that trend bucked in playwright Dominique Morisseau's percipient and well-crafted drama, Skeleton Crew. The play is the final installment in her Detroit  Project Trilogy; the first, Paradise Blue, is set in the 1940s amidst displacement caused by urban renewal and gentrification, while the second, Detroit '67, transpires on the eve of the 1967 Detroit riots sparked by a police action.
Directed by Patricia McGregor at Los Angeles' Geffen Playhouse, Skeleton Crew is a play with a moral spine. It takes place in 2008, when the shrinking U.S. auto industry is being further downsized. Morisseau's engaging quartet of characters — Faye (Caroline Stefanie Clay), Dez (Armari Cheatom), Shanita (Kelly McCreary) and Reggie (DB Woodside) – are employed at an automobile outfitting plant. Faye, Dez and Shanita are workers on the line while Reggie (who has a wife and kids, and has pulled himself together after a troubled youth) is their supervisor.
The first three customarily mingle in their break room (designer Rachel Myers' impressively cluttered, dingy and detailed set), trading the sort of familiar barbs and genuine concern for each other common among longtime co-workers. They also face off on philosophy: Upper-middle-aged Faye and the younger, pregnant Shanita take pride in their labor, while Dez, though a good worker, is a malcontent scornful of management and firm in the belief that everyone needs to watch out for himself. He's a thorn in Reggie's side, for while Reggie wants to be supportive of his workers, he must act at the behest of higher management. For his part, Dez resents Reggie's authority, and a palpable unease exists between them.
Besides this male matchup, we're made privy to Dez's attraction to Shanita, who mostly turns away his advances, but every now and then displays a hint of interest. Most poignant is Reggie's regard and affection for the lesbian Faye, which has roots in his boyhood when she loved, and lived, with his now-deceased mom.
These people's various predicaments intensify when rumors spread of the plant's shutdown — a disaster for all, but a particular calamity for the already near-broke Faye who, one year short of retirement, would lose her pension. The crisis forces each of these people to make a choice.
A sound piece of social realism, Skeleton Crew grabs you from the start in its focus on blue-collar men and women, and their struggle against odds for dignity and self-respect. Morisseau not only furnishes these characters a platform for their travails, she endows them with strong values, big hearts and the opportunity to choose between right and wrong.
Unfortunately, the performance I attended did not soar. Many exchanges lacked a fresh edge. The actors certainly had their characters down, but too often they appeared to be coasting on technique. (This seemed particularly true of Clay, who performed the role to great accolades in Washington, DC in 2017, also under McGregor's direction). Additionally, some of the stage movement was not entirely fluid; in confrontations, actors sometimes would just stand and face each other in an artificial way. And Cheatom's interpretation of Dez struck me as a bit overly churlish and depressive: I needed more glimpses of the intelligence and edge that would secretly attract the strong, self-directed Shanita.
The most compelling moments belong to Woodside, well-cast as a man trying his best in difficult circumstances to do the right thing.
---
Gil Cates Theater at the Geffen Playhouse, 10886 Le Conte Ave., Westwood Village; Tues.-Fri., 8 p.m.; Sat., 3 & 8 p.m. Sun., 2 & 7 p.m.; through July 8. (310) 208-5454 or www.geffenplayhouse.org