Black Friday and the Psychology of Scarcity
(Photo: Daniel Acker/Bloomberg)
Black Friday may be a distant memory already, but as we head deeper into the holiday shopping season, there are some important lessons to be learned about the psychology of marketing and the real cost of bargain hunting.
Here's a cautionary tale from my own life: One year on the day after Thanksgiving, my uncle, a tech geek, woke my brother and me up at an ungodly hour to get to Fry's Electronics by 5 a.m. The doors opened at 7 a.m. Despite us ending dinner early, waking up before the crack of dawn and standing around in the dark for hours, most of the deals had already been whisked off the shelves by the time we got in the door. We wandered around a store so crowded it bordered on unsafe before finally buying some gadgets just to feel like we hadn't wasted our time.
This year, as the recession continues, retailers pushed Black Friday even earlier, into Thanksgiving. Retailers were already banking on budget-conscious customers willing to wait in long lines for deals, but by starting as early as 9 p.m. Thanksgiving night, retailers were expecting that people would even sacrifice spending the holiday with their families.
By all accounts, Black Friday (a name derived from the fact that retailers can make so much money this one day that it can help put their bottom line in the black) was a success for retailers. But as I listened to reports of the Black Friday insanity – a pepper spraying incident at Walmart, customers breaking into an Abercrombie and Fitch, a shooting robbery of a man in the middle of the night – it just hit me as utterly depressing.
Given the financial situation that all too many families find themselves in I can't blame anyone for wanting to save money. For the average consumer, however, the math doesn't always work out. In many instances, both workers and cities lost out.
Retail workers, who often work evenings and weekends, rely on holidays to enjoy vital family time. The decision of Target to ask its employees to report for work at 9 p.m. Thanksgiving Day prompted an online petition asking the company not to rob workers of time with their families. Additionally, cities had to deploy extra police to provide crowd control, ease traffic congestion and, in the worst cases, investigate violent crimes and property damage. Ironically, the cost to the public of this increased safety prompted one economist to suggest taxing sales more heavily during Black Friday to discourage this kind of behavior.
Large retailers of all stripes are psychological wizards. They create a false sense of scarcity and unnecessary competitiveness to get more customers in the door (along with Black Friday, we now have Cyber Monday and Small Business Saturday, newly invented marketing tools to continue the shopping frenzy) and workers to accept less than ideal working conditions.
Maybe the reason this psychology works is because people understandably can't imagine earning more money; the only way they feel that they can get ahead or stay afloat is to fight tooth and nail for a few limited scraps. But as Christmas nears, we need to think about whether the savings are really worth the cost.

'Skeleton Crew' Is a Play With a Moral Spine
Set in a Detroit automobile outfitting plant, Dominique Morisseau's drama grabs you from the start with its focus on blue-collar men and women, and their struggle for dignity and self-respect.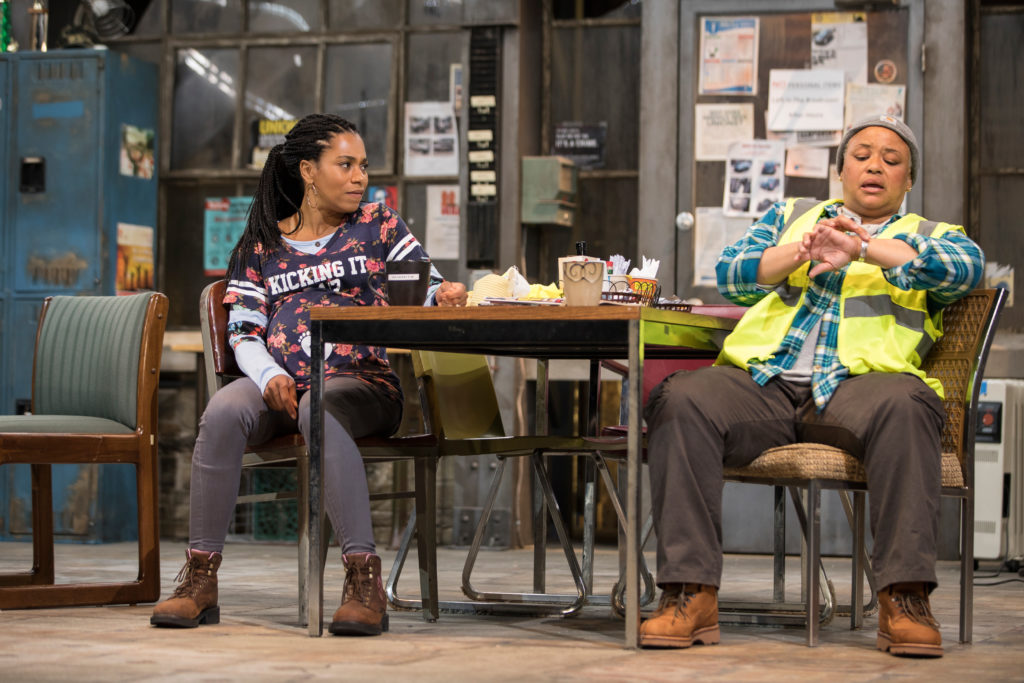 Working-class men and women of color are rarely front and center in today's media and, likewise, are presented all too occasionally on the American stage. So it's buoying to see that trend bucked in playwright Dominique Morisseau's percipient and well-crafted drama, Skeleton Crew. The play is the final installment in her Detroit  Project Trilogy; the first, Paradise Blue, is set in the 1940s amidst displacement caused by urban renewal and gentrification, while the second, Detroit '67, transpires on the eve of the 1967 Detroit riots sparked by a police action.
Directed by Patricia McGregor at Los Angeles' Geffen Playhouse, Skeleton Crew is a play with a moral spine. It takes place in 2008, when the shrinking U.S. auto industry is being further downsized. Morisseau's engaging quartet of characters — Faye (Caroline Stefanie Clay), Dez (Armari Cheatom), Shanita (Kelly McCreary) and Reggie (DB Woodside) – are employed at an automobile outfitting plant. Faye, Dez and Shanita are workers on the line while Reggie (who has a wife and kids, and has pulled himself together after a troubled youth) is their supervisor.
The first three customarily mingle in their break room (designer Rachel Myers' impressively cluttered, dingy and detailed set), trading the sort of familiar barbs and genuine concern for each other common among longtime co-workers. They also face off on philosophy: Upper-middle-aged Faye and the younger, pregnant Shanita take pride in their labor, while Dez, though a good worker, is a malcontent scornful of management and firm in the belief that everyone needs to watch out for himself. He's a thorn in Reggie's side, for while Reggie wants to be supportive of his workers, he must act at the behest of higher management. For his part, Dez resents Reggie's authority, and a palpable unease exists between them.
Besides this male matchup, we're made privy to Dez's attraction to Shanita, who mostly turns away his advances, but every now and then displays a hint of interest. Most poignant is Reggie's regard and affection for the lesbian Faye, which has roots in his boyhood when she loved, and lived, with his now-deceased mom.
These people's various predicaments intensify when rumors spread of the plant's shutdown — a disaster for all, but a particular calamity for the already near-broke Faye who, one year short of retirement, would lose her pension. The crisis forces each of these people to make a choice.
A sound piece of social realism, Skeleton Crew grabs you from the start in its focus on blue-collar men and women, and their struggle against odds for dignity and self-respect. Morisseau not only furnishes these characters a platform for their travails, she endows them with strong values, big hearts and the opportunity to choose between right and wrong.
Unfortunately, the performance I attended did not soar. Many exchanges lacked a fresh edge. The actors certainly had their characters down, but too often they appeared to be coasting on technique. (This seemed particularly true of Clay, who performed the role to great accolades in Washington, DC in 2017, also under McGregor's direction). Additionally, some of the stage movement was not entirely fluid; in confrontations, actors sometimes would just stand and face each other in an artificial way. And Cheatom's interpretation of Dez struck me as a bit overly churlish and depressive: I needed more glimpses of the intelligence and edge that would secretly attract the strong, self-directed Shanita.
The most compelling moments belong to Woodside, well-cast as a man trying his best in difficult circumstances to do the right thing.
---
Gil Cates Theater at the Geffen Playhouse, 10886 Le Conte Ave., Westwood Village; Tues.-Fri., 8 p.m.; Sat., 3 & 8 p.m. Sun., 2 & 7 p.m.; through July 8. (310) 208-5454 or www.geffenplayhouse.org