A Bill to Save Jobs for California Musicians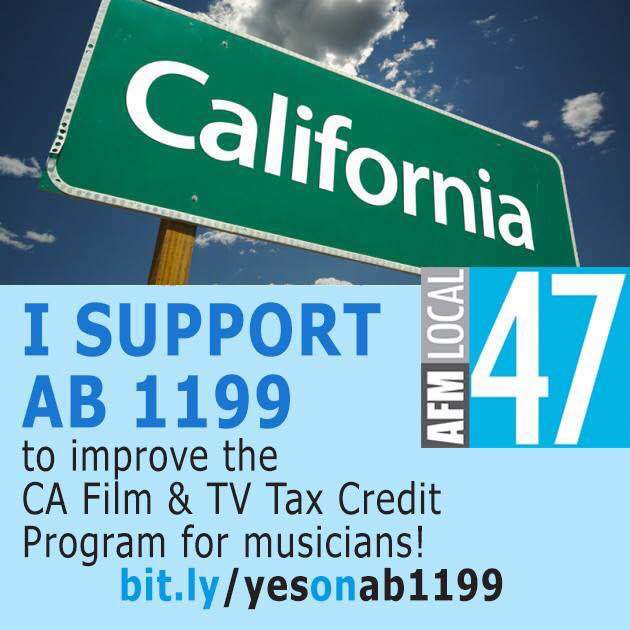 Last week California began accepting applications for the first round of the new film and TV tax credit, which policy makers in Sacramento had beefed up to try and lure film production back to the state. The legislature passed a five-year, $1.65 billion film tax incentive program last year, and with the revamped tax credit program up and running, many entertainment workers throughout California are feeling something not felt in a long time: Hope. For the first time in 15 years, the program feels better equipped to keep our suffering entertainment industry from flatlining and to revive the iconic "Hollywood brand" to its former greatness.
However, not everyone has cause to celebrate. Thousands of California's post-production workers, including recording musicians, are still shortchanged by the tax credit program, which doesn't do enough to create jobs here when the cameras stop rolling. There is no apparatus in the current program to prevent a production company from filming in California, getting their tax break money and then taking that money — money that California musicians paid taxes to help fund — and recording their scores in London or Eastern Europe.
While Assembly Bill 1839 brought vast improvements, "production" remains the operative word. Existing language regarding "post-production" falls short of guaranteeing any significant impact for post-production workers, such as musicians. Though the existing program does include an added bonus for post-production work done in-state, it does not make doing this work in California a requirement; a loophole taken advantage of by productions like Nightcrawler, a motion picture which took a $2.3 million tax credit from California but offshored the musical score to London. These productions still receive significant tax credits even if all post-production is done outside of the state — meaning California taxpayers are effectively subsidizing the offshoring of jobs.
Assembly Bill 1199 offers a real opportunity to close this loophole. Hundreds of supporters have already signed an online petition supporting the bill endorsed by the Recording Academy's Los Angeles and San Francisco chapters, American Society of Music Arrangers and Composers, Society of Composers & Lyricists, all American Federation of Musicians union locals within the California Conference, and numerous other music and labor organizations.
Updating the language of AB 1199 to include a carve-out for musicians would ensure that those production companies that benefit from California's $330-million annual tax credit program are held accountable to raise professional musicians to the same industry standard as actors, writers, directors, grips, carpenters, drivers and other industry workers. What's appealing about this change is that it is revenue-neutral. It doesn't ask for more money than has already been allocated, it simply tightens up the requirements so as not to allow companies to record just a little of their score here, get a tax break for it and then leave town to do the rest of it.
A post-production tax credit has yet to be introduced in California, but as seen in New York –which has a $12-million annual post-production credit – employment has begun to increase for recording musicians there. Not only has New York scored several feature films because of its tax credit, that state has also seen an uptick in TV scoring. Meanwhile, California continues to lose ground. From 2000 to 2010, the number of the 100 top-grossing features with L.A.-recorded scores each year fell from 68 to 55, while London's share rose from 19 to 27.
If California can recoup some of this lost work with the amending and passage of AB 1199 to create a carve-out model for musicians, not only would musicians reap benefits, so too would the state. A report released by the Los Angeles Alliance for a New Economy estimates that for every dollar a musician earns, nearly $2 are put into the California economy.  That's pretty good bang for the buck. What's good for California musicians is good for all Californians, and AB 1199 would provide a sorely needed economic boost to the state.
(John Acosta is President of American Federation of Musicians Local 47.)

A Woman's Art Is Never Done: The Feminae Exhibition
A striking juxtaposition between the past and present courses throughout the small gallery. Celia Blomberg's "International Women's Day March 8" can't help but make one think of 2017's Women's March, which occurred 37 years after the print's first appearance.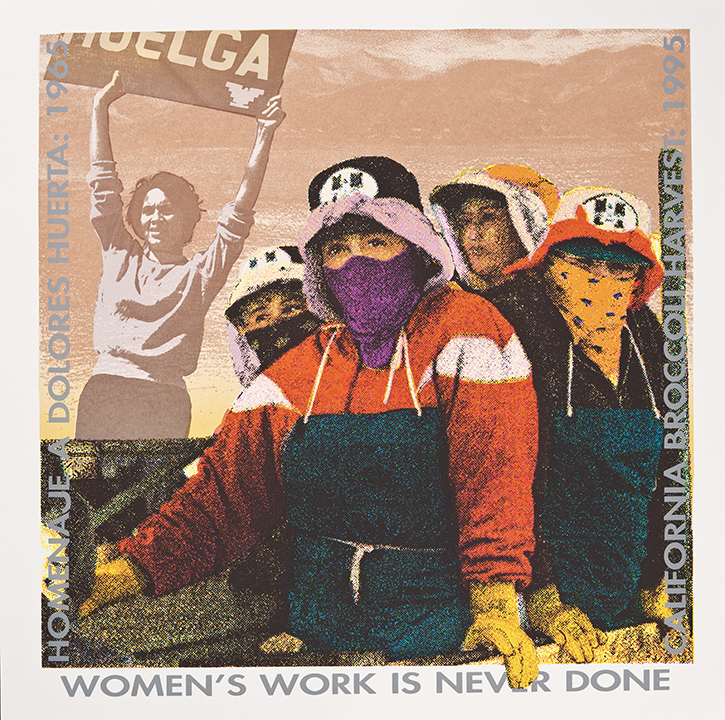 Among the 50-plus works in the Feminae: Typographic Voices of Women By Women exhibit is Yolanda Lopez's "Women's Work is Never Done." Lopez's title is particularly ironic, given the exhibit's gender-based subject matter. The show spans work from the past 50 years, making it easy to understand how much society is still grappling with its themes of gender inequality. Culled from the archives of the Center for the Study of Political Graphics, the graphic images of protest, persuasion and empowerment are truly works of art in their own right.
However, political posters aren't made to merely spruce up walls, but to help figuratively bring barriers down as well.
Two silkscreens from the 1970s, Liliana Porter and John Schneider's "This Woman is Vietnamese" and See Red Woman's Workshop's "So Long As Women Are Not Free People Are Not Free," are particularly powerful, underscoring, as they do, the fact that the subjugation and persecution of women crosses borders and cultures as an unfortunate shared global experience. These two pieces' stark simplicity exemplifies most of the work in the exhibit. In the former, a New York Times photo of a distraught Vietnamese woman with a gun held to her head is centered above these basic words typed out in a typewriter font: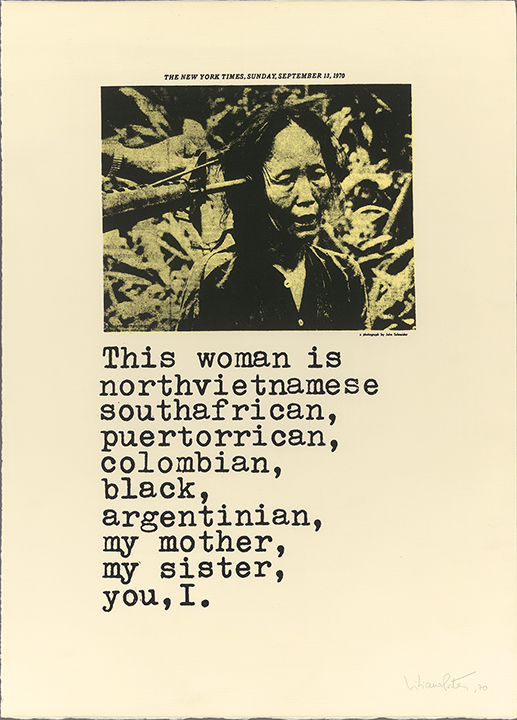 This woman is
northvietnamese
southafrican
puertorrican,
colombian,
black,
argentinian,
my mother,
my sister,
you, I.
By juxtaposing the photo with these words, the creators take the plight of this woman and immediately globalize her pain. In the latter, three female demonstrators are silkscreened in red onto a yellow background. They are marginalized by being stuck in the lower left third of the poster, but two of them are raising their fists skyward and their mouths are open, screaming in defiance. Its non-serif, eponymous type reads: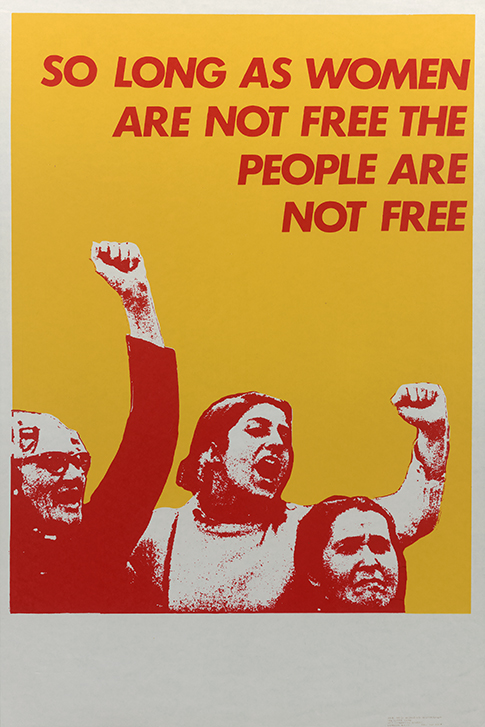 SO LONG AS WOMEN
ARE NOT FREE THE
PEOPLE ARE
NOT FREE
This piece's message takes the global message even farther, making the plight of women a human one — a common theme in the exhibition.
There is also a striking juxtaposition between the past and present that seethes throughout the small gallery. Celia Blomberg's "International Women's Day March 8" can't help but make one think of 2017's Women's March that would take place 37 years later. See Red Woman's Workshop's 1977 "Black Women Will Not Be Intimidated" could easily be repurposed to address the recent spate of blue-on-black brutality. Notable works by Barbara Kruger, Sister Corita Kent and the Guerilla Girls are also included.
Ironically , while it can be surmised that most of these works were made as populist posters to be distributed at the time as banners of protest, their beautiful simplicity and nostalgic elegance probably have resulted in the originals (mostly now found in art museums) sporting hefty vintage-resale prices.
But it is not just the art that has stood the test of time. The fact that the issues addressed in the show — feminism, choice, gender equality, war, immigration, police brutality or violence against women — are all issues at the forefront of debate in 2018 ultimately engenders conflicting feelings.
On one the hand, it is inspiring to see a vibrant exhibit that showcases such diversity in artistic styles, no doubt spawned by the diversity of the artists' own backgrounds. On the other hand, there is a realization that while there has been some progress over the past half century, there is so much work to be done.
Art Center's Hoffmitz Milken Center for Typography, 950 South Raymond Ave., Pasadena; through May 15.
---
Copyright Capital & Main