A Bill to Save Jobs for California Musicians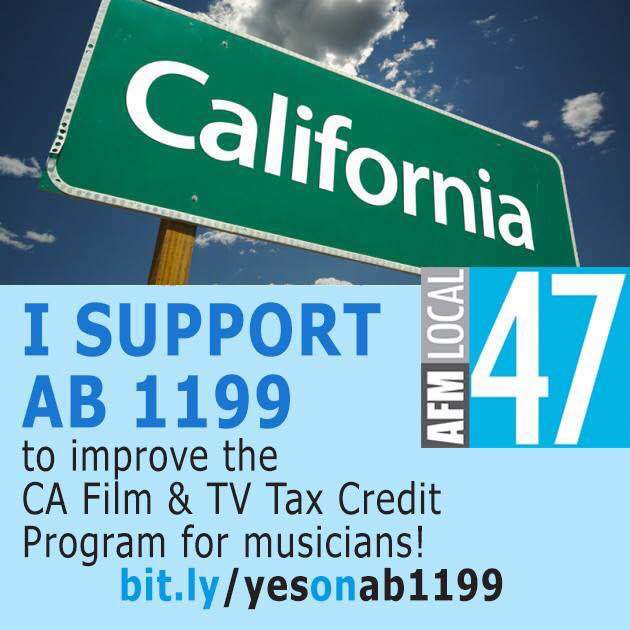 Last week California began accepting applications for the first round of the new film and TV tax credit, which policy makers in Sacramento had beefed up to try and lure film production back to the state. The legislature passed a five-year, $1.65 billion film tax incentive program last year, and with the revamped tax credit program up and running, many entertainment workers throughout California are feeling something not felt in a long time: Hope. For the first time in 15 years, the program feels better equipped to keep our suffering entertainment industry from flatlining and to revive the iconic "Hollywood brand" to its former greatness.
However, not everyone has cause to celebrate. Thousands of California's post-production workers, including recording musicians, are still shortchanged by the tax credit program, which doesn't do enough to create jobs here when the cameras stop rolling. There is no apparatus in the current program to prevent a production company from filming in California, getting their tax break money and then taking that money — money that California musicians paid taxes to help fund — and recording their scores in London or Eastern Europe.
While Assembly Bill 1839 brought vast improvements, "production" remains the operative word. Existing language regarding "post-production" falls short of guaranteeing any significant impact for post-production workers, such as musicians. Though the existing program does include an added bonus for post-production work done in-state, it does not make doing this work in California a requirement; a loophole taken advantage of by productions like Nightcrawler, a motion picture which took a $2.3 million tax credit from California but offshored the musical score to London. These productions still receive significant tax credits even if all post-production is done outside of the state — meaning California taxpayers are effectively subsidizing the offshoring of jobs.
Assembly Bill 1199 offers a real opportunity to close this loophole. Hundreds of supporters have already signed an online petition supporting the bill endorsed by the Recording Academy's Los Angeles and San Francisco chapters, American Society of Music Arrangers and Composers, Society of Composers & Lyricists, all American Federation of Musicians union locals within the California Conference, and numerous other music and labor organizations.
Updating the language of AB 1199 to include a carve-out for musicians would ensure that those production companies that benefit from California's $330-million annual tax credit program are held accountable to raise professional musicians to the same industry standard as actors, writers, directors, grips, carpenters, drivers and other industry workers. What's appealing about this change is that it is revenue-neutral. It doesn't ask for more money than has already been allocated, it simply tightens up the requirements so as not to allow companies to record just a little of their score here, get a tax break for it and then leave town to do the rest of it.
A post-production tax credit has yet to be introduced in California, but as seen in New York –which has a $12-million annual post-production credit – employment has begun to increase for recording musicians there. Not only has New York scored several feature films because of its tax credit, that state has also seen an uptick in TV scoring. Meanwhile, California continues to lose ground. From 2000 to 2010, the number of the 100 top-grossing features with L.A.-recorded scores each year fell from 68 to 55, while London's share rose from 19 to 27.
If California can recoup some of this lost work with the amending and passage of AB 1199 to create a carve-out model for musicians, not only would musicians reap benefits, so too would the state. A report released by the Los Angeles Alliance for a New Economy estimates that for every dollar a musician earns, nearly $2 are put into the California economy.  That's pretty good bang for the buck. What's good for California musicians is good for all Californians, and AB 1199 would provide a sorely needed economic boost to the state.
(John Acosta is President of American Federation of Musicians Local 47.)