Behind the Stirring Among Low-Wage Workers
Something is happening among our low-wage workers in America.
Is the ghost of the Occupy movement stirring?
Probably, but maybe more. In just one astonishing week recently, the Seattle Times—a newspaper not known for being pro-labor—featured worker protests either as the lead story or prominently in the paper:
On July 23 in the City of SeaTac, in a meeting jammed with workers and faith leaders, the city council reluctantly qualified a Good Jobs Initiative for the November ballot. The initiative would establish the city's minimum wage at $15 an hour for hotel, restaurant workers and others, including workers at SeaTac airport.
On July 26 fast-food workers held a news conference on the steps of Seattle City Hall to protest wage theft by Seattle-area restaurants. According to the paper, five workers filed complaints under a Seattle law that makes it a gross misdemeanor to illegally withhold wages. On August 1 at Westlake Park, more than 100 people rallied in support of fast-food workers. Eight demonstrators were arrested.
The previous week in Burlington, near the Canadian border, 240 immigrant berry pickers walked off their jobs at Sakuma Brothers Farm, protesting issues of low pay in their piece work, and the impending arrival of 160 guest workers. A community committee that includes three ministers has attempted to bridge the gap as the impasse between the owners and the farm workers continues.
Add to this list major coverage in the national press during the past three months of one-day walkouts by fast-food workers in New York, Chicago and several other major cities to protest abysmally low pay at McDonald's, Taco Bell, Burger King and other chains.
And take note: These workers are no longer teenagers living at home. According to a recent study the median age of fast-food workers is now 29, and it's safe to say that most of them must have a second job in order to survive. McDonald's now-infamous "suggested worker budget" memo assumed exactly that.
As in other parts of the country, the fast-food worker protests here in Washington state are strongly supported by the Service Employees International Union. SEIU is also underwriting ongoing campaigns here to back the efforts of port drivers to become employees of the shipping companies instead of low-wage "contractors," along with the drive of nearly 4,000 low-wage SeaTac airport contract workers to win union representation and a living wage. Likewise, the push for a $15-an-hour living wage in the City of SeaTac is supported by the union.
So what is happening?
It's the low-wage workers themselves who are suddenly rattling their economic cages and trying to open the creaky doors with a cry for dignity, respect and a real living wage. They are being joined in their protests by faith leaders  who see this as a deeply moral issue, one to which our major faith traditions speak clearly. There are both Christian and Muslim leaders involved in each of these campaigns.
The rising protests harken back to the best moments in our nation's history, from the progressive revolt against the robber barons of the late 19th century to the March on Washington for Jobs and Freedom led by Martin Luther King Jr. (which celebrates its 50th anniversary this month) to the Occupy protests beginning two years ago on Wall Street.
And who doesn't know by now that workers on the lowest rung have lost huge ground in the last few decades? The bottom 20 percent of American workers by income—28 million workers—earn less than $9.89 an hour, their income falling five percent between 2006 and 2012, according to a study by the Economic Policy Institute. Meanwhile median pay just last year for chief executives of the nation's top corporations jumped 16 percent, averaging $15.1 million—indicative of the continuing enrichment of the top one percent.
But even a $15-an-hour wage—if achieved by either fast-food workers or by the approval of the City of SeaTac's initiative—would still be far below a monthly income sufficient to be able to live comfortably. According to the Family Wage Calculator of the Economic Policy Institute, a family of just one parent and one child would need roughly $4,300 a month in the Seattle-Tacoma area. A wage of $15 an hour (assuming a 40-hour work week) would translate to about $2,400 a month.
That is how far out of reach the goal of a truly livable wage—a wage which used to be well within reach, until about the 1980s—has become.
So it looks as though the protests of low-wage workers are picking up where the Occupy movement left off. Could this be the beginning of a new awakening for justice in America?
Our job as witnesses to this development is to be more than onlookers. We can raise our voices in solidarity with the workers. Better still, we can join them on the picket line or at rallies. And we can let our elected representatives know that the present situation is immoral and, in the long, run unsustainable for them, for us and for the country.
(Dick Gillett is an Episcopal priest, activist and author. Before moving to Seattle in 2007, he lived in Pasadena and was a board member of LAANE and of CLUE.)
Government Shutdown's Silver Lining: A Corporate Hiring Guru Speaks Out
Co-published by Fast Company
Ending the shutdown won't curtail the hiring opportunities for corporate recruiters, says one expert. It's like divorce: Once you start thinking about leaving, the odds that it will happen go up dramatically.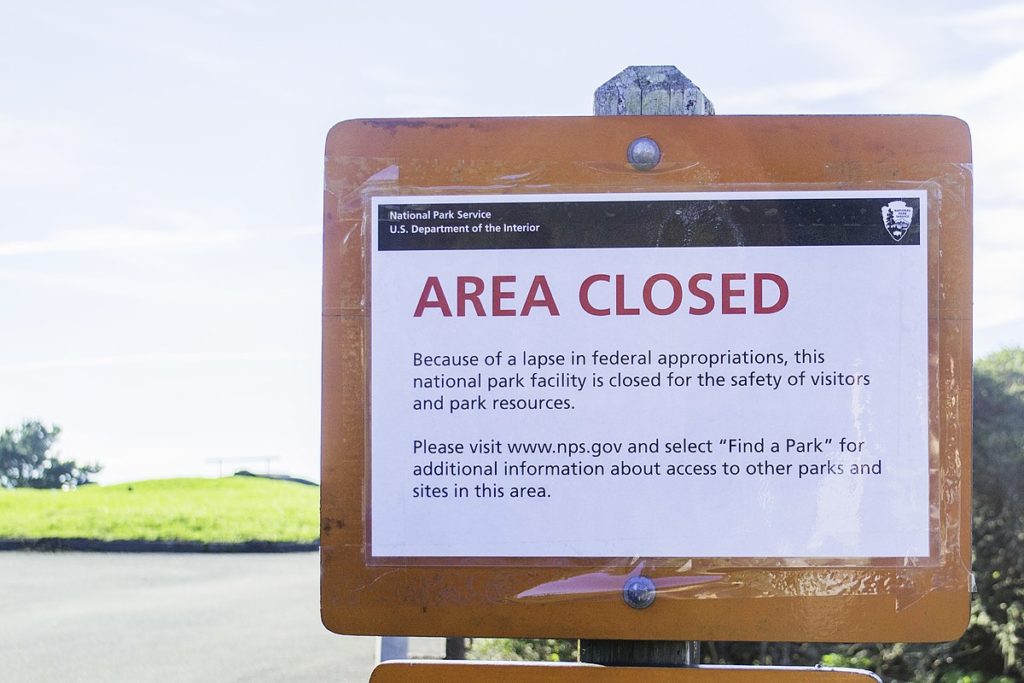 ---
In the new economic climate, even the most mission-driven of federal workers might be forgiven for abandoning the nation's parks, airways and regulatory agencies.
---
Co-published by Fast Company
When the federal government shut down for 16 days in 2013, corporate hiring guru John Sullivan advised companies on how to raid federal government workplaces for talent.
A blog post he penned at the time caused some to charge him with being unpatriotic, he said recently, while others thanked him for the reminder that federal workers were ripe for the plucking.
This time around, the climate is even better for corporations looking to cull staff from a workforce that is already well-trained and also known for its loyalty, Sullivan tells Capital & Main by phone. He describes the current moment—with hundreds of thousands of federal employees forgoing paychecks and, in many cases, sitting at home — as tantamount to "a sale on Black Friday."
---
Congresswoman:  The shutdown could have a long-term impact on the federal government's ability to attract workers with IT skills.
---
"If you've been screaming for the last two years" about the skills-and-talent shortage, "this week there isn't one," says Sullivan, who heads the human resource management program at San Francisco State University's College of Business.
The partial shutdown, that began on December 22 when President Trump failed to secure funding from Congress for his border wall, has impacted employees at a host of federal agencies, including the departments of Agriculture, Commerce, Homeland Security, Housing and Urban Development, Interior, Justice, State, Transportation and Treasury and the NASA.
What makes this particular shutdown so suitable for raiding federal workplaces? It's not just that employee morale has taken a nosedive, thanks to a president who is at war with many of the agencies he oversees. Nor is it only the fact that Trump threatened to keep the government closed for as long as a year, a notion that "really scares people," says Sullivan.
---
With Amazon's opening new offices in the District of Columbia area, three out of four IT workers in DC say they would consider leaving their current jobs for the tech behemoth.
---
It's also the economic climate. Companies are growing. Unemployment is low. Remote work is increasingly an option. Technical advances have made looking for a job easier than it was in 2013. "You can say 'boo' to your phone and apply for a job," adds Sullivan, delivering his matchmaking pitch with such force that even the most mission-driven of federal workers might be forgiven for abandoning the nation's parks, airways and regulatory agencies.
Congresswoman Robin Kelly (D-IL), the ranking member of the House Subcommittee on Information Technology, worried, in a statement last week, that the shutdown would have a long-term impact on the federal government's ability to attract workers with IT skills. The federal government has generally struggled to attract young tech workers, and Amazon's new offices in the District of Columbia area has three out of four IT workers in DC saying they would consider leaving their current jobs for the tech behemoth.
Tech workers — and upper-salaried talent — are not the only employees coveted by the private sector, says Sullivan. Forest Service employees. Coast Guard workers. Transportation and Safety Administration agents. Any unpaid workers could be lured away, especially in states like California and Texas, where economies are strong, he maintains. An employment agency for California's casinos recently put this shout out on Twitter: "Any @TSA employees looking for new opportunities, PTGaming is hiring!" along with the popular hashtag, #shutdownstories.
The shutdown could also prompt federal employees to throw scruples to the wind and step into the infamous revolving door that leads workers from government jobs to the private sector and back again. When Sullivan was advising companies in 2013, he helped firms hire from agencies that regulated them.
"And by the way," asks Sullivan, persisting with his siren song, "if I was a regulator, [with] President Trump eliminating all those regulations, why am I needed? Why not go to the private sector?"
Sullivan, who says he is an underpaid government worker in his own right, is concerned about the public cost of his and others' efforts to lure away the federal government's top talent. The best employees will leave first, and "literally billions" in training dollars will be lost, he predicts.
But he puts the blame squarely on a public sector that undervalues its workers. Corporations that pilfer federal government workforce for talent offer a kind of public service and corrective by demonstrating the price that must be paid "for degrading public service and unnecessarily frustrating federal employees," he wrote in his 2013 post.
Ending the shutdown won't curtail the hiring opportunities for corporate recruiters, says Sullivan. "It's like divorce. Once you start thinking about [leaving], the odds [that it will happen] go up dramatically."
---
Copyright Capital & Main