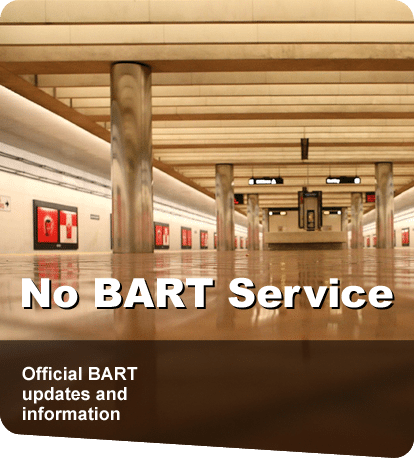 While the 2013 BART [Bay Area Rapid Transit] strike involves current disputes over wages, pensions and worker safety, its roots go back decades. BART management and its workforce have long had a poisonous relationship. The 90-day 1979 strike/lockout is the most obvious example, and despite the last strike occurring back in 1997, bargaining always goes down to the wire with a work stoppage imminent. Why is this relationship so stormy? The chief reason is BART management's historic insensitivity to its workers.
For over thirty years, BART's primarily white management has disrespected its heavily minority workforce. And while compensation levels could reduce tensions over this lack of respect in good times, in the recent down years BART workers have gone backward. These workers (along with riders) have paid the price when the BART Board's suburban majority long refused to raise revenue by charging for parking at its stations, and when BART squandered money on costly expansions rather than improving safety and service in existing areas. BART management never pays a price for its disrespect, and no elected BART Board member has lost their seat due to work stoppages during their tenure.
If you have lived in the Bay Area long enough, the BART strike was no surprise. This script plays out time and time again, and it will continue to occur until BART establishes a more respectful relationship with its workers.
When my wife and I moved to San Francisco in June 1979, we sought to live near a BART line. We were attending Hastings Law School and the Civic Center station was a block away. Unfortunately, the start of class coincided with a long BART strike/lockout, so we spent months on the incredibly overcrowded and much slower Mission Street buses.
That was my introduction to BART-worker relations. My wife eventually became an attorney for the firm representing the BART transit union, and I came to meet the union leadership and some of its members.
It's About Respect
Labor attorney Stanley Neyhart negotiated the best transit worker contract in the nation for ATU's BART workers when the system opened. During the 1980s, the workers' conflict with management was not primarily about compensation, but about something deeper.
It was about respect.
In those days, BART seemed to go out of its way to disrespect workers. And while each individual indignity seemed small, the cumulative impact of BART's behavior created an enormous set of grievance among workers toward management.
This sense of grievance was worsened by its racial dynamics. BART's Amalgamated Transit Union 1555 was heavily African-American. The leader in the 1980s that I saw in action was a very charismatic and effective African-American, the late Hank White.
This dynamic from the 1980s has not changed. Local 1555 and ATU Local 192 (AC Transit) released a video on June 23, 2013 titled "They Treat Us Like Slaves." The video expresses the pervasive attitude among workers that a primarily white BART leadership feels free to disrespect its largely minority workforce.
In recent years, worker feelings of disrespect have been accompanied by BART management imposing salary and benefit cuts. This has resulted in perhaps the greatest worker anger since the 1979 strike, as the union is convinced that management cares little about union workers or their families.
No Political Downside to Strike
In the face of such conflict, a strike could only have been averted if labor or management faced a major political downside. But the opposite has typically proved true.
For a very long time, no Local 1555 President in power when a BART contract was signed was re-elected. Yet BART management is historically criticized for being too generous to workers.
We have workers feeling their leadership did not get enough, and management feeling it must take a hard line to show its toughness—even if this means inconveniencing much of the Bay Area by a strike.
SEIU Local 1021, the other union representing workers at BART, also had no reason to avoid a strike. Local 1021 has a separate set of grievances with the City of Oakland, and its Oakland members (joined by IFPTE Local 21) went on a one-day strike on July 1 to highlight their cause.
With its Oakland workers fired up and ready to go on strike, Local 1021 was not about to avoid a strike and accept a bad contract from BART. Historically, ATU has been more confrontational toward BART than SEIU, but today the insurgent Local 1021 leadership is in lockstep with its transit union ally.
(By the way, I understand the BART strike, but the City of Oakland's bargaining position toward its workers is a mystery. Mayor Jean Quan appears to have hidden herself in the same bunker where she stayed during the initial days of the Occupy movement. Quan is so fearful of losing labor support in her re-election campaign that she has apparently given orders to keep the city's specific position toward its workers a secret. As a result, Oakland residents know little about the city's stance. Meanwhile, Local 1021 is using Twitter, emails and all forms of social and traditional media to build public support.)
Returning to BART, has any BART Board member ever been defeated because of voter anger over a BART strike? I can't think of a single case.
No wonder management feels comfortable provoking strikes. The BART Board is so low-profile that members virtually serve for life. When an incumbent is defeated—as occurred when 25-year old Zakhary Mallett defeated Lynette Sweet in November 2012—the outcome was driven not by anything affecting the public but by contractors spending $60,000 against the incumbent because she criticized their lack of minority subcontractors.
The tragedy of the current BART strike is that it was foreseeable, and avoidable. But unless BART management uses this work stoppage to create an entirely new relationship with its workers, we'll be facing another strike when the next contract expires.
(Randy Shaw is Editor of Beyond Chron, where this post first appeared. His post is republished with permission.)