Battling Income Inequality With Second Avenue Partners' Nick Hanauer
The Seattle maverick, who has pushed for a slate of progressive policies while warning his "fellow zillionaires" that the pitchforks are coming, explains on "The Bottom Line" podcast that his dad helped to shape his values.

When venture capitalist, entrepreneur, and political provocateur Nick Hanauer was coming of age in Seattle, he wanted a sports car. His father, however, wouldn't let him get one.
It wasn't because the family, which owned and ran bedding producer Pacific Coast Feather Co., didn't have the money for a luxury like that. Nor was it because Hanauer's dad deemed it too dangerous or frivolous.
He forbade the purchase because he was worried about the optics. "He felt strongly that it sent the entirely wrong signal to our employees who worked, in his opinion, harder than I did and couldn't afford such a thing," Hanauer told me on the latest edition of my podcast, The Bottom Line.
"That was just kind of the perspective that my dad had," Hanauer adds, "and I suppose I got some of it."
Actually, Hanauer got substantially more than some.
An early investor in Amazon and a co-founder of Second Avenue Partners, Hanauer for years has been citing the dangers of income inequality in America, famously warning his "fellow zillionaires" that "if we don't do something to fix the glaring inequities in this economy, the pitchforks are going to come for us."He also hasn't been shy about offering a host of policy prescriptions to lift up the working class. Among them: raising the minimum wage to as much as $25 an hour at the nation's biggest corporations; making vastly more people eligible for overtime pay; creating a system of portable, pro-rated, and universal benefits for independent workers; and curtailing stock buybacks.
If he had his way, he'd also significantly boost corporate taxes—a total reversal of Trumpian economics.
Hanauer says that he learned the merits of this idea from watching his father manage Pacific Coast Feather. At the time, in the 1970s, the top corporate rate was 48%. (The Trump tax law just lowered it to 21% from 35%.)
"When I grew up in the family business and tax rates were very, very high, my dad employed this fantastic tax-avoidance scheme," Hanauer says. "We called it investing in the business.
"What my dad did to avoid paying corporate tax, which he hated, was to spend every dollar of cash flow on more employees, more factories, and more equipment," he recalls. "We kept our profits insanely low because we did not want to pay more corporate tax. Today. . . the penalty of high profits is very, very low."
While Hanauer has harsh words for what he calls the "trickle-downers," his condemnation is not limited to one side of the political aisle. "The evisceration of the middle class," he says, "took place during Democrat and Republican administrations."
He also sees the public sector as just one part of the problem; the private sector, in Hanauer's eyes, has largely abdicated its responsibility, as well. "In the old days, big companies used to set the tone at the top," he says. "Today, they drag everyone down to the bottom. And that shouldn't be tolerated."
One of the corporations that Hanauer criticizes is Amazon, which he helped to get off the ground (and where, it was recently disclosed, the median employee made $28,446 last year while CEO Jeff Bezos's net worth has climbed to more than $130 billion).
"They're super exploitive—just unacceptable," Hanauer says. "What I can guarantee you is that Jeff Bezos is not going to change those things in the absence of somebody putting essentially a gun to his head and forcing him to do it."
If Hanauer's father helped to forge a firebrand, there's at least one aspect of the son's life that he would have trouble fathoming. "I . . . have this giant pile of money that would have been inconceivable to my dad," Hanauer says. "And I live a ridiculously lavish life as a consequence of that."
You can listen to my entire interview with Hanauer here, along with Larry Buhl reporting on the steady erosion of overtime pay in America, and Karan Chopra explaining how great social benefits can result when "agents of innovation" combine with "agents of scale."
The Bottom Line is a production of Capital & Main. 
BlueLA E-Vehicles Hit the Streets
With rates roughly equal to rideshare services like Lyft and Uber, BlueLA appears unlikely to make a significant dent in Angelenos' travel habits anytime soon.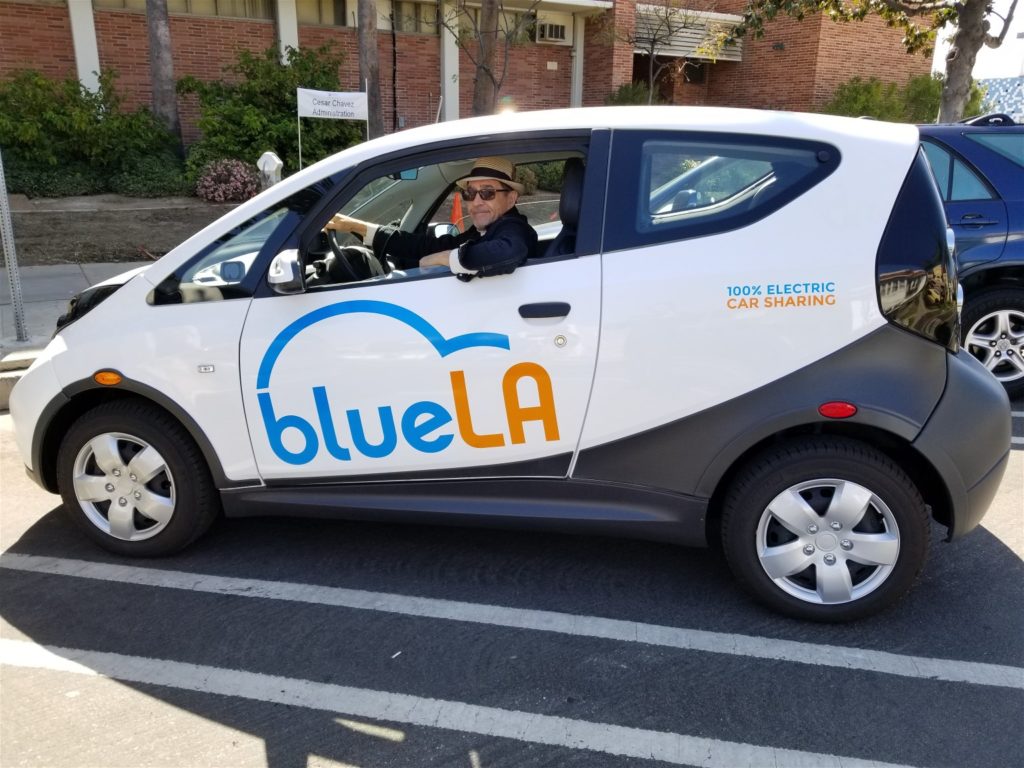 Last month a controversial French company and the Los Angeles Department of Transportation rolled out the blue-carpet at a full-launch party for BlueLA, an eco-friendly car-sharing service. BlueLA enjoys enthusiastic municipal backing for its mission of helping to ease L.A.'s desperate transportation woes with a fleet of electric cars and charging stations, initially targeting, LADOT says, some of the city's lowest-income neighborhoods. (A soft-launch of the L.A. program was unveiled last June.)
Although questions remain about the viability of BlueLA's business model, on April 20 — while a DJ spun tunes under sunny skies on the L.A. Community College campus in East Hollywood, community organizers and environmental groups dispensed brochures, food trucks served lunch and reporters test-drove the nifty blue e-vehicles — local pols hailed the co-venture between LADOT and Blue Solutions, the parent company of BlueLA.
"BlueLA is making a difference," said Sandy Berg, vice chair of the California Air Resources Board, which is granting $1.7 million of cap-and-trade regulation funds to the $10 million project. A statement from Mayor Eric Garcetti declared that the company would provide "underserved communities with an environmentally-friendly way to get around town—at an affordable price."
BlueLA's first seven stations are located at Los Angeles City College, Koreatown, MacArthur Park and downtown Los Angeles. The next round of stations will include Los Angeles Trade Technical College, Echo Park and Westlake. The program's first phase aims to have 100 vehicles available in 40 locations, with subsequent expansions tripling the program's reach by the end of 2021. A phone app allows users to locate and reserve available cars.
The pricing structure offers users a "Community" level subscription: one dollar per month and 15 cents per minute, provided the user is "low-income qualified," with a total annual gross income of less than $31,550 for an individual. Proof requires pay stubs, tax returns or enrollment in Medicaid/Medi-Cal, SNAP or other public-assistance programs. At this level the second and third hours of any rental period are free, adding up to a cost of $9 for the first three hours, after which the 15-cent-per-minute rate applies.
A statement from Marie Bolloré, CEO of Blue Solutions, a division of the Paris-based Bolloré Group, which manufactures the Blue Cars and the e-vehicle's battery, reiterated the goals of sustainability and "creating inclusive communities," and saluted CARB and LADOT for "unwavering support" for their co-venture.
Yet it's not all been a win-win for her company. The 30-year-old heiress to the Bolloré business, which dates back to 1822, and "director of the Electric Side of The Empire," according to the French press, might not have known that less than a week later her father, Vincent Bolloré, would be arrested by French judicial police. The 66-year-old head of one of France's richest conglomerates—counting Universal Music Group and a large tranche of French TV and film media companies among its diversified holdings, which yielded 18.3 billion euros in 2017 revenues—is the target of a bribery investigation involving the presidents of Togo and Guinea in West Africa, where the Bolloré Groups' myriad interests in transport, palm oil plantations and shipping make it one of the continent's biggest investors.
"That is about things that happened 10 years ago," Blue Solutions managing director Christophe Arnaud told Capital & Main by phone about the senior Bolloré's arrest. "It won't affect our operations in L.A."
Indeed, l'affaire Bolloré has not yet affected AutoLib', the company's 3,000-car rideshare service in Paris, or BlueIndy, the company's three-year-old American test project in Indianapolis. But, even if the parent company's distant troubles don't impact the rollout of BlueLA on the streets of Los Angeles, other factors present daunting challenges to the car-share venture's success here.
BlueLA is not expected to turn a profit for 12 to 13 years, says Arnaud, describing it as a "long-term investment." The business plan envisions revenue, beyond customer subscriptions, coming from three main sources: the offering of its charging stations to other e-vehicles; advertising on the sides of Blue Cars; and selling the car batteries' stored juice back into the grid. Arnaud admitted, however, that for the scheme to pay off, BlueLA's infrastructure will have to scale up quickly.
With rates roughly equal to rideshare services like Lyft and Uber, and competition from rapidly expanding bike-share services around the city, as well as other share-ventures such as Santa Monica-based Bird electric scooters, BlueLA appears unlikely to make a significant dent in Angelenos' travel habits anytime soon.
As for the idea of servicing the EV community, BlueLA's charging stations do not currently accommodate other e-vehicles, nor are the Blue Cars compatible with any of the city's existing charging stations, despite the fact that Los Angeles is one of the country's top 10 EV cities, according to a recent study by Indiana University, with more than 1,200 plug-ins within 10 miles around the city.
The car's solid-state lithium battery has its pluses—such as "no cobalt," Arnaud emphasized, referring to the rare-earth element that is often mined under conflict conditions for other batteries—but faces overwhelming competition from Tesla and other battery manufacturers. Also, outside of sunny California, the Blue Solutions battery must be kept plugged in and warmed above a certain temperature.
Still, a quick spin around L.A.'s Mid City neighborhood in a BlueCar was easy, with radio and AC functioning on a recent hot day, built-in GPS guiding my way and pretty good acceleration, although I wouldn't take it on the Santa Monica Freeway. Want to practice your French? Tap the Help button; it connects to customer service in France. But don't forget the nine-hour time difference. "It is two in the morning!" said the voice with a touch of Parisian impatience, as I rounded the corner of Melrose and Vermont avenues.
---
Copyright Capital & Main