Baseball: My Mother the Feminist Would Never Drop a Ball on Purpose
My mother and aunt were two of the girls of summer, recruited by the All-American Girls Professional Baseball League to play pro baseball during World War II. Twenty-five years ago this month, the league became famous when the film, A League of Their Own, became a hit. BY KELLY CANDAELE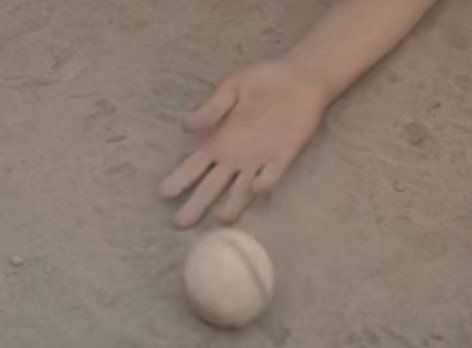 Helen Callaghan, the author's mother
My mother and aunt were two of the girls of summer, recruited from Canada by the All-American Girls Professional Baseball League to play pro baseball in the 1940s as the United States sent many of its best male ballplayers to fight in World War II. Twenty-five years ago this month, the league became famous when the Columbia Pictures film, A League of Their Own, starring Tom Hanks, Madonna and Geena Davis, became a home-run comedy hit. A few years prior, I had produced a PBS documentary film of the same name about my mom and aunt's years in the league that was the inspiration for the feature movie.
People still ask me questions about the film that usually start with, "Did you meet Madonna and Tom Hanks?" and end with, "Did your mom drop the ball on purpose at the end of the movie to let her younger sister win the game?" In the Penny Marshall-directed film, Dottie, a great hitting catcher played by Davis, drops the ball when she is run over at the plate in the last inning by her sister Kit, played by Lori Petty. Kit's team wins the World Series and the sisters finally reconcile after spending most of the film squabbling in ways that only siblings can.
One writer recently observed about that crucial scene that "the internet is filled with painstaking did-she-or-didn't-she analyses" about the dropped ball. Thousands of movie and baseball fans have weighed in over the years, some arguing that Dottie boosted her sister's confidence by "letting her win," with others asserting that the film's "narrative arc" clearly dictates that Kit must win the game fair and square.
In my household the answer is simple: My mother – who passed away the year the film came out – would never have dropped the ball on purpose to let her sister win. No way — not a chance. And there are good moral, psychological and even philosophical reasons for why.
Dropping a ball on purpose to let a relative or friend win a game is a betrayal on several levels. It is a betrayal first and foremost of your teammates, who are fighting hard to win the game and expect that you are doing the same. It is a betrayal of your own integrity, assuming that you have a clear understanding of what constitutes fair play. Letting someone win is also condescending, retaining for yourself the power to determine the other person's fate, thereby denying them any unmitigated satisfaction. And purposefully losing a game is a betrayal of both the game itself and the spectators.
As social critic Christopher Lasch pointed out in The Culture of Narcissism, watching those who have mastered a sport can provide exacting standards by which we can measure ourselves. There is an "illusion of reality" that players and spectators participate in by accepting the rules and rituals of the games they play. What should bind the spectator and the athlete, Lasch writes, is recognition of this "representational value" of serious athletics when not degraded by spectacle or trivialization. If someone drops a ball on purpose or misses a basketball shot intentionally, whatever positive symbolic value sports might have vanishes.
My mother was an athletic warrior who took her baseball skills seriously. She was fiercely competitive, driven to win and, like many great athletes, was capable of a measure of anger against her opponents.
A lot of anger is expressed in the movie. The sisters fight about whether one of them is receiving special treatment from team owners. The players express their appropriately targeted anger towards their manager (Hanks), who refuses to recognize them as gifted athletes. "I don't have ballplayers, I've got girls," he says early in the film.
And when the male team owners tell the women it's time to go back home and into the kitchen, they band together in sisterly and class solidarity to save their league. (My mother worked in an armaments factory before joining her team, the Fort Wayne Daisies.)
My mother understood that anger, when properly expressed, is a form of self-assertion and can transform relationships with others in positive ways. This is especially true on the baseball diamond, where an intensity of effort can overcome a mismatch in talent.
Geena Davis recently said that back in 1992, when the film came out, reporters would sheepishly ask if she thought it was a "feminist" movie. She always responded assertively that yes, as feminism was about equal rights and opportunities, then A League of Their Own was feminist.
I'm sure my mom would have agreed with her. Especially if the definition of feminism would include having the opportunity to knock your sister on her rear in a close play at home to win a World Series. What could be more fun – and egalitarian — than that?
Kelly Candaele produced the PBS documentary A League of Their Own about his mother's years as a professional baseball player in the 1940s and wrote the story for the Columbia Pictures feature film.
---
Copyright Capital & Main

'Skeleton Crew' Is a Play With a Moral Spine
Set in a Detroit automobile outfitting plant, Dominique Morisseau's drama grabs you from the start with its focus on blue-collar men and women, and their struggle for dignity and self-respect.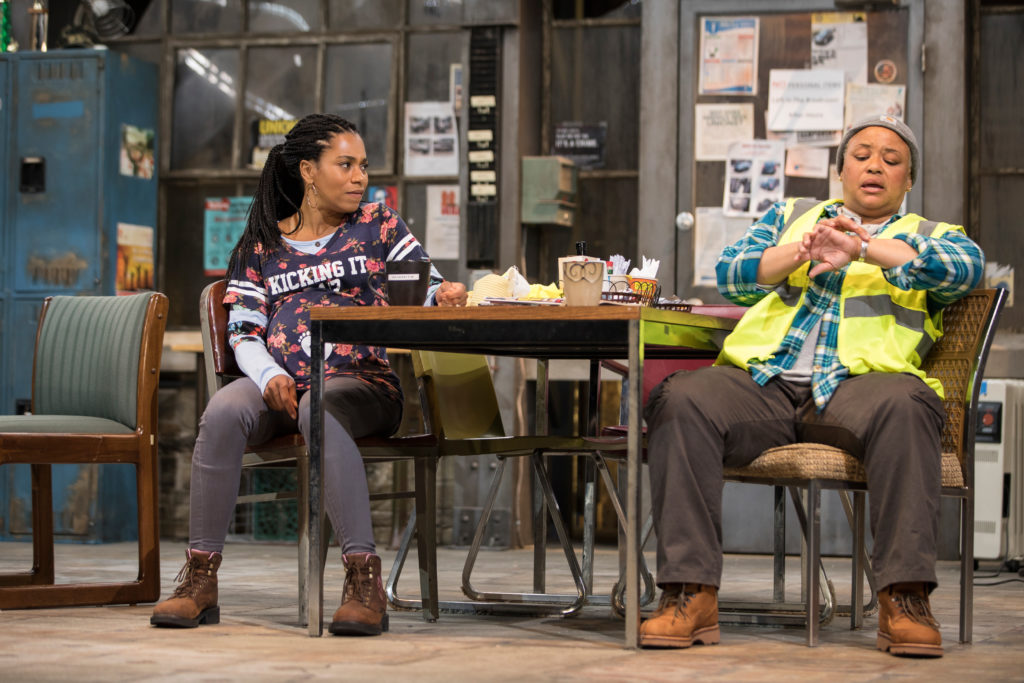 Working-class men and women of color are rarely front and center in today's media and, likewise, are presented all too occasionally on the American stage. So it's buoying to see that trend bucked in playwright Dominique Morisseau's percipient and well-crafted drama, Skeleton Crew. The play is the final installment in her Detroit  Project Trilogy; the first, Paradise Blue, is set in the 1940s amidst displacement caused by urban renewal and gentrification, while the second, Detroit '67, transpires on the eve of the 1967 Detroit riots sparked by a police action.
Directed by Patricia McGregor at Los Angeles' Geffen Playhouse, Skeleton Crew is a play with a moral spine. It takes place in 2008, when the shrinking U.S. auto industry is being further downsized. Morisseau's engaging quartet of characters — Faye (Caroline Stefanie Clay), Dez (Armari Cheatom), Shanita (Kelly McCreary) and Reggie (DB Woodside) – are employed at an automobile outfitting plant. Faye, Dez and Shanita are workers on the line while Reggie (who has a wife and kids, and has pulled himself together after a troubled youth) is their supervisor.
The first three customarily mingle in their break room (designer Rachel Myers' impressively cluttered, dingy and detailed set), trading the sort of familiar barbs and genuine concern for each other common among longtime co-workers. They also face off on philosophy: Upper-middle-aged Faye and the younger, pregnant Shanita take pride in their labor, while Dez, though a good worker, is a malcontent scornful of management and firm in the belief that everyone needs to watch out for himself. He's a thorn in Reggie's side, for while Reggie wants to be supportive of his workers, he must act at the behest of higher management. For his part, Dez resents Reggie's authority, and a palpable unease exists between them.
Besides this male matchup, we're made privy to Dez's attraction to Shanita, who mostly turns away his advances, but every now and then displays a hint of interest. Most poignant is Reggie's regard and affection for the lesbian Faye, which has roots in his boyhood when she loved, and lived, with his now-deceased mom.
These people's various predicaments intensify when rumors spread of the plant's shutdown — a disaster for all, but a particular calamity for the already near-broke Faye who, one year short of retirement, would lose her pension. The crisis forces each of these people to make a choice.
A sound piece of social realism, Skeleton Crew grabs you from the start in its focus on blue-collar men and women, and their struggle against odds for dignity and self-respect. Morisseau not only furnishes these characters a platform for their travails, she endows them with strong values, big hearts and the opportunity to choose between right and wrong.
Unfortunately, the performance I attended did not soar. Many exchanges lacked a fresh edge. The actors certainly had their characters down, but too often they appeared to be coasting on technique. (This seemed particularly true of Clay, who performed the role to great accolades in Washington, DC in 2017, also under McGregor's direction). Additionally, some of the stage movement was not entirely fluid; in confrontations, actors sometimes would just stand and face each other in an artificial way. And Cheatom's interpretation of Dez struck me as a bit overly churlish and depressive: I needed more glimpses of the intelligence and edge that would secretly attract the strong, self-directed Shanita.
The most compelling moments belong to Woodside, well-cast as a man trying his best in difficult circumstances to do the right thing.
---
Gil Cates Theater at the Geffen Playhouse, 10886 Le Conte Ave., Westwood Village; Tues.-Fri., 8 p.m.; Sat., 3 & 8 p.m. Sun., 2 & 7 p.m.; through July 8. (310) 208-5454 or www.geffenplayhouse.org