BART Managers Got Free Media Pass During Strike
While a new labor contract is still being negotiated, SEIU 1021 and ATU 1555 have already won the 2013 BART strike. Prior to last week, both unions faced an untenable choice: Accept another round of concessions demanded by BART [Bay Area Rapid Transit] or risk alienating hundreds of thousands of BART riders by closing down the system. A successful strike would not be easy. It required rank and file solidarity, and the building of a strong community-labor coalition. It also meant withstanding an anti-union media blitz that framed the conflict as between a BART management that cared about riders and taxpayers, and a union workforce that only cared about "selfish" goals.
But as the dust from the strike clears, it is BART management that is under pressure to improve its offer. Both unions resume negotiations in a much stronger position than before the strike, and retain the option of striking again should BART still refuse to negotiate in good faith. Since unions will get a better contract than had they accepted BART's last pre-work stoppage offer, labor has already won the 2013 strike.
Management as Public-Minded Mediator
On July 3, the day before the BART strike ended, the San Francisco Chronicle ran a story on BART General Manager Grace Crunican ("BART GM weighing needs of riders, workers"). The story portrayed Crunican not as the aggressive partisan for BART management that she is, but rather as a good-faith mediator caught between the needs of riders and workers. The article entirely ignored Crunican's and BART management's culpability for provoking a strike that caused great stress, hassle and financial costs for the union members involved and for hundreds of thousands of BART riders.
Also on July 3 the Chronicle's C.W. Nevius lent his support for BART management in a column, "BART workers overplay their hand." Nevius concluded that SEIU and ATU's efforts to rally the public had failed because he saw a downtown street corner in which "the supporting horn honks and cheers are definitely lacking." He also said "indications are that BART management is willing to offer some concessions."
Well, I saw a lot of photos of public support for the strikers so Nevius' assessment may have some methodological infirmities as a means of testing strike support. And if Nevius has indications that BART will offer workers a better contract because the unions went on strike, than that would show the tactic worked, and workers did not "overplay" their hand.
In fact, a more accurate column about the strike would be titled, "BART Management Overplayed Its Hand."
If the unions were actually losing the strike, the Chronicle would not have needed to go all in with stories backing BART management as late as July 3. Instead, a real public backlash against the unions would have been already evident, as occurred in San Francisco when rank and filed MUNI workers turned down a contract that its leadership and the public backed.
As I wrote when the strike began, the daily newspapers have ignored BART management's longtime disrespect for its workers. As a result, management's responsibility for inciting the strike was ignored, despite some outlets having a team of reporters covering the story.
Reporters Give BART a Pass
Veteran reporter Carla Marinucci did not ask a single tough question of GM Crunican in her July 3 Chronicle story. Instead of asking why BART refused to come to the bargaining table in the days leading up to the strike, or why BART never addressed worker safety concerns, Marinucci wrote a puff piece designed to bolster public support for Crunican and BART's hardline position.
The Chronicle even allowed Crunican to get away with identifying BART management as deeply concerned with the concerns of its riders. That sure was a laugher. Consider, for example, decades of unheeded rider requests that BART run its system all night or at least into the early morning, so those attending clubs can use public transit as in New York City and elsewhere. Or BART management's ignoring the large public turnouts opposed to BART building an extension to the Oakland Airport rather than strengthen the East Bay's existing system.
BART cared so much about its riders that it took over two decades of pleading before bicycles were allowed on BART at all hours. In fact, one is hard pressed to find an urban transit system less concerned with rider input than BART.
And that's one reason why the public didn't jump on BART's side in its media campaign against labor.
The Power of Social Media
Another reason is social media. There is no way the unions could have withstood the media pressure against them had they not built and informed a community base through Twitter, Facebook and other social media. SEIU 1021 in particular constantly tweeted about breaking news, rallies, events and the course of negotiations, so those following these tweets–and many if not most 1021 members as well as community supporters likely were–were not discouraged or dissuaded by what they were reading in the Chronicle or hearing on the news.
In my new book, The Activist's Handbook : Winning Social Change in the 21st Century, that is just coming out this month, I discuss how labor unions (and other progressive organizations) often fail to effectively use new media. As a result, strikes and other pressure campaigns frequently become overwhelmed by management-backed media stories that turn public sentiment against workers.
Labor unions across the nation should look at how social media were used in the BART strike and apply these lessons to their own struggles.
The Road Forward
SEIU 1021 and ATU 1555 members remain committed to a fair contract, and the next month gives both unions a chance to increase attention on BART management's failure to substantively improve its offer. I say this realizing that Antonette Bryant, ATU 1555 President, sought to get such a focus by tweeting weeks before the strike about BART's refusal to negotiate in good faith, and its unwillingness to even come to the bargaining table.
The public paid a terrible price for this strike. But much of what I read [that was] critical of BART workers for not simply accepting management's last offer would undermine the case for all unions. And those who keep comparing BART worker wages with those of nonunion workers (presumably wanting wages to go down as low as management desires) completely ignore management salaries, pensions and other lavish compensation packages that they could not obtain in the private sector.
Of course, BART management still got paid during the strike. If it did not, perhaps we would not see such bad faith bargaining in the future.
I predict the final contract will be better for SEIU and ATU workers than BART's last pre-strike offer. And that will be the conclusive proof that workers won this strike.
(Randy Shaw is Editor of Beyond Chron, where this post first appeared. His post is republished with permission.)

What the NLRB's About-Face on McDonald's Means for Franchise Workers
While the National Labor Relations Board is currently divided 2-2, the confirmation of another Trump appointee will restore the Republican majority — which is bad news for fast-food-chain workers.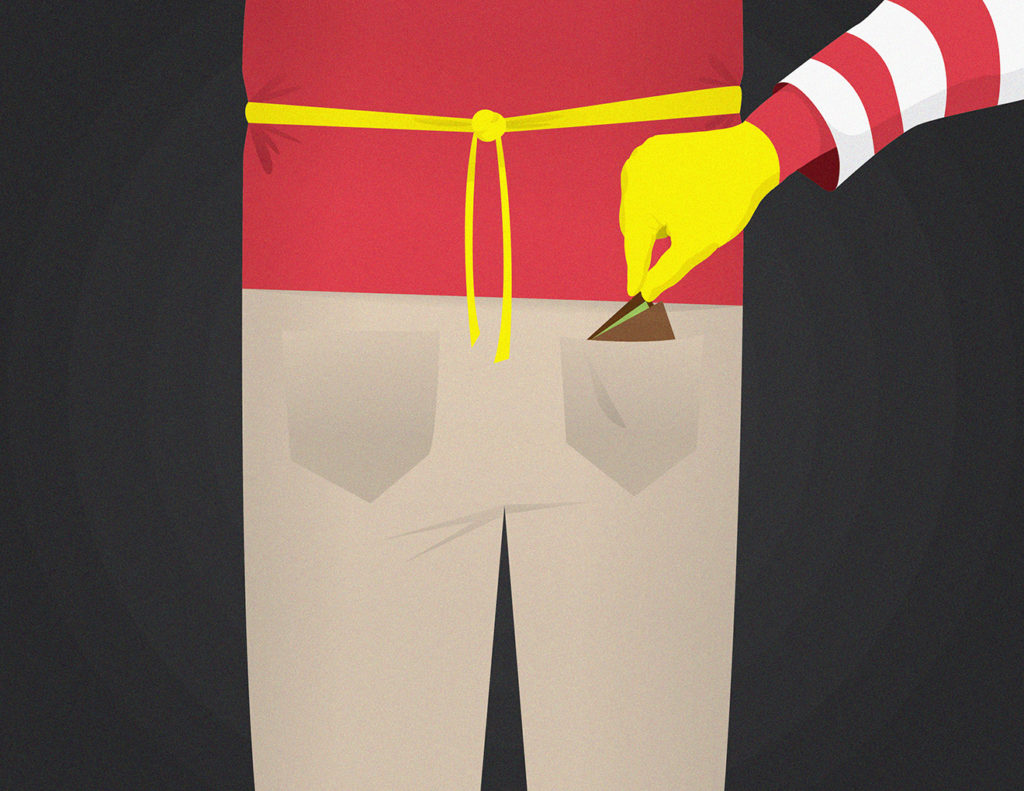 ---
With Donald Trump's election, the momentum at the NLRB is now with employers.
---
Workers at McDonald's joined the union-backed Fight for $15 campaign because many found that they could not get by on minimum wage without the help of family and public assistance. But joining that campaign spurred retaliation, with dozens of employees alleging that they lost money or their job for organizing to get better pay.
Enter the U.S. National Labor Relations Board.
In a victory for workers, the board decided the McDonald's Corporation was jointly responsible for punitive actions against employees across the country because the company dictates, among other things, how those employees cook and clean. That 2015 decision, in a case called Browning-Ferris, established a broad definition of "joint employer." It made franchisors potentially liable for the actions of individual franchises, citing the "indirect" control they exercised over employees and their workplaces. And it meant fast-food chains, among others, would have to collectively bargain with employees who joined a union.
Donald Trump was elected president the next year. By December 2017, the NLRB was back on the side of business with respect to who is and who is not a joint employer, the board overturning with a 3-2 vote the "indirect control" standard of Browning-Ferris.
Then a Republican member of the board retired, evenly dividing the NLRB along partisan lines. The board's inspector general then issued a report in February 2018 saying the December decision never should have been made — that, in particular, a Trump appointee should have recused himself due to a conflict of interest. The decision was thrown out, with congressional Democrats, such as Massachusetts Senator Elizabeth Warren, calling for hearings.
By that point, however, the NLRB had already ordered its lawyers to retreat in the most visible battle over the "indirect" joint-employer standard.
When an administrative trial began back in 2016, the NLRB had said McDonald's was jointly responsible for alleged labor violations at its franchises, including reduced hours, surveillance and wrongful termination of employees who had been organizing for better pay.
"If McDonald's is involved in determining working conditions at its franchised operations, it is responsible for what happens to workers subject to those conditions," NLRB lawyer Jamie Rucker said at the time.
But the NLRB sought and won a 60-day suspension of that trial earlier this year. Lawyers representing the Fight for $15 movement and its allies say the NLRB is now rushing through a proposed settlement that would see McDonald's get off without a finding of joint liability — which won't make it any easier for low-wage workers to collectively bargain.
"What I see is an attack on workers' ability to form a union," said attorney Marni von Wilpert of the progressive Economic Policy Institute (EPI). "If you were able to find a joint-employment relationship with the corporate [franchisor], then all of a sudden they all have one big employer, and all the employees can go to corporate McDonald's. That's really what it's all about, whether workers can organize."
Under the proposed settlement, McDonald's admits no wrongdoing, but its franchisees agree to cover back pay for workers fired as a result of their organizing.
The NLRB "is proposing a sham settlement," said Mary Joyce Carlson, a lawyer representing Fight for $15. "McDonald's directed a wave of retaliation that stretched from coast to coast and included illegally harassing, surveilling and firing workers in the Fight for $15. The hardworking cooks and cashiers who were organizing to get off of food stamps and out of poverty deserve a ruling in their case, not a settlement hammered out at the last minute in collusion with the Trump administration."
With Trump's election, the momentum at the NLRB is now with employers. Any setbacks would appear to be temporary: while divided 2-2 for now, the confirmation of another Trump appointee will restore the Republican majority. Once that happens, the NLRB can be expected to seek another opportunity to overturn the Browning-Ferris joint employer standard.
While Browning-Ferris did not explicitly pertain to the franchise model, it clearly spooked those who depend on it — and inspired those who think franchisors like McDonald's should be liable for the mistreatment of employees at locations bearing its name.
Fight for $15 has prioritized organizing at fast-food businesses, but forming unions is extremely difficult when a dozen small restaurants with the same name may have a dozen different owners. There are over 14,000 McDonald's restaurants in the United States, with only one in 10 owned by the corporation. The ability to collectively bargain with McDonald's, the corporate franchisor, would make a union's task easier — and help address the sort of labor violations that regulators routinely find at fast-food franchises. An EPI report says unionized workers are half as likely to be victims of wage theft, for example.
At an April 5 hearing, Fight for $15 attorney Kathy Krieger urged NLRB Administrative Law Judge Lauren Esposito to reject the settlement. Krieger argued that McDonald's had conspired with its franchises to thwart worker organizing, the corporation recommending, she said, that franchisees "restrict crew members from taking their meals or their rest breaks outside the crew room" as a means "to prevent concerted activity."
McDonald's attorney Willis Goldsmith said the company would never accept a settlement identifying it as a joint employer. "The franchisees, they're independent business people," he said. "They did whatever they did, and if they are willing to concede that, they're going to have to pay people. It's not our job."
While it appears the NLRB under Trump will ultimately reimpose the stricter, pre-Browning-Ferris standard that a joint employer must have direct rather than indirect control of workers, industry groups aren't taking any chances.
Jenna Weisbord, a communications manager at the International Franchise Association to which McDonald's belongs, said her group is looking to Congress to pass the "Save Local Business Act," which would legislatively reimpose the pre-Browning-Ferris standard. "We understand the Senate will take on this task later this year," she said of the bill, which passed the House last year.
A television ad campaign sponsored last year by the franchise association and the U.S. Chamber of Commerce argues the measure would restore "balance to labor law" in the face of a "runaway government agency." That agency, in the era of Trump, is increasingly tilting in the favor of business.
---
Copyright Capital & Main