Why Are Prison Guards Backing the Death Penalty?
Of the 17 propositions on this year's California ballot, few are as divisive as the issue of capital punishment. There are actually two separate initiatives targeting the death penalty: Proposition 62, which would abolish the death penalty, and Proposition 66, which would speed up executions.

San Quentin's death chamber.
Of the 17 propositions on this year's California ballot, few are as divisive as the issue of capital punishment. There are actually two separate initiatives targeting the death penalty: Proposition 62, which would abolish the death penalty and replace it with prison without the possibility of parole; and Proposition 66, which would speed up the process to send condemned murderers to the death chamber.
According to campaign finance disclosures compiled by the California Fair Political Practices Commission, much of the pro-death penalty campaign funding is coming directly from police and prison guard unions. The California Correctional Peace Officers Association (CCPOA) alone spent $498,304 on Prop. 62, while the Peace Officers Research Association of California spent $455,000 and the California Association of Highway Patrolmen ponied up $250,000 to keep capital punishment.
One recent advertisement, paid for by California's largest prison guard union, opens with grainy surveillance footage. It shows a terrified young woman squaring off with an attacker. As the woman struggles, a voice-over narrates: "Charles Ng raped, tortured, and killed women. Murdered their babies. Killed their husbands…" Another ad bankrolled by CCPOA features a few members of law enforcement explaining their support of the death penalty — and why voters should support it, too.
"I've seen what the worst among us can do," says Sergeant Dan Cabral of the California Deputy Sheriffs' Association in one video. "Killings so brutal, families never recover. That's why we have the death penalty."
In 2012, another ballot initiative, Proposition 34, also sought (but failed) to eliminate the death penalty. At that time, however, law enforcement unions donated a tiny fraction of what they have spent on the 2016 ballot. It begs the question: Why are law enforcement officers so intent on keeping the death penalty?
The official arguments provided by California law enforcement groups supporting capital punishment claim that the death penalty provides closure to victims' families, saves taxpayers millions of dollars and that repealing it would jeopardize public safety. Essentially, union officials say the death penalty process in California is broken, but they want legislators to fix it.
Brian Moriguchi, a lieutenant with the L.A. County Sheriff's Department and the president of the Los Angeles County Professional Peace Officers Association, which represents 8,800 members of law enforcement, says the death penalty should be reserved for the "worst of the worst."
"Most police officers, by a very large margin, support the death penalty," he says. "We've been to those calls where somebody has raped and mutilated a child, and we've seen the type of people that do that. They are a threat to the safety of others as long as they are alive. Even locked down in prison, [they are] still a threat."
Lt. Moriguchi says there is increased support for the death penalty this year, as opposed to 2012, because of an increase in violence targeted against police officers, not just in California, but around the country. (According to FBI data released in October, 41 officers were killed in the line of duty in 2015. Already in 2016, 46 officers have been killed.)
"What has changed since 2012 is that there is a greater attack on police officers today, where people want to kill police officers," Lt. Moriguchi says. " We're passionate about that this year particularly because we see the assaults on police officers increasing. We want to see justice for those police officers, and we want to see those people on death row."
(The other top three unions behind the campaign did not return requests for comment.)
Some outside of law enforcement, however, believe the motivations to support the death penalty are far more political than practical.
Bill Zimmerman, a longtime California political campaign manager, says the current wave of law enforcement support for the death penalty is a reaction to increased scrutiny over police and prison officials. The unions, he says, are "feeling threatened by this climate of police reform. They see this as a battle in a long war, and it's a battle they don't want to lose. If they can win this battle, they see it as something that gives them more clout, or at least the perception that they're a powerful political force when it comes to legislative matters."
Zimmerman believes financial support for the death penalty is a reaction to movements like Black Lives Matter, which some police officials say undermine respect for law enforcement.
"Their support for the death penalty fits into a larger context of criminal justice reform going on in California," Zimmerman says. "The events in Ferguson, Missouri led to a new wave of public demands for reform — of criminal justice and police behavior. We've seen an enormous increase in the fundraising capability of law enforcement [unions]. Organizations that used to give $5,000 to $10,000, in this death penalty fight in 2016 are giving $50,000 or $100,000."
Both sides agree that the death penalty system is outrageously expensive, costing some $150 million per year for the state because of extra litigation costs and a lengthy appeals process. The entire death penalty system is said to have cost taxpayers $5 billion since 1978. However, rather than just get rid of it, law enforcement groups say the death penalty process should be reformed.
"Death row inmates have murdered over 1,000 victims, including 226 children and 43 police officers; 294 victims were raped and/or tortured," the campaign explains. "It's time California reformed our death penalty process so it works."
Prison guard unions particularly support the death penalty, largely because their leaders say that convicted murderers would have nothing to fear (and might target prison guards) if the death penalty were not on the table. "Without the death penalty, what's to stop the killer who's serving life without parole, from killing inside the prison? asks CCPOA president Chuck Alexander in the latest advertisement. "It's our last defense."
Matt Cherry, executive director of Death Penalty Focus of California, disagrees with that notion, and says that even with the death penalty, a convicted murderer could still harm a guard on death row. More broadly, though, Cherry says there's no statistical evidence to show that states with the death penalty experience fewer attacks on police officers. (In fact, the murder rate is lower in states without the death penalty.) "That's one of the arguments that police like to use," Cherry says. "I personally don't think it's convincing."
Cherry believes police and prison guard unions feel they're under pressure.
"There is a certain sense amongst police that times are changing, that there's more criticism of police actions and the union leaders are hunkering down and rallying around the traditional causes that they have supported," Cherry says.
He adds, "I don't think that's universal, though. You see a lot of smart police chiefs who don't take that opinion."
He's right — not all police chiefs support the death penalty. A 2009 report from the Death Penalty Information Center, a nonprofit research group, polled police chiefs around the country about all the different methods that could be used to reduce crime. Their findings: The use of capital punishment ranked dead last, according to the police chiefs.
So what's the disconnect? Why do union leaders and police officials continue to support the death penalty if many, at least in the privacy of an anonymous poll, agree it's ineffective and too expensive? According to Dr. George Kain, a current police commissioner in Ridgefield, Connecticut, it's because police unions have an "arm-in-arm" mentality.
"It's so polarized," says Kain, who began his career as a probation officer. "You can't be on the fence with this if you're a cop. The political climate now is forcing people to one side or the other. It's easier to get pushed towards support of the bully mentality: 'We're gonna execute more people, and we're gonna execute them more quickly.'"
In California, that sort of mentality could have extreme consequences. Right now, there are 741 inmates on death row — more than any other state. However, California has only carried out 13 executions since it reinstated the death penalty in 1978. (Its most recent execution was in 2006.)
As of mid-October, opponents of Prop. 62 (which would keep the death penalty legal) have raised about $4.3 million, compared to $8.9 million raised by groups that want to abolish the death penalty. Supporters of Prop. 66 (which would speed up the death penalty process) have raised $4.9 million, compared to the $10 million collected by its opponents. Put simply, groups supporting the death penalty are being outspent by about 2-to-1 by groups that oppose it.
However, the most recent polls are showing a tight race; there is a slight lead for proponents of abolishing the death penalty, but only by a slim margin. Nationally, support for the death penalty is waning. A September 2016 Pew Research poll found that support is currently the lowest in more than four decades.
Regardless of national sentiment, law enforcement leaders within California, such as Sacramento Sheriff Scott Jones, are hoping voters will keep (and reform) capital punishment on November 8. "The public and law enforcement recognize that [capital punishment] makes our communities safer by acting as a deterrent and ensures that the most violent criminals will never be released into our communities again," Jones, the president of California Peace Officers' Association, wrote in a recent letter.
But they are facing an increasing amount of opposition, not just from wealthy anti-death penalty advocates — but from crime victims as well.
One of them is Dionne Wilson. Wilson's husband, Dan Niemi, was a police officer in San Leandro, California who was shot and killed in the line of duty in 2005. Irving Ramirez, 23, was charged and convicted of Niemi's murder.
At the time of his sentencing, Wilson says, she "begged" the judge for a death penalty sentence. On August 3, 2007, Wilson got her wish. (Ramirez remains alive and on death row.)
But as the years went on, Wilson's opinion began to change about the death penalty. She no longer supports it — in fact, she's on a crusade to get the death penalty repealed. Instead of executions, Wilson wants to see legislators use that $150 million go towards victim services, programs to treat mental illness and drug addiction, education and afterschool programs, and other crime reduction initiatives.
"I understand that type of vengeance-based reaction," she says. "Trust me, I get it. But there seems to be a lack of analysis in that position."
She adds, "Our criminal justice dollars are misused in this way. It's frustrating to me. It's just 'cop killers deserve to die.' Well, okay, but is there a better way to hold people accountable than propping up a system that has wasted $5 billion for the past 30 years? I can certainly think of better ways to invest that money."
---
Lethal-injection room photo: California Department of Corrections and Rehabilitation

Rick Scott Super PAC Donations Challenge Federal Anti-Corruption Rule
Co-published by Fast Company
The Florida governor led a group that raked in cash from Wall Street firms after Scott's administration gave them pension deals.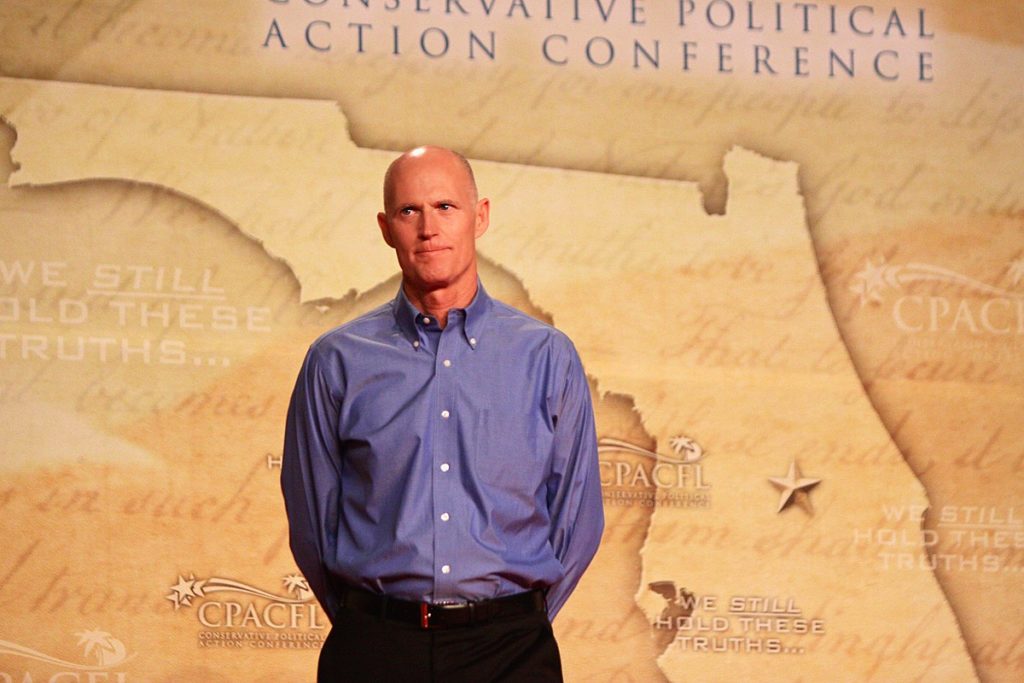 Co-published by Fast Company
A super PAC led by Florida Gov. Rick Scott raked in donations from two private equity executives after Scott's administration directed lucrative state pension investments to their firms, according to government records reviewed by MapLight and Capital & Main.
The donations were made to a committee that's now supporting Scott's U.S. Senate bid, despite a federal rule designed to prevent financial firms from bankrolling the election campaigns of public officials who oversee state pension investments.
Scott, a Republican, began chairing the New Republican PAC in May 2017 and announced his former campaign manager would serve as its executive director. Soon after, the group received $5,000 from New Mountain Capital Chief Executive Officer Steve Klinsky and $50,000 from Energy Capital Partners founder Douglas Kimmelman.
The contributions flowed to the super PAC after New Mountain Capital and Energy Capital Partners received a combined $250 million worth of new investment commitments from Florida's state pension system in 2014 and 2015. Scott is one of three state officials who oversee the $160 billion pension system. During the most recent fiscal year, the Florida investments generated more than $3 million in fees for the firms.
A 2010 Securities and Exchange Commission (SEC) rule prohibits firms from receiving investment fees from public pension systems if their executives donate campaign cash to pension overseers like Scott. SEC officials aimed to prevent investment decisions from being shaped by political influence.
But the commission didn't explicitly bar donations to "independent" political groups, unless the donations were deliberately designed to circumvent the restrictions. And it hasn't addressed whether a state official can lead a super PAC that received donations from firms with pension business and later be supported by the super PAC.
John Kuczwanski, a spokesperson for the Florida State Board of Administration, told MapLight/Capital & Main that Florida's first investments in the two private equity firms happened in 2005 and 2009, and he said Scott had nothing to do with new investments during his governorship, which started in 2011.
"The [state's] initial relationships with both managers predate Governor Scott's time in office," said Kuczwanski, whose agency manages the day-to-day operations of the pension system. "Neither the trustees, nor their appointed investment advisory council members are involved in the investment manager/fund selection process."
Scott's campaign and the super PAC did not respond to questions from MapLight/Capital & Main. New Mountain Capital and Energy Capital Partners did not return requests for comment.
Energy Capital recently completed the purchase of Calpine, whose natural gas power plant near Tampa is regulated by Scott's appointees at the Florida Public Service Commission. Kimmelman, who is now a director of Calpine, also donated $35,000 in 2017 to the National Republican Senatorial Committee, which is backing Scott's Senate campaign.
"A Very Clear Case"
Under the SEC rule — which GOP state parties have tried to overturn — investment executives are not prohibited from donating to independent political groups. But the rule allows regulators to apply restrictions to donations that are deliberately routed through third parties in order to support public officials — a situation that critics argue is happening with Scott and his super PAC.
After the governor announced his Senate bid last week, New Republican PAC's website began promoting his candidacy. End Citizens United, a Democratic-leaning political action committee based in Washington, DC, filed a complaint alleging that Scott has violated Federal Election Commission rules and is using the super PAC, which can accept unlimited donations, to evade contribution limits. Scott's campaign says he stepped down as New Republican PAC's chair in February.
In writing the original rule, SEC officials noted that while they could not restrict all donations to political action committees, contributions to third parties "may effectively operate as a funnel to the campaigns of the government officials." They said the final rule "prohibits acts done indirectly, which, if done directly, would violate the rule."
One ethics expert said that those anti-circumvention provisions should apply to the donations to Scott's super PAC.
"This appears to be a very clear case of close coordination and circumvention of the pay-to-play rule," said Craig Holman, an ethics lobbyist at the government watchdog group Public Citizen. "This is something that I'd like the SEC to pay attention to."
"No Loopholes"
The SEC has only occasionally enforced the pay-to-play rule, and the agency hasn't applied the provisions dealing with third parties to donations to super PACs. Because Scott is a sitting governor who can influence pension investments, he is covered by the rule, which has hampered the fundraising of past governors who tried to run for federal office.
A spokesman for former Texas Gov. Rick Perry's presidential campaign said the rule prevented him from raising enough money to be competitive in the 2012 race. Bloomberg reported that during the same election cycle, then-New Jersey Gov. Chris Christie was rejected as the vice presidential nominee, partly because Republicans feared the rule would prevent them from raising money from Wall Street firms that do business with his state's pension system.
"There is no way around it, and there are no loopholes," said Bill Palatucci, Christie's longtime advisor.
Even so, in recent years the rule has not deterred financial executives from donating to groups that help lawmakers who can influence pension investments. Financial executives whose firms received New Jersey and New Mexico investments continued to donate to the Republican Governors Association (RGA) when Christie and New Mexico Gov. Susana Martinez led the group. During the 2016 election cycle, executives at firms managing state pension money donated nearly $1.3 million to the GOP association, even as the group boosted the campaigns of Republican governors with power over state pension investments.
Last year, U.S. Sen. Tom Udall, D-N.M., called for the SEC to apply the pay-to-play rule to outside groups "to ensure that no one is able to circumvent these laws by using super PACs, dark money groups or other campaign spending vehicles." The RGA has argued that because it funds multiple candidates and does not allow donors to earmark contributions for particular races, it can accept donations from firms with investment business that can be influenced by individual governors. The SEC said in 2016 that donations to outside political groups "are independent expenditures that do not trigger" the rule.
"So long as the PAC faithfully observes the requirement to operate independently of candidates, a contribution to a super PAC will not trigger the [rule], even if the super PAC supports a covered official," Sam Brown, a former advisor to Federal Election Commissioner Ellen Weintraub, wrote in 2016. "Super PACs are increasingly being used in novel ways, and it remains to be seen whether these changes will result in increased circumvention risks."
---
This story is a collaboration between MapLight and Capital & Main.