Bad Medicine: Walmart's Rx for Employee Health Care
Now that Mitt Romney has clinched his position as the GOP presidential candidate, it's time more than ever for Romney to avoid talking about the health care reform measure he created as Governor of Massachusetts.
You remember President Obama's health-care legislation, the Affordable Care Act (ACA), the one that passed through Congress as smoothly as a kidney stone, thanks to shrill conservative opposition? Key parts of that act were lifted straight from Gov. Romney's measure, but Mitt can't afford that association, given the Right's steady vilification of the plan as "socialism." Which is why Romney has been running around attacking "Obamacare" instead.
Some Republicans are reading the polls and surfacing the idea of legislation to replace the Obama Administration's ACA.
It seems their idea is to retain the most popular aspects–covering young people until they are 26, close the Medicare "doughnut hole" that requires patients to pay more for their medications and guarantee coverage despite pre-existing conditions.
That pick-and-choose approach is not really possible, however – you need a large number of healthy people in the insurance pool to balance out the cost of those that use more resources.
But rightwing campaigners FreedomWorks and Club for Growth don't like retaining any part, complaining that Americans need time " to reflect on that fact that the Democrats basically rammed an unconstitutional bill down their throat."
Sounds like something that might require an ER visit — another argument for reliablehealth coverage.
These two groups are flexing their muscles after recently kicking a little moderate GOP booty belonging to six-term Senator Richard Lugar of Indiana, where they backed Tea Party darling Richard Mourdock in his successful bid against Lugar.
Both FreedomWorks and Club For Growth espouse a Wild West, keep-your-labor-and-environmental-standards-off-me approach to government and commerce.
That would seem to make them kindred spirits to the World's Largest Retailer, Walmart.
And wouldn't you know it, this Raw Story article highlights Walmart's contributions to climate change-denying candidates who wouldn't dream of imposing regulations to curb greenhouse gas production. The megachain was also on the front line of opposing the Employee Free Choice Act that would make it easier for workers to organize.
But Walmart loses the don't-tread-on-me attitude when it comes to ACA.
Walmart Hearts Obamacare. The world's largest company shocked its retail industry brethren in 2009 when then-President (now CEO) Michael Duke joined labor leader Andrew Stern and John Poseda of the Center for American Progress to sign a letter of support for an employer mandate – under which companies either provide health insurance or pay a fee for every full-time employee that isn't covered.
Walmart, famous for its scanty insurance coverage with steep deductibles and co-pays, and tricky eligibility requirements, co-signed a letter with a labor leader and a high-profile liberal? It did.
The position is entirely consistent with the world's largest company's modus operandi of looking out for Number One.
In his book The Retail Revolution—How Walmart Created a Brave New World of Business, Nelson Lichtenstein writes that Walmart calculated that an employer mandate would level the playing field by forcing all companies—those even more parsimonious than Walmart– to pony up for insurance. And Walmart's support put the company at the table during the health care reform debate. ". . . Bentonville executives strategized that even if Wal-Mart did incur additional health benefit costs, these would be more than made up as the company enhanced its reputation and as it became an inside player in the epic legislative negotiations that ultimately framed the law whose impact on low-wage, low-benefit employees was so enormously consequential," Lichtenstein writes.
And the final product ultimately works well for Walmart. "Quite likely they see the Affordable Care Act as a way for their workers to get coverage at no cost to them," said Ken Jacobs, chair of the U.C. Berkeley Labor Center.
Under ACA, which goes into effect in January 2014 (if it isn't derailed by the Supreme Court) employees can receive subsidized coverage if they are not offered job-based coverage, or if the plan costs more than 9.5 percent of an employee's household income. In that case, Jacobs said, that worker can turn it down and receive subsidies to purchase more affordable coverage at a state exchange. Taxpayers carry the cost, not, in Walmart's case, the retail giant.
It's a way of shifting health care costs on to the federal government. Some part-time employees would use Medicaid, which has been a pattern for Walmart part-timers in the past. Historically, with long waiting periods to qualify for the company's health coverage and a high employee-turnover rate, Jacobs said that "a large number of Walmart part-time workers who haven't qualified for Walmart's coverage or found it to be too expensive have turned to public programs for themselves or their children."
In the fall of 2011, the company weakened its health insurance coverage, eliminating eligibility for future part-time workers who work fewer than 24 hours a week and excluding coverage of spouses for new-hires working 24 to 33 hours weekly. Under ACA, part-time workers with no insurance are covered through exchanges with subsidies or Medicaid—not by Walmart.
Walmart did not respond to a request for comment.
FreedomWorks and Club for Growth can't count on Walmart for back-up on the call to eliminate the healthcare reform passed in 2010. Walmart, an employer whose success was shaped by the globalization and the free market ideology espoused by the Reagan revolution, always looks out for Number One.
Government Shutdown's Silver Lining: A Corporate Hiring Guru Speaks Out
Co-published by Fast Company
Ending the shutdown won't curtail the hiring opportunities for corporate recruiters, says one expert. It's like divorce: Once you start thinking about leaving, the odds that it will happen go up dramatically.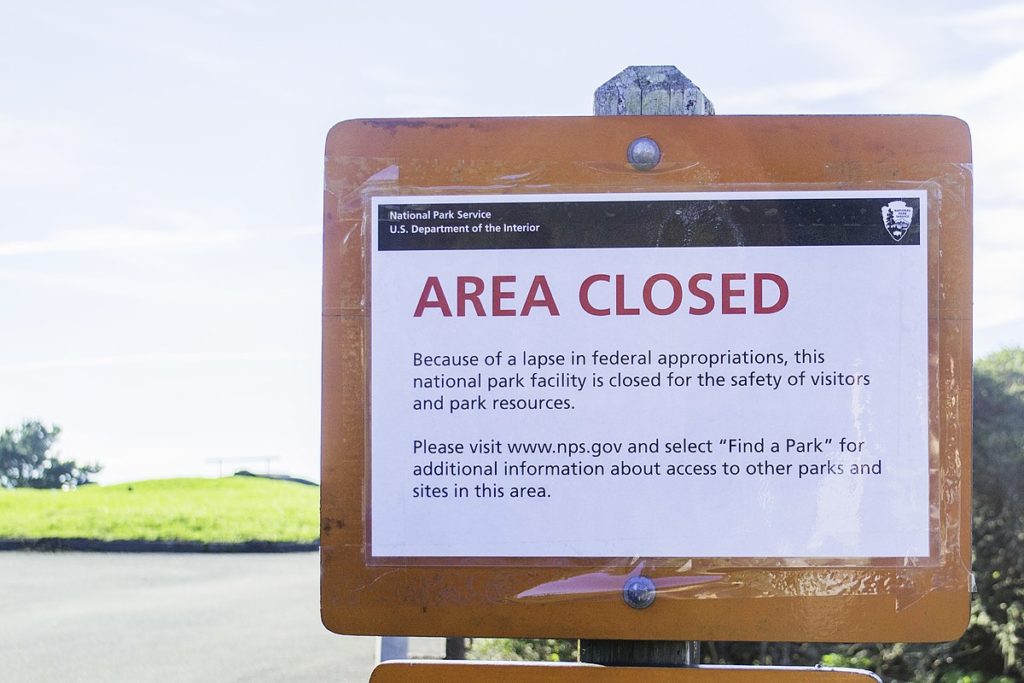 ---
In the new economic climate, even the most mission-driven of federal workers might be forgiven for abandoning the nation's parks, airways and regulatory agencies.
---
Co-published by Fast Company
W
hen the federal government shut down for 16 days in 2013,
corporate hiring guru
John Sullivan advised companies on how to raid federal government workplaces for talent.
A blog post he penned at the time caused some to charge him with being unpatriotic, he said recently, while others thanked him for the reminder that federal workers were ripe for the plucking.
This time around, the climate is even better for corporations looking to cull staff from a workforce that is already well-trained and also known for its loyalty, Sullivan tells Capital & Main by phone. He describes the current moment—with hundreds of thousands of federal employees forgoing paychecks and, in many cases, sitting at home — as tantamount to "a sale on Black Friday."
---
Congresswoman:  The shutdown could have a long-term impact on the federal government's ability to attract workers with IT skills.
---
"If you've been screaming for the last two years" about the skills-and-talent shortage, "this week there isn't one," says Sullivan, who heads the human resource management program at San Francisco State University's College of Business.
The partial shutdown, that began on December 22 when President Trump failed to secure funding from Congress for his border wall, has impacted employees at a host of federal agencies, including the departments of Agriculture, Commerce, Homeland Security, Housing and Urban Development, Interior, Justice, State, Transportation and Treasury and the NASA.
What makes this particular shutdown so suitable for raiding federal workplaces? It's not just that employee morale has taken a nosedive, thanks to a president who is at war with many of the agencies he oversees. Nor is it only the fact that Trump threatened to keep the government closed for as long as a year, a notion that "really scares people," says Sullivan.
---
With Amazon's opening new offices in the District of Columbia area, three out of four IT workers in DC say they would consider leaving their current jobs for the tech behemoth.
---
It's also the economic climate. Companies are growing. Unemployment is low. Remote work is increasingly an option. Technical advances have made looking for a job easier than it was in 2013. "You can say 'boo' to your phone and apply for a job," adds Sullivan, delivering his matchmaking pitch with such force that even the most mission-driven of federal workers might be forgiven for abandoning the nation's parks, airways and regulatory agencies.
Congresswoman Robin Kelly (D-IL), the ranking member of the House Subcommittee on Information Technology, worried, in a statement last week, that the shutdown would have a long-term impact on the federal government's ability to attract workers with IT skills. The federal government has generally struggled to attract young tech workers, and Amazon's new offices in the District of Columbia area has three out of four IT workers in DC saying they would consider leaving their current jobs for the tech behemoth.
T
ech workers — and upper-salaried talent — are not the only employees coveted by the private sector, says Sullivan. Forest Service employees. Coast Guard workers. Transportation and Safety Administration agents. Any unpaid workers could be lured away, especially in states like California and Texas, where economies are strong, he maintains. An employment agency for California's casinos recently put this shout out on Twitter: "Any
@
TSA
employees looking for new opportunities, PTGaming is hiring!" along with the popular hashtag, #shutdownstories.
The shutdown could also prompt federal employees to throw scruples to the wind and step into the infamous revolving door that leads workers from government jobs to the private sector and back again. When Sullivan was advising companies in 2013, he helped firms hire from agencies that regulated them.
"And by the way," asks Sullivan, persisting with his siren song, "if I was a regulator, [with] President Trump eliminating all those regulations, why am I needed? Why not go to the private sector?"
Sullivan, who says he is an underpaid government worker in his own right, is concerned about the public cost of his and others' efforts to lure away the federal government's top talent. The best employees will leave first, and "literally billions" in training dollars will be lost, he predicts.
But he puts the blame squarely on a public sector that undervalues its workers. Corporations that pilfer federal government workforce for talent offer a kind of public service and corrective by demonstrating the price that must be paid "for degrading public service and unnecessarily frustrating federal employees," he wrote in his 2013 post.
Ending the shutdown won't curtail the hiring opportunities for corporate recruiters, says Sullivan. "It's like divorce. Once you start thinking about [leaving], the odds [that it will happen] go up dramatically."
---
Copyright Capital & Main