Back to the Beach: An Activist Returns to Town
I spent this weekend as a Santa Monica resident for the first time in seven years. Interesting!
Technically my new digs are across the street, the dividing line between Santa Monica and Mar Vista. Coincidentally it's the same area that I wrote about in my second murder mystery Rip-Off, the airport location of a clusterfuck shootout that shames my hero, Detective Dave Mason of the Santa Monica Police Department.
I've been in the city off and on, but as a visitor in these last few years. Now I have a base. My dog Lily and will be here from time to time in an effort to develop a plot for my next Dave Mason mystery.
The contrasts of Santa Monica fascinate me. I drive down Broadway and see the dark doorway of the union hall where I used to work. Three homeless men are huddled there. The nights are cold and damp this time of year. Other parts of the country might scoff at temperatures in the 40s as cold, but the tendrils of marine layer fog curl around your bones and pull the heat and spirit right out of you.
A block away skinny young people come and go from the hot clubs and expensive restaurants. I notice the Raw Food restaurant is still there. Years ago I protested that a small glass of pomegranate juice cost $7. Now my surprise seems laughable. A mere $7! I can't locate any of the restaurants I liked then in the evolving urban landscape of a major city. I wonder if it's true that the quickest way to break your heart is to open a restaurant, right after falling in love with a married man.
Lily and I took a walk on the popular Third Street Promenade during late night shopping hours. The hip and the beautiful, the bemused tourists, the homeless are still there along with the Hare Krishna, a drummer set up in the middle of the street, the Andean bands, and the hopeful homeless guy whaling away on an un-tuned guitar. Yeah, I suppose it's fun. Lily didn't like it. We're used to walking in the forest.
I went to the Church in Ocean Park on Sunday morning. This is an offbeat Methodist congregation long on ethical teachings and short on theology. I like it. It suits me. I've known some of these people for 30 years. One of the members gave a dharma talk on the tenets of Buddhism, and the music was exalting. Just as exalting as a 200-voice choir along with full orchestra Holiday Chorale I went to at UCLA's Schoenberg Hall the previous evening.
The capstone of the weekend was a potluck party at the home of one of Santa Monica's previous mayors, a yearly event at which everybody in her very full life gathers to hash over old local elections, refresh schisms, and work up fresh outrage at the shenanigans of City Hall.
Oh my, seeing all my old political pals was a thump down Memory Lane. My friend Madeleine and I used to turn up at 4 a.m. every two years when the municipal elections came around. We'd collect a packet of door-hangers with the names of the candidates recommended by Santa Monicans for Renters Rights. For nearly a generation SMRR candidates held a majority on City Council.
We'd stumble around in the dark looking for the addresses on the labels, expecting at any moment to be confronted by some guy with a gun ready to shoot somebody fooling with his doorknob at 4 a.m. When we'd found the last address and hung the last door-hanger, we'd treat ourselves to kippers, eggs and onions at Izzy's Deli on Wilshire Boulevard.
She was worried about her cholesterol levels and it was a meal she only allowed herself once every two years. Kippers, eggs, and onions as the sun rose.
I could order this any time, well, not in rural Kern County where I've been living.
But I never do.
Mar Preston is a mystery novelist and former community organizer for the Los Angeles Alliance for a New Economy. This post first appeared on MarPreston.com and is republished with permission.

A Woman's Art Is Never Done: The Feminae Exhibition
A striking juxtaposition between the past and present courses throughout the small gallery. Celia Blomberg's "International Women's Day March 8" can't help but make one think of 2017's Women's March, which occurred 37 years after the print's first appearance.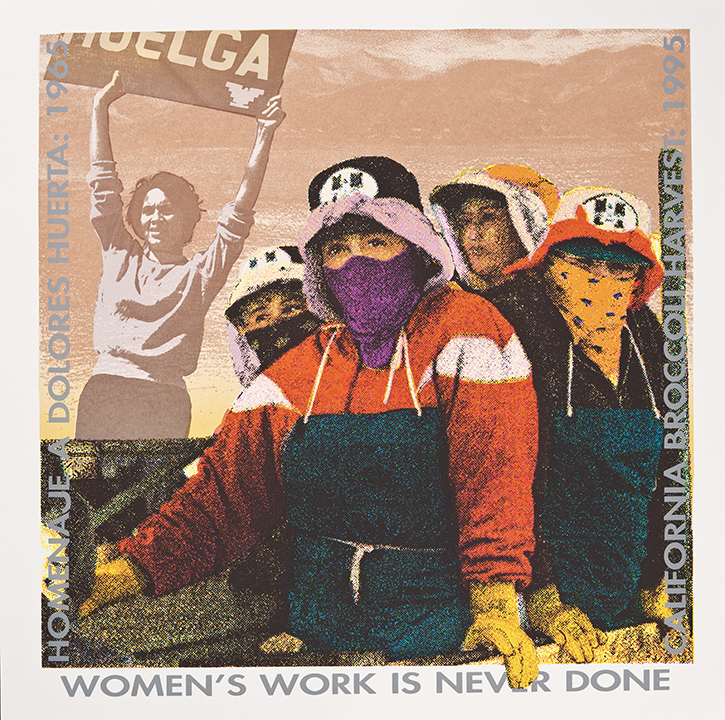 Among the 50-plus works in the Feminae: Typographic Voices of Women By Women exhibit is Yolanda Lopez's "Women's Work is Never Done." Lopez's title is particularly ironic, given the exhibit's gender-based subject matter. The show spans work from the past 50 years, making it easy to understand how much society is still grappling with its themes of gender inequality. Culled from the archives of the Center for the Study of Political Graphics, the graphic images of protest, persuasion and empowerment are truly works of art in their own right.
However, political posters aren't made to merely spruce up walls, but to help figuratively bring barriers down as well.
Two silkscreens from the 1970s, Liliana Porter and John Schneider's "This Woman is Vietnamese" and See Red Woman's Workshop's "So Long As Women Are Not Free People Are Not Free," are particularly powerful, underscoring, as they do, the fact that the subjugation and persecution of women crosses borders and cultures as an unfortunate shared global experience. These two pieces' stark simplicity exemplifies most of the work in the exhibit. In the former, a New York Times photo of a distraught Vietnamese woman with a gun held to her head is centered above these basic words typed out in a typewriter font: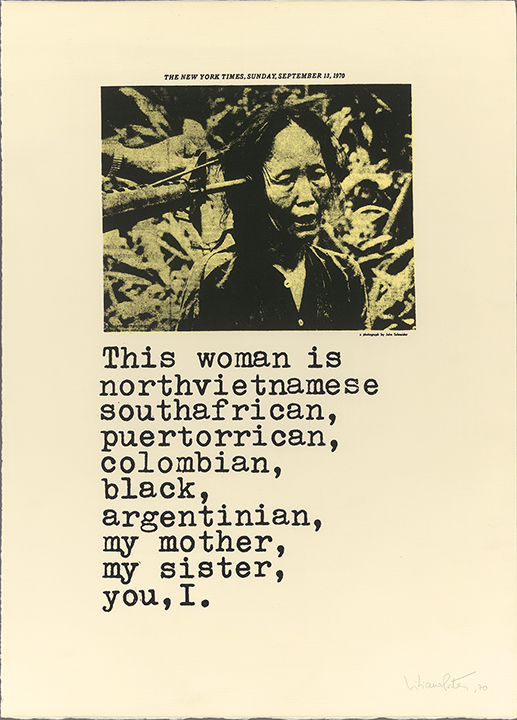 This woman is
northvietnamese
southafrican
puertorrican,
colombian,
black,
argentinian,
my mother,
my sister,
you, I.
By juxtaposing the photo with these words, the creators take the plight of this woman and immediately globalize her pain. In the latter, three female demonstrators are silkscreened in red onto a yellow background. They are marginalized by being stuck in the lower left third of the poster, but two of them are raising their fists skyward and their mouths are open, screaming in defiance. Its non-serif, eponymous type reads: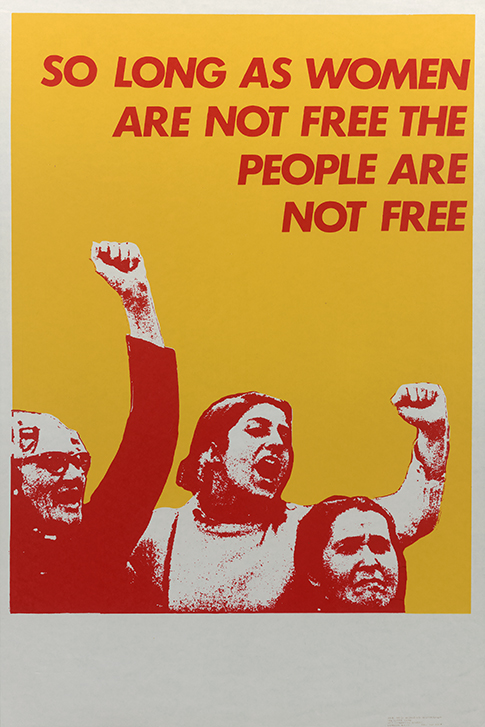 SO LONG AS WOMEN
ARE NOT FREE THE
PEOPLE ARE
NOT FREE
This piece's message takes the global message even farther, making the plight of women a human one — a common theme in the exhibition.
There is also a striking juxtaposition between the past and present that seethes throughout the small gallery. Celia Blomberg's "International Women's Day March 8" can't help but make one think of 2017's Women's March that would take place 37 years later. See Red Woman's Workshop's 1977 "Black Women Will Not Be Intimidated" could easily be repurposed to address the recent spate of blue-on-black brutality. Notable works by Barbara Kruger, Sister Corita Kent and the Guerilla Girls are also included.
Ironically , while it can be surmised that most of these works were made as populist posters to be distributed at the time as banners of protest, their beautiful simplicity and nostalgic elegance probably have resulted in the originals (mostly now found in art museums) sporting hefty vintage-resale prices.
But it is not just the art that has stood the test of time. The fact that the issues addressed in the show — feminism, choice, gender equality, war, immigration, police brutality or violence against women — are all issues at the forefront of debate in 2018 ultimately engenders conflicting feelings.
On one the hand, it is inspiring to see a vibrant exhibit that showcases such diversity in artistic styles, no doubt spawned by the diversity of the artists' own backgrounds. On the other hand, there is a realization that while there has been some progress over the past half century, there is so much work to be done.
Art Center's Hoffmitz Milken Center for Typography, 950 South Raymond Ave., Pasadena; through May 15.
---
Copyright Capital & Main