Back to the Beach: An Activist Returns to Town
I spent this weekend as a Santa Monica resident for the first time in seven years. Interesting!
Technically my new digs are across the street, the dividing line between Santa Monica and Mar Vista. Coincidentally it's the same area that I wrote about in my second murder mystery Rip-Off, the airport location of a clusterfuck shootout that shames my hero, Detective Dave Mason of the Santa Monica Police Department.
I've been in the city off and on, but as a visitor in these last few years. Now I have a base. My dog Lily and will be here from time to time in an effort to develop a plot for my next Dave Mason mystery.
The contrasts of Santa Monica fascinate me. I drive down Broadway and see the dark doorway of the union hall where I used to work. Three homeless men are huddled there. The nights are cold and damp this time of year. Other parts of the country might scoff at temperatures in the 40s as cold, but the tendrils of marine layer fog curl around your bones and pull the heat and spirit right out of you.
A block away skinny young people come and go from the hot clubs and expensive restaurants. I notice the Raw Food restaurant is still there. Years ago I protested that a small glass of pomegranate juice cost $7. Now my surprise seems laughable. A mere $7! I can't locate any of the restaurants I liked then in the evolving urban landscape of a major city. I wonder if it's true that the quickest way to break your heart is to open a restaurant, right after falling in love with a married man.
Lily and I took a walk on the popular Third Street Promenade during late night shopping hours. The hip and the beautiful, the bemused tourists, the homeless are still there along with the Hare Krishna, a drummer set up in the middle of the street, the Andean bands, and the hopeful homeless guy whaling away on an un-tuned guitar. Yeah, I suppose it's fun. Lily didn't like it. We're used to walking in the forest.
I went to the Church in Ocean Park on Sunday morning. This is an offbeat Methodist congregation long on ethical teachings and short on theology. I like it. It suits me. I've known some of these people for 30 years. One of the members gave a dharma talk on the tenets of Buddhism, and the music was exalting. Just as exalting as a 200-voice choir along with full orchestra Holiday Chorale I went to at UCLA's Schoenberg Hall the previous evening.
The capstone of the weekend was a potluck party at the home of one of Santa Monica's previous mayors, a yearly event at which everybody in her very full life gathers to hash over old local elections, refresh schisms, and work up fresh outrage at the shenanigans of City Hall.
Oh my, seeing all my old political pals was a thump down Memory Lane. My friend Madeleine and I used to turn up at 4 a.m. every two years when the municipal elections came around. We'd collect a packet of door-hangers with the names of the candidates recommended by Santa Monicans for Renters Rights. For nearly a generation SMRR candidates held a majority on City Council.
We'd stumble around in the dark looking for the addresses on the labels, expecting at any moment to be confronted by some guy with a gun ready to shoot somebody fooling with his doorknob at 4 a.m. When we'd found the last address and hung the last door-hanger, we'd treat ourselves to kippers, eggs and onions at Izzy's Deli on Wilshire Boulevard.
She was worried about her cholesterol levels and it was a meal she only allowed herself once every two years. Kippers, eggs, and onions as the sun rose.
I could order this any time, well, not in rural Kern County where I've been living.
But I never do.
Mar Preston is a mystery novelist and former community organizer for the Los Angeles Alliance for a New Economy. This post first appeared on MarPreston.com and is republished with permission.

'Skeleton Crew' Is a Play With a Moral Spine
Set in a Detroit automobile outfitting plant, Dominique Morisseau's drama grabs you from the start with its focus on blue-collar men and women, and their struggle for dignity and self-respect.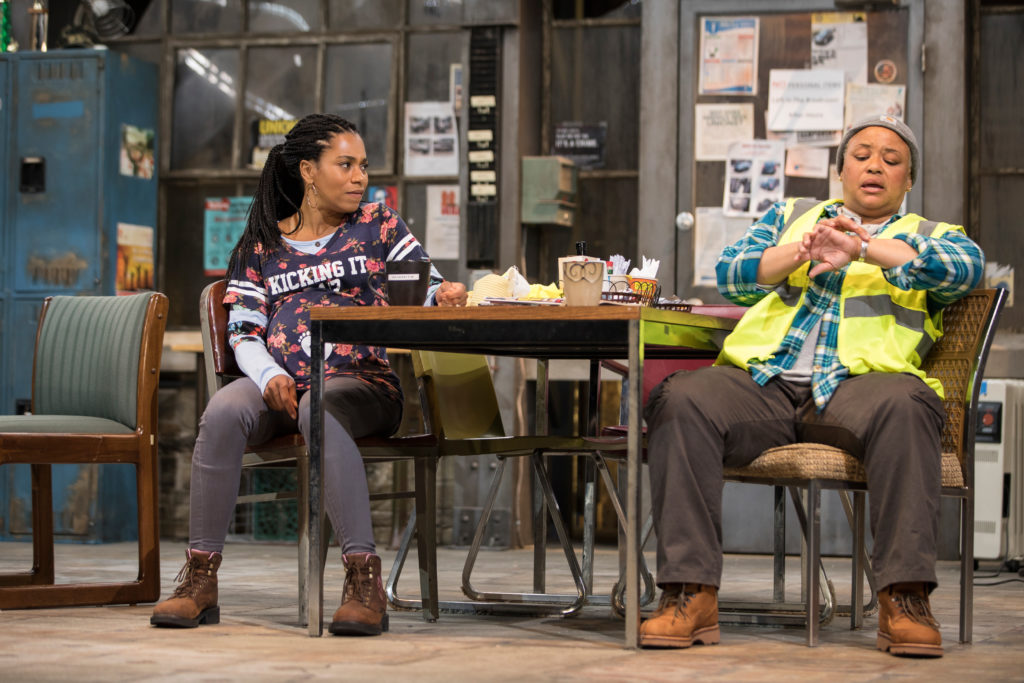 Working-class men and women of color are rarely front and center in today's media and, likewise, are presented all too occasionally on the American stage. So it's buoying to see that trend bucked in playwright Dominique Morisseau's percipient and well-crafted drama, Skeleton Crew. The play is the final installment in her Detroit  Project Trilogy; the first, Paradise Blue, is set in the 1940s amidst displacement caused by urban renewal and gentrification, while the second, Detroit '67, transpires on the eve of the 1967 Detroit riots sparked by a police action.
Directed by Patricia McGregor at Los Angeles' Geffen Playhouse, Skeleton Crew is a play with a moral spine. It takes place in 2008, when the shrinking U.S. auto industry is being further downsized. Morisseau's engaging quartet of characters — Faye (Caroline Stefanie Clay), Dez (Armari Cheatom), Shanita (Kelly McCreary) and Reggie (DB Woodside) – are employed at an automobile outfitting plant. Faye, Dez and Shanita are workers on the line while Reggie (who has a wife and kids, and has pulled himself together after a troubled youth) is their supervisor.
The first three customarily mingle in their break room (designer Rachel Myers' impressively cluttered, dingy and detailed set), trading the sort of familiar barbs and genuine concern for each other common among longtime co-workers. They also face off on philosophy: Upper-middle-aged Faye and the younger, pregnant Shanita take pride in their labor, while Dez, though a good worker, is a malcontent scornful of management and firm in the belief that everyone needs to watch out for himself. He's a thorn in Reggie's side, for while Reggie wants to be supportive of his workers, he must act at the behest of higher management. For his part, Dez resents Reggie's authority, and a palpable unease exists between them.
Besides this male matchup, we're made privy to Dez's attraction to Shanita, who mostly turns away his advances, but every now and then displays a hint of interest. Most poignant is Reggie's regard and affection for the lesbian Faye, which has roots in his boyhood when she loved, and lived, with his now-deceased mom.
These people's various predicaments intensify when rumors spread of the plant's shutdown — a disaster for all, but a particular calamity for the already near-broke Faye who, one year short of retirement, would lose her pension. The crisis forces each of these people to make a choice.
A sound piece of social realism, Skeleton Crew grabs you from the start in its focus on blue-collar men and women, and their struggle against odds for dignity and self-respect. Morisseau not only furnishes these characters a platform for their travails, she endows them with strong values, big hearts and the opportunity to choose between right and wrong.
Unfortunately, the performance I attended did not soar. Many exchanges lacked a fresh edge. The actors certainly had their characters down, but too often they appeared to be coasting on technique. (This seemed particularly true of Clay, who performed the role to great accolades in Washington, DC in 2017, also under McGregor's direction). Additionally, some of the stage movement was not entirely fluid; in confrontations, actors sometimes would just stand and face each other in an artificial way. And Cheatom's interpretation of Dez struck me as a bit overly churlish and depressive: I needed more glimpses of the intelligence and edge that would secretly attract the strong, self-directed Shanita.
The most compelling moments belong to Woodside, well-cast as a man trying his best in difficult circumstances to do the right thing.
---
Gil Cates Theater at the Geffen Playhouse, 10886 Le Conte Ave., Westwood Village; Tues.-Fri., 8 p.m.; Sat., 3 & 8 p.m. Sun., 2 & 7 p.m.; through July 8. (310) 208-5454 or www.geffenplayhouse.org