Ayn Rand: The Banality of Greed
People in our apartment building don't have to guess the shape of my and my wife's politics. A weathered NO WAR sign stands in front of our doorway and on one wall there's a flag with an image of planet Earth, taken from space, on a blue field that's hung there since 9/11. Hard to miss. So I was taken aback when a three-page printout from an NPR interview was anonymously placed under our doormat. The interview was with a self-described "venture capitalist" and fellow at a libertarian think tank.
This promoter of Ayn Rand's philosophy argued that it was venture capitalists like himself who create jobs, not government. Like most of Rand's ideas this is about half right. Actually, in this case, a third right. Ernesto Sirolli, who has probably helped more depressed areas of the globe produce jobs than any community developer alive, says it takes three elements to start a business: someone passionate about a dream, the skills to make it happen, and, almost incidentally, money to get it started. Three legs, not one, as Rand would have claimed — the kind of partial truth that permeates her philosophy.
Her latter-day spokesman went on to argue that because capital alone creates jobs, he should not pay taxes or suffer government regulation. Regs and taxes amount to "punishment" for developing jobs. That's another Ayn Rand notion. Since capital creates jobs, it should be unfettered. No individual capitalist should be required to contribute to the welfare of society as a whole. Capitalists give just by the nature of how they became rich.
Rand went further: Wealthy individuals push economic progress forward through their greed in a magical network of invisible interactions. In her book of essays The Virtue of Selfishness, she puts a twist on Adam Smith's famous notion of the "Invisible Hand" (a phrase he used  ironically in his classic economic theory, Wealth of Nations).  For her, the greed of individuals moves the economy ahead as rich people make choices based on their own private self-interest. It occurs mysteriously, and no one can see it happen – but trust her, greed works for us.
Of course greed plays a role in how the economy evolves, but Rand's philosophy teaches that Greed is Good. Greed exclusively makes good things happen, and if bad things occur to people because wealthy people act out of greed, well, nothing should be done about it. Certainly government should not intervene, but no one else should either. In her book of essays, she attacks altruism – acting on behalf of another person without regard for one's self-interest – as itself evil. For Rand any gesture of love towards another holds back progress. She believes that selfishness rules the universe.
The only role for government in her philosophy is to protect the wealth of the rich and their right to act selfishly.  Rand's radical libertarianism would shrink government to the size of an army or police department that would provide stability and protect property, eriod. No roads, no schools, no rules.
How a philosophy that substitutes greed for love and selfishness for mutual aid fits in an America founded on the Declaration of Independence's "inalienable rights" and the Constitution's call to "promote the general welfare" remains a mystery to me. But Rand's philosophy now threatens the very core of the democratic experiment when it makes individual wealth the only sign of a nation's health. So when you hear that kind of half-truth, recognize it as Ayn Rand's legacy. Against her shredding of our common commitments, we must stand together.

A Woman's Art Is Never Done: The Feminae Exhibition
A striking juxtaposition between the past and present courses throughout the small gallery. Celia Blomberg's "International Women's Day March 8" can't help but make one think of 2017's Women's March, which occurred 37 years after the print's first appearance.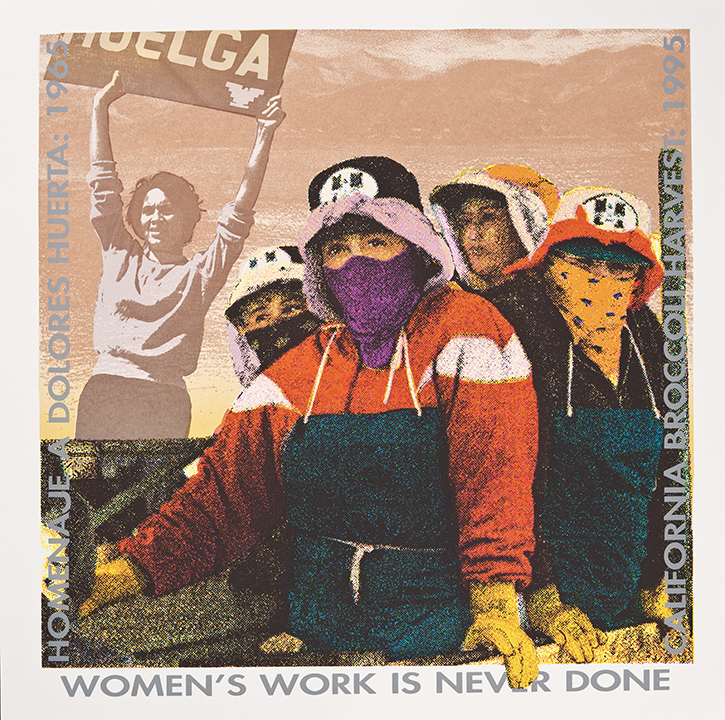 Among the 50-plus works in the Feminae: Typographic Voices of Women By Women exhibit is Yolanda Lopez's "Women's Work is Never Done." Lopez's title is particularly ironic, given the exhibit's gender-based subject matter. The show spans work from the past 50 years, making it easy to understand how much society is still grappling with its themes of gender inequality. Culled from the archives of the Center for the Study of Political Graphics, the graphic images of protest, persuasion and empowerment are truly works of art in their own right.
However, political posters aren't made to merely spruce up walls, but to help figuratively bring barriers down as well.
Two silkscreens from the 1970s, Liliana Porter and John Schneider's "This Woman is Vietnamese" and See Red Woman's Workshop's "So Long As Women Are Not Free People Are Not Free," are particularly powerful, underscoring, as they do, the fact that the subjugation and persecution of women crosses borders and cultures as an unfortunate shared global experience. These two pieces' stark simplicity exemplifies most of the work in the exhibit. In the former, a New York Times photo of a distraught Vietnamese woman with a gun held to her head is centered above these basic words typed out in a typewriter font: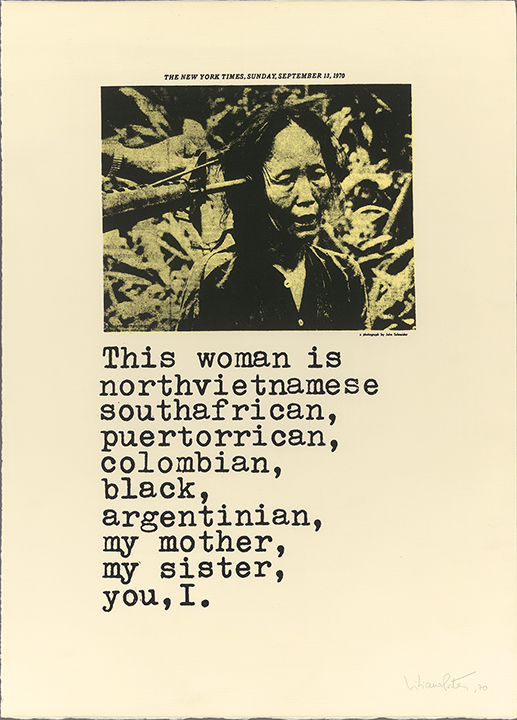 This woman is
northvietnamese
southafrican
puertorrican,
colombian,
black,
argentinian,
my mother,
my sister,
you, I.
By juxtaposing the photo with these words, the creators take the plight of this woman and immediately globalize her pain. In the latter, three female demonstrators are silkscreened in red onto a yellow background. They are marginalized by being stuck in the lower left third of the poster, but two of them are raising their fists skyward and their mouths are open, screaming in defiance. Its non-serif, eponymous type reads: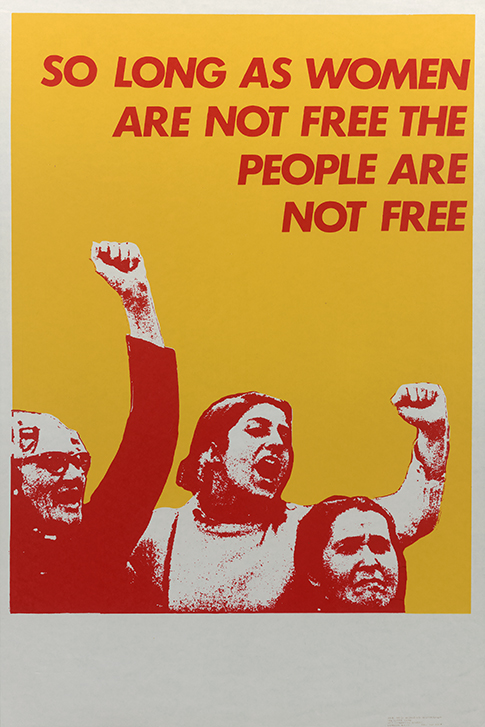 SO LONG AS WOMEN
ARE NOT FREE THE
PEOPLE ARE
NOT FREE
This piece's message takes the global message even farther, making the plight of women a human one — a common theme in the exhibition.
There is also a striking juxtaposition between the past and present that seethes throughout the small gallery. Celia Blomberg's "International Women's Day March 8" can't help but make one think of 2017's Women's March that would take place 37 years later. See Red Woman's Workshop's 1977 "Black Women Will Not Be Intimidated" could easily be repurposed to address the recent spate of blue-on-black brutality. Notable works by Barbara Kruger, Sister Corita Kent and the Guerilla Girls are also included.
Ironically , while it can be surmised that most of these works were made as populist posters to be distributed at the time as banners of protest, their beautiful simplicity and nostalgic elegance probably have resulted in the originals (mostly now found in art museums) sporting hefty vintage-resale prices.
But it is not just the art that has stood the test of time. The fact that the issues addressed in the show — feminism, choice, gender equality, war, immigration, police brutality or violence against women — are all issues at the forefront of debate in 2018 ultimately engenders conflicting feelings.
On one the hand, it is inspiring to see a vibrant exhibit that showcases such diversity in artistic styles, no doubt spawned by the diversity of the artists' own backgrounds. On the other hand, there is a realization that while there has been some progress over the past half century, there is so much work to be done.
Art Center's Hoffmitz Milken Center for Typography, 950 South Raymond Ave., Pasadena; through May 15.
---
Copyright Capital & Main