Ayn Rand: The Banality of Greed
People in our apartment building don't have to guess the shape of my and my wife's politics. A weathered NO WAR sign stands in front of our doorway and on one wall there's a flag with an image of planet Earth, taken from space, on a blue field that's hung there since 9/11. Hard to miss. So I was taken aback when a three-page printout from an NPR interview was anonymously placed under our doormat. The interview was with a self-described "venture capitalist" and fellow at a libertarian think tank.
This promoter of Ayn Rand's philosophy argued that it was venture capitalists like himself who create jobs, not government. Like most of Rand's ideas this is about half right. Actually, in this case, a third right. Ernesto Sirolli, who has probably helped more depressed areas of the globe produce jobs than any community developer alive, says it takes three elements to start a business: someone passionate about a dream, the skills to make it happen, and, almost incidentally, money to get it started. Three legs, not one, as Rand would have claimed — the kind of partial truth that permeates her philosophy.
Her latter-day spokesman went on to argue that because capital alone creates jobs, he should not pay taxes or suffer government regulation. Regs and taxes amount to "punishment" for developing jobs. That's another Ayn Rand notion. Since capital creates jobs, it should be unfettered. No individual capitalist should be required to contribute to the welfare of society as a whole. Capitalists give just by the nature of how they became rich.
Rand went further: Wealthy individuals push economic progress forward through their greed in a magical network of invisible interactions. In her book of essays The Virtue of Selfishness, she puts a twist on Adam Smith's famous notion of the "Invisible Hand" (a phrase he used  ironically in his classic economic theory, Wealth of Nations).  For her, the greed of individuals moves the economy ahead as rich people make choices based on their own private self-interest. It occurs mysteriously, and no one can see it happen – but trust her, greed works for us.
Of course greed plays a role in how the economy evolves, but Rand's philosophy teaches that Greed is Good. Greed exclusively makes good things happen, and if bad things occur to people because wealthy people act out of greed, well, nothing should be done about it. Certainly government should not intervene, but no one else should either. In her book of essays, she attacks altruism – acting on behalf of another person without regard for one's self-interest – as itself evil. For Rand any gesture of love towards another holds back progress. She believes that selfishness rules the universe.
The only role for government in her philosophy is to protect the wealth of the rich and their right to act selfishly.  Rand's radical libertarianism would shrink government to the size of an army or police department that would provide stability and protect property, eriod. No roads, no schools, no rules.
How a philosophy that substitutes greed for love and selfishness for mutual aid fits in an America founded on the Declaration of Independence's "inalienable rights" and the Constitution's call to "promote the general welfare" remains a mystery to me. But Rand's philosophy now threatens the very core of the democratic experiment when it makes individual wealth the only sign of a nation's health. So when you hear that kind of half-truth, recognize it as Ayn Rand's legacy. Against her shredding of our common commitments, we must stand together.

'Skeleton Crew' Is a Play With a Moral Spine
Set in a Detroit automobile outfitting plant, Dominique Morisseau's drama grabs you from the start with its focus on blue-collar men and women, and their struggle for dignity and self-respect.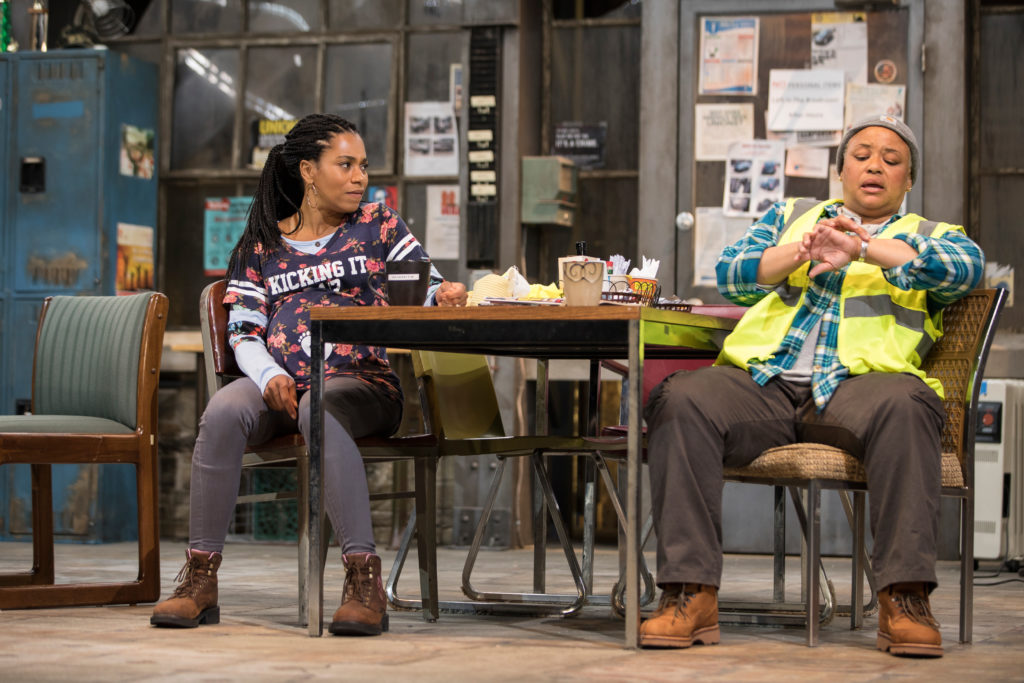 Working-class men and women of color are rarely front and center in today's media and, likewise, are presented all too occasionally on the American stage. So it's buoying to see that trend bucked in playwright Dominique Morisseau's percipient and well-crafted drama, Skeleton Crew. The play is the final installment in her Detroit  Project Trilogy; the first, Paradise Blue, is set in the 1940s amidst displacement caused by urban renewal and gentrification, while the second, Detroit '67, transpires on the eve of the 1967 Detroit riots sparked by a police action.
Directed by Patricia McGregor at Los Angeles' Geffen Playhouse, Skeleton Crew is a play with a moral spine. It takes place in 2008, when the shrinking U.S. auto industry is being further downsized. Morisseau's engaging quartet of characters — Faye (Caroline Stefanie Clay), Dez (Armari Cheatom), Shanita (Kelly McCreary) and Reggie (DB Woodside) – are employed at an automobile outfitting plant. Faye, Dez and Shanita are workers on the line while Reggie (who has a wife and kids, and has pulled himself together after a troubled youth) is their supervisor.
The first three customarily mingle in their break room (designer Rachel Myers' impressively cluttered, dingy and detailed set), trading the sort of familiar barbs and genuine concern for each other common among longtime co-workers. They also face off on philosophy: Upper-middle-aged Faye and the younger, pregnant Shanita take pride in their labor, while Dez, though a good worker, is a malcontent scornful of management and firm in the belief that everyone needs to watch out for himself. He's a thorn in Reggie's side, for while Reggie wants to be supportive of his workers, he must act at the behest of higher management. For his part, Dez resents Reggie's authority, and a palpable unease exists between them.
Besides this male matchup, we're made privy to Dez's attraction to Shanita, who mostly turns away his advances, but every now and then displays a hint of interest. Most poignant is Reggie's regard and affection for the lesbian Faye, which has roots in his boyhood when she loved, and lived, with his now-deceased mom.
These people's various predicaments intensify when rumors spread of the plant's shutdown — a disaster for all, but a particular calamity for the already near-broke Faye who, one year short of retirement, would lose her pension. The crisis forces each of these people to make a choice.
A sound piece of social realism, Skeleton Crew grabs you from the start in its focus on blue-collar men and women, and their struggle against odds for dignity and self-respect. Morisseau not only furnishes these characters a platform for their travails, she endows them with strong values, big hearts and the opportunity to choose between right and wrong.
Unfortunately, the performance I attended did not soar. Many exchanges lacked a fresh edge. The actors certainly had their characters down, but too often they appeared to be coasting on technique. (This seemed particularly true of Clay, who performed the role to great accolades in Washington, DC in 2017, also under McGregor's direction). Additionally, some of the stage movement was not entirely fluid; in confrontations, actors sometimes would just stand and face each other in an artificial way. And Cheatom's interpretation of Dez struck me as a bit overly churlish and depressive: I needed more glimpses of the intelligence and edge that would secretly attract the strong, self-directed Shanita.
The most compelling moments belong to Woodside, well-cast as a man trying his best in difficult circumstances to do the right thing.
---
Gil Cates Theater at the Geffen Playhouse, 10886 Le Conte Ave., Westwood Village; Tues.-Fri., 8 p.m.; Sat., 3 & 8 p.m. Sun., 2 & 7 p.m.; through July 8. (310) 208-5454 or www.geffenplayhouse.org