Ava DuVernay's "13th" Amendment Documentary Packs a Wallop
After Ava DuVernay burst into the mainstream as director of the acclaimed 2014 film Selma, she did not earn an Academy Award nomination for Direction, despite the film earning a Best Picture nod. Whatever doubts anybody might have had about her skill as a director should now be put to rest after her stunning new documentary 13th, now streaming on Netflix.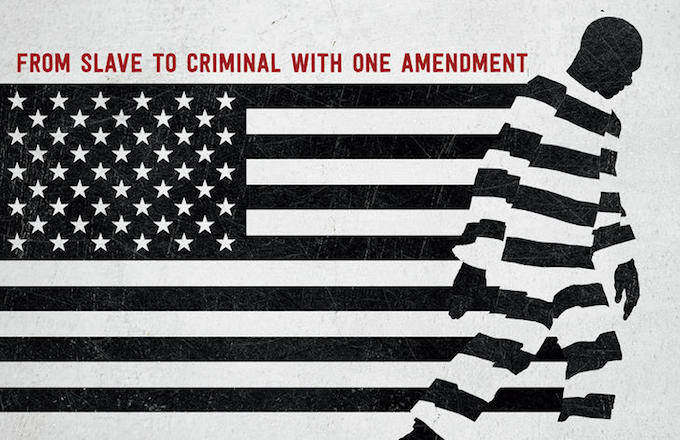 After Ava DuVernay burst into the mainstream as director of the acclaimed 2014 film Selma, she did not earn an Academy Award nomination for Direction, despite the film earning a Best Picture nod. And while she is hardly the first filmmaker to endure such an oversight, some made the case that she was a victim of Hollywood profiling. After all, it's doubly hard to be a black woman in Tinseltown, or in many places in this country, for that matter. Whatever doubts anybody might have had about her skill as a director should now be put to rest after her stunning new documentary 13th (now streaming on Netflix).
"Neither slavery nor involuntary servitude, except as a punishment for crime whereof the party shall have been duly convicted, shall exist within the United States, or any place subject to their jurisdiction."
The premise that this one line in the Thirteenth Amendment of the U.S. Constitution has sanctioned systemic racism in this country doesn't seem like a riveting proposition for a feature documentary. The scourge of discrimination is not a new subject, and recent events have made it a hot topic explored in just about every medium. But that makes DuVernay's achievement that much more impressive. From its first moments, 13th grabs the viewer by the jugular and doesn't let go – and by the final credits it's hard to not be awestruck by DuVernay's supreme talent.
The film's core message is a simple yet disarming one: That ever since Africans were brought over as slaves they have, in effect, remained slaves to this day. The abolition of slavery was merely replaced by other systems that have kept a whole population enslaved (lynching, Jim Crow laws, the War on Drugs, Bill Clinton's Violent Crime Control Act and its three-strikes provisions) — culminating with the modern for-profit prisons that perpetuate it by adding a profit motive to mass incarceration.
The film uses customary documentary elements: graphics to illustrate the increasing population of our prisons over the decades, music to provide pop-culture commentary from the street, and talking heads to discuss the reasons behind the obscene percentage of African Americans behind bars. But what DuVernay and editor Spencer Averick (who co-wrote the film with the director) do with this material is anything but ordinary. The film quickly accelerates to a breakneck pace, but still manages to keep the storytelling robust and revelatory. The staccato bursts of fresh and enlightening information make it seem as if the filmmakers have invented a different filmic language entirely.
Across generations, everyone from scholars to social commentators to activists offer opinions on the subject, and while there is certainly a grab bag of go-to liberals (Henry Louis Gates, Angela Davis, Van Jones), there are a few voices from the other side (such as Newt Gingrich) presented in an attempt to lend some balance. The best of them might be attorney/author Bryan Stevenson, who sums up the film by noting, "People say all the time, 'I don't understand how people could have tolerated slavery.' 'How could people have gone to a lynching and participated in that?' 'How did people make sense of segregation?'…'That's so crazy! If I were living at that time I would never have tolerated anything like that.' And the truth is, we are living at this time and we are tolerating it." Observations like that, or a new filmic juxtaposition, happen every few moments, and they nearly take one's breath away.
After a 90-minute onslaught to the senses and synapses, DuVernay brings the film to a stunning climax. She crafts a montage of footage of recent police-on-black shootings, much of which recently has been seared into our nation's consciousness. The images, strung out collectively, stun in a way that is unexpectedly potent and heartbreaking. DuVernay punctuates each of these clips with a graphic that says that it is being shown with the permission of the victim's family. By employing this seemingly unnecessary addition in this way, DuVernay makes it suddenly appear completely necessary — as a graceful way for these victims and their loved ones to reclaim some of their dignity that was so publicly stripped from them. It is an elegant ending to an elegiac and essential film. Made, most assuredly, by a masterful director.
Weak Stage Production Mars Drama About Returned Vet
The second drama in playwright Quiara Alegría Hudes' trilogy juxtaposes one soldier's post-war tribulations with stories generated by a group of recovering drug addicts.

A 2012 Pulitzer Prize winner, Water by the Spoonful is the second in Quiara Alegría Hudes' trilogy revolving around Elliot, a young war veteran from a Puerto Rican family living in Philadelphia. The first play, Elliot: A Soldier's Fugue, is an interweaving of several narratives that relays the experiences of war from the standpoint of the working-class soldier. It's a strong, lyrical work (although the production, at the Kirk Douglas Theatre through February 25, doesn't fulfill that potential).
In this second, less compelling installment at the Mark Taper Forum (yes, I know it won a Pulitzer, but that goes to show how subjective literary prizes can be), the playwright juxtaposes Elliot (Sean Carvajal)'s post-war tribulations with the stories generated by a group of recovering drug addicts. The play's fractured narrative proves a liability, with problems related to the writing compounded by Lileana Blain-Cruz's lax direction, weak performances, and an unimaginative scenic design (Adam Rigg) that drains the show of whatever dynamic a couple of the performers manage to scrounge up.
The story takes place in 2009, six years after Elliot, haunted by a ghost and nursing a pronounced limp from a war injury, returns from Iraq. He's working at a Subway and hoping for a career as an actor, while maintaining a mutually supportive friendship with his cousin Yazmin (Keren Lugo), a music professor. Elliot is struggling with his PTSD but managing to cope until his world spins out of control when his adoptive mom Ginny, much loved by her family and the community, nears death.
Keren Lugo and Sean Carvajal
These scenes involving a family in crisis alternate with others that depict the online squabbling of the members of the recovery group, who bear the pseudonyms of Chutes&Ladders (Bernard K. Addison), Orangutan (Sylvia Kwan) and Fountainhead (Josh Braaten). Haikumom (Luna Lauren Vélez), the site leader, is (we later discover) Elliot's biological mother, Odessa, and she also is in recovery. The play takes its title from a recollection by Elliot of an event in his childhood: He and his baby sister were ill and needed a spoonful of water every hour – something Odessa failed to administer, with tragic results. Elliot has never forgiven her.
Much of Act 1 is taken up with the repartee among the group, but these characters never physically interact, and these "online" sequences are long-winded and static. It doesn't help that the actors are positioned willy-nilly about the proscenium, fronting a drab living room interior unrelated to their dialogue. Why these scenes were not mounted in a separate area of the stage and with a different lighting design is a puzzlement.
The play gets more interesting in the second act, with Elliot's emotional crisis intensifying and brought to a head in his confrontation with Odessa. Unfortunately, the drama is done in by subpar acting. Carvajal, employing a weird pseudo-street dialogue (it's as if he has marbles in his mouth), sounds an unconvincing one-note. (As someone born and raised in Philadelphia, I can personally testify that that is not how residents of Philly speak.) Lugo's Yazmin lacks personality of any sort — she seems to be there just for Elliot to play off of. Vélez's performance in a linchpin role projects neither charisma nor clarity.
The best work is by Addison as a 50-something white collar guy emotionally invested in the group and with a growing attachment to Orangutan, a much younger woman, and Braaten as a well-heeled cokehead, desperately trying to hold his life together. These actors bring a certain heft to their roles that the other performances are missing. It's too bad we don't get to see them perform at their best.
The third play in the trilogy, The Happiest Song Plays Last, opens at the Los Angeles Theatre Center on Feb. 22, with an entirely different ensemble. Here's hoping they can do better.
Mark Taper Forum, 135 N. Grand Ave., downtown; Tues.-Fri., 8 p.m.; Sat., 2:30 & 8 p.m.; Sunday, 1 & 6:30 p.m.; through March 11. Centertheatregroup.org.
---
Copyright Capital & Main