Author Charles Degelman on the Legacy of the 1960s
There are epic chapters in American history that inspire a seemingly endless flow of fiction, historical analysis and first-person reflection. Not least among these chapters is the 1960s, and the dramatic social movements that helped define that decade.
One of the newest entrees in the '60s canon is Gates of Eden, a novel by longtime theater artist and political activist Charles Degelman. The anti-war movement is the canvas against which Degelman sets his story, and while the book is not autobiographical, the author knows his subject well. After graduating from Harvard in 1967, Degelman left Cambridge for San Francisco and joined the San Francisco Mime Troupe, the radical theater company grounded in the work of Bertolt Brecht. The troupe performed its anti-war repertoire across the country, partnering with Students for a Democratic Society (SDS), one of the leading activist groups of the era.
Degelman, who went on to co-found the L.A.-based Indecent Exposure Theater Company and currently serves as editorial director of the independent publisher Harvard Square Editions, spoke recently to Frying Pan News about the legacy of the '60s social movements, comparisons to Occupy Wall Street and the lessons of history.
Frying Pan News: I've always wondered if it's better to have been part of a large social movement that ultimately failed to achieve its objectives, or not to have had that experience and the resulting disillusionment.
Charles Degelman: Take Door Number One. In terms of personal experience and activism in general, there's no way to measure – in the midst of the flow of events – how those events will turn out, impact the future, feed into your hopes and vision of what the world might be.
But this is one of the things I'm trying to say with Gates of Eden: We won. No, we didn't overturn the political order and create a New Left version of socialism. But think of the gains that were made and the reactions to them: Feminism came out of the movements of the '60s; minority studies came out of the notions of campus reform based on the draft and the relationship of the university to the military; environmentalism came out of the larger counterculture, looking at what Agent Orange did to the environment. We have whole other ways of community organizing.
FPN: But in the last 30 years we've seen huge increases in inequality, aggressive attacks on the rights of women, assaults on environmental protections. Given all of that how can you say that we won?
CD: One measure of victory is how hard the dominant power fights back. I would argue that when you push the power structure hard enough, they push back, and the harder you push the harder they push. They get violent. It's a perfect manifestation of the term "reactionary" – they react. They are trying to cut back social services, equal pay, environmental safeguards.
FPN: So how is that victory?
CD: You are skipping two decades of institutionalizing progressive gains. Before Roe v. Wade abortion was illegal. After Roe v. Wade and the institutionalizing of women's rights, there were quite a few years before they started chewing away at that. The demonstrations of the civil rights movement engendered court cases, and those court cases turned into efforts to legislate and institutionalize the changes that protests had brought about. So you have an incorporation of real social reforms that has continued. What we're seeing now doesn't take into account that a lot of environmental laws were much better in the '70s and '80s and '90s then they are now.
FPN: How do you compare the '60s to Occupy Wall Street?
CD: There are a tremendous number of similarities and differences. Though Occupy is not necessarily tied by knowledge and understanding to the New Left of the '60s and '70s, it is certainly drawing on much of the spirit, strategy and processes of the '60s. People are rising up because of the things they see that are unjust.
In the '60s, because of the draft there were a fairly large percentage of Americans who were directly impacted by the Vietnam War. However, we were still thriving in an industrial economy that could fight a war in Southeast Asia and put a man on the moon at the same time. We had a very productive economy until the oil embargo of the 1970s, and that supported a kind of lifestyle to live on the fringe whether you had money or not.
Now you have tremendous impact for such a broad sector of the population – not just the folks who are going on tour after tour to Iraq or Afghanistan, you are also seeing people who are impacted by this horrible economy, people emerging from school with tremendous student loan debts with no jobs available. We're no longer an industrial nation, we're not building anything. So you have conditions in terms of what Occupy is responding to that are much more universal. That's a tremendous difference. And although we did very well in communicating, it's nothing compared to what this incredible social media explosion has created.
FPN: Did anything surprise you about what you remembered or learned about the '60s?
CD: One of the things that surprised me was President Lyndon Johnson's role in the Vietnam War. We thought of Johnson as a perpetrator of a terrible war, as a baby killer. I spent time at the Johnson Library in Austin, Texas and I was able to dig up transcripts of the meetings he held in '66, '67, '68, as things really ramped up and pressure built. General Westmoreland, Robert McNamara, McGeorge Bundy were all excoriating him to escalate the war. And he was a very reluctant warrior. In the end I learned, through the writings of Daniel Ellsberg, that from Truman through Johnson all those presidents were not happy to be fighting that war for a variety of reasons, but all of them – for fear of losing elections – continued to sanction the war. And for Johnson it was particularly heartbreaking on a personal level. He considered himself a social justice engineer, and here's this guy fighting this horrendous war and giving in to the really outrageous pressures from his advisors out of fear.
FPN: What do you want people to take from Gates of Eden?
CD:The beauty and ingenuity, resourcefulness and perseverance of people who were committed to stopping the war, who made life choices that affected the rest of their lives – and I'll put myself in that category – to pursue activism at the expense of their careers, of creating families. We're not talking reform – somewhere between reform and armed revolution [is where] you'll find the bulk of the movement, and the arcs of Gates of Eden's characters. All of these movements were moving toward creating social change, and that's very different from what the cultural machinery has painted of that time.
FPN: Is there something that the movements of the '60s could have done differently?
CD: We knew that the fragmenting and splintering into particular political groups was destructive. But when you are up against a vicious and powerful enemy such as COINTELPRO and the police and the military, they push back hard, and it is scary and frustrating and painful. In that moment we didn't realize that it's always easier to turn to the person next to you and start a fight than to continue the exhausting battles against the real enemy. And that would have been a wonderful thing to understand better.
The most spectacular example is the split that happened in 1969 between SDS, which had become the most powerful anti-war movement this country had ever seen, and the Weather Underground, which broke off and became the militant wing, and of course failed. Unless you have as many guns as they do there's not much percentage pretending that you're going to create an armed overthrow. In Gates, I hope I've created a deep understanding of the rage and frustration and desperation that drove [the Weathermen] toward becoming bombers.
FPN: And what is the lesson for today in that?
CD: It's easier to understand in a time when social media allows us to watch the forces that are at work. It seems as if the new resistance movements are more savvy about how sophisticated and how totally saturated this culture is with infiltration, with the dissemination of information that can be used against you, and to not be beaten by that but to be ingenious.
The Power of the Poster
Carol Wells, the founder of the Center for the Study of Political Graphics in Los Angeles, talks to Capital & Main about the enduring power of political art.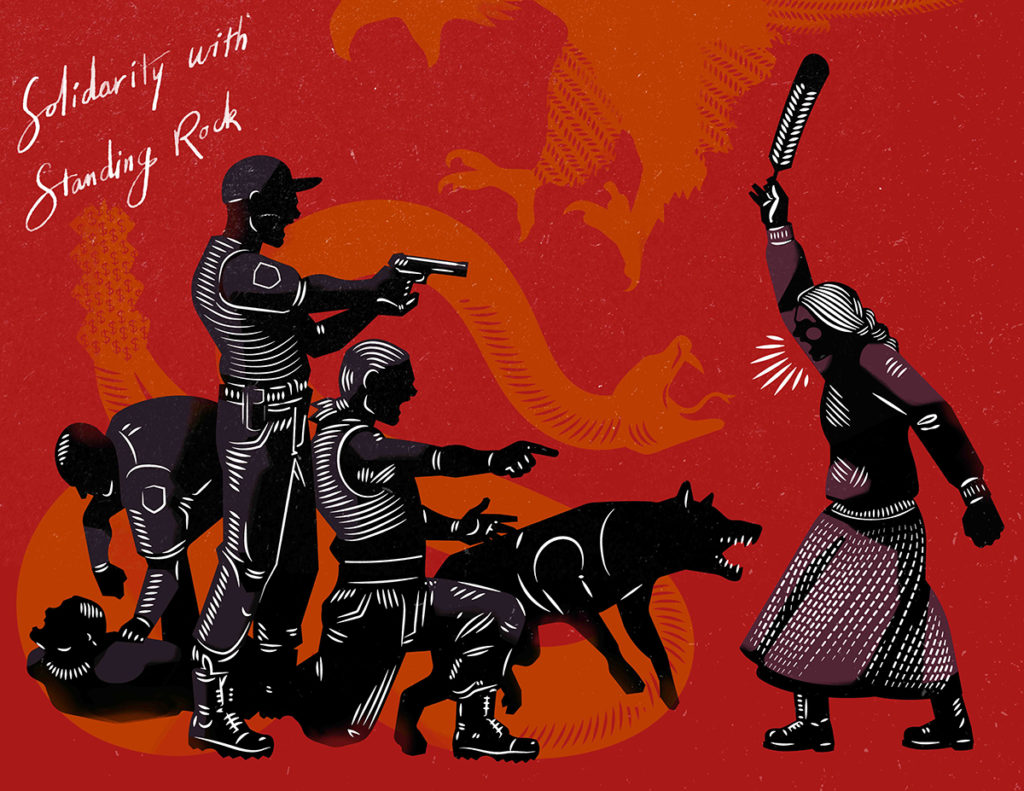 Carol Wells remembers the exact moment she discovered her calling. An art historian at the time, she was on a trip to Nicaragua with her friend David Kunzle, a UCLA art history professor, who was collecting political posters to add to his burgeoning collection. While staying with friends, Wells watched a neighbor's 8-year-old son approach a poster on the wall, stare at it intently, and then start to silently mouth the words. Wells was struck by how engaged the boy was. "In that moment I became obsessed with collecting posters."
Now over 40 years later, Wells is the founder and executive director of the Center for the Study of Political Graphics in Los Angeles. Wells has amassed approximately 90,000 posters, building one of the largest collections of its kind in the world. The Center shares its collection with the public in part through curated exhibits. This year the CSPG has produced Feminae: Typographic Voices of Women by Women and its latest is To Protect & Serve? Five Decades of Posters Protesting Police Violence, running through July 15 at the Mercado La Paloma in downtown Los Angeles.
Since that encounter in Nicaragua in 1981, Wells' obsession with collecting posters hasn't waned. In CSPG's nondescript West L.A. office space, Wells pulls out poster after poster, lecturing passionately on the backstory and cultural impact of each, including one that superimposes text from a New York Times interview with a shocking image of the My Lai massacre ("Q: And babies? A: And babies."). Recently, she managed to sit down with C&M to discuss her passion.
---
Capital & Main: So, you were an art history professor, you happen to see a kid on a trip, and suddenly your life was changed forever?
Carol Wells: Yeah, I'm in Nicaragua alone in the living room with this kid. He's looking around, and all of a sudden, he sees the poster. It was pretty big, bright green, a thick outlines of a woman holding a big basket of coffee beans. And the text in Spanish said, "In constructing the new country, we are becoming the new woman." I see him walk over to the poster and I'm watching him mouth the words. It was a pretty sophisticated concept, so I doubt he figured it out. But I literally had this epiphany: "Oh my God. That's how posters work." You're going about your daily life, and all of a sudden something breaks through the bubble, and it grabs your attention. It's the graphic, it's the color, it's the combination, and it pulls you out of your head and into that poster and it makes you ask a question. "Why is this here? What is this about? What does this mean?" And every time you ask a question, you're a different person than you were before you asked the question.
How many posters do you get a year?
We get between two to five thousand a year donated from all over the world. The bulk of our collection is [from] 1945 and later.
I assume technology has probably hurt the art form, but has it helped get the messages out?
Most people think that, and it's actually not true. Since the internet age started, there's actually a poster renaissance of works on paper. Because you can't walk with your computer monitor in a demonstration. You can't plant your monitor on your lawn.
And you can't put a laptop on the wall…
Exactly. You want to hear a really great story? Truthdig.org published a cartoon [made by] a political cartoonist named Mr. Fish. It was during the Arab spring, and he had superimposed Che Guevara with the stylized beard and King Tut's face, but it had Che's beret. And it [was titled], "Walk like an Egyptian." So, it was a reference to the music, but [it was also] a reference to what was going on the streets of Cairo. I sent it out as our poster of the week to 9,000 people. The very next day, somebody took a photograph on the street of Cairo, with somebody holding a piece of paper with that image on it. A poster can literally go around the world and people will print it out.
What struck me in viewing your exhibits is how many of these posters could still be used today, not only artistically but also, sadly, in the timeliness of their messages.
We had this fabulous poster by Yolanda Lopez, a Bay Area artist, which she first did in 1978. It depicts a young man in Aztec garb pointing a finger like Uncle Sam saying, "Who's the illegal alien, PILGRIM?" And it's a great poster, it's simple, not too many words, funny, provocative. So, we had an exhibit at UCLA in the mid '90s and there were 4 or 5 high school students standing around this poster saying, "Wow, you've got posters up to the minute." And I went over to them and I said, "Look at the date. This is before you were born."
Is that one of your goals with the exhibitions? To show the evergreen nature of this work?
Absolutely. I mean that's why we did the police abuse exhibition now. It basically goes back five decades. It's 50 years of posters protesting police abuse. Mainly in the United States, but also internationally.
What's the goal for CSPG?
Well the aim right now is really to digitize the collection and get it online. We have 10% of the collection digitized. But the mission is to collect and to document, because stories get lost. All the exhibitions, they're showing massacres, they're showing genocide, they're showing police abuse, they're showing all of these horrible things. And people often ask me, "How can you look at this stuff all day long?" I said, "Because the poster artists are optimists. They believe people can change if they have the information."
Yes, that's the reason why they're doing it, right?
That's why they're doing it, and that's why I'm doing this, because I believe that people can change if they knew the truth.
And what happens 20, 50 years from now?
Well, my goal is to stay independent, because the other option is to become part of the university. Universities, for all the fabulous things that they do, they also censor. We did an exhibition at USC in 1992 on the 500 years since Columbus, and how the legacy of racism and exploitation and genocide continues. And one of the board of trustees was Italian and took [the exhibit] as an affront to Columbus. It really wasn't about Columbus, it was about colonialism. And he ordered it down.
Do you have a favorite poster?
I'm always amazed at the creativity and vision of artists. Every week I'll say, "Oh my God, how do they think of that?" But it's always still going to be the poster I saw that kid trying to figure out. It has to be my favorite one because that one changed my life.
What makes a perfect poster?
The right balance between aesthetics and message. If you only rely on the corporate press, the New York Times and L.A. Times, for your information, you're not going to get the side from the street, from the movement, from the activists. The posters are primary historical documents that are recording the issues that were at the time, and the passions that were at the time, and the divisions that were at the time. You're not going to get it anyplace else.
---
Copyright Capital & Main