Athletes Continue to Speak Out
Last week Chicago Bulls basketball star Derrick Rose wore a T-shirt in warm-ups that read "I Can't Breathe," protesting the non-indictment of a New York police officer whose chokehold killed Eric Garner. Cleveland Cavaliers superstar LeBron James wore a similar shirt the next night, telling a reporter who asked him after the game if his action was a "Cavaliers thing," that no, it was a "worldly thing."
A few days before these pro basketball players' protests, five members of the St. Louis Rams football team ran out of the team dressing room before kick-off with their hands raised above their heads, a reference to the "don't shoot" gesture that protesters have been using after the shooting of teenager Michael Brown in Ferguson, Missouri.
Predictable outrage ensued. The St. Louis Police Officers Association issued a statement saying the organization was "…profoundly disappointed" with the five players, accusing them of exhibiting "tasteless, offensive and inflammatory" behavior. Fox News commentator Bill O'Reilly opined that "paying customers" should not be subjected to political protests, adding that the five Rams players were not "smart enough to know what they were doing," apparently not knowing or caring that at least one of the players, Stedman Bailey, was on the academic honor roll at West Virginia University.
The idea that players should just cash their checks and shut up about social issues is a common one. Often in the past, whenever athletes have spoken out about social issues – whether Muhammad Ali, Bill Russell, Arthur Ashe or Steve Nash, they have been attacked by other teammates, pilloried in the press or chastised by league authorities.
When Los Angeles Laker guard Steve Nash wore a T-shirt protesting the Iraq war during All-Star warm-ups in 2003 (when playing for the Dallas Mavericks), Minnesota Timberwolves coach Flip Saunders commented, "What opinions you have, it's important to keep them to yourselves."
The teams and leagues would also prefer that the players just play. They do their best to shield their "paying customers" from players making political statements with which many fans might disagree. More important, corporate sponsors don't want players who are wearing their gear to come off as "dissidents" or to engage in controversial behavior.
After Derrick Rose's protest, National Basketball Association commissioner Adam Silver said that while he respected Rose and other players for voicing their views on issues, he added that his "preference would be for players to abide by our on-court attire rules." The NBA has a $400-million deal with Adidas to provide uniforms and other apparel to players.
There are elaborate rules in player contracts that protect the images of professional sports teams and leagues. In the current contract between National Football League Players Association and the NFL, one article states that players must give their loyalty to their clubs and conduct themselves "…on and off the field with appropriate recognition of the fact that the success of professional football depends largely on public respect for and approval of those associated with the game." Similar contract language exists for Major League Baseball players. In other words, the players, owners and the leagues are partners in a large and lucrative business that players shouldn't mess with.
Owners and other league officials, however, consistently use their sports "platforms" to engage in politics. Denver Broncos team official and former quarterback John Elway endorsed Mitt Romney for President, as did New York Jets owner Woody Johnson, who added that he'd prefer Romney as President to a winning season. But it is the athletes themselves who are remembered and often excoriated for speaking up.
For all the media and fan hand-wringing, the protests have been rather tame even by the already circumscribed league standards. Wearing a protest T-shirt is a long way from social revolution. No athlete has defended community violence or is even organizing ongoing field or court protests. Given that close to 70 percent of NFL players are African American, and more than 75 percent of NBA players are black, what is surprising is that there have not been more protests about civil rights violations or economic deprivation throughout the years.
There was a time when the underpinnings of American economic and military power – and right-wing politics – were linked directly to our obsession with and excessive adulation of sports. General Douglas MacArthur once proclaimed that, "Upon the fields of friendly strife are sown the seeds which, on other days, on other fields, will bear the seeds of victory." And, when speaking before athletic associations, the right-wing politician Max Rafferty, who served two terms as California's superintendent of schools in the 1960s, would say, "the love of clean, competitive sports…" would serve as a bulwark against the "…burning-eyed, bearded draft-card burners who hate and envy the athlete because he is something they can never be – a man."
While these statements seem outrageous now, it is unlikely that MacArthur or Rafferty were attacked for "bringing politics into sports." The idea of athletics as "character building," in the service of military strength or conservative ideals, was a commonplace and popular notion.
But the "lessons" that many conservatives want participation in sports to impart are not the lessons that many athletes learn. The "character" that the protesting players are asking others to consider is one where, as LeBron James suggested, we create a society where we are "better [to] one another no matter what race you are."
ESPN commentator Chris Broussard has suggested that black professional athletes create an association that could educate its members on issues and advocate for change. It's a good idea. Channeling collective energies and talents is one way to have an impact. But what about an association of male and female professional athletes of all ethnicities and backgrounds who could push for positive action?
For now, individual players themselves have decided to use their individual star power to express themselves. It's messy and it makes some people uncomfortable. But it's also extremely necessary.
The Power of the Poster
Carol Wells, the founder of the Center for the Study of Political Graphics in Los Angeles, talks to Capital & Main about the enduring power of political art.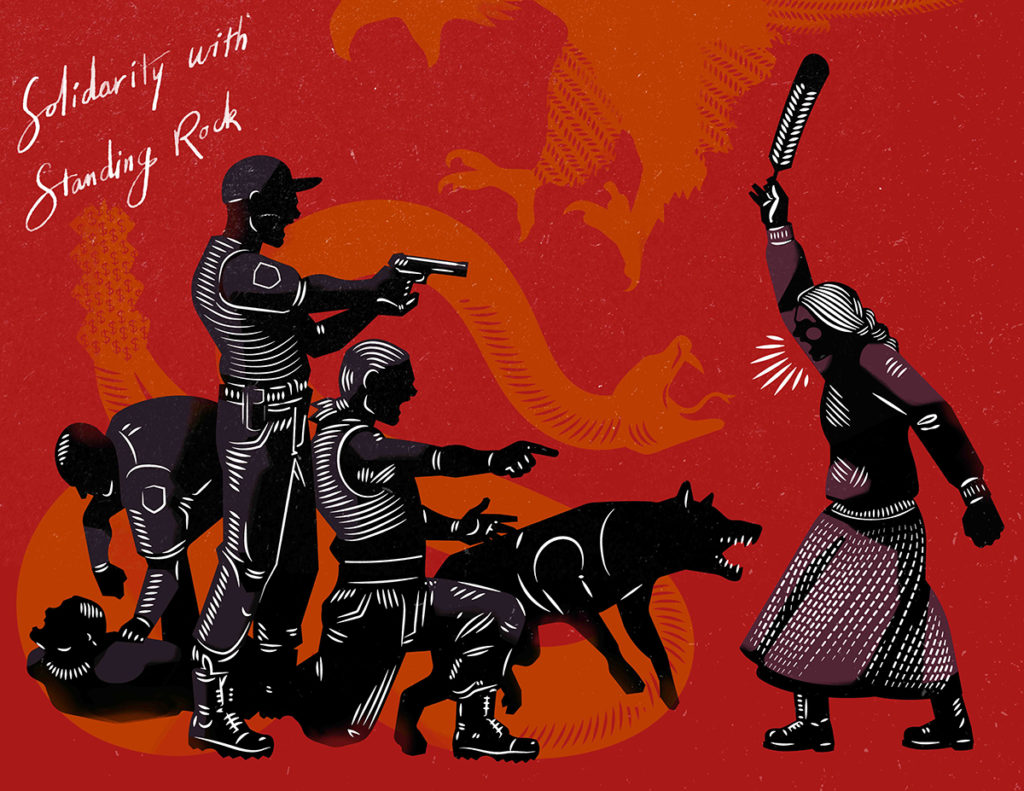 Carol Wells remembers the exact moment she discovered her calling. An art historian at the time, she was on a trip to Nicaragua with her friend David Kunzle, a UCLA art history professor, who was collecting political posters to add to his burgeoning collection. While staying with friends, Wells watched a neighbor's 8-year-old son approach a poster on the wall, stare at it intently, and then start to silently mouth the words. Wells was struck by how engaged the boy was. "In that moment I became obsessed with collecting posters."
Now over 40 years later, Wells is the founder and executive director of the Center for the Study of Political Graphics in Los Angeles. Wells has amassed approximately 90,000 posters, building one of the largest collections of its kind in the world. The Center shares its collection with the public in part through curated exhibits. This year the CSPG has produced Feminae: Typographic Voices of Women by Women and its latest is To Protect & Serve? Five Decades of Posters Protesting Police Violence, running through July 15 at the Mercado La Paloma in downtown Los Angeles.
Since that encounter in Nicaragua in 1981, Wells' obsession with collecting posters hasn't waned. In CSPG's nondescript West L.A. office space, Wells pulls out poster after poster, lecturing passionately on the backstory and cultural impact of each, including one that superimposes text from a New York Times interview with a shocking image of the My Lai massacre ("Q: And babies? A: And babies."). Recently, she managed to sit down with C&M to discuss her passion.
---
Capital & Main: So, you were an art history professor, you happen to see a kid on a trip, and suddenly your life was changed forever?
Carol Wells: Yeah, I'm in Nicaragua alone in the living room with this kid. He's looking around, and all of a sudden, he sees the poster. It was pretty big, bright green, a thick outlines of a woman holding a big basket of coffee beans. And the text in Spanish said, "In constructing the new country, we are becoming the new woman." I see him walk over to the poster and I'm watching him mouth the words. It was a pretty sophisticated concept, so I doubt he figured it out. But I literally had this epiphany: "Oh my God. That's how posters work." You're going about your daily life, and all of a sudden something breaks through the bubble, and it grabs your attention. It's the graphic, it's the color, it's the combination, and it pulls you out of your head and into that poster and it makes you ask a question. "Why is this here? What is this about? What does this mean?" And every time you ask a question, you're a different person than you were before you asked the question.
How many posters do you get a year?
We get between two to five thousand a year donated from all over the world. The bulk of our collection is [from] 1945 and later.
I assume technology has probably hurt the art form, but has it helped get the messages out?
Most people think that, and it's actually not true. Since the internet age started, there's actually a poster renaissance of works on paper. Because you can't walk with your computer monitor in a demonstration. You can't plant your monitor on your lawn.
And you can't put a laptop on the wall…
Exactly. You want to hear a really great story? Truthdig.org published a cartoon [made by] a political cartoonist named Mr. Fish. It was during the Arab spring, and he had superimposed Che Guevara with the stylized beard and King Tut's face, but it had Che's beret. And it [was titled], "Walk like an Egyptian." So, it was a reference to the music, but [it was also] a reference to what was going on the streets of Cairo. I sent it out as our poster of the week to 9,000 people. The very next day, somebody took a photograph on the street of Cairo, with somebody holding a piece of paper with that image on it. A poster can literally go around the world and people will print it out.
What struck me in viewing your exhibits is how many of these posters could still be used today, not only artistically but also, sadly, in the timeliness of their messages.
We had this fabulous poster by Yolanda Lopez, a Bay Area artist, which she first did in 1978. It depicts a young man in Aztec garb pointing a finger like Uncle Sam saying, "Who's the illegal alien, PILGRIM?" And it's a great poster, it's simple, not too many words, funny, provocative. So, we had an exhibit at UCLA in the mid '90s and there were 4 or 5 high school students standing around this poster saying, "Wow, you've got posters up to the minute." And I went over to them and I said, "Look at the date. This is before you were born."
Is that one of your goals with the exhibitions? To show the evergreen nature of this work?
Absolutely. I mean that's why we did the police abuse exhibition now. It basically goes back five decades. It's 50 years of posters protesting police abuse. Mainly in the United States, but also internationally.
What's the goal for CSPG?
Well the aim right now is really to digitize the collection and get it online. We have 10% of the collection digitized. But the mission is to collect and to document, because stories get lost. All the exhibitions, they're showing massacres, they're showing genocide, they're showing police abuse, they're showing all of these horrible things. And people often ask me, "How can you look at this stuff all day long?" I said, "Because the poster artists are optimists. They believe people can change if they have the information."
Yes, that's the reason why they're doing it, right?
That's why they're doing it, and that's why I'm doing this, because I believe that people can change if they knew the truth.
And what happens 20, 50 years from now?
Well, my goal is to stay independent, because the other option is to become part of the university. Universities, for all the fabulous things that they do, they also censor. We did an exhibition at USC in 1992 on the 500 years since Columbus, and how the legacy of racism and exploitation and genocide continues. And one of the board of trustees was Italian and took [the exhibit] as an affront to Columbus. It really wasn't about Columbus, it was about colonialism. And he ordered it down.
Do you have a favorite poster?
I'm always amazed at the creativity and vision of artists. Every week I'll say, "Oh my God, how do they think of that?" But it's always still going to be the poster I saw that kid trying to figure out. It has to be my favorite one because that one changed my life.
What makes a perfect poster?
The right balance between aesthetics and message. If you only rely on the corporate press, the New York Times and L.A. Times, for your information, you're not going to get the side from the street, from the movement, from the activists. The posters are primary historical documents that are recording the issues that were at the time, and the passions that were at the time, and the divisions that were at the time. You're not going to get it anyplace else.
---
Copyright Capital & Main