Athletes Continue to Speak Out
Last week Chicago Bulls basketball star Derrick Rose wore a T-shirt in warm-ups that read "I Can't Breathe," protesting the non-indictment of a New York police officer whose chokehold killed Eric Garner. Cleveland Cavaliers superstar LeBron James wore a similar shirt the next night, telling a reporter who asked him after the game if his action was a "Cavaliers thing," that no, it was a "worldly thing."
A few days before these pro basketball players' protests, five members of the St. Louis Rams football team ran out of the team dressing room before kick-off with their hands raised above their heads, a reference to the "don't shoot" gesture that protesters have been using after the shooting of teenager Michael Brown in Ferguson, Missouri.
Predictable outrage ensued. The St. Louis Police Officers Association issued a statement saying the organization was "…profoundly disappointed" with the five players, accusing them of exhibiting "tasteless, offensive and inflammatory" behavior. Fox News commentator Bill O'Reilly opined that "paying customers" should not be subjected to political protests, adding that the five Rams players were not "smart enough to know what they were doing," apparently not knowing or caring that at least one of the players, Stedman Bailey, was on the academic honor roll at West Virginia University.
The idea that players should just cash their checks and shut up about social issues is a common one. Often in the past, whenever athletes have spoken out about social issues – whether Muhammad Ali, Bill Russell, Arthur Ashe or Steve Nash, they have been attacked by other teammates, pilloried in the press or chastised by league authorities.
When Los Angeles Laker guard Steve Nash wore a T-shirt protesting the Iraq war during All-Star warm-ups in 2003 (when playing for the Dallas Mavericks), Minnesota Timberwolves coach Flip Saunders commented, "What opinions you have, it's important to keep them to yourselves."
The teams and leagues would also prefer that the players just play. They do their best to shield their "paying customers" from players making political statements with which many fans might disagree. More important, corporate sponsors don't want players who are wearing their gear to come off as "dissidents" or to engage in controversial behavior.
After Derrick Rose's protest, National Basketball Association commissioner Adam Silver said that while he respected Rose and other players for voicing their views on issues, he added that his "preference would be for players to abide by our on-court attire rules." The NBA has a $400-million deal with Adidas to provide uniforms and other apparel to players.
There are elaborate rules in player contracts that protect the images of professional sports teams and leagues. In the current contract between National Football League Players Association and the NFL, one article states that players must give their loyalty to their clubs and conduct themselves "…on and off the field with appropriate recognition of the fact that the success of professional football depends largely on public respect for and approval of those associated with the game." Similar contract language exists for Major League Baseball players. In other words, the players, owners and the leagues are partners in a large and lucrative business that players shouldn't mess with.
Owners and other league officials, however, consistently use their sports "platforms" to engage in politics. Denver Broncos team official and former quarterback John Elway endorsed Mitt Romney for President, as did New York Jets owner Woody Johnson, who added that he'd prefer Romney as President to a winning season. But it is the athletes themselves who are remembered and often excoriated for speaking up.
For all the media and fan hand-wringing, the protests have been rather tame even by the already circumscribed league standards. Wearing a protest T-shirt is a long way from social revolution. No athlete has defended community violence or is even organizing ongoing field or court protests. Given that close to 70 percent of NFL players are African American, and more than 75 percent of NBA players are black, what is surprising is that there have not been more protests about civil rights violations or economic deprivation throughout the years.
There was a time when the underpinnings of American economic and military power – and right-wing politics – were linked directly to our obsession with and excessive adulation of sports. General Douglas MacArthur once proclaimed that, "Upon the fields of friendly strife are sown the seeds which, on other days, on other fields, will bear the seeds of victory." And, when speaking before athletic associations, the right-wing politician Max Rafferty, who served two terms as California's superintendent of schools in the 1960s, would say, "the love of clean, competitive sports…" would serve as a bulwark against the "…burning-eyed, bearded draft-card burners who hate and envy the athlete because he is something they can never be – a man."
While these statements seem outrageous now, it is unlikely that MacArthur or Rafferty were attacked for "bringing politics into sports." The idea of athletics as "character building," in the service of military strength or conservative ideals, was a commonplace and popular notion.
But the "lessons" that many conservatives want participation in sports to impart are not the lessons that many athletes learn. The "character" that the protesting players are asking others to consider is one where, as LeBron James suggested, we create a society where we are "better [to] one another no matter what race you are."
ESPN commentator Chris Broussard has suggested that black professional athletes create an association that could educate its members on issues and advocate for change. It's a good idea. Channeling collective energies and talents is one way to have an impact. But what about an association of male and female professional athletes of all ethnicities and backgrounds who could push for positive action?
For now, individual players themselves have decided to use their individual star power to express themselves. It's messy and it makes some people uncomfortable. But it's also extremely necessary.

'Skeleton Crew' Is a Play With a Moral Spine
Set in a Detroit automobile outfitting plant, Dominique Morisseau's drama grabs you from the start with its focus on blue-collar men and women, and their struggle for dignity and self-respect.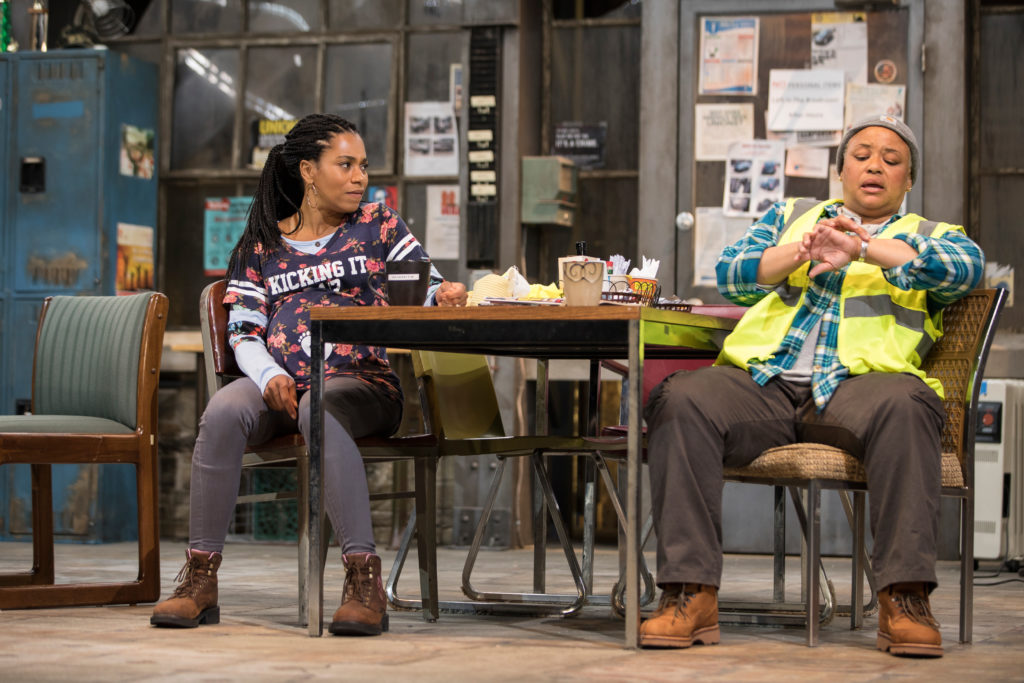 Working-class men and women of color are rarely front and center in today's media and, likewise, are presented all too occasionally on the American stage. So it's buoying to see that trend bucked in playwright Dominique Morisseau's percipient and well-crafted drama, Skeleton Crew. The play is the final installment in her Detroit  Project Trilogy; the first, Paradise Blue, is set in the 1940s amidst displacement caused by urban renewal and gentrification, while the second, Detroit '67, transpires on the eve of the 1967 Detroit riots sparked by a police action.
Directed by Patricia McGregor at Los Angeles' Geffen Playhouse, Skeleton Crew is a play with a moral spine. It takes place in 2008, when the shrinking U.S. auto industry is being further downsized. Morisseau's engaging quartet of characters — Faye (Caroline Stefanie Clay), Dez (Armari Cheatom), Shanita (Kelly McCreary) and Reggie (DB Woodside) – are employed at an automobile outfitting plant. Faye, Dez and Shanita are workers on the line while Reggie (who has a wife and kids, and has pulled himself together after a troubled youth) is their supervisor.
The first three customarily mingle in their break room (designer Rachel Myers' impressively cluttered, dingy and detailed set), trading the sort of familiar barbs and genuine concern for each other common among longtime co-workers. They also face off on philosophy: Upper-middle-aged Faye and the younger, pregnant Shanita take pride in their labor, while Dez, though a good worker, is a malcontent scornful of management and firm in the belief that everyone needs to watch out for himself. He's a thorn in Reggie's side, for while Reggie wants to be supportive of his workers, he must act at the behest of higher management. For his part, Dez resents Reggie's authority, and a palpable unease exists between them.
Besides this male matchup, we're made privy to Dez's attraction to Shanita, who mostly turns away his advances, but every now and then displays a hint of interest. Most poignant is Reggie's regard and affection for the lesbian Faye, which has roots in his boyhood when she loved, and lived, with his now-deceased mom.
These people's various predicaments intensify when rumors spread of the plant's shutdown — a disaster for all, but a particular calamity for the already near-broke Faye who, one year short of retirement, would lose her pension. The crisis forces each of these people to make a choice.
A sound piece of social realism, Skeleton Crew grabs you from the start in its focus on blue-collar men and women, and their struggle against odds for dignity and self-respect. Morisseau not only furnishes these characters a platform for their travails, she endows them with strong values, big hearts and the opportunity to choose between right and wrong.
Unfortunately, the performance I attended did not soar. Many exchanges lacked a fresh edge. The actors certainly had their characters down, but too often they appeared to be coasting on technique. (This seemed particularly true of Clay, who performed the role to great accolades in Washington, DC in 2017, also under McGregor's direction). Additionally, some of the stage movement was not entirely fluid; in confrontations, actors sometimes would just stand and face each other in an artificial way. And Cheatom's interpretation of Dez struck me as a bit overly churlish and depressive: I needed more glimpses of the intelligence and edge that would secretly attract the strong, self-directed Shanita.
The most compelling moments belong to Woodside, well-cast as a man trying his best in difficult circumstances to do the right thing.
---
Gil Cates Theater at the Geffen Playhouse, 10886 Le Conte Ave., Westwood Village; Tues.-Fri., 8 p.m.; Sat., 3 & 8 p.m. Sun., 2 & 7 p.m.; through July 8. (310) 208-5454 or www.geffenplayhouse.org