Assembly Bill to Kill Athletes' Workers' Comp Claims
Former athletes speak against AB 1309 in Sacramento
There is no question that the game of football is dangerous. National Football League players get injured on the job – so many that an "injury report" section is ubiquitous in our sports pages. In fact, a study run by the National Institute for Occupational Safety and Health (NIOSH) found that the risk of death associated with neurodegenerative disorders is about three times higher among NFL players than the rest of the population.
NFL athletes are not merely players, they are also employees.
Their employers are now trying to take away their collectively bargained right to workers' compensation benefits in California. It is not right, and it sets a dangerous precedent.
Assembly Bill 1309 singles out one group of workers, professional athletes, and treats them differently than other employees by denying them the right to file for California Workers' Compensation benefits.
AB 1309 is an attempt by the insurance companies and professional teams to shift the cost of care for injured players from the companies to state agencies like Medi-Cal and federal agencies like Medicare. Once that is done, the state and federal taxpayers will also be damaged.
The owners from all the leagues are deserting their best and brightest by introducing legislation that will prevent qualified players from filing workers' compensation claims in California that impact the quality of their lives.
Let's be clear, the cost of workers' compensation for NFL players is not paid for by the State of California. The cost is paid for out of the dollars generated by the sport. The active players have even agreed in their current Collective Bargaining Agreement that the cost of workers' compensation benefits for all players, both current and former, is to be charged against their salary cap. The end personal result is lower salaries.
Additionally, not all professional athletes are making million-dollar salaries. There are more low-income minor league players in California, particularly in baseball, hockey and soccer, than major league players.
Let's say it: Professional sports team owners have a fundamental responsibility to the health and safety of their players.
AB 1309 will further line the pockets of pro sports franchise owners – most of them who live out of the state of California.
California is home to three NFL teams and hundreds of professional athletes. They provide an enormous economic benefit to California. Professional athletes will pay almost $300 million in income taxes to the state of California in 2013. And that includes income tax from those professional athletes who come into the state just to play one game against a California team.
Many professional athletes continue to suffer from the effects of injuries long after their playing careers are over, and the workers' compensation benefits are a lifeline.
AB 1309 also applies a new rule to all "pending" workers compensation cases. This change in application also carries a dangerous precedent that we have not seen before. That's why every major Labor group in California is opposed to AB 1309, including:
Labor Coalition
California Labor Federation
The American Federation of Labor and Congress of Industrial Organizations
International Brotherhood of Teamsters
Peace Officers Research Association of California (PORAC)
California Association of Highway Patrolmen (CAHP)
California Psychological Association
California School Employees Association (CSEA), AFL-CIO
Engineers and Scientists of California, IFPTE Local 20, AFL-CIO
United Food and Commercial Workers Western States Council
We'll say it again. AB 1309 is a bad idea.
Join us in the fight: Tweet @StopAB1309, Facebook.com/StopAB1309 or email Rachel@MarketplaceCommunications.com for more information.
(Rachel Hooper works with the NFL Players Association. Her post first appeared on Labor's Edge and is republished with permission.)

A Woman's Art Is Never Done: The Feminae Exhibition
A striking juxtaposition between the past and present courses throughout the small gallery. Celia Blomberg's "International Women's Day March 8" can't help but make one think of 2017's Women's March, which occurred 37 years after the print's first appearance.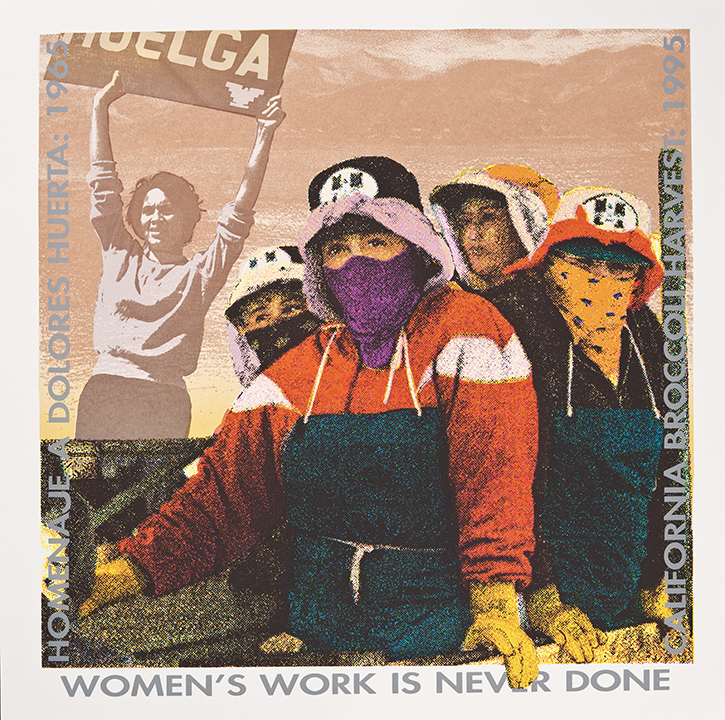 Among the 50-plus works in the Feminae: Typographic Voices of Women By Women exhibit is Yolanda Lopez's "Women's Work is Never Done." Lopez's title is particularly ironic, given the exhibit's gender-based subject matter. The show spans work from the past 50 years, making it easy to understand how much society is still grappling with its themes of gender inequality. Culled from the archives of the Center for the Study of Political Graphics, the graphic images of protest, persuasion and empowerment are truly works of art in their own right.
However, political posters aren't made to merely spruce up walls, but to help figuratively bring barriers down as well.
Two silkscreens from the 1970s, Liliana Porter and John Schneider's "This Woman is Vietnamese" and See Red Woman's Workshop's "So Long As Women Are Not Free People Are Not Free," are particularly powerful, underscoring, as they do, the fact that the subjugation and persecution of women crosses borders and cultures as an unfortunate shared global experience. These two pieces' stark simplicity exemplifies most of the work in the exhibit. In the former, a New York Times photo of a distraught Vietnamese woman with a gun held to her head is centered above these basic words typed out in a typewriter font: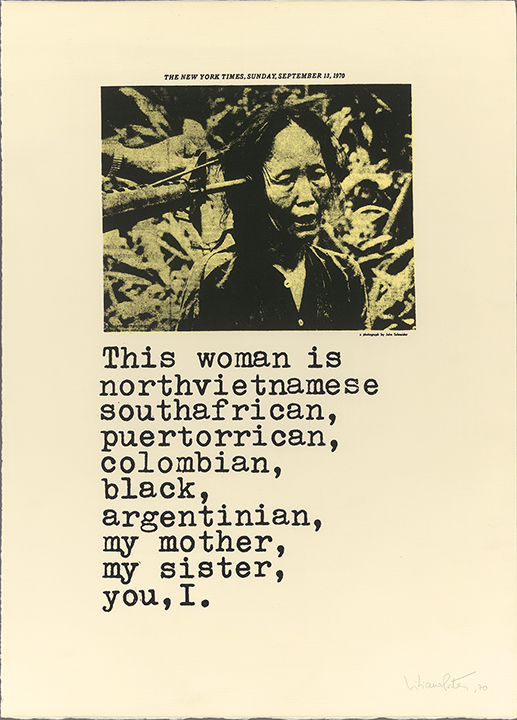 This woman is
northvietnamese
southafrican
puertorrican,
colombian,
black,
argentinian,
my mother,
my sister,
you, I.
By juxtaposing the photo with these words, the creators take the plight of this woman and immediately globalize her pain. In the latter, three female demonstrators are silkscreened in red onto a yellow background. They are marginalized by being stuck in the lower left third of the poster, but two of them are raising their fists skyward and their mouths are open, screaming in defiance. Its non-serif, eponymous type reads: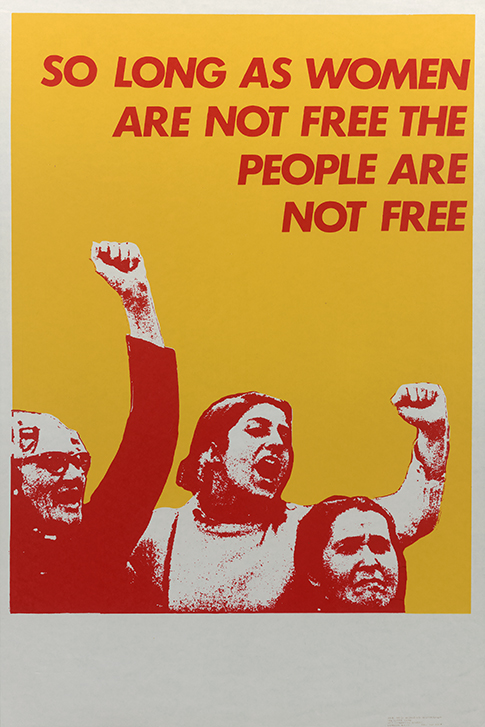 SO LONG AS WOMEN
ARE NOT FREE THE
PEOPLE ARE
NOT FREE
This piece's message takes the global message even farther, making the plight of women a human one — a common theme in the exhibition.
There is also a striking juxtaposition between the past and present that seethes throughout the small gallery. Celia Blomberg's "International Women's Day March 8" can't help but make one think of 2017's Women's March that would take place 37 years later. See Red Woman's Workshop's 1977 "Black Women Will Not Be Intimidated" could easily be repurposed to address the recent spate of blue-on-black brutality. Notable works by Barbara Kruger, Sister Corita Kent and the Guerilla Girls are also included.
Ironically , while it can be surmised that most of these works were made as populist posters to be distributed at the time as banners of protest, their beautiful simplicity and nostalgic elegance probably have resulted in the originals (mostly now found in art museums) sporting hefty vintage-resale prices.
But it is not just the art that has stood the test of time. The fact that the issues addressed in the show — feminism, choice, gender equality, war, immigration, police brutality or violence against women — are all issues at the forefront of debate in 2018 ultimately engenders conflicting feelings.
On one the hand, it is inspiring to see a vibrant exhibit that showcases such diversity in artistic styles, no doubt spawned by the diversity of the artists' own backgrounds. On the other hand, there is a realization that while there has been some progress over the past half century, there is so much work to be done.
Art Center's Hoffmitz Milken Center for Typography, 950 South Raymond Ave., Pasadena; through May 15.
---
Copyright Capital & Main