Arizona's Taxes Help Corporations Subsidize Themselves
Economic development in Arizona is now by corporations for corporations and the public is left to in the dark as to how its tax dollars are spent. Last year the state's Department of Commerce was replaced by the public-private Arizona Commerce Authority (ACA), steered by a board of mostly corporate representatives. The ACA's website picture shows the board of directors as Governor Jan Brewer with 18 corporate titans. The bottom of the page mentions a smaller number of "ex-officio" public officials associated with the board who aren't named or pictured.
Though not listed on the website, the ACA also depends on corporate donations for its office space, its corporate-sized CEO salary, and much of its operating budget. The arrangement would pose unsettling conflict-of-interest problems for any authority that performs a public function.
But this isn't just any agency. Its task is to try boosting the state economy by handing out taxpayer-financed subsidies to individual companies of its choosing. A new report by Arizona Public Interest Research Group Education Fund tallies up over $41 million in subsidies so far dispensed by 13 subsidy programs at the ACA. The annual amount could reach over $150 million next year, plus other publicly-financed loans and technical assistance. Arizona residents foot the bill for these goodies through their taxes and through cutbacks to other programs.
Arizona's subsidy programs have multiplied in recent years despite serious budget shortfalls. Two years ago, lawmakers were so desperate that they sold off legislative and administrative buildings for short-term cash and rented them back. More recently, Arizona has closed parks and imposed billions in other cutbacks, including ceasing reimbursements to Medicaid patients for organ transplants.
The downside of diverting such limited state resources to individual businesses' balance sheets makes it all the more important that any subsidy expenditures be clearly justified by broader benefits they can be shown to generate for Arizona. Other businesses that didn't receive subsidies also need to know why they must compete on an uneven playing field against state-subsidized rivals.
Complete transparency and public accountability are crucial, moreover, because the ACA's corporate leaders have their own agendas about how to spend taxpayer subsidies. They have their own narrow interests for which industries, subsidiaries and land parcels should be chosen as winners or losers.
The authority's website proclaims that "The ACA takes seriously its commitment to remain accountable and transparent to the state, its citizens and to those looking at doing business in Arizona." In recent years, the state has greatly improved online transparency and become a leader in making information publicly accessible about other forms of state spending.
How much has the ACA done for public disclosure and other safeguards to protect against favoritism, to demonstrate measurable benefits for each subsidy, and to reclaim funds when subsidy recipients fail to deliver?
Not much. According to Arizona PIRG's report, only two of the 13 incentive programs even track how many jobs or other benefits they generate — and none disclose that information publicly. For all its business-savvy rhetoric, the ACA can't demonstrate performance if it doesn't track results. Only one program publicly discloses what companies promise to deliver for their subsidies. Worse still, only 4 of the 13 programs even disclose which companies received subsidies or how much. And when companies that receive subsidies fail to deliver on promised economic development benefits, the ACA can reclaim taxpayer subsidies for only one program, and there is no way for the public to see if this ever happens.
Arizona's corporate takeover is part of a troubling trend among states that are privatizing their economic development process. But no amount of smiling CEOs can take the place of strong transparency and public accountability mechanisms. If a public-private authority can't meet those high standards, it shouldn't be spending public dollars.
(This post originally appeared on Huffington Post.)

Rick Scott Invested in the Same Financial Firms As Florida's Pension System
Co-published by MapLight
For most of his time in office, Florida's governor has shielded his investments from public view. A new disclosure shows Rick Scott and his wife have invested at least $18 million in financial firms managing money for the state's pension system that he oversees.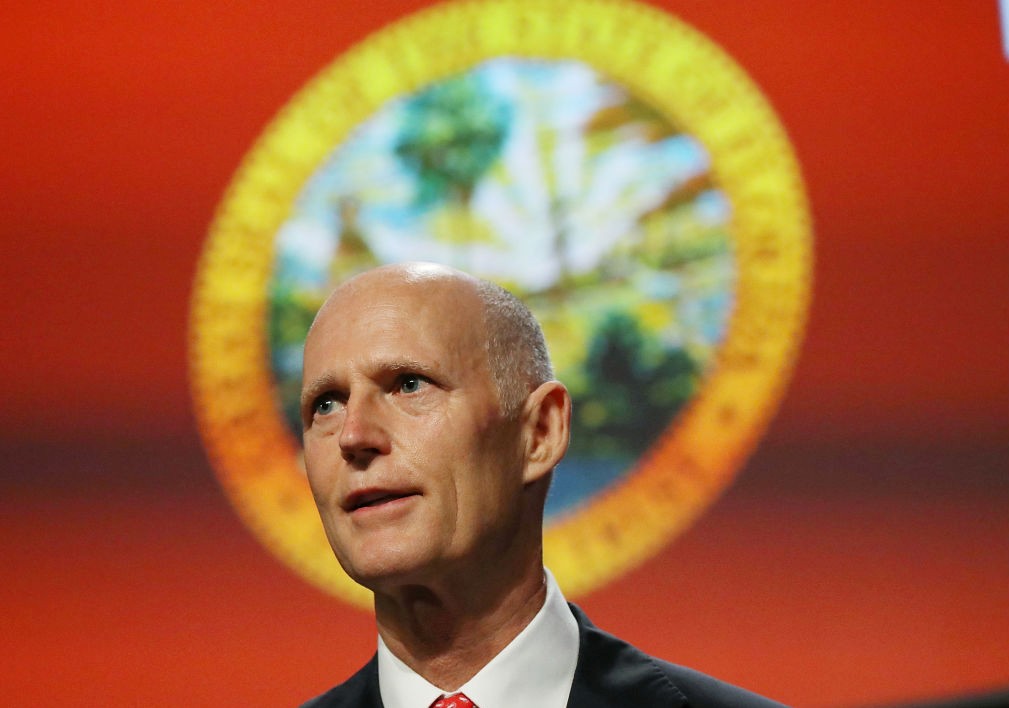 ---
Former SEC Lawyer: "There needs to be an investigation into whether the state is subsidizing Rick Scott's personal returns."
---
Co-published by MapLight
Florida Gov. Rick Scott and his wife have invested at least $18 million in three financial firms managing money for the state's pension system that Scott oversees — a situation that intertwines the governor's personal finances with his responsibility for supervising state employees' retirement savings.
The investments were first divulged in a federal financial disclosure form that Scott filed as part of his U.S. Senate campaign in July. For most of his time in office, Scott has shielded his investments from public view, and only reported their overall value in his blind trust.
The terms of Scott's investments remain undisclosed. The firms' own corporate documents say they can give certain investors special preferences not afforded to other investors — and experts have in recent years argued that hedge funds, private equity firms, and other "alternative investments" are giving such preferences to elite investors. One former Securities and Exchange Commission attorney told MapLight and Capital & Main that Scott must disclose whether he is being given such preferences.
---
Critics have raised questions about how blind the Scott family trusts really are.
---
Florida ethics laws are supposed to prohibit state officials from entering into contractual relationships with companies that do business with their agencies. However, after Scott became governor in 2011, state ethics officials said he and his family members could put their assets into a blind trust to avoid conflicts of interest and still maintain their investments in companies operating in Florida.
Critics have raised questions about how blind the Scott family trusts really are. Scott placed one of his longtime business associates in charge of managing his blind trust. The Tampa Bay Times reported that Scott's blind trust has invested with a private equity firm tied to a high-speed rail project in Florida. The trust also had an indirect interest in a cancer treatment company that received tax breaks from Scott's administration.
---
"The question is whether Rick Scott is being allowed to invest on better terms than the state pension fund."
---
"When Governor Scott was elected, he put all of his assets in a blind trust, which is managed by an independent financial professional who decides what assets are bought, sold or changed," said Scott campaign spokesperson Lauren Schenone. "The rules of the blind trust prevent any specific assets or the value of those assets within the trust from being disclosed to the governor, and those requirements have always been followed."
Scott is one of three state officials who serve as trustees for the Florida State Board of Administration, which manages a $160 billion fund for roughly 400,000 retirees. Scott, Attorney General Pam Bondi, and Chief Financial Officer Jimmy Patronis oversee lucrative state investment deals granted to cash-hungry Wall Street firms.
The three firms that have received $325 million worth of Florida pension investments have allowed the Scott family's blind trusts to simultaneously invest their personal fortunes in these funds. Scott's investments in the funds did not appear in a 2014 disclosure itemizing his holdings. His campaign did not say when the investments were made.
"There are no ethics rules that prohibit or limit a trustee from investing in funds also invested in by the SBA," said SBA spokesperson John Kuczwanski, though he added that trustees are subject to Florida's general code of ethics. Kuczwanski said that the governor has no involvement in specific pension investment decisions.
Don Hinkle, a Democratic lawyer, filed a lawsuit last year alleging that the governor has failed to comply with the state's blind trust and financial disclosure laws. He said he was surprised by the news that Scott had invested in the same firms as the Florida pension system.
"I would think that he would have avoided investments where the state of Florida's money is propping his up," Hinkle told MapLight and Capital & Main.
In 2011, a few months after Scott became governor, the SBA committed $150 million to Highline Capital Partners, a New York-based hedge fund. Scott's financial disclosure shows that his family's trusts have invested at least $4 million in the same Highline fund as the state.
The SBA also committed $100 million in 2015 to a hedge fund managed by Canyon Capital Advisors, a Los Angeles-based firm created by veterans of the notorious investment bank Drexel Burnham Lambert, which was driven into bankruptcy as a result of illegal and unethical trading practices. Scott and his family have invested at least $12 million in Canyon funds, according to his financial disclosure.
Before Scott became governor, the SBA invested $75 million with VSS, a New York-based private equity firm that was launched by a co-founder of Psychology Today. Scott and his wife, Ann, have invested more than $2.2 million in another VSS fund. A spokesperson for VSS said the firm doesn't comment on its investors.
All three firms' SEC filings say they can offer certain investors special fee terms or other benefits not offered to other investors.
"Alternative investment funds have the ability to offer every investor different fees at a different rate of return, so the question is whether Rick Scott is being allowed to invest on better terms than the state pension fund," said former SEC attorney Edward Siedle, whose Florida-based firm conducts forensic investigations of state pension systems.
"If you give one investor an advantage, another investor has to be disadvantaged," Siedle said. "That means there needs to be an investigation into whether the state is actually subsidizing Rick Scott's personal returns and whether the governor enjoys advantages that are harming the retirees."
Schenone, Scott's spokesperson, said that his blind trust has "been upheld multiple times by the State Commission on Ethics and the court system. Governor Scott has also followed the requirements of all state and federal financial filings."
She noted that former Florida Republican Gov. Jeb Bush and Scott's 2010 Democratic opponent Alex Sink had also used blind trusts, although Scott's campaign attacked Sink for hers at the time.
"Blind trusts sound good but can run afoul of state laws requiring public officials to disclose their personal finances," a Scott campaign ad said in 2010. "[But] simply moving large amounts of money into a blind trust does not magically erase the knowledge of what you own."
---
This piece was reported by Andrew Perez of MapLight and David Sirota of Capital & Main, and published in partnership with the Florida Center for Investigative Reporting.