Arizona's Disastrous Reopening Endangers Its Vulnerable Workers
Health experts say the Grand Canyon State has "lost control of the epidemic."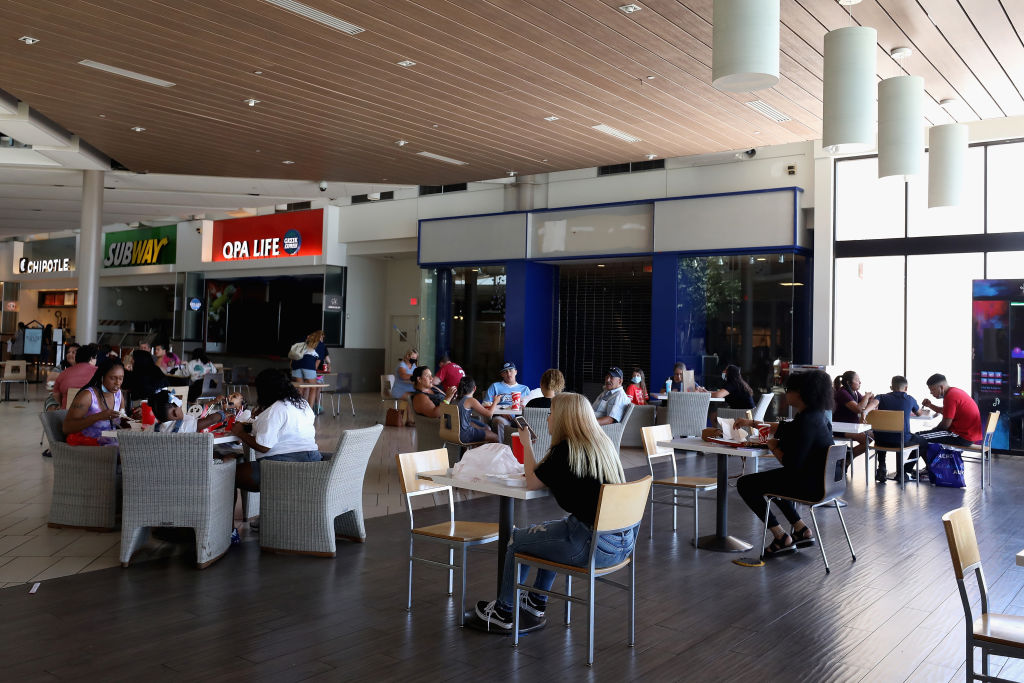 In March, Maria Rios got the news: She was furloughed from her job as a food-prep worker at Phoenix Sky Harbor Airport. At age 72, earning $14.90 an hour in her 18th year on the job, it might have seemed a decent time to consider retiring. Instead, Rios is waiting for a callback – and the decision she'll have to make once it comes.
Diagnosed with ovarian cancer last year, Rios relies on the health insurance plan of her company, HMS Host, to help offset the cost of her treatments. Without the insurance, she has skipped two scheduled treatments. But the only way to have that insurance is to resume her job, which means she'll be a medically vulnerable older person working in close proximity to others, in a state whose coronavirus cases have spiked dramatically in recent weeks.
---
Maricopa County alone is surging above 2,000 new cases daily — higher than what New York City's five boroughs were reporting at the virus's peak there.
---
"The insurance means to keep having a hope of living," Rios said through a translator. "But going back to work – it's a very big risk."
Arizona's epic mishandling of the COVID-19 crisis has added layers of misery to a problem that was big enough on its own. From erratic and often contradictory early instructions to Gov. Doug Ducey's waffling on such basic issues as wearing masks, the state's experience is an object lesson in the risks of working without a consistent plan or message coming from the top.
But in addition to the pandemic's more obvious effects (the state leads the U.S. by far in per capita new cases of the virus), there is a secondary pressure being placed on the backs of Arizona's service economy working class – and an overly aggressive reopening plan for businesses has multiplied the danger.
On May 15, the day Ducey essentially declared Arizona reopened, the state reported 495 new cases of the virus. Roughly five weeks later, on June 23, it reported a seven-day daily average of 3,630 such cases. Simply put, the virus is cutting through the state. Maricopa County alone is surging above 2,000 new cases daily, numbers higher than what New York City's five boroughs were reporting at the virus's peak there. Experts tracking the disease at the Children's Hospital of Philadelphia posted a brief that declared, "Arizona has lost control of the epidemic."
---
Should service workers return to work and expose themselves to infection in a state that hasn't taken significant safety measures?
---
Ducey for weeks denied cities and counties the right to mandate that masks be worn in their own communities, saying it was his decision — while refusing to issue a statewide directive. After seeing the skyrocketing COVID-19 numbers, Ducey finally relented and allowed local control. He also asked Arizonans to wear masks but refused to order that they be worn, even at indoor gatherings such as last week's Phoenix rally held for President Trump.
"People's rights to assemble are not going to be infringed in Arizona in an election year or any year," Ducey said two days after the rally, which drew about 3,000 people, most of them not wearing masks. (Phoenix by then had made wearing masks in public the law, but the city did not issue citations at the rally.) Ducey did not answer follow-up questions about how rights to assemble would be infringed upon by wearing masks.
Amid this chaotic backdrop, Arizona business lurched forward. As one of the last states to go into lockdown and one of the first to come back out, its reopening has plunged service workers and others into turmoil, torn by a decision that has troubled many of them since the onset of the virus in America: Do they go to work and expose themselves to infection in a state that hasn't taken significant safety measures, or shelter at home and risk losing their jobs?
"The governor's inaction and confusing guidance are responsible for the surge in cases of COVID-19 wracking the state," said Rachel Sulkes, a spokeswoman for Unite Here Local 11, which represents workers such as Maria Rios. (Disclosure: The union is a financial supporter of this website.) "How is an employer supposed to figure out what to do if the chief executive of the state refuses to?"
*   *   *
Health experts say Arizona's abrupt reopening, just as those in Texas and Florida, led to restrictions being eased without a public health system that could keep pace with the sudden uptick in cases. "It was just 'Open it up' and then more or less business as usual, with a little bit of window dressing," Dr. Peter Hotez of Baylor College of Medicine told Kaiser Health News. "This is not an abstract number of cases. We're seeing people pile into intensive care units."
For the most part, Arizona businesses simply resumed activity after Ducey's declaration. That includes the Pointe Hilton Squaw Peak Resort in Phoenix, where Luz Wellman has cleaned rooms for 14 years. Wellman was out of work from March 15 to May 21 before being recalled. Wellman said she was happy to return to work – until she got there.
---
After a couple of weeks back at work, Luz began to feel ill.
She had COVID-19.
---
"I was very surprised to find how dirty everything was," she said. That included the hotel's public restrooms, its guest rooms, and the employee break and eating areas. At one point, Wellman said, she and her working partner ate their lunch in one of the rooms they were cleaning, because they felt it was safer for them than going to the employee lunchroom. (A spokesman for Fortress Investment Group LLC, which took over ownership of the hotel in 2019, did not respond to questions from Capital & Main.)
After a couple of weeks back at work, Wellman began to feel ill. Her back and feet also hurt, which she ascribed to the extra effort she was putting in trying to clean rooms that she said were dirtier than usual. After being prescribed medicine for her back pain, she made two trips to the emergency room before finally being diagnosed with COVID-19.
Now home, she is recovering. "I want to feel better, because we don't know if people in those hotel rooms have been sick," Wellman said. "We don't know if people who have COVID have stayed there. And no one can tell me if I will get infected again. But I will go back to work as soon as I get clearance. I need to go to work." Wellman makes $14.35 per hour.
The federal stimulus plan has eased some low-wage earners' situations a bit. One-time cash disbursements and $600 weekly enhancements to unemployment benefits (for those who can get them) have kept some afloat. That's especially critical in Arizona, which caps unemployment payouts at $240 per week, the second-lowest rate in the nation.
But with the federal enhancement set to end next month, workers like Rios and Wellman will have little choice but to report for their shifts regardless of the conditions – and in Rios' case, that's only if her job is indeed restored.
"I called human resources and said, 'Give me a date. Will it be a week? Two weeks? A month? A year?'" Rios said. "They said, 'I don't know. I don't know. I don't know.' I never imagined this would happen. That's why I worked so long, so that I wouldn't have to worry about things like this."
---
Copyright 2020 Capital & Main