Are the Occupy Camps Reaching a Crossroad?
I have been photographing the Occupy camps since the inception of Occupy Los Angeles. I've spoken to many people and have thoroughly visited each layer of the emerging strata in the Occupy movement. I have seen it evolve.
On Day One it was as if the raucous levity of Venice Beach had been transplanted to Los Angeles City Hall. But within several days, the occupation had matured. People were tired. For even the most hardy, nights of sleeping on the ground in a not-so-private atmosphere and sharing a rancid pit toilet with hundreds of others is understandably wearing. What is this movement to become?
There is no mainstream media outlet objectively reporting the story. The pushing and pulling of the facts to fit readership deny the true story. Admittedly, I come from a bias of support for the movement. However, there can be no greater support for the movement than holding a great big mirror in the direction of its errant ways.
Occupy L.A. had me yearning to visit other camps. My chance came when Scott Olsen, the 24-year-old former U.S. Marine and two-tour Iraq War veteran, was felled by a police projectile during the October 21 crackdown on protesters. The following day, protesters in San Francisco had fended off – en masse – the police department's attempt to raze their camps. I jumped in my car and sped north through the autumn tan of the Central Valley to where the forefront of the Occupy movement seemed to be unfolding.
Late that evening, I was greeted by a modest gaggle of protesters encamped in front of the Federal Reserve Building on San Francisco's Market Street. The protest was a tidy, symbolic face-off with the Federal Reserve. The apparent spokesperson described the movement frankly but carefully. "Is this it?" I asked, looking upon the 25 or so people milling around.
"Oh no," the spokesperson educated me. "There's the other camp a block down. But, we don't want anything to do with them. We disagree with what they're up to."
A hundred yards from the Federal Reserve protest was an establishment of tents and shanties which I would come to dub "The Cambodian Village" after Colonel Kurtz's exploits in Apocalypse Now. The ubiquitous waft of marijuana and sage would occasionally drown out the ever present stench of urine. I was greeted by a very stoned young man who rolled his head around and barked orders to others. He was paired with a thickly bearded fellow in his fifties, packed in a filthy parka and staring unblinkingly into the night sky.
The young man held up a hand: "No photos." His voice trailed off commensurate with his state of inebriation. I pulled my press credential and he had a change of heart. "Okay. Go ahead," he said, waving me by.
Based on the livestream flowing from the respective Occupy websites, I expected to find some form of organization beyond the tentative structures encircling the camp. There was none of that — the camp was largely a drug-fueled circus playing upon the spontaneous inclinations of the sadly mentally ill whom migrated from the city's homeless underworld. Occupants flitted playfully about in the night shadows while others stewed in a deep state of anesthetization. The spark of chaos was ever-present.
The police seemed to be confused about what to do. I spoke at length to a sergeant who, initially, bent over backwards to accommodate any anticipated issue with political correctness that might arise. I got him to relax and just talk to me. His intimations led me to understand that the city might raze the camp over the next several days. "Throngs" of reserves had been at the ready the night before, but a "wait and see" attitude had been adopted.
I thought of a young man with whom I spoke just earlier. Obviously mentally ill, he furiously bit at his painted fingertips as he lectured about the forthcoming lawsuit against the Fed for implanting wireless mesh in his head to control his thoughts. The "comrade" to his side  nodded in approval and belted out, "It's quantum physics!"
Redemption was found in Oakland. While the camp in Frank Ogawa Plaza entailed some of the elements that seeped their way into San Francisco (and Los Angeles), Oakland was all business. This was good considering what had occurred several nights earlier. Michael Moore, visibly incensed by the recent police action, had come to give his support and blessing to Oakland occupiers. It is difficult to know if the city's olive branch is firmly held in hand. I pray it is. Given the forthcoming general strike planned for today, November 2, we will soon find out.

'Skeleton Crew' Is a Play With a Moral Spine
Set in a Detroit automobile outfitting plant, Dominique Morisseau's drama grabs you from the start with its focus on blue-collar men and women, and their struggle for dignity and self-respect.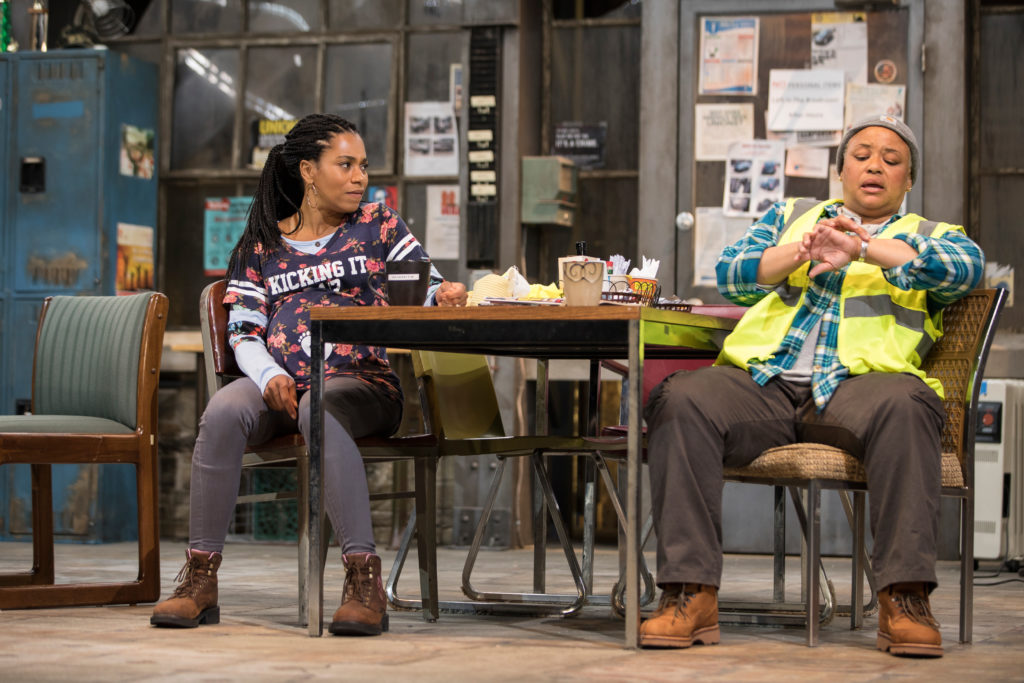 Working-class men and women of color are rarely front and center in today's media and, likewise, are presented all too occasionally on the American stage. So it's buoying to see that trend bucked in playwright Dominique Morisseau's percipient and well-crafted drama, Skeleton Crew. The play is the final installment in her Detroit  Project Trilogy; the first, Paradise Blue, is set in the 1940s amidst displacement caused by urban renewal and gentrification, while the second, Detroit '67, transpires on the eve of the 1967 Detroit riots sparked by a police action.
Directed by Patricia McGregor at Los Angeles' Geffen Playhouse, Skeleton Crew is a play with a moral spine. It takes place in 2008, when the shrinking U.S. auto industry is being further downsized. Morisseau's engaging quartet of characters — Faye (Caroline Stefanie Clay), Dez (Armari Cheatom), Shanita (Kelly McCreary) and Reggie (DB Woodside) – are employed at an automobile outfitting plant. Faye, Dez and Shanita are workers on the line while Reggie (who has a wife and kids, and has pulled himself together after a troubled youth) is their supervisor.
The first three customarily mingle in their break room (designer Rachel Myers' impressively cluttered, dingy and detailed set), trading the sort of familiar barbs and genuine concern for each other common among longtime co-workers. They also face off on philosophy: Upper-middle-aged Faye and the younger, pregnant Shanita take pride in their labor, while Dez, though a good worker, is a malcontent scornful of management and firm in the belief that everyone needs to watch out for himself. He's a thorn in Reggie's side, for while Reggie wants to be supportive of his workers, he must act at the behest of higher management. For his part, Dez resents Reggie's authority, and a palpable unease exists between them.
Besides this male matchup, we're made privy to Dez's attraction to Shanita, who mostly turns away his advances, but every now and then displays a hint of interest. Most poignant is Reggie's regard and affection for the lesbian Faye, which has roots in his boyhood when she loved, and lived, with his now-deceased mom.
These people's various predicaments intensify when rumors spread of the plant's shutdown — a disaster for all, but a particular calamity for the already near-broke Faye who, one year short of retirement, would lose her pension. The crisis forces each of these people to make a choice.
A sound piece of social realism, Skeleton Crew grabs you from the start in its focus on blue-collar men and women, and their struggle against odds for dignity and self-respect. Morisseau not only furnishes these characters a platform for their travails, she endows them with strong values, big hearts and the opportunity to choose between right and wrong.
Unfortunately, the performance I attended did not soar. Many exchanges lacked a fresh edge. The actors certainly had their characters down, but too often they appeared to be coasting on technique. (This seemed particularly true of Clay, who performed the role to great accolades in Washington, DC in 2017, also under McGregor's direction). Additionally, some of the stage movement was not entirely fluid; in confrontations, actors sometimes would just stand and face each other in an artificial way. And Cheatom's interpretation of Dez struck me as a bit overly churlish and depressive: I needed more glimpses of the intelligence and edge that would secretly attract the strong, self-directed Shanita.
The most compelling moments belong to Woodside, well-cast as a man trying his best in difficult circumstances to do the right thing.
---
Gil Cates Theater at the Geffen Playhouse, 10886 Le Conte Ave., Westwood Village; Tues.-Fri., 8 p.m.; Sat., 3 & 8 p.m. Sun., 2 & 7 p.m.; through July 8. (310) 208-5454 or www.geffenplayhouse.org