April, 1992: The Upheaval Remembered
Saturday marks the 25th anniversary of the 1992 Los Angeles riots, a social earthquake in which dozens of people were killed and over a thousand buildings burned. Even before it erupted, the combustible material was obvious to many living and working in South Los Angeles.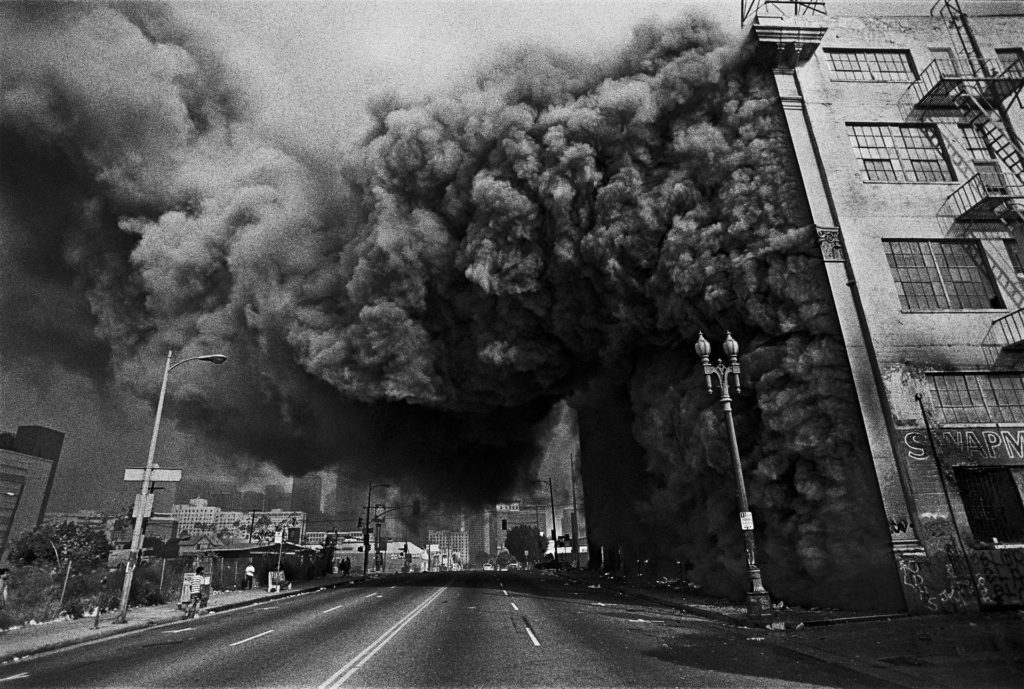 Photo: Ted Soqui
Saturday marks the 25th anniversary of the 1992 Los Angeles riots, a social earthquake in which dozens of people were killed and over a thousand buildings burned. Even before it erupted, the combustible material was obvious to many living and working in South Los Angeles and other poverty-stricken neighborhoods.
Abysmal police-community relations, disinvestment, job flight and unemployment combined with changing demographics—new Latino neighbors moving into formerly black-majority neighborhoods; Korean immigrants opening hard-scrabble small businesses in depressed communities—created a tinder box.
"Nobody would listen to the issues of poor and working communities," said Maria Elena Durazo, now General Vice President, Immigration, Civil Rights and Diversity at UNITE HERE. In 1992 she was president of the Hotel Employees and Restaurant Employees Union (HERE) Local 11, which was in contentious negotiations with prime hotel chains citywide. "How can we expect our communities to respond in a positive way when they live in terrible poverty?"
Marqueece Harris-Dawson, now a Los Angeles City Councilmember, grew up in South L.A. and saw his neighborhood burn on TV as he watched with friends at Morehouse College in Atlanta. Did Harris-Dawson see the conflict coming? "Yes. The anger was so palpable and the temperature was so high and it was clear there was no outlet coming. There wasn't a way to have the argument, much less have the argument and have it resolved."
Some worry it could happen again. But many who were involved in labor and neighborhood organizing in the early 1990s note that the trauma gave rise to a local movement that has made Los Angeles a proving ground for community-building and anti-poverty policies—a $15 minimum wage; environmental justice measures, increased voter participation in low-income communities.
"The good thing is that it's not 25 years ago," said Elsa Barboza, a senior organizer with the Center for Community Change, a national nonprofit focused on organizing in low-income communities. Barboza began her organizing career in June 1992 at Jobs With Peace in South Los Angeles, one of the many local Jobs With Peace chapters that were part of a national campaign to divert some of the Reagan-era military funding into inner-city economic investment.
"Twenty-five years ago, we were almost starting from scratch," Barboza said. Now, organizations have experience and relationships to create policy. "We have to keep organizing."
Kent Wong, now Director of the UCLA Labor Center, was in Washington, DC in 1992, convening the first national conference of the Asian Pacific American Labor Alliance (APALA) when he saw "my hometown in flames" on television. APALA's leadership moved to convert the convention into a march on the Department of Justice, demanding justice for Rodney King.
In the decades since 1992, "what emerged was a new generation of leaders and activists who saw that we cannot allow communities to be pitted against one another," Wong said.
Los Angeles was still shell-shocked in January 1993, when veteran activist Anthony Thigpenn and a handful of others launched Action for Grassroots Empowerment and Neighborhood Development Alternatives (AGENDA). As a founder of the Los Angeles chapter of Jobs With Peace, Thigpenn had long been involved in responses to the economic dynamics underlying job flight from South Los Angeles and get-out-the-vote organizing in poor communities. (AGENDA became the present-day SCOPE – Strategic Concepts in Organizing & Policy Education, a nonprofit works to mobilize voters and increase civic participation in low-income communities.)
Since 1992, Thigpenn said, grassroots groups have built power in Los Angeles and California to tip the state blue. The organization he founded, California Calls, a statewide alliance of 31 local organizations, has identified and turned out tens of thousands of voters who are otherwise left out of the electoral process.
"In 1992, we were a red state," Thigpenn said. "In 1992 progressive voices weren't in the equation at all. In the mid-1990s we were on the defensive on affirmative action, the Prop. 187 immigration measure. Now in California we're on the offense on climate change, minimum-wage standards, criminal justice, tax equality. The level of infrastructure and power we've built brings us to the brink of tackling systemic changes that have begun to undo the damage of the 1990s."
But California still has the nation's highest poverty rate, he said. "We can't concede—we have to be on the offensive."
Congresswoman Karen Bass is now in her fourth term in the House of Representatives, where she is a leader for criminal justice reform. But in Los Angeles in the late 1980s she was a physician assistant—and in her free time was bringing together the Community Coalition for Substance Abuse Prevention and Treatment (now known as Community Coalition or CoCo), launched in 1990 to address the crack epidemic as a public health issue. Bass' group advocated for treatment instead of an overwhelming, sometimes violent response by law enforcement.
Bass and others were working to bridge tensions between Korean immigrant liquor store owners and their frequently African American clientele—a source of the 1992 explosion. That effort "literally went up in flames," Wong recalled. Over 200 liquor stores burned. Armed shop owners stood guard on their rooftops in areas where violence had erupted.
The fatal shooting of Latasha Harlins, a 15-year-old African-American girl, by store owner Soon Da Ju just days after Rodney King's March, 1991 beating, led to the city's great social explosion 13 months later.
Soon wrongly accused the teenager of shoplifting a bottle of orange juice in her store, one of the few stores where groceries were available in the neighborhood. A store video showed a brief scuffle, after which Soon shot the teen in the back of the head. Despite a manslaughter conviction, the store owner received no prison time.
The L.A. riots are known in the Korean-American community as Sa-I-Go—literally, 4/29. Using the date to name an occurrence "is the traditional way of marking political events," said Angela Oh, an attorney and civil rights activist who emerged as a national media spokesperson for L.A.'s Korean-American community during and after the unrest.
Oh gets calls this time every anniversary. "It's painful for me—I still have too many memories of people who suffered so much. And all I could do was listen."
An ordained Zen Buddhist priest, she advises activists to prepare for and maintain a long haul of sustained campaigns with self-care and reflection.
The people of South L.A. responded to the 1992 events "by getting involved in organizations, by creating civic structures, by participating in them," said Harris-Dawson. "CoCo was already around but took on new life after the civil unrest."
There's still unfinished business in Los Angeles. "What has not changed is the financial sector—their implicit or explicit redlining still exists. Disinvestment still exists," Harris-Dawson said.
Durazo agrees. "We're nowhere near where we have to be as far as raising standards in our communities. But at least we have the mechanisms, we have tried and won public policies that are so different from what they were before 1992."
"What I would want to do is prevent violence," Durazo adds. "I don't want to shut down anger—I want to channel it into a constructive, smart strategy."