An Interview With Novelist Lisa See
Bestselling novelist Lisa See's Los Angeles roots go back five generations – the Chinese branch of her biracial family has been involved in 100 years of Chinatown's history. See, the author of Dreams of Joy and Shanghai Girls, will be the keynote speaker at the Los Angeles Alliance for a New Economy's annual Women for a New Los Angeles Luncheon on May 10. She spoke to Frying Pan News about women writers, Walmart and changes in L.A.
Frying Pan News: Your family's been here longer than most.
Lisa See: We are part of a continuum of women and men who came here and continue to come here. And it's not only men who come to a place, as pioneers or for a new job. A great-great aunt came here in 1915 from Colorado, opened a millinery shop and caught TB. My great-great grandmother and her husband came West to Waterville, Washington on a train – but he somehow got off the train and went his own way. About 1920 she moved down here and opened a little hotel near the Santa Monica Pier. Why didn't she keep that – it was waterfront property!
FPN: You must have seen a number of changes take place in L.A. in your own time.
See: I remember the orange groves, yes, but I can also remember when the San Diego Freeway just stopped at a certain point and you had to take the coast road all the way down to San Diego. I also remember trolley cars on Alameda. How ironic that they're going to put in a new trolley downtown.
FPN: Have there been improvements?
See: Better air quality! The thing I appreciate is that we are a very diverse city and people here really do get along relatively well – downtown is among the most diverse couple of square miles on the planet. I'm not saying we didn't have racism there – we did.
FPN: People told you that no one would read your first novel because it was set in China in the past, and was about women. Why do you think they were so wrong?
See: There is no magic way to figure out why people buy something. It was very ironic because 80 percent of all books are bought by women – you would think that somewhere in there they would be interested in books about women.
FPN: Amanda Filipacchi wrote in The New York Times that after she called out Wikipedia for ghettoizing female American novelists into a separate sub-category, the site punished her by eviscerating her own Wiki page.  Are we still at the place where there's an official list of American novelists, which is by default male, and a vast marginalia of "others"?
See: Yes we are. If you look at the bestseller list you'll see there are more male writers than women – even though more books are written by women. I'm packaged for female readers — men are put off by my jackets. They think, "Oh, if it's about family, women in China, or if it's internal or" – fill in the blank — "I'd rather not." Gone Girl has been on the bestseller list a long time and it's written by a woman – but told mostly by the novel's male character. It's like the movies: Women will go see a science fiction film but men won't, in large numbers, see a woman's film.  Whereas women would see The Matrix – which is my favorite film.
FPN: What would you tell a young Los Angeles writer who's been told she has to move to New York to be taken seriously?
See: I don't think anyone says that anymore. Los Angeles is actually the biggest book-buying market in the country. Agencies and publishers really have to look beyond Manhattan – how many shopaholic books and Sex in the City novels can they sell?
FPN: Last year saw many women elected to Congress and there's a chance that L.A. could elect a woman mayor this month. Has the novelty peaked for electing women?
See: I don't think so. Look at the numbers in Congress. We still don't have a government that's half women – we're a long way from 50-50. You have to be a certain kind of person to want to be a politician and that kind of desire has to start really young. There are girls in high school who want to be a member of Congress but who aren't being encouraged.
FPN: You serve as president of the El Pueblo de Los Angeles Historical Monument, which oversees the city's original civic core near Olvera Street. How long have you been in that position?
See: Mayor Hahn appointed me 11 years ago and Antonio Villaraigosa asked me to stay on. When I first joined, there was a lot of resistance to the Chinese Museum, Italian Hall and the [David Siqueiros] mural – but now everyone's excited about these projects. It shows that we can have change but still be true to who we are – and not question who should be here [at El Pueblo].
FPN: Is the commission highly politicized?
See: There are definitely clashing interests – I don't want to sugar-coat it. People can be very selfish, too, if someone has a strong business or family interest. But where they're coming from is a place of real love for the city and preserving Los Angeles' history. You have to be able hear everyone's opinion and respect those who have come here before. By getting people to the table you can bring them together.
FPN: I guess no one asked you your opinion about Walmart opening a store in Chinatown.
See: I have very strong feelings about Chinatown – a Walmart would be terrible there. My great-grandparents had a store on the grassy knoll that's on Los Angeles Street, across from Union Station. They lived above it since the 1890s. My grandfather fought city hall to keep the store there and lost in the 1940s. Today, when the commission holds its meetings at Pico House, I can look out a window and see the knoll, where their store and home was. That's terribly gratifying.

A Woman's Art Is Never Done: The Feminae Exhibition
A striking juxtaposition between the past and present courses throughout the small gallery. Celia Blomberg's "International Women's Day March 8" can't help but make one think of 2017's Women's March, which occurred 37 years after the print's first appearance.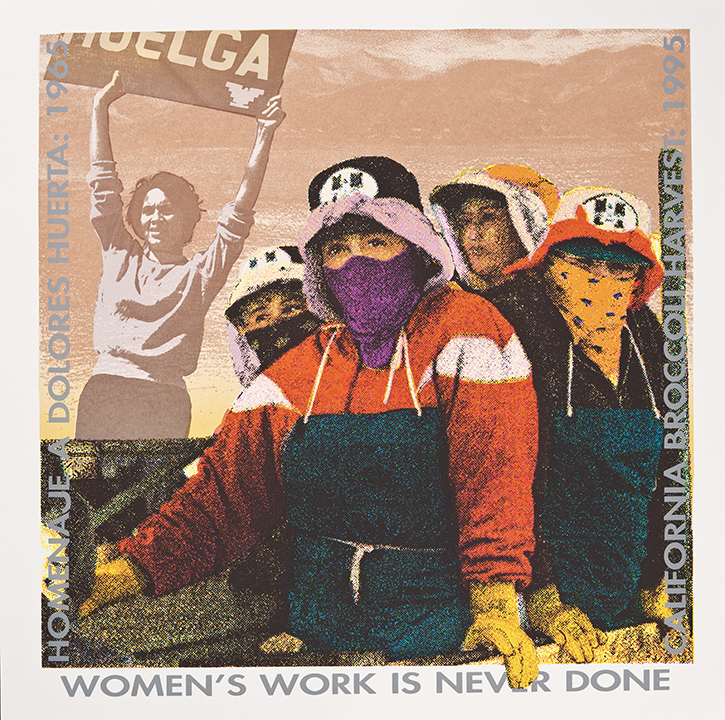 Among the 50-plus works in the Feminae: Typographic Voices of Women By Women exhibit is Yolanda Lopez's "Women's Work is Never Done." Lopez's title is particularly ironic, given the exhibit's gender-based subject matter. The show spans work from the past 50 years, making it easy to understand how much society is still grappling with its themes of gender inequality. Culled from the archives of the Center for the Study of Political Graphics, the graphic images of protest, persuasion and empowerment are truly works of art in their own right.
However, political posters aren't made to merely spruce up walls, but to help figuratively bring barriers down as well.
Two silkscreens from the 1970s, Liliana Porter and John Schneider's "This Woman is Vietnamese" and See Red Woman's Workshop's "So Long As Women Are Not Free People Are Not Free," are particularly powerful, underscoring, as they do, the fact that the subjugation and persecution of women crosses borders and cultures as an unfortunate shared global experience. These two pieces' stark simplicity exemplifies most of the work in the exhibit. In the former, a New York Times photo of a distraught Vietnamese woman with a gun held to her head is centered above these basic words typed out in a typewriter font: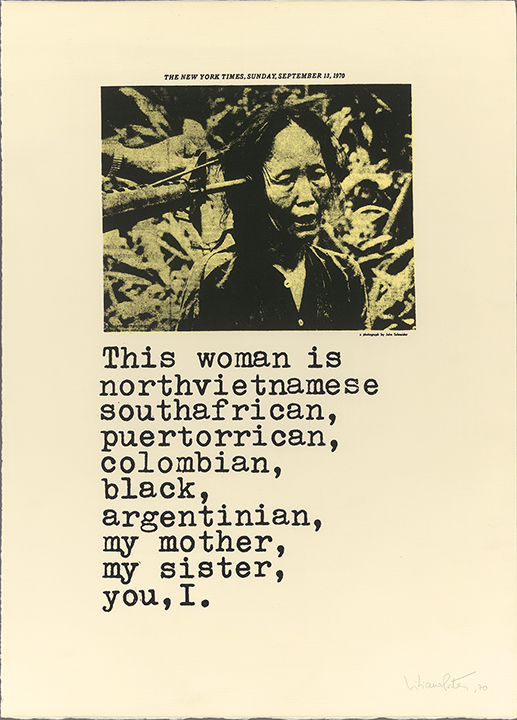 This woman is
northvietnamese
southafrican
puertorrican,
colombian,
black,
argentinian,
my mother,
my sister,
you, I.
By juxtaposing the photo with these words, the creators take the plight of this woman and immediately globalize her pain. In the latter, three female demonstrators are silkscreened in red onto a yellow background. They are marginalized by being stuck in the lower left third of the poster, but two of them are raising their fists skyward and their mouths are open, screaming in defiance. Its non-serif, eponymous type reads: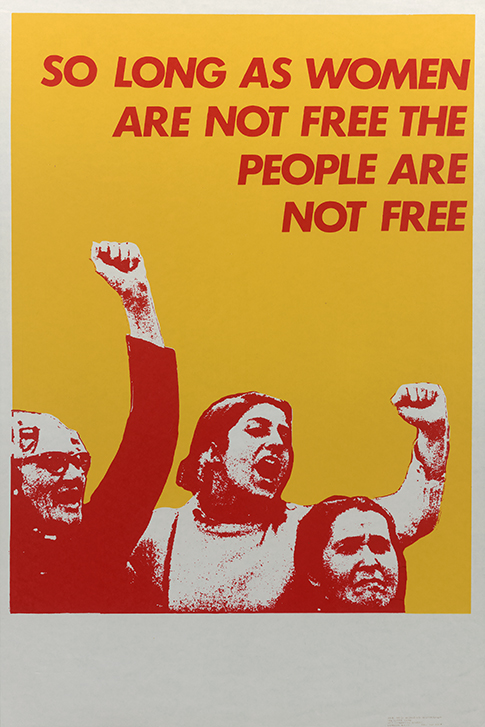 SO LONG AS WOMEN
ARE NOT FREE THE
PEOPLE ARE
NOT FREE
This piece's message takes the global message even farther, making the plight of women a human one — a common theme in the exhibition.
There is also a striking juxtaposition between the past and present that seethes throughout the small gallery. Celia Blomberg's "International Women's Day March 8" can't help but make one think of 2017's Women's March that would take place 37 years later. See Red Woman's Workshop's 1977 "Black Women Will Not Be Intimidated" could easily be repurposed to address the recent spate of blue-on-black brutality. Notable works by Barbara Kruger, Sister Corita Kent and the Guerilla Girls are also included.
Ironically , while it can be surmised that most of these works were made as populist posters to be distributed at the time as banners of protest, their beautiful simplicity and nostalgic elegance probably have resulted in the originals (mostly now found in art museums) sporting hefty vintage-resale prices.
But it is not just the art that has stood the test of time. The fact that the issues addressed in the show — feminism, choice, gender equality, war, immigration, police brutality or violence against women — are all issues at the forefront of debate in 2018 ultimately engenders conflicting feelings.
On one the hand, it is inspiring to see a vibrant exhibit that showcases such diversity in artistic styles, no doubt spawned by the diversity of the artists' own backgrounds. On the other hand, there is a realization that while there has been some progress over the past half century, there is so much work to be done.
Art Center's Hoffmitz Milken Center for Typography, 950 South Raymond Ave., Pasadena; through May 15.
---
Copyright Capital & Main