An Interview With Novelist Lisa See
Bestselling novelist Lisa See's Los Angeles roots go back five generations – the Chinese branch of her biracial family has been involved in 100 years of Chinatown's history. See, the author of Dreams of Joy and Shanghai Girls, will be the keynote speaker at the Los Angeles Alliance for a New Economy's annual Women for a New Los Angeles Luncheon on May 10. She spoke to Frying Pan News about women writers, Walmart and changes in L.A.
Frying Pan News: Your family's been here longer than most.
Lisa See: We are part of a continuum of women and men who came here and continue to come here. And it's not only men who come to a place, as pioneers or for a new job. A great-great aunt came here in 1915 from Colorado, opened a millinery shop and caught TB. My great-great grandmother and her husband came West to Waterville, Washington on a train – but he somehow got off the train and went his own way. About 1920 she moved down here and opened a little hotel near the Santa Monica Pier. Why didn't she keep that – it was waterfront property!
FPN: You must have seen a number of changes take place in L.A. in your own time.
See: I remember the orange groves, yes, but I can also remember when the San Diego Freeway just stopped at a certain point and you had to take the coast road all the way down to San Diego. I also remember trolley cars on Alameda. How ironic that they're going to put in a new trolley downtown.
FPN: Have there been improvements?
See: Better air quality! The thing I appreciate is that we are a very diverse city and people here really do get along relatively well – downtown is among the most diverse couple of square miles on the planet. I'm not saying we didn't have racism there – we did.
FPN: People told you that no one would read your first novel because it was set in China in the past, and was about women. Why do you think they were so wrong?
See: There is no magic way to figure out why people buy something. It was very ironic because 80 percent of all books are bought by women – you would think that somewhere in there they would be interested in books about women.
FPN: Amanda Filipacchi wrote in The New York Times that after she called out Wikipedia for ghettoizing female American novelists into a separate sub-category, the site punished her by eviscerating her own Wiki page.  Are we still at the place where there's an official list of American novelists, which is by default male, and a vast marginalia of "others"?
See: Yes we are. If you look at the bestseller list you'll see there are more male writers than women – even though more books are written by women. I'm packaged for female readers — men are put off by my jackets. They think, "Oh, if it's about family, women in China, or if it's internal or" – fill in the blank — "I'd rather not." Gone Girl has been on the bestseller list a long time and it's written by a woman – but told mostly by the novel's male character. It's like the movies: Women will go see a science fiction film but men won't, in large numbers, see a woman's film.  Whereas women would see The Matrix – which is my favorite film.
FPN: What would you tell a young Los Angeles writer who's been told she has to move to New York to be taken seriously?
See: I don't think anyone says that anymore. Los Angeles is actually the biggest book-buying market in the country. Agencies and publishers really have to look beyond Manhattan – how many shopaholic books and Sex in the City novels can they sell?
FPN: Last year saw many women elected to Congress and there's a chance that L.A. could elect a woman mayor this month. Has the novelty peaked for electing women?
See: I don't think so. Look at the numbers in Congress. We still don't have a government that's half women – we're a long way from 50-50. You have to be a certain kind of person to want to be a politician and that kind of desire has to start really young. There are girls in high school who want to be a member of Congress but who aren't being encouraged.
FPN: You serve as president of the El Pueblo de Los Angeles Historical Monument, which oversees the city's original civic core near Olvera Street. How long have you been in that position?
See: Mayor Hahn appointed me 11 years ago and Antonio Villaraigosa asked me to stay on. When I first joined, there was a lot of resistance to the Chinese Museum, Italian Hall and the [David Siqueiros] mural – but now everyone's excited about these projects. It shows that we can have change but still be true to who we are – and not question who should be here [at El Pueblo].
FPN: Is the commission highly politicized?
See: There are definitely clashing interests – I don't want to sugar-coat it. People can be very selfish, too, if someone has a strong business or family interest. But where they're coming from is a place of real love for the city and preserving Los Angeles' history. You have to be able hear everyone's opinion and respect those who have come here before. By getting people to the table you can bring them together.
FPN: I guess no one asked you your opinion about Walmart opening a store in Chinatown.
See: I have very strong feelings about Chinatown – a Walmart would be terrible there. My great-grandparents had a store on the grassy knoll that's on Los Angeles Street, across from Union Station. They lived above it since the 1890s. My grandfather fought city hall to keep the store there and lost in the 1940s. Today, when the commission holds its meetings at Pico House, I can look out a window and see the knoll, where their store and home was. That's terribly gratifying.

'Skeleton Crew' Is a Play With a Moral Spine
Set in a Detroit automobile outfitting plant, Dominique Morisseau's drama grabs you from the start with its focus on blue-collar men and women, and their struggle for dignity and self-respect.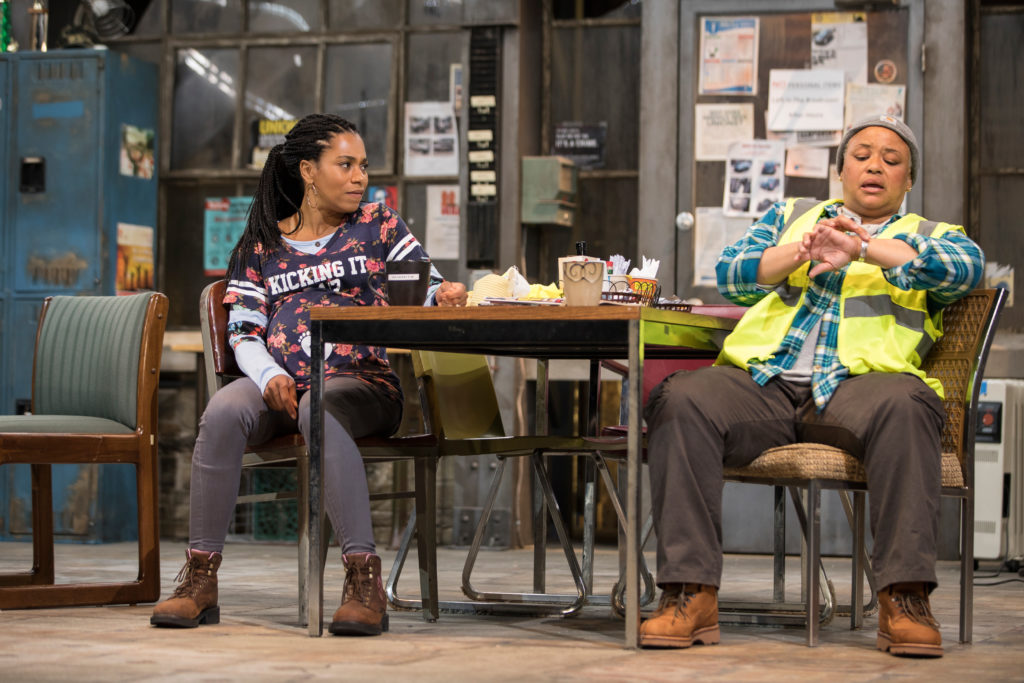 Working-class men and women of color are rarely front and center in today's media and, likewise, are presented all too occasionally on the American stage. So it's buoying to see that trend bucked in playwright Dominique Morisseau's percipient and well-crafted drama, Skeleton Crew. The play is the final installment in her Detroit  Project Trilogy; the first, Paradise Blue, is set in the 1940s amidst displacement caused by urban renewal and gentrification, while the second, Detroit '67, transpires on the eve of the 1967 Detroit riots sparked by a police action.
Directed by Patricia McGregor at Los Angeles' Geffen Playhouse, Skeleton Crew is a play with a moral spine. It takes place in 2008, when the shrinking U.S. auto industry is being further downsized. Morisseau's engaging quartet of characters — Faye (Caroline Stefanie Clay), Dez (Armari Cheatom), Shanita (Kelly McCreary) and Reggie (DB Woodside) – are employed at an automobile outfitting plant. Faye, Dez and Shanita are workers on the line while Reggie (who has a wife and kids, and has pulled himself together after a troubled youth) is their supervisor.
The first three customarily mingle in their break room (designer Rachel Myers' impressively cluttered, dingy and detailed set), trading the sort of familiar barbs and genuine concern for each other common among longtime co-workers. They also face off on philosophy: Upper-middle-aged Faye and the younger, pregnant Shanita take pride in their labor, while Dez, though a good worker, is a malcontent scornful of management and firm in the belief that everyone needs to watch out for himself. He's a thorn in Reggie's side, for while Reggie wants to be supportive of his workers, he must act at the behest of higher management. For his part, Dez resents Reggie's authority, and a palpable unease exists between them.
Besides this male matchup, we're made privy to Dez's attraction to Shanita, who mostly turns away his advances, but every now and then displays a hint of interest. Most poignant is Reggie's regard and affection for the lesbian Faye, which has roots in his boyhood when she loved, and lived, with his now-deceased mom.
These people's various predicaments intensify when rumors spread of the plant's shutdown — a disaster for all, but a particular calamity for the already near-broke Faye who, one year short of retirement, would lose her pension. The crisis forces each of these people to make a choice.
A sound piece of social realism, Skeleton Crew grabs you from the start in its focus on blue-collar men and women, and their struggle against odds for dignity and self-respect. Morisseau not only furnishes these characters a platform for their travails, she endows them with strong values, big hearts and the opportunity to choose between right and wrong.
Unfortunately, the performance I attended did not soar. Many exchanges lacked a fresh edge. The actors certainly had their characters down, but too often they appeared to be coasting on technique. (This seemed particularly true of Clay, who performed the role to great accolades in Washington, DC in 2017, also under McGregor's direction). Additionally, some of the stage movement was not entirely fluid; in confrontations, actors sometimes would just stand and face each other in an artificial way. And Cheatom's interpretation of Dez struck me as a bit overly churlish and depressive: I needed more glimpses of the intelligence and edge that would secretly attract the strong, self-directed Shanita.
The most compelling moments belong to Woodside, well-cast as a man trying his best in difficult circumstances to do the right thing.
---
Gil Cates Theater at the Geffen Playhouse, 10886 Le Conte Ave., Westwood Village; Tues.-Fri., 8 p.m.; Sat., 3 & 8 p.m. Sun., 2 & 7 p.m.; through July 8. (310) 208-5454 or www.geffenplayhouse.org