Every year, every quarter, every month, the conventional economists either praise the increase in Gross Domestic Product (GDP) or anxiously wring their hands because the economy has not expanded enough. Expansion requires two key elements: a constant search for the lowest possible wages and an unending supply of raw materials – particularly fossil fuels, but also fertile soil and fresh water, and sometimes, creatures who live on the earth and in the seas.
While there are still places on the planet where people will take any job they can get, the ability to extract more energy resources gets riskier, and the environment's capacity to absorb more waste is fast approaching zero. Reaching the outer limits of expansion threatens all of life on the planet. That reality is why many people are now calling for an "ecological civilization" as an alternative to more exploitation and extraction, one that offers another pathway for human civilization to take.
The term itself may have been coined in China, where people think it is consistent with the teachings of Confucius. It has roots in the West as well, particularly in the work of Alfred North Whitehead, a British philosopher and mathematician who taught in this country. The idea depends on some of his richer veins of thought, among them, that all entities live in relation to all others. He meant that parts of life do not exist separately but continually interact and entwine with everything else. (Eco-civ is a major project of the current leadership of China, where some 18 universities teach Whitehead's theories.)
From this base, theologian John Cobb and economist Herman Daly have pushed for an inter-related view of our economic and social life.
Unfortunately, economic growth remains the only measurement this country – and much of the developed world – use to determine our well-being as a species. What we measure includes too little of what makes life healthy, even possible. Herman Daly defines five types of capital:
"(1) Human capital – individual minds, bodies, spirits and their capabilities; (2) social capital – quality and strength of our relations in community: trust, honesty, common values, including tolerance; (3) natural capital – stocks and funds of things in nature that yield flows of natural resources and life-supporting ecosystem services; (4) built capital – machines, tools, durable consumer goods; (5) financial capital – money and other liquid assets, fungible and acceptable for payment of transactions and debts."
Of those five, we only count two, Daly says. We focus on financial capital and pay some attention to built capital. The problem, he says, is that it is human, social and natural capitals that provide healthy well-being. But we don't measure those. We exclude them from our narrow focus on economics.
A measuring tool for an ecological civilization would quantify all five forms of Daly's capital. So the system would balance economics (the ruling metaphor of our time) with the other human capacities for survival. It would use a "steady-state" process rather than a growth-oriented system. What goes in must come out, and go in again. Recycling points to a direction, but we need it on a massive, macro scale that yields an earth and civilization that are self-sufficient and self-sustaining. It would also ground our fundamental assumption about life in the relationships between all entities – humans, animals, plants and the eco-system it takes to support those.
Across the planet and across this country, people have been experimenting with this notion of how to do eco-civ. In 1972, the Himalayan country of Bhutan introduced the "Gross National Happiness" (GNH) measure as an alternative to the GDP. The GNH is meant to be a more inclusive scale that considers the overall health and happiness of a populace. Bill McKibben, one of the founders of 350.org, wrote a piece in a recent New Yorker pointing to Green Mountain Power as one way to go. The company supplies energy to users across the state of Vermont. It stepped away from the conventional economics of giant utilities to save energy and decrease prices for consumers.
The Mondragon Corporation in the Basque region of Spain is the world's largest group of worker-owned co-operatives. It now includes 275 different co-ops employing 74,000 people. And if you think such things are too small to do the job, remember that Mondragon co-ops played a major role in constructing Frank Gehry's Guggenheim Museum in Bilbao. We humans know how to do this!
A metaphor for this sort of society that I find compelling is the Pando forest – a more than one hundred acre stand of quaking aspens in south central Utah. On the ground it looks like a grove of separate trees, but below the surface, this forest of individuals is an intertwining root network, one massive relational system that draws nutrients necessary for each tree to flourish. It is one of the the oldest and largest living organisms on the planet. What if we created a way for people to live like that with the earth?
---
Photo of Pando aspens by J. Zapell, U.S. Forest Service

Diablo in the Details: Who Will Shoulder the Costs of a Nuclear Power Plant Shutdown?
Built atop an earthquake fault on an idyllic California sea cliff, the Diablo Canyon nuclear plant has hardly gone a day in its history without stirring controversy.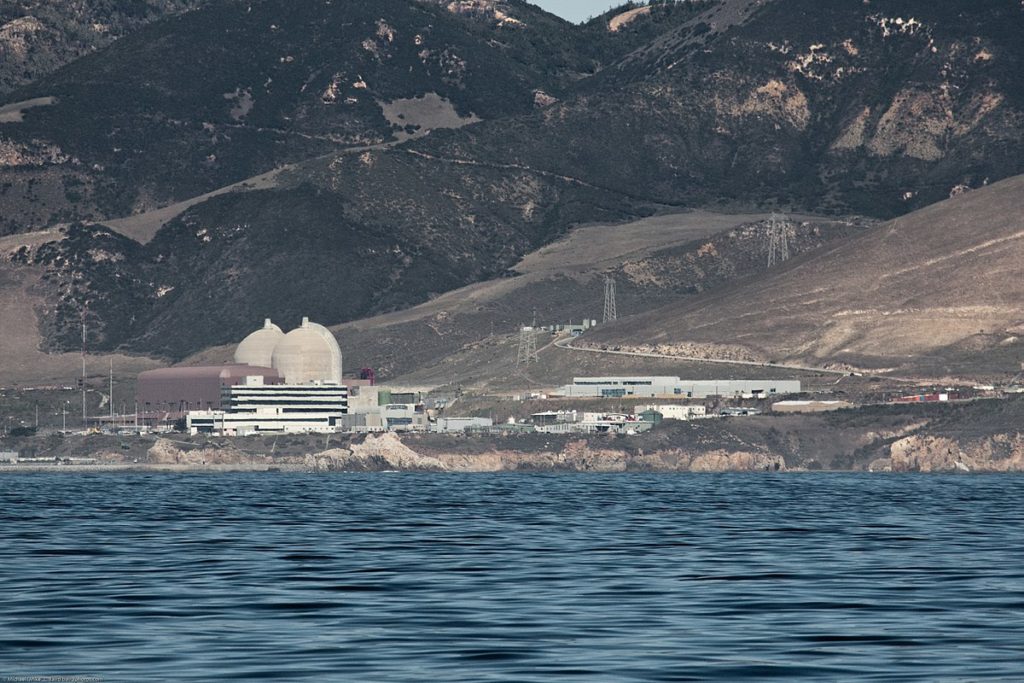 The agreement was lauded as historic. Environmental groups, labor and the state's largest electrical utility had come together in the summer of 2016 and crafted a joint proposal to shutter California's last nuclear power plant. For the enviros, who had opposed the plant since the San Francisco-based utility Pacific Gas & Electric first proposed it more than a half century ago, there would be the promise of clean energy to replace the plant's annual 18,000 gigawatt-hours of electricity, supplying three million homes — 20 percent of PG&E's service area — with energy free of greenhouse gases. For labor, represented by the International Brotherhood of Electrical Workers Local 1245, there would be ample funds to retain skilled workers, and retrain the ones losing their jobs.
There was even $85 million in "community impact mitigation" funds for the local community to offset lost property taxes and other costs to the local economy.
With this agreement the utility would finally secure the California Public Utilities Commission's approval to unplug and dismantle Diablo Canyon's two units when their federal licenses expire in 2024 and 2025.
The approval to unplug, at least, was granted. An administrative law judge with the utilities commission responded to the joint proposal with a proposed decision, authorizing the utility to take the Diablo Canyon facility off the grid six years from now. But the revised proposal denied PG&E the $1.76 billion it had requested for the suite of benefits in the joint proposal. Instead, it authorized the utility to recover from its customers exactly $241.2 million for costs associated with the plant's retirement. It shifted the responsibility for community impacts to the legislature, and punted the issue of replacement power to the utility. And it cut what was a proposed $363.4 million to retain and retrain workers by more than a third.
On January 11, the commissioners adopted a final decision that made only modest changes to the proposed decision as written by the administrative law judge.
Peter Miller, western energy project director with the Natural Resources Defense Council, says his organization was disappointed with the cuts. "We'd struck a great deal with the labor union on Diablo Canyon," he says. Retiring a nuclear plant is, in terms of economic consequences, the same as powering down a coal plant. Avila Beach, where the plant sits, is a company town, organized around a "big, old power plant that doesn't fit the modern grid," Miller says. "Instead of just turning the key and abandoning the plant, the town and the workers, we wanted to find a more collaborative way to retire the plant and jumpstart the replacement process."
The joint proposal had also been crafted to avoid what happened at the San Onofre plant in 2013, when cracks in a new steam generator's tubing caused the plant to shut down suddenly and permanently. All but 400 of the plant's 2,200 or so workers lost their jobs, and Southern California Edison, the plant's major owner, replaced much of the nuclear plant's emissions-free generation with polluting natural gas.
On March 16, State Sen. Bill Monning (D-Carmel) and Assemblymember Jordan Cunningham (R-San Luis Obispo) announced SB 1090, a bill that would require the commission to restore certain elements of the joint proposal, including the full funding for workers. The law also stipulates that clean energy must replace what the nuclear plant produced. Monning's bill will also allow PG&E to bill customers for the proposal's original $85 million to soften the blow to the community when the plant shuts down.
"San Luis Obispo County agreed to house the Diablo Canyon Nuclear Power Plant, which provides power to more than three million people and benefits Californians despite the negative repercussions," Monning said in a statement. "The County and its residents deserve to be compensated for the impacts they will incur when the plant shuts down."
But do they? Matthew Freedman, a staff attorney with The Utility Reform Network (TURN), warns that it's not PG&E shareholders paying the costs of the plant's retirement. The utility will recover the costs in customers' bills. He worries that what he calls Monning's "end run" around the utilities commission's decision could set an expensive precedent for any community with a power plant nearing the end of its natural life.
"We're sensitive to the fact that communities have been reliant on Diablo Canyon for employment and revenue," he says. But there was never any expectation that the plant was going to operate beyond the end of its current license. The costs of an aging nuclear plant, combined with competition from natural gas, rooftop solar and rapid gains in energy efficiency, mean that the electricity once touted as "too cheap to meter" will soon be too costly to produce. "That's been known for decades," Freedman says.
If SB 1090 passes, "it will embolden every community where a power plant is closing to have their representative run a bill in the legislature to get a chunk of money on everyone else's dime," Freedman says. He notes that the Orange County communities around San Onofre didn't get a payout when that plant shutdown. "Perhaps," Freedman says, "this will give them ideas."
Built near an earthquake fault on an idyllic California sea cliff, the Diablo Canyon nuclear plant has hardly gone a day in its history without stirring controversy. Pacific Gas & Electric announced plans to build it in 1963, but more than 20 years passed before it went into service, thanks in part to organized opposition to the plant during a time when people in the U.S. had ecology on the brain. Mothers for Peace, founded in 1969 to protest U.S. involvement in the Vietnam War, shifted its energies in 1973 full time to stopping the construction of Diablo Canyon; a group called the Abalone Alliance formed in 1977 specifically to oppose the plant. Their members pored over legal and technical documents, dragged PG&E through lawsuits, and when that didn't work, chained themselves to fences to stop machinery. Jackson Browne was arrested for his part in the protests in 1981; Jerry Brown, California's governor then as now, vowed to do everything in his power to shut the project down.
Plant opponents were not without cause. In 1971, oil company surveyors had discovered an offshore fault sufficiently long to produce a 7.5 magnitude earthquake less than three-and-a-half miles from the site of the two reactors under construction. As Diablo Canyon had only been designed to withstand a magnitude 6.75 quake, PG&E was forced to redesign the plant to a higher seismic standard. As late as 1981, under pressure from activists, the Nuclear Regulatory Commission was suspending PG&E's license to test and operate the plant until it could pass several seismic tests. The delays were expensive. When Diablo Canyon's first reactor finally went online in 1985, PG&E customers were on the hook for $5.8 billion in construction costs, roughly $5.2 billion more than the original 1968 estimate.
Pacific Gas & Electric has been recovering those costs, along with any other capital expenditures, via its customers' bills since the start of the plant's life. Matthew Freedman doesn't think the utility should be able to tack more on at the end. "PG&E loves to provide money collected from ratepayers and act like they're engaging in a charitable endeavor like a good corporate citizen," he says. "But there's nothing in [Monning and Cunningham's bill] that assigns any responsibility to the utility."
With or without support for workers and local residents, however, no new fuel rods will be loaded into Diablo Canyon's reactors after 2025. The steam generators will power down, and electricity production will cease. The plant will stand for a time, as San Onofre does, a relic of a bygone era, as workers begin the multi-billion-dollar process of relocating spent fuel from pools to heavy steel casks, decontaminating the plant's radioactive innards and removing its crapped-out equipment. And for the first time since 1957, when the ill-fated Santa Susana Sodium Reactor began operations near Moorpark, California will be free of nuclear power plants.
---
Copyright Capital & Main