American Wealth: Separate and Unequal
Rich and poor — two sides of the same coin. That "coin" meaning money and how much you have. While Americans seem to love money and idolize those who possess it, having it isn't so good for you. That's right. Not only does money not buy happiness, it can be downright hurtful to those who are rich, as well as the rest of us.
For years I have noticed that BMW drivers tend to cut people off and generally drive with an attitude of arrogance toward others. Now some recent studies demonstrate that I am not just seeing things. People with more expensive cars drive as though they're entitled to cut people off at intersections or whip by on the right.
The rich also prefer to play and work alone – distancing themselves from others. But you don't have to actually be rich to act like that. People who entered simulation games in sociological studies with more money took on these characteristics. They were less compassionate, more likely to cheat, lie and steal. Subjects who were told they were rich even refused to share their candy with children evenly, holding back more for themselves. Wealth shrinks generosity.
This loss of compassion may develop because the rich buffer themselves from others. They hold the resources that allow them to shun any need for help. As a result they are isolated from people not like them. I remember a wealthy couple telling me that they never drive south of Wilshire Boulevard. I was stunned – and saddened because these folks missed so much of the city's rich cultural tapestry.
So people who are rich – even with only simulated wealth – act with less social awareness and operate like they need no one. This leaves the rich empty of a spectrum of emotions and it makes them less likely to contribute to the common good either through simple social interactions or charitable contributions.
On the other side of the coin, people who are poor suffer a host of disabilities that add to their already substantial burdens. The common wisdom argues that poor people are lazy, or not so smart, or not motivated. The reality is more painful.
Poor people feel more stress trying to balance the necessities of life. Recent studies indicate that financial pressures inhibit people's cognitive functions, so they make bad choices, develop a kind of tunnel vision and ignore their long term best interests. This constant background noise in the brain actually impairs the decision-making functions of the frontal cortex and leads to measurably lower IQ scores — as much as 13 points in one study, nine points in another.
What scientists now call "toxic stress" – lack of adequate nutrition or living amid constant anxiety – misshapes the structure of a young child's brain. The actual conditions of protein deficiency and constant worry that accompanies poverty inhibits the healthy formation of the brain. The reduced capacity in turn points these children toward early childhood obesity and other chronic ailments, as well as a career of low academic development.
Turns out people who are wealthy even get to live longer than people who are not. Over the last 30 years the longevity differential between the rich and the poor has doubled to four and a half years. That means that poor people get a diminished capacity and a shorter life.
So on one side of the coin, the rich tend to self-isolate and disconnect from the broader social context, taking less responsibility for the common good. The poor tend to walk around in a fog, biting their nails over what bills to pay. So what makes people happy? A new study says that the happiest people are the ones on both sides of the coin who find meaning to their lives through connections to community and service to others. That behavior even stimulates genetic resistance to cancer, diabetes and cardiovascular disease. Who knew? Apparently, that's the side worth striving for.

'Skeleton Crew' Is a Play With a Moral Spine
Set in a Detroit automobile outfitting plant, Dominique Morisseau's drama grabs you from the start with its focus on blue-collar men and women, and their struggle for dignity and self-respect.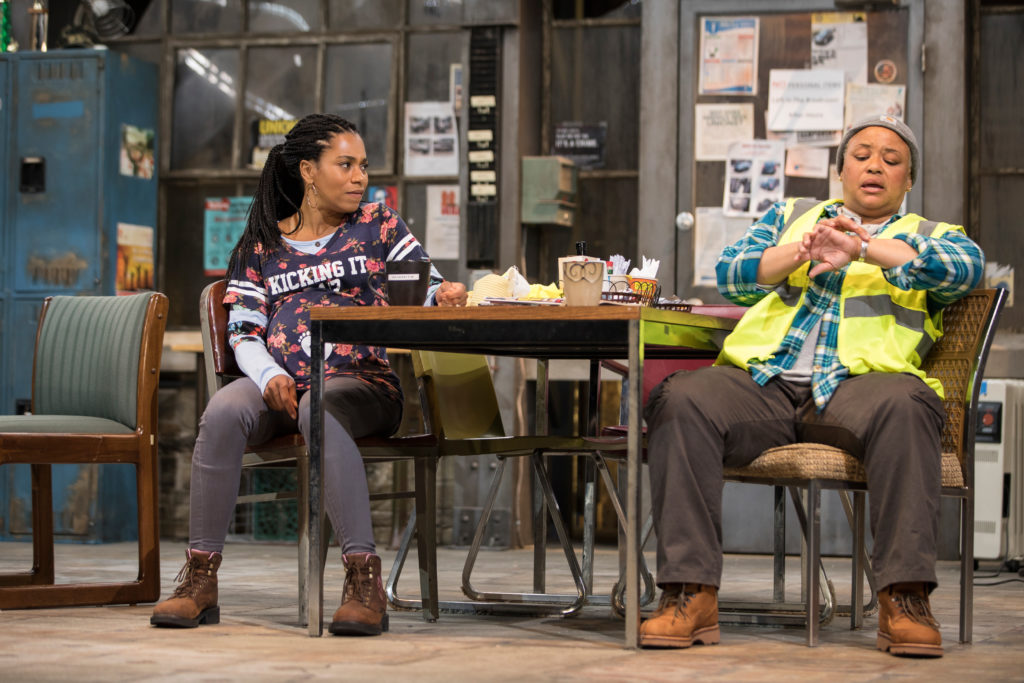 Working-class men and women of color are rarely front and center in today's media and, likewise, are presented all too occasionally on the American stage. So it's buoying to see that trend bucked in playwright Dominique Morisseau's percipient and well-crafted drama, Skeleton Crew. The play is the final installment in her Detroit  Project Trilogy; the first, Paradise Blue, is set in the 1940s amidst displacement caused by urban renewal and gentrification, while the second, Detroit '67, transpires on the eve of the 1967 Detroit riots sparked by a police action.
Directed by Patricia McGregor at Los Angeles' Geffen Playhouse, Skeleton Crew is a play with a moral spine. It takes place in 2008, when the shrinking U.S. auto industry is being further downsized. Morisseau's engaging quartet of characters — Faye (Caroline Stefanie Clay), Dez (Armari Cheatom), Shanita (Kelly McCreary) and Reggie (DB Woodside) – are employed at an automobile outfitting plant. Faye, Dez and Shanita are workers on the line while Reggie (who has a wife and kids, and has pulled himself together after a troubled youth) is their supervisor.
The first three customarily mingle in their break room (designer Rachel Myers' impressively cluttered, dingy and detailed set), trading the sort of familiar barbs and genuine concern for each other common among longtime co-workers. They also face off on philosophy: Upper-middle-aged Faye and the younger, pregnant Shanita take pride in their labor, while Dez, though a good worker, is a malcontent scornful of management and firm in the belief that everyone needs to watch out for himself. He's a thorn in Reggie's side, for while Reggie wants to be supportive of his workers, he must act at the behest of higher management. For his part, Dez resents Reggie's authority, and a palpable unease exists between them.
Besides this male matchup, we're made privy to Dez's attraction to Shanita, who mostly turns away his advances, but every now and then displays a hint of interest. Most poignant is Reggie's regard and affection for the lesbian Faye, which has roots in his boyhood when she loved, and lived, with his now-deceased mom.
These people's various predicaments intensify when rumors spread of the plant's shutdown — a disaster for all, but a particular calamity for the already near-broke Faye who, one year short of retirement, would lose her pension. The crisis forces each of these people to make a choice.
A sound piece of social realism, Skeleton Crew grabs you from the start in its focus on blue-collar men and women, and their struggle against odds for dignity and self-respect. Morisseau not only furnishes these characters a platform for their travails, she endows them with strong values, big hearts and the opportunity to choose between right and wrong.
Unfortunately, the performance I attended did not soar. Many exchanges lacked a fresh edge. The actors certainly had their characters down, but too often they appeared to be coasting on technique. (This seemed particularly true of Clay, who performed the role to great accolades in Washington, DC in 2017, also under McGregor's direction). Additionally, some of the stage movement was not entirely fluid; in confrontations, actors sometimes would just stand and face each other in an artificial way. And Cheatom's interpretation of Dez struck me as a bit overly churlish and depressive: I needed more glimpses of the intelligence and edge that would secretly attract the strong, self-directed Shanita.
The most compelling moments belong to Woodside, well-cast as a man trying his best in difficult circumstances to do the right thing.
---
Gil Cates Theater at the Geffen Playhouse, 10886 Le Conte Ave., Westwood Village; Tues.-Fri., 8 p.m.; Sat., 3 & 8 p.m. Sun., 2 & 7 p.m.; through July 8. (310) 208-5454 or www.geffenplayhouse.org