American Wealth: Separate and Unequal
Rich and poor — two sides of the same coin. That "coin" meaning money and how much you have. While Americans seem to love money and idolize those who possess it, having it isn't so good for you. That's right. Not only does money not buy happiness, it can be downright hurtful to those who are rich, as well as the rest of us.
For years I have noticed that BMW drivers tend to cut people off and generally drive with an attitude of arrogance toward others. Now some recent studies demonstrate that I am not just seeing things. People with more expensive cars drive as though they're entitled to cut people off at intersections or whip by on the right.
The rich also prefer to play and work alone – distancing themselves from others. But you don't have to actually be rich to act like that. People who entered simulation games in sociological studies with more money took on these characteristics. They were less compassionate, more likely to cheat, lie and steal. Subjects who were told they were rich even refused to share their candy with children evenly, holding back more for themselves. Wealth shrinks generosity.
This loss of compassion may develop because the rich buffer themselves from others. They hold the resources that allow them to shun any need for help. As a result they are isolated from people not like them. I remember a wealthy couple telling me that they never drive south of Wilshire Boulevard. I was stunned – and saddened because these folks missed so much of the city's rich cultural tapestry.
So people who are rich – even with only simulated wealth – act with less social awareness and operate like they need no one. This leaves the rich empty of a spectrum of emotions and it makes them less likely to contribute to the common good either through simple social interactions or charitable contributions.
On the other side of the coin, people who are poor suffer a host of disabilities that add to their already substantial burdens. The common wisdom argues that poor people are lazy, or not so smart, or not motivated. The reality is more painful.
Poor people feel more stress trying to balance the necessities of life. Recent studies indicate that financial pressures inhibit people's cognitive functions, so they make bad choices, develop a kind of tunnel vision and ignore their long term best interests. This constant background noise in the brain actually impairs the decision-making functions of the frontal cortex and leads to measurably lower IQ scores — as much as 13 points in one study, nine points in another.
What scientists now call "toxic stress" – lack of adequate nutrition or living amid constant anxiety – misshapes the structure of a young child's brain. The actual conditions of protein deficiency and constant worry that accompanies poverty inhibits the healthy formation of the brain. The reduced capacity in turn points these children toward early childhood obesity and other chronic ailments, as well as a career of low academic development.
Turns out people who are wealthy even get to live longer than people who are not. Over the last 30 years the longevity differential between the rich and the poor has doubled to four and a half years. That means that poor people get a diminished capacity and a shorter life.
So on one side of the coin, the rich tend to self-isolate and disconnect from the broader social context, taking less responsibility for the common good. The poor tend to walk around in a fog, biting their nails over what bills to pay. So what makes people happy? A new study says that the happiest people are the ones on both sides of the coin who find meaning to their lives through connections to community and service to others. That behavior even stimulates genetic resistance to cancer, diabetes and cardiovascular disease. Who knew? Apparently, that's the side worth striving for.

A Woman's Art Is Never Done: The Feminae Exhibition
A striking juxtaposition between the past and present courses throughout the small gallery. Celia Blomberg's "International Women's Day March 8" can't help but make one think of 2017's Women's March, which occurred 37 years after the print's first appearance.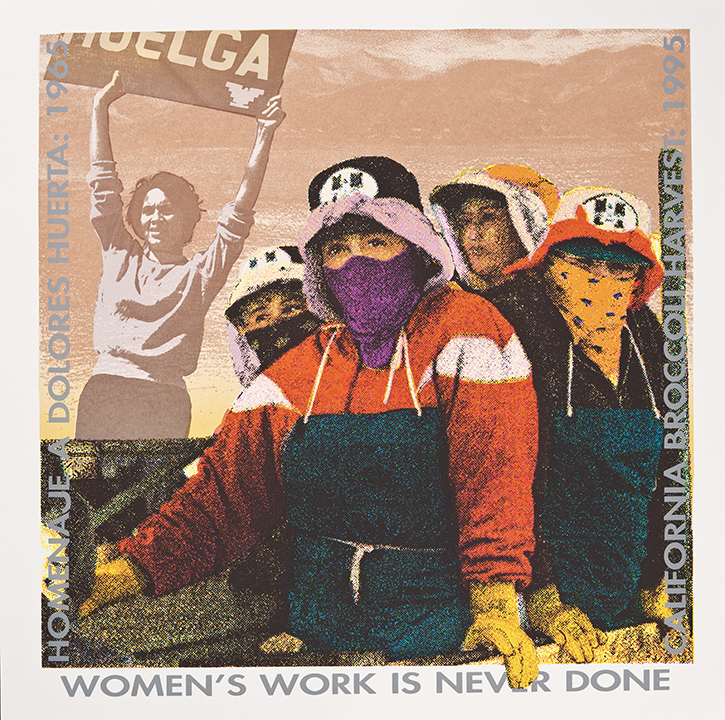 Among the 50-plus works in the Feminae: Typographic Voices of Women By Women exhibit is Yolanda Lopez's "Women's Work is Never Done." Lopez's title is particularly ironic, given the exhibit's gender-based subject matter. The show spans work from the past 50 years, making it easy to understand how much society is still grappling with its themes of gender inequality. Culled from the archives of the Center for the Study of Political Graphics, the graphic images of protest, persuasion and empowerment are truly works of art in their own right.
However, political posters aren't made to merely spruce up walls, but to help figuratively bring barriers down as well.
Two silkscreens from the 1970s, Liliana Porter and John Schneider's "This Woman is Vietnamese" and See Red Woman's Workshop's "So Long As Women Are Not Free People Are Not Free," are particularly powerful, underscoring, as they do, the fact that the subjugation and persecution of women crosses borders and cultures as an unfortunate shared global experience. These two pieces' stark simplicity exemplifies most of the work in the exhibit. In the former, a New York Times photo of a distraught Vietnamese woman with a gun held to her head is centered above these basic words typed out in a typewriter font: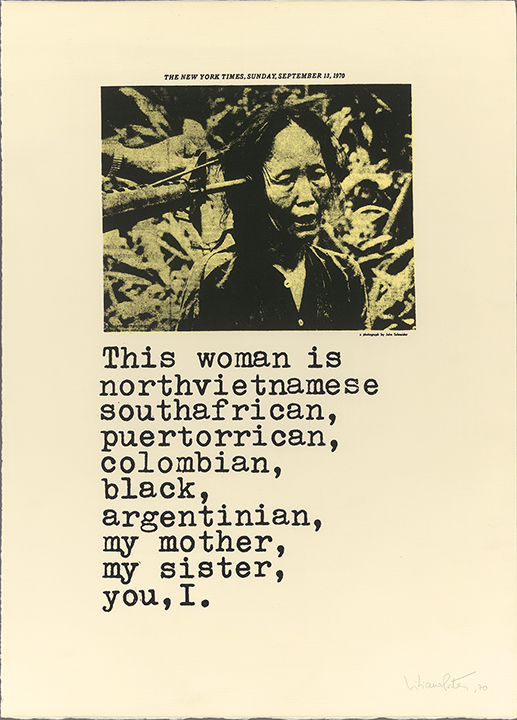 This woman is
northvietnamese
southafrican
puertorrican,
colombian,
black,
argentinian,
my mother,
my sister,
you, I.
By juxtaposing the photo with these words, the creators take the plight of this woman and immediately globalize her pain. In the latter, three female demonstrators are silkscreened in red onto a yellow background. They are marginalized by being stuck in the lower left third of the poster, but two of them are raising their fists skyward and their mouths are open, screaming in defiance. Its non-serif, eponymous type reads: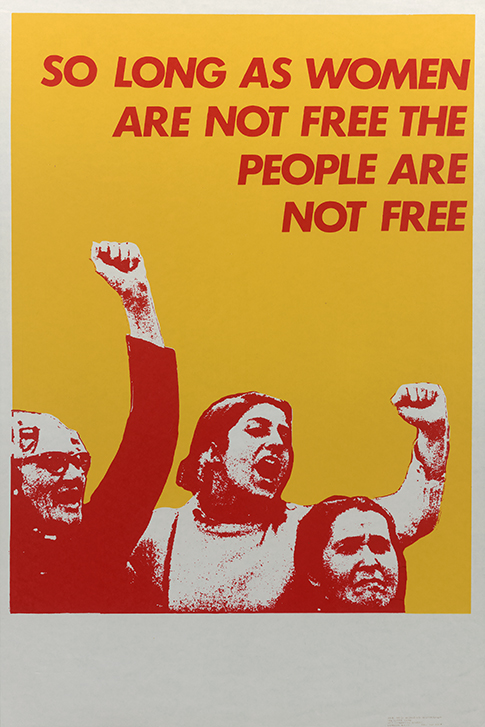 SO LONG AS WOMEN
ARE NOT FREE THE
PEOPLE ARE
NOT FREE
This piece's message takes the global message even farther, making the plight of women a human one — a common theme in the exhibition.
There is also a striking juxtaposition between the past and present that seethes throughout the small gallery. Celia Blomberg's "International Women's Day March 8" can't help but make one think of 2017's Women's March that would take place 37 years later. See Red Woman's Workshop's 1977 "Black Women Will Not Be Intimidated" could easily be repurposed to address the recent spate of blue-on-black brutality. Notable works by Barbara Kruger, Sister Corita Kent and the Guerilla Girls are also included.
Ironically , while it can be surmised that most of these works were made as populist posters to be distributed at the time as banners of protest, their beautiful simplicity and nostalgic elegance probably have resulted in the originals (mostly now found in art museums) sporting hefty vintage-resale prices.
But it is not just the art that has stood the test of time. The fact that the issues addressed in the show — feminism, choice, gender equality, war, immigration, police brutality or violence against women — are all issues at the forefront of debate in 2018 ultimately engenders conflicting feelings.
On one the hand, it is inspiring to see a vibrant exhibit that showcases such diversity in artistic styles, no doubt spawned by the diversity of the artists' own backgrounds. On the other hand, there is a realization that while there has been some progress over the past half century, there is so much work to be done.
Art Center's Hoffmitz Milken Center for Typography, 950 South Raymond Ave., Pasadena; through May 15.
---
Copyright Capital & Main