Ambassador Recalled: Airbnb's Chip Conley's Mexican Misadventure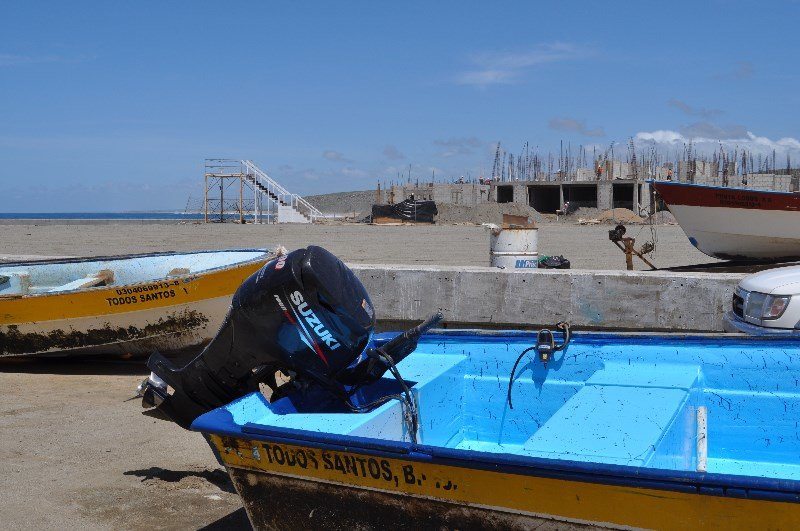 Todos Santos: Fishing boats and resort construction in background. (Photo: Mike Brozda)
Juan and Manuel Salvador Orozco Cadena, a pair of fishermen from Baja California, Mexico, pushed off from Punta Lobos on the morning of November 4, 2015. Earlier, the Orozcos had repaired the transmission of their outboard motor, but then it broke down again. As night closed in, the brothers floated helplessly in their open panga 30 miles off the Pacific Coast, making intermittent contact by cellphone, before being rescued by the Mexican coast guard.
At the same moment the Orozcos had first pushed off into the sea, Airbnb executives 1,200 miles away were celebrating the defeat of a San Francisco ballot initiative aimed at regulating the short-stay rental titan. What could possibly be the connection between two Mexican fishermen adrift in the ocean and a company valued by Wall Street estimates at $25.5 billion?
The answer is Chip Conley, a good-looking, 55 year-old fit guy with a shaved head and a charismatic smile whose official full-time job is Head of Global Hospitality for Airbnb. According to a profile in Fast Company, Conley is one of CEO Brian Chesky's "most trusted advisers."
After the defeat of the San Francisco initiative, Conley celebrated Silicon Valley media's "Glowing perspective on Airbnb's prospect," tweeting one tech blogger's headline,  "With Prop F Gone, Airbnb Is Now Unbeatable."
Less well known has been Conley's side job, before and during his Airbnb tenure, as visionary leader and chief pitchman for Tres Santos, a mega-resort under construction in Todos Santos, a small Mexican fishing and farming town on Baja's wild Pacific Coast.
Conley's adventure, which played out amid investigations by Mexican authorities into the development's permits and licenses — is over. It ended suddenly January 2, when Tres Santos announced on its Facebook page a parting of the ways with Conley, "as he redirects his full attention to Airbnb." Conley himself, replying to a Capital & Main query, brushed off his departure as a mere consequence of his decision not to renew his contract with the resort project. As with many aspects of the Tres Santos enterprise, the truth requires a close reading between the lines.
"Airbnb has no relationship with Tres Santos in any way," Conley had told Capital & Main by email last November, describing himself as "a part-time, at-will consultant" for the Baja developers. That may have been, but it's hard to believe that Airbnb had not become aware of the shadow that the escalating backlash from local residents and fishermen against Tres Santos was casting over Airbnb's international ambassador, and on the growing export of short-stay capitalism. (Todos Santos has 200 Airbnb listings.) Especially during a time when Airbnb tries to address growing controversy over its impact on affordable housing in places like San Francisco and Los Angeles, and prepares for a widely-expected public offering.
How the Hospitality Guru Got That Way
Chip Conley's hospitality career began in 1986 with his purchase of a no-tell hotel catering to hookers in San Francisco's Tenderloin District. The newly-minted Stanford MBA, just 26 years old and with no hotel experience, gave the run-down Caravan Motor Lodge a $200,000 makeover and re-launched it as the Mid-Century style Phoenix Hotel. Catching on as a destination for touring rock groups and their managers trying to save a buck, the Phoenix would rise to become the flagship of a $230 million empire called Joie de Vivre, with more than 3,000 employees and a collection of 34 hipster-friendly boutique hostelries.
In 2010, he sold a majority stake in Joie de Vivre to an investment firm headed by Hyatt Hotel heir John A. Pritzker. While retaining ownership in 15 hotels, Conley devoted himself to his restless interests, creating a website curating arts and cultural festivals around the world and writing inspirational business books. Influenced by humanistic psychologist Abraham Maslow, Conley roams the country giving motivational talks pegged to his latest book, Emotional Equations. A regular at Burning Man, Conley is a director on the board of the annual self-expression jamboree's nonprofit sponsor.
"I've always liked rebellious business people, so this was a natural fit," Conley told Fast Company of his new job. "Airbnb," he explained in another interview, "is the new disrupter."
But one person's disrupter is another's disruption, and in the town of Todos Santos, people have been saying that disrupter was Chip Conley and his cohort at Tres Santos.
Todos Santos—The Magic Town
An hour north and a world away from the luxury tourist bacchanal of Cabo San Lucas at the tip of the Baja peninsula, Todos Santos has for many years been the sleepy little dirt-road Mexican town of every gringo's dreams. Great surfing, the best fish tacos, colonial streetscapes, easy-going locals, easy on the pocketbook. For some it still is. But change is no longer mañana.
The rustic paradise that I first visited 30 years ago now boasts art galleries, boutique hotels and an array of fine eateries. Recent municipal progress includes paving the dusty dirt road in front of the old adobe brick hacienda I've co-owned with some friends since 1985. Between the dust of yesteryear and what often sounds today like the Baja 1000 racing past our windows, we'd prefer our margaritas served dusty, por favor, and at a flip-flop-friendly pace.
The unavoidable truth is that the trajectory of global commerce, propelled by international protocols like the North American Free Trade Agreement (NAFTA), leads to paved-over Margaritavilles everywhere. In that spirit, Mexico's Secretariat of Tourism officially designated Todos Santos in 2006 as a "Pueblo Magico," one of about 80 towns across the nation chosen for their natural beauty, unique culture, historical significance — and potential to attract the Yankee dollar.
Many Todosanteños welcome the uptick in business. A sugar-producing boomtown in the 1800s with refineries working night and day, the town went bust when sugar market prices bottomed out in the 1950s. Todos Santos was, until fairly recently, an economically depressed and forlorn pueblo that only the most intrepid travelers—mainly surfers—reached via a perilous two-lane highway.
The fate of neighboring Cabo—lurching seemingly overnight from ramshackle fishing camp to over-built, high-end hotel corridor and cruise ship destination — bypassed Todos Santos for three reasons. For one, the town's steeply banked coast, plied only by the brave open boats of the local fishing fleet, is too rough for a swimming beach or yacht port.
A second reason is that ownership of prime ocean-view terrain mostly belonged to the ejidos – communal agricultural groups formed after the Mexican revolution to take over property confiscated from wealthy oligarchs, and prevented by law from selling that land to foreigners. In 1994 NAFTA ended Mexico's experiment in land reform, leading the federal government to break up the ejidos by granting titles to individual ejiditarios, allowing them to sell fields once planted with chilis and tomatoes to foreigners building their vacation and retirement villas. A few speculators bought up multiple lots, but the economic downturn over recent years left Todos Santos real estate offices in a torpor.
A third reason is that there's just not much fresh water in Todos Santos. A natural oasis, the town sits on the banks of a buried Pleistocene river fed by seasonal runoff from the high slopes of the Sierra de la Laguna. A 2012 study commissioned by a subsidiary of the developers and supplied to Capital & Main predicted that Todos Santos has sufficient water at current usage to last six more years.
But is there enough water and resources to support 4,000 new homes, tripling the town's size, plus a hotel with a beach club and pool, along with a research lab for Colorado State University, and a farm to produce organic fruits and vegetables?
All are currently under construction on 1,100 acres quietly purchased from private and ejido owners, and assembled over the past five years. Tres Santos was first officially unveiled in early 2014. While travel and leisure industry media hailed the project, spotlighting Chip Conley's role, the town has struggled to comprehend the impact the huge development will have on its resources and way of life, despite the developers' public posture of transparency.
Not So Saintly Tres Santos
At Todos Santos' main intersection, a block from the 19th-century Iglesia de Nuestra Senora de La Paz, a former funky grocery store is now the Tres Santos Hub, the development's sales office. The tidy storefront rents mountain bikes, offers tours and has dispensed brochures that declare "Mind + Body" and "Sea + Soil." Under the heading, "Our Team," Chip Conley tops the list with the title of "Hospitality, wellbeing & placemaking."
The brochure notes the companies backing Tres Santos; Denver-based Black Creek Capital and its Mexican affiliate, MIRA, are described as "a fully-integrated real estate investment and development company in Mexico." Black Creek Group is a real estate firm "with 15 years experience in Mexico." The companies' websites detail the developments, mostly industrial, that MIRA and Black Creek have undertaken.
Tres Santos' website eschews the corporate look and feel of Black Creek and MIRA for a more touchy-feely appeal. Click around to see healthy hikers, surfers catching waves and slim, blissful men and women in yoga poses framed by burnished sunsets. Tres Santos is a sustainable, holistic "Movement," the website says, in harmony with the land, the town and even the fishermen ("We support their tradition"). Interested parties are urged not to simply buy, but in language redolent of Burning Man, to "Join the community. Write. Paint. Breathe. Grow. Surf. Don't stop. Live at Tres Santos." There are "artisanal homes" in three locations—"Beach, Hillside and Farm"— that start at $200,000. Beachside homes are price-tagged in the $1 million range.
The "Mindful Living" approach was a marketing concept largely crafted by Conley, who says that the developers brought him in "to help them envision how the project could innovate, creating a community that's more focused on farm-to-table restaurants and healthy living than a traditional Mexican resort." Travel & Leisure described Tres Santos as a "wellness community."
Nowhere in the sales literature does the name of the team's most important member appear—James R. Mulvihill. Founder and CEO of Black Creek, Mulvihill is a prominent Denver citizen with a political history that bends sharply to the right. Federal Election Commission records reveal Mulvihill is a significant financial supporter of Republican politicians who stand for the full array of GOP ultra-conservative positions on issues like immigration, renewable energy, abortion, same-sex marriage, climate change, the environment — and such "wellness" programs as the Affordable Care Act.
In Todos Santos, Conley's alliance with Mulvihill and Tres Santos earned him the title of Persona Non Grata #4 (after hotel builder Liz Lambert, Mulvihill and MIRA chief Javier Barrios) from the Todos Santos Pueblo Magico page on Facebook, administered by local Mexican activists. Despite the rough fun they've had with him on social media, many of the anti-Tres Santos activists say they don't feel great animus toward Conley personally. They have been baffled by the contradiction between Conley's track record and persona—the empathic man, compassionate employer and spiritually enlightened businessman—and his role in a conflict that cast him on the side of the bad guys.
"I have no reason to believe he's not a decent guy," says Todos Santos resident Ricardo Madrazo, an independent video producer who has corresponded by email with Conley. With his wife Jamie, Madrazo posts photos, videos, and pertinent documents regularly in English and Spanish on the Salvemos Punta Lobos and Baja Sur TV Facebook pages.
All Saints vs. Three Saints
Whatever James Mulvihill's personal stance on global warming is, environmental agency officials in the state capital, La Paz, have blamed some of the acute problems afflicting Tres Santos on climate change.
The Hotel San Cristobal, under the banner of the Austin, Texas-based Bunkhouse hotel chain, is an anchor property in Tres Santos' grand plan. The hotel, in construction on the long curving beach at Punta Lobos, perches precariously on the edge of a wave-lashed seawall. Its first floor is unfinished, the iron rebar ribs of a second floor are starkly exposed. At high tide the ocean covers the sand right up to the seawall, blocking passage from the fishing co-op's boat anchorage to the rest of the beach. Officials inspecting the site have weighed in on whether the construction violates  Mexican law dictating public access to all national beaches.
José Carlos Cota Osuna, an official with the Secretaría de Medio Ambiente y Recursos Naturales (Secretariat of Environment and Natural Resources), told BCS Noticias that while the construction of the seawall may have originally complied with limits of the Federal Maritime Protected Zone, measured from the high tide mark, changes in the coastline may bring the wall illegally into the zone. Surveys in "eight or 12 months," he said, would determine if the developers must apply for a federal grant to remain in place and be fined for the violation.
Pronouncements by community officials, reported by local media online, and by citizen journalists following the officials' every step with handheld Facebook video newsfeeds, say the builders were not necessarily to blame. Mexican officials in charge of such matters claimed it was the sea itself, powered by climatological conditions, that violated the law.
The fishermen say they don't care about climate change, they just want their beach back. Nearly losing the Orozco brothers was the last straw and shortly after their rescue, other fishermen established an encampment near the San Cristobal.
The motor damage done to the Orozco brothers' boat had originally resulted from its propellers hitting rocks swept down the beach from the San Cristobal's construction site. The seawall, buttressed by truckloads of rocks, was built to protect the new hotel but also interrupts the stretch of beach where the fishing fleet has, for generations, hauled its boats ashore to harvest their catches. Within days of the Orozcos' return, the town turned out to support the fishermen's co-op, bringing food and supplies to their encampment that blocks the road to the beach — effectively halting construction on the hotel.
Juan Jose Peralta Torres, a representative of the Punta Lobos fishing cooperative, told BCS Noticias online news that the hotel construction has impacted the fishermen's business by reducing daily catches of shark and red snapper by at least 15 precious kilos. The co-op's eight demands addressed to Tres Santos range from compensation for boat repairs and economic hardship, to demolishing the seawall — which would probably mean tearing down the hotel.
Meanwhile, Robert McKinley, the designer brought in by Conley to design the private beach and pool club adjacent to the hotel, says he's unsure how it's all going to work. The powerful beach break at Punta Lobos poses potentially fatal risks for swimmers.
"It's weird for me, with the strong undertow," McKinley told Capital & Main. "I mean, who wants to go to a beach club where you can't swim in the ocean?"
Then again, the beach clubs McKinley has been associated with have not necessarily been about swimming. Ten years ago, as co-owner of the Surf Lodge in Montauk, on the tip of New York's Long Island, McKinley and his partners similarly drew the ire of locals in that little fishing community by transforming another down-market hotel into a hipster hotspot that drew all-night parties and road-clogging traffic.
Roused to action by the increasingly public outcry, state agencies overseeing the water supply—the Organismo Operador Municipal del Sistema de Agua Potable —have been meeting with Tres Santos/MIRA representatives to sort out the issues, from the fishermen's complaints to the development's water rights. The encounters, avidly reported by a local online news site, often via on-the-beach video, are animated and entertaining to watch, no Spanish required.
So far, the officials have declared in online reports that the developers actually do have some kind of water permit that they've paid for, but not exactly the right permit for the water they've been using. Unfortunately, no one knows how much water Tres Santos has used; the developers admit they have been tapping the town's water for many months without a meter. A soon-to-be-built desalinization plant, the company insists, will help fulfill their public promise not to burden the municipal water supply.
The developers have issued statements claiming everything they're doing is legal. A message posted by MIRA's Javier Barrios on a freshly created "inclusive community" website declares: "Our plan is designed to keep Todos Santos from being overrun by large, high-rise hotels and the kind of rampant, unchecked growth that is present elsewhere in the region and would destroy the magic of a place we love and want to protect."
"Check the facts," Chip Conley insisted in an email to Capital & Main. "Listen to both sides of the story as there are many locals who support the project for all kinds of reasons. More than anything else, I believe both sides—the critics and the developer—need to do a better job hearing each other. I've told the developer that."
Anti-Tres Santos activists in contact with Conley say his decision not to renew his contract was made before the holidays. Conley expressed to them his distaste for the personal level on which the conflict is being waged between the townspeople and Tres Santos. Conley had also been taking pains in recent months to distance himself from his partners, telling Capital & Main last November, "I've allocated a few hours a month to the project as a consultant, but my role has had nothing to do with the construction or development plan or water permits or the seawall."
Does that mean Conley accepts no responsibility for how the project turns out? What about all those people he was pitching the project to recently in Hollywood at "An Evening Dedicated To Mindful Living," hosted by Tres Santos at Wanderlust, a high-end yoga studio? Or at a similar event in New York last year?
"As a lover of Todos Santos, I want the project to be a net positive for the whole community," he avows, "and I've done my best to give feedback to the developer in that regard. And the developer has similar aspirations and seems to have appreciated the feedback they've gotten from me and others."
The fishermen's blockade will delay the Hotel San Cristobal past its scheduled April 2016 opening, says Bunkhouse founder and Conley protégé Liz Lambert. Like Robert McKinley, Lambert was enlisted by Conley. The hotel is now scheduled to open this fall.
"I think that issues around the development process are extremely complex, and things don't always go according to plans," Lambert told Capital & Main. "From my experience, I believe that the partners in the project have good intent, but given the current situation with a few of the locals who are against the project, my guess is that some things could have been communicated better."
Some local residents are still willing to give Conley the benefit of a doubt.
"Either he was knowingly exploiting his image on behalf of this project, or he was being lied to," resident Ricardo Madrazo speculates. "If he's truly sincere about the image he's created over the course of his entire career, I would appeal to him to cast a more critical eye on this project that he was representing."
Other Todosanteños who oppose Tres Santos have drawn a direct line between Airbnb's hospitality guru and what they see as a kind of groovy green-washing of what is essentially just another real estate developer trying to make a buck off cheap Mexican land. With Conley shedding his part-time gig for his full-time job at Airbnb—one of the trend-leaders in hiring liberal frontmen to lobby against regulations that might curtail their business—Tres Santos has lost its only progressive face.
What remains is an ongoing conflict, unavoidable as visitors entering the Pueblo Magico are greeted with a banner strung across the road that reads, "Defendamos Punta Lobos! La Playa es TUYA! (Let's defend Punta Lobos! The beach is YOURS!"). And as the fishermen's blockade of the construction site counts its second month, the issues raised in Todos Santos by Tres Santos are the same as those raised by Airbnb, Uber and other sharing economy businesses everywhere: Where gentrification pits the haves against the have-nots, who benefits and who loses?