Alternative Black History: Five Films
A Soldier's Story
Every year for Black History Month, the TV networks and premium movie channels roll out the same programming: Malcolm X, Mississippi Burning, The Color Purple…. It's not that these films aren't great; they are. It's just that every year for as long as they have been around, they're all that come on during February. I can quote The Color Purple line for line. The history of black folks is larger and more diverse than the civil rights movement and slavery. Let's give some other films a shot, shall we?
Let the Fire Burn

In the spring of 1985 a bomb was dropped on a row house in Philadelphia. A fire spread quickly and burned down 61 houses, eventually killing 11 people, including five children, and injuring numerous others. The fire and police departments stood by and did nothing to stop the blaze. They were operating under the direction of the Mayor of Philadelphia who gave the directive to let the fire burn.
Using archival footage and riveting testimony from surviving members of MOVE, Jason Osder retells the story of the MOVE organization from its idealistic beginnings to its revolutionary downfall. We talk about the violent past of black history as if it happened in the 1960s and stopped once we all overcame. Let the Fire Burn is a reminder that institutional racism is deep and we have much to overcome.
A Soldier's Story

I weep for you if you haven't seen A Soldier's Story. It's the only movie HBO ever played during February in the early 1990s. But there's a reason for that: It's a damn good film that features damn fine performances from Denzel Washington, David Alan Grier, Howard E. Rollins, Patti LaBelle and Robert Townsend.
Based on a Pulitzer Prize-winning play by Charles Fuller, the film centers on a black Army regiment in the South at the end of World War II. A black officer is sent to investigate the murder of a black sergeant and his findings are not what he first expected. The film explores the standard themes of racism, Jim Crow and segregation, but in a way that will rip at your heart as you recognize that this story is historical—but we have not moved very far forward.
Cooley High

Yes, you should watch Cooley High, if for no other reason than to find out where 65 percent of the slang you use today came from, and so you can hear what Cooley High Harmony really is. Aside from that, Cooley High is a glimpse into growing up black and male in 1960s America. (Spoiler alert: It's not so different from growing up black and male in 2014.)
Based on a real high school in Chicago and written by one of the creators of Good Times (you know it's going to be good now!), Cooley High has an epic soundtrack provided by Motown, '60s threads and some pretty fine lookin' mamas and papas.
Guess Who's Coming to Dinner

I never imagined in 2013 people would be freaking out over an adorable little girl pouring Cheerios on her black father after asking her white mother about the veracity of the statement that Cheerios are good for your heart. But there you have it: People still freak out about interracial couples. How weird is that?! But when you think about it, it was only 50 years ago when it was still illegal for black people and white people to get married in lots of places. So, in celebration of a biracial President and a biracial Cheerios girl and biracial people everywhere, definitely check out Sidney Poitier, Spencer Tracy and Katharine Hepburn in Guess Who's Coming to Dinner. Oh sure, sure you know what all about it. But chances are you've never actually seen the film, now have you?
Sidney Poitier plays the charming (what else?) doctor boyfriend of Hepburn and Tracy's daughter. While they consider themselves to be progressive, they are taken aback by her choice of mate. Hilarity ensues.
Get on the Bus
In 1995, something just short of amazing happened. Louis Farrakhan, the controversial leader of the Nation of Islam, along with
leaders of civil rights groups and local chapters of the NAACP, organized the Million Man March. Created to combat negative stereotypes the media was creating of black men and serving to bring black men together in strength, the demonstration was a complicated success. The event is portrayed beautifully in Spike Lee's film Get on the Bus.
Get on the Bus follows a group of men riding cross-country from L.A. to Washington D.C. for the march. It's a mish mosh of various types of men from all different backgrounds with nothing in common except their gender and race, which might be the most important thing of all.
Bonus Film:
The Wiz

… I didn't really think I'd have to justify this. It's The Wiz…
(This feature is cross-posted at Dog Park Media.)

'Skeleton Crew' Is a Play With a Moral Spine
Set in a Detroit automobile outfitting plant, Dominique Morisseau's drama grabs you from the start with its focus on blue-collar men and women, and their struggle for dignity and self-respect.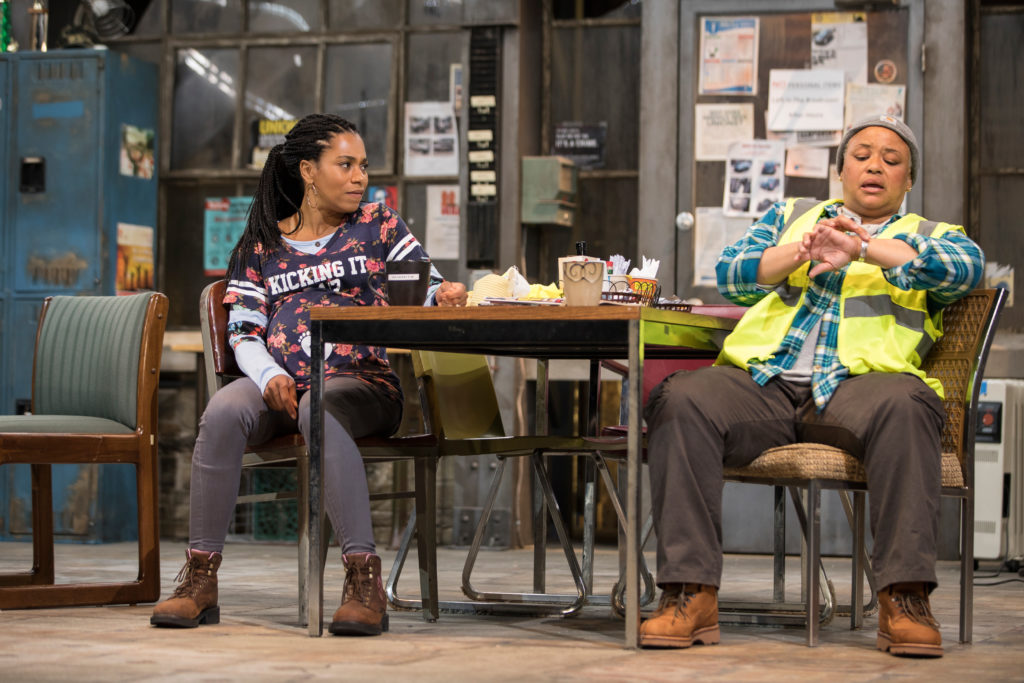 Working-class men and women of color are rarely front and center in today's media and, likewise, are presented all too occasionally on the American stage. So it's buoying to see that trend bucked in playwright Dominique Morisseau's percipient and well-crafted drama, Skeleton Crew. The play is the final installment in her Detroit  Project Trilogy; the first, Paradise Blue, is set in the 1940s amidst displacement caused by urban renewal and gentrification, while the second, Detroit '67, transpires on the eve of the 1967 Detroit riots sparked by a police action.
Directed by Patricia McGregor at Los Angeles' Geffen Playhouse, Skeleton Crew is a play with a moral spine. It takes place in 2008, when the shrinking U.S. auto industry is being further downsized. Morisseau's engaging quartet of characters — Faye (Caroline Stefanie Clay), Dez (Armari Cheatom), Shanita (Kelly McCreary) and Reggie (DB Woodside) – are employed at an automobile outfitting plant. Faye, Dez and Shanita are workers on the line while Reggie (who has a wife and kids, and has pulled himself together after a troubled youth) is their supervisor.
The first three customarily mingle in their break room (designer Rachel Myers' impressively cluttered, dingy and detailed set), trading the sort of familiar barbs and genuine concern for each other common among longtime co-workers. They also face off on philosophy: Upper-middle-aged Faye and the younger, pregnant Shanita take pride in their labor, while Dez, though a good worker, is a malcontent scornful of management and firm in the belief that everyone needs to watch out for himself. He's a thorn in Reggie's side, for while Reggie wants to be supportive of his workers, he must act at the behest of higher management. For his part, Dez resents Reggie's authority, and a palpable unease exists between them.
Besides this male matchup, we're made privy to Dez's attraction to Shanita, who mostly turns away his advances, but every now and then displays a hint of interest. Most poignant is Reggie's regard and affection for the lesbian Faye, which has roots in his boyhood when she loved, and lived, with his now-deceased mom.
These people's various predicaments intensify when rumors spread of the plant's shutdown — a disaster for all, but a particular calamity for the already near-broke Faye who, one year short of retirement, would lose her pension. The crisis forces each of these people to make a choice.
A sound piece of social realism, Skeleton Crew grabs you from the start in its focus on blue-collar men and women, and their struggle against odds for dignity and self-respect. Morisseau not only furnishes these characters a platform for their travails, she endows them with strong values, big hearts and the opportunity to choose between right and wrong.
Unfortunately, the performance I attended did not soar. Many exchanges lacked a fresh edge. The actors certainly had their characters down, but too often they appeared to be coasting on technique. (This seemed particularly true of Clay, who performed the role to great accolades in Washington, DC in 2017, also under McGregor's direction). Additionally, some of the stage movement was not entirely fluid; in confrontations, actors sometimes would just stand and face each other in an artificial way. And Cheatom's interpretation of Dez struck me as a bit overly churlish and depressive: I needed more glimpses of the intelligence and edge that would secretly attract the strong, self-directed Shanita.
The most compelling moments belong to Woodside, well-cast as a man trying his best in difficult circumstances to do the right thing.
---
Gil Cates Theater at the Geffen Playhouse, 10886 Le Conte Ave., Westwood Village; Tues.-Fri., 8 p.m.; Sat., 3 & 8 p.m. Sun., 2 & 7 p.m.; through July 8. (310) 208-5454 or www.geffenplayhouse.org