"Don't Believe Everything You Think." Remembering Teacher Alan Kaplan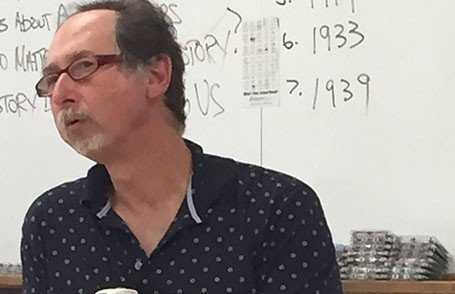 "We're not here because Mr. Kaplan helped us do better on standardized tests," said one of the nearly one thousand students, former students, teachers, and friends gathered Sunday in the auditorium of Hamilton High School on Robertson to honor the beloved teacher Alan Kaplan who died August 29th.
Mr. Kaplan taught history and psychology in Hamilton's Humanities Magnet program for 33 years. Through his teaching Kaplan was determined to do something about the achievement gap between white students and students of color. "He was devoted to helping students understand the process, the psychology and the history of racism in our country, believing it would be therapeutic," said a colleague. Using "The Peoples' History of the United States" by Howard Zinn as his history text, Kaplan's lesson plans connected students to what was happening beyond the school walls. "He opened up the world to us" was how a former student, now a teacher at the school, described it.
As photos were projected on a white sheet pinned to the stage curtain, speakers presented nearly four hours of testimony on the impact this dedicated, brilliant, non-conformist and charismatic teacher made on students' lives and sense of self-worth.
"Mr. Kaplan saw what was extraordinary and unique about you and made you see it and live up to what you saw – made you live up to your own excellence."
"Kaplan treated you like an individual; he respected you and trusted you but also called you on your bullshit…he made us question our own basic values and assumptions."
"Mr. Kaplan worked in ways that are unquantifiable. He was no saint, oh no, he fought his darkness all his life. He made you feel he knew everything you were hiding; he was as compassionate and non-judgmental a soul as you could find."
A few miles from Hamilton High, on the same day as Kaplan's Sunday memorial, multi-millionaire Eli Broad opened the new, self-funded modern art museum that bears his name. This is the same multi-millionaire who has donated a reported $144 million from his family foundation to "reform" the nation's public schools by promoting standardized testing, data-driven teacher evaluations, and the establishment of privately-run charter schools. Together with other corporate leaders, Broad has helped promote the notion that current teachers are a major cause of our students' achievement gap.
Needless to say, Alan Kaplan and Eli Broad did not see eye to eye on what students, teachers, and schools need to produce the next generation of Americans. Standardization, conformity, and privatization were not principles that played well with Kaplan's irreverent and challenging pedagogy. As an intellect with a social justice commitment, Alan cared about his student's success in life, "not as professionals but as worthwhile human beings and informed citizens," wrote his wife Erin Aubrey Kaplan. Sadly we've lost Al Kaplan, and Eli Broad remains to wield his influence on the LAUSD.
As a post on the "Well Wishes for Mr. Kaplan" Facebook page points out, "Eli Broad has a museum in his name but Mr. Kaplan's immortality project exists in the hearts and minds of his students and colleagues. As long as we remember him, he will continue to teach us."
"Rest in awesomeness Mr. Kaplan," reads another.