Aftermath: What the Vergara Decision Means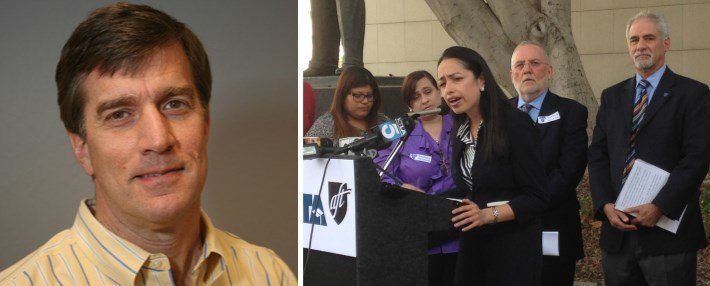 Left: Students Matter's David Welch. Right: Teachers speak out about Vergara ruling.
Reagan Duncan has taught a combined kindergarten-first grade class in Vista for 10 years. When she heard about Tuesday's ruling in the Vergara v. California trial, she feared the worst. The case's plaintiffs sought to throw out the state's job protections for its teachers on the grounds that the safeguards make it impossible to dismiss "grossly ineffective" teachers.
"My first thought," Duncan told Capital & Main, "was that it's going to make it harder for well-run school districts to operate classes for our students – and worse for poorly run districts. The laws in place for dealing with teachers who struggle in the classroom have been working. I've seen teachers let go – it's just not true that they never are."
The bench trial, which began January 27 and unfolded over 10 weeks, was funded by Students Matter on behalf of nine public school students who claim that California's policies violate the civil rights of students – particularly those of low-income and minority students – by denying them a quality education. Tuesday morning, Los Angeles Superior Court Judge Rolf Treu delivered, in sometimes caustic language, a ruling that denounced five California Education Code due-process laws that, for nearly a century, have shielded teachers from being arbitrarily fired for political or personal reasons.
"It shocks the conscience," wrote Treu of the testimony of the plaintiffs and their expert witnesses. In his ruling, the judge dismissively described the statutes' provisions regarding tenure, seniority and job performance as "misnomers," "bizarre," "illusory" and "tortuous." Treu, who was appointed to the bench by Republican Governor Pete Wilson, ruled the statutes to be unconstitutional but stayed his decision pending an appeal by defense lawyers representing the state or the California Teachers Association and the California Federation of Teachers. (Disclosure: Both unions are financial supporters of Capital & Main.)
Following Treu's ruling, it was educators across California who were stunned. Kelly Flores, a special education teacher at South Los Angeles' Maya Angelou Community High School, said she was "shocked and disappointed" by the ruling.
"The judge is saying our constitutional rights are not constitutional," Flores said. "The claim that civil rights are being violated is absolutely bogus. It's unconscionable that [the plaintiffs] would co-opt the civil rights movement to remove due process. Black and brown students in our area are now going to suffer the loss of experienced teachers, as teachers from Teach for America will come in with five weeks of training. It's the Walmartization of our profession."
Dean E. Vogel, president of the California Teachers Association, dismissed Treu's decision, claiming,  "This most recent shenanigan by corporate special interests and billionaires to push their education agenda on California public schools is resulting in a waste of taxpayer dollars and time – time that should be spent focusing on providing a quality education to all students as the economy improves."
In fact, Students Matter, like the civil rights narrative that it wraps itself in, is seen by many teachers as little more than a marketing facade for a coalition of free-market education advocates and privatization philanthropists. During a post-ruling media conference, the nonprofit's creator, Silicon Valley entrepreneur David Welch, did not answer a question about how much he had spent funding the plaintiffs' legal bills, although the New York Times and other sources have estimated the cost to be several million dollars. Welch and his allies (who include StudentsFirst founder Michelle Rhee and U.S. Under Secretary of Education Ted Mitchell) are further viewed by their opponents as mostly being interested in weakening or destroying teachers unions as an important step toward advancing their corporatist agenda.
"We see this as an effort to dismantle public education as we know it," Joshua Pechthalt, president of the California Federation of Teachers, told Capital & Main.
The plaintiffs team fairly gloated in triumph at their news conference. Speakers boasted of Treu's ruling having national reverberations while urging everyone involved in the case to move ahead.
"The defenders of the status quo must understand they must now lay down their swords," said plaintiffs' attorney Marcellus McRae. "The battle is over."
"Every day these laws remain in effect is an opportunity denied," added Los Angeles Unified School District Superintendent John Deasy  – who, to the dismay of many of his employees, had appeared during the trial as a star witness for the plaintiffs. "We can rectify a catastrophe. I look forward to working right away to help correct these laws."
There has been no immediate word from Sacramento of the Governor's or Attorney General's intentions on the question of appeal. State Superintendent of Public Instruction Tom Torlakson, who was named as a defendant, released a brief, low-keyed statement that noted, "Teachers are not the problem in our schools, they are the solution."
Torlakson's opponent for the superintendent's job in the November election, Marshall Tuck (who has received campaign contributions from David Welch and Vergara  plaintiffs attorney Ted Boutrous), was less restrained.
"As someone who's run school systems, I've felt the negative impacts of these laws which aren't kid-centric," Tuck told Capital & Main. "It shouldn't be a foregone conclusion that this gets appealed. The status quo should say we're going to move ahead."
Reagan Duncan remains pessimistic.
"There's going to be a huge wave of teachers leaving in the next few years as the baby boomers leave teaching," says the Vista instructor. "We're not going to be able to attract high-quality teachers if they are going to be constantly afraid that they may not be hired back each year."