AFL-CIO Convention: A Tale of Two Action Sessions
L-R: Panelists Alton Wilkerson, Uyen Le and James Elmendorf
The AFL-CIO closed out its quadrennial convention in Los Angeles yesterday with a morning remembrance to the victims of 9/11 before delegates rolled up their sleeves and finished up with a day of internal housekeeping and policy chores.
The convention might be remembered most for debuting its highly popular afternoon Action Sessions. Comprising about 50 workshops and panels over three days, these sessions gathered together innovative thinkers, cutting-edge organizers and committed activists from around the country to share the lessons learned in hard-won battles to moved labor to the center stage of a 21st century economy.
Collectively they signaled the AFL-CIO's seriousness about returning to the grass roots and leveraging one area where labor remains unrivaled and undiminished — its organizational power.
This commitment was especially clear at a Wednesday Action Session entitled "Policy Initiatives That Enable Organizing: Living Wage and PLA Campaigns."
Moderated by James Elmendorf, deputy director of policy at Los Angeles Alliance for a New Economy (LAANE), the panel looked at Southern California as a test bed for achieving progressive worker standards through Project Labor Agreements (PLAs) and via the ballot box.
Alton Wilkerson, an organizer with the International Brotherhood of Electrical Workers (IBEW) Local 11, along with Local 11 Outreach and Compliance Officer Uyen Le, reported on partnering with LAANE's Construction Careers campaign. The goal was to implement PLAs on government-funded building projects aimed at broadening the base of building trades unions in under-unionized communities.
Despite the union's early trials and errors in overcoming community and government agency resistance, Le said its success boiled down to winning targeted local hire requirements. Targeted hires appealed to developers as a means of earning crucial community support and was an irresistible policy to the agencies who ultimately signed off on the checks.
It wasn't a slam-dunk. "People have a hard time seeing how this is going to benefit their immediate community if they don't know anyone who's part of a union," she noted. "But if there's a message of, 'If this development happens, if this construction happens and there's an opportunity for people in your neighborhood to be able to make a good living' … it puts a persuasive human face on the issue."
That persuasion and persistence eventually culminated last year in convincing L.A. County's transportation authority to adopt a Construction Careers policy on $6 billion worth of Metro transit construction.
The panel also featured UNITE HERE's Political Director Derek Smith and organizer Soledad Garcia, both of whom have been at the forefront of organizing Southern California hotel workers around living wage laws.
Smith went into detail on last year's coalition-building campaign in Long Beach to pass Measure N, the city's historic minimum wage law that boosted pay to workers at large hotels to $13 an hour. He also described expanding those efforts in the union's current campaign in Los Angeles to convince the city council to pass a similar law that would raise the minimum wage for hotel workers here to $15 an hour.
One of the convention's most  potentially far-reaching Action Sessions bore the ambitious title "Jobs to Move America: National Partnership to Boost U.S. Manufacturing and Create Good Jobs in the Transportation Industry."
Moderated by AFL-CIO Organizing Department Director Elizabeth Bunn, the session became the public unveiling of a massive national campaign aimed at reviving America's heavy manufacturing sector.
Its essence was best condensed by panel member and Green For All executive director Kim Freeman Brown as "using public funds for public good."
What that encompasses was explained by the campaign's chief architect, LAANE co-founder and national policy director Madeline Janis. According to her, the campaign's origin was simply the notion of using the millions of public agency spending on "stuff" to boost U.S. manufacturing and the union jobs that come with it by encouraging local agencies to buy their stuff in America.
When Janis and her partners realized that "stuff" also included the $5.4 billion of rail cars and buses that U.S. transit agencies spend each year replenishing their fleets, they quickly scaled up what amounted to a smarter buy-American plan into a policy of national scope. The policy she was calling the U.S. Employment Plan was born.
Or almost.
Unbeknownst to LAANE, Larry Willis of the AFL-CIO's Transportation Trades Department (TTD) had also been trying to convince transit agencies to buy American, only to find himself in a purgatory of procurement-process fine print and government red tape. "We were just behind the curve," he recalled.
Then last year he read LAANE's U.S. Employment Plan. It was his "A-ha moment," said Willis, "a perfect marriage. … And it really is a very effective approach that gets us sort of through some of the legal challenges."
The plan detailed a series of incentives designed to level the playing field for unionized manufacturing in transit agency procurements. It spelled out incentives to offer higher pay and better benefits, incentives for more U.S. content, incentives for hiring from disadvantaged communities and incentives for offering good training programs.
With TDD's organizing muscle behind it, the plan was re-dubbed the Jobs to Move America Campaign and was still being fine-tuned for a November launch when Chicago Federation of Labor President Jorge Ramirez entered the picture.
Last February, Chicago Transit Authority announced bidding on a multibillion-dollar contract for 852 rail cars to be called the 7000-series. Ramirez wanted to weigh in on the process with the Move America plan. It shouldn't have been easy as there was no love lost between CTA Chairman Forrest Claypool and Chicago union leaders.
But Jobs to Move America was an offer that Claypool and Mayor Rahm Emanuel couldn't politically refuse. At least not up front.
"I really love the [plan], Ramirez enthused, "because it's crazy smart. It's stuff that requires some aspects of traditional labor movement thinking and acting, and this whole other side — it's just smarter than I could have ever imagined. In some of the meetings we've had at the city and the CTA, it was a very good feeling for me that we had essentially up-matched the city and the CTA when it came to expertise in this area."
And while the jury is still out in Chicago on whether CTA will finally adopt  Move America, for Janis it already represents a political validation of LAANE's original concept.
"This is our money," Janis summed up. "And we want our money spent in a way that's going to help our communities."
(Photo by Bill Raden.)

What the NLRB's About-Face on McDonald's Means for Franchise Workers
While the National Labor Relations Board is currently divided 2-2, the confirmation of another Trump appointee will restore the Republican majority — which is bad news for fast-food-chain workers.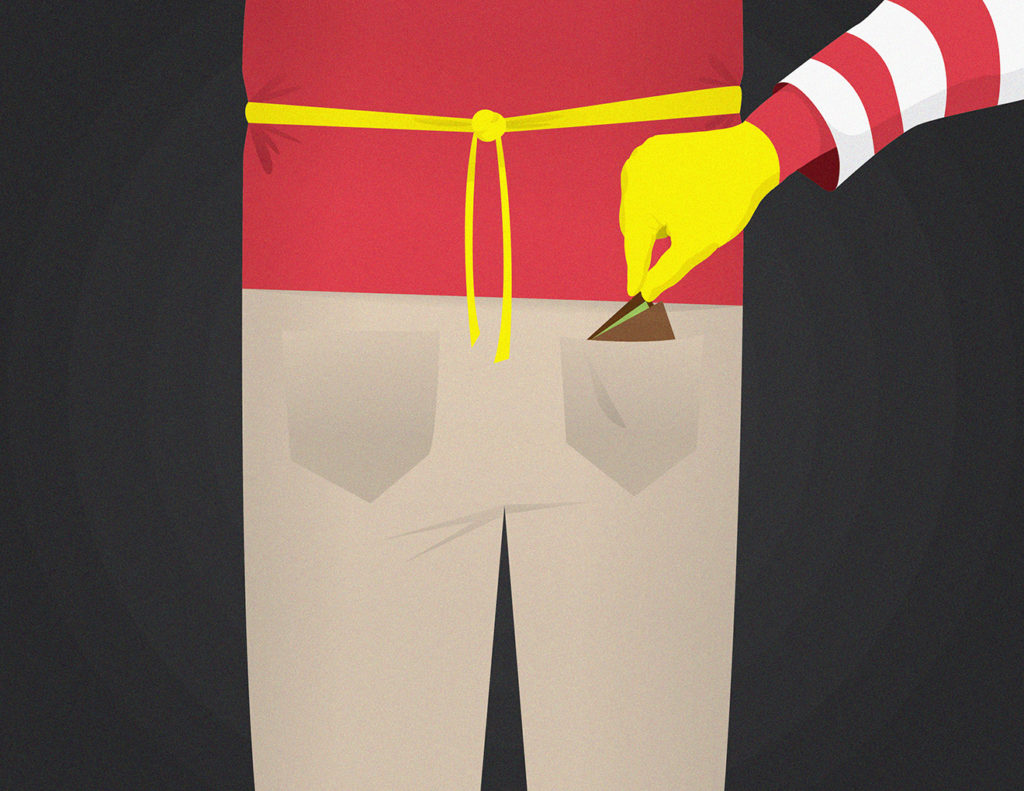 ---
With Donald Trump's election, the momentum at the NLRB is now with employers.
---
Workers at McDonald's joined the union-backed Fight for $15 campaign because many found that they could not get by on minimum wage without the help of family and public assistance. But joining that campaign spurred retaliation, with dozens of employees alleging that they lost money or their job for organizing to get better pay.
Enter the U.S. National Labor Relations Board.
In a victory for workers, the board decided the McDonald's Corporation was jointly responsible for punitive actions against employees across the country because the company dictates, among other things, how those employees cook and clean. That 2015 decision, in a case called Browning-Ferris, established a broad definition of "joint employer." It made franchisors potentially liable for the actions of individual franchises, citing the "indirect" control they exercised over employees and their workplaces. And it meant fast-food chains, among others, would have to collectively bargain with employees who joined a union.
Donald Trump was elected president the next year. By December 2017, the NLRB was back on the side of business with respect to who is and who is not a joint employer, the board overturning with a 3-2 vote the "indirect control" standard of Browning-Ferris.
Then a Republican member of the board retired, evenly dividing the NLRB along partisan lines. The board's inspector general then issued a report in February 2018 saying the December decision never should have been made — that, in particular, a Trump appointee should have recused himself due to a conflict of interest. The decision was thrown out, with congressional Democrats, such as Massachusetts Senator Elizabeth Warren, calling for hearings.
By that point, however, the NLRB had already ordered its lawyers to retreat in the most visible battle over the "indirect" joint-employer standard.
When an administrative trial began back in 2016, the NLRB had said McDonald's was jointly responsible for alleged labor violations at its franchises, including reduced hours, surveillance and wrongful termination of employees who had been organizing for better pay.
"If McDonald's is involved in determining working conditions at its franchised operations, it is responsible for what happens to workers subject to those conditions," NLRB lawyer Jamie Rucker said at the time.
But the NLRB sought and won a 60-day suspension of that trial earlier this year. Lawyers representing the Fight for $15 movement and its allies say the NLRB is now rushing through a proposed settlement that would see McDonald's get off without a finding of joint liability — which won't make it any easier for low-wage workers to collectively bargain.
"What I see is an attack on workers' ability to form a union," said attorney Marni von Wilpert of the progressive Economic Policy Institute (EPI). "If you were able to find a joint-employment relationship with the corporate [franchisor], then all of a sudden they all have one big employer, and all the employees can go to corporate McDonald's. That's really what it's all about, whether workers can organize."
Under the proposed settlement, McDonald's admits no wrongdoing, but its franchisees agree to cover back pay for workers fired as a result of their organizing.
The NLRB "is proposing a sham settlement," said Mary Joyce Carlson, a lawyer representing Fight for $15. "McDonald's directed a wave of retaliation that stretched from coast to coast and included illegally harassing, surveilling and firing workers in the Fight for $15. The hardworking cooks and cashiers who were organizing to get off of food stamps and out of poverty deserve a ruling in their case, not a settlement hammered out at the last minute in collusion with the Trump administration."
With Trump's election, the momentum at the NLRB is now with employers. Any setbacks would appear to be temporary: while divided 2-2 for now, the confirmation of another Trump appointee will restore the Republican majority. Once that happens, the NLRB can be expected to seek another opportunity to overturn the Browning-Ferris joint employer standard.
While Browning-Ferris did not explicitly pertain to the franchise model, it clearly spooked those who depend on it — and inspired those who think franchisors like McDonald's should be liable for the mistreatment of employees at locations bearing its name.
Fight for $15 has prioritized organizing at fast-food businesses, but forming unions is extremely difficult when a dozen small restaurants with the same name may have a dozen different owners. There are over 14,000 McDonald's restaurants in the United States, with only one in 10 owned by the corporation. The ability to collectively bargain with McDonald's, the corporate franchisor, would make a union's task easier — and help address the sort of labor violations that regulators routinely find at fast-food franchises. An EPI report says unionized workers are half as likely to be victims of wage theft, for example.
At an April 5 hearing, Fight for $15 attorney Kathy Krieger urged NLRB Administrative Law Judge Lauren Esposito to reject the settlement. Krieger argued that McDonald's had conspired with its franchises to thwart worker organizing, the corporation recommending, she said, that franchisees "restrict crew members from taking their meals or their rest breaks outside the crew room" as a means "to prevent concerted activity."
McDonald's attorney Willis Goldsmith said the company would never accept a settlement identifying it as a joint employer. "The franchisees, they're independent business people," he said. "They did whatever they did, and if they are willing to concede that, they're going to have to pay people. It's not our job."
While it appears the NLRB under Trump will ultimately reimpose the stricter, pre-Browning-Ferris standard that a joint employer must have direct rather than indirect control of workers, industry groups aren't taking any chances.
Jenna Weisbord, a communications manager at the International Franchise Association to which McDonald's belongs, said her group is looking to Congress to pass the "Save Local Business Act," which would legislatively reimpose the pre-Browning-Ferris standard. "We understand the Senate will take on this task later this year," she said of the bill, which passed the House last year.
A television ad campaign sponsored last year by the franchise association and the U.S. Chamber of Commerce argues the measure would restore "balance to labor law" in the face of a "runaway government agency." That agency, in the era of Trump, is increasingly tilting in the favor of business.
---
Copyright Capital & Main