Action at Walmart's Home Office as Caravans Arrive in Bentonville!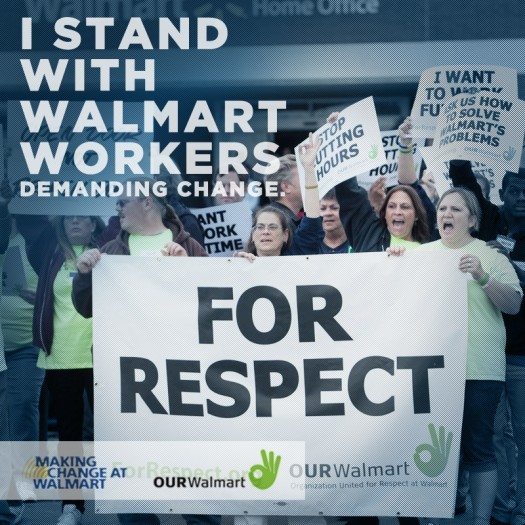 This week, Frying Pan News has been following stories as Walmart workers joined caravans coming from across the country, converging at the company's annual shareholders meeting in Bentonville, Arkansas. This post originally appeared on MakingChangeAtWalmart.org. Video of the action is here. 
What a week! After an action-packed journey, the six Ride for Respect caravans all arrived safely in Bentonville, Arkansas over the weekend.  But the buses of #Walmartstrikers were not about to sit around until Friday, when Walmart's annual shareholders meeting will take place–that's for sure!
[Mon] morning, a group of 200 OUR Walmart members and supporters marched through the misty dawn to Walmart's Home Office, and arrived just as the employees at the headquarters were filing into work. Quietly, the throngs of green shirts spread out in front of Home Office–many in the crowd had tape-covered mouths with "ULP strike" written across, symbolic of how many of the workers had been silenced by Walmart when speaking out on the job. But then, they removed their tape, and began to do what OUR Walmart does best!
Chants and songs about respect erupted, and together, they made their voices heard.  ULP strike signs showed an array of messages about how the workers would like to see change at Walmart, regarding being treated with respect as associates and putting an end to threats and retaliation for speaking out at work.
We can't wait to see what the #WalmartStrikers have in store for the rest of the week leading up to the Shareholders meeting, where they will carry the messages of many more Walmart workers to the executives.
Below is the story of Esmeralda Uvalle, who took part in this morning's action and traveled to Bentonville on the Seattle caravan:
"I've worked at Walmart store number 2596 in Mount Vernon, WA as a cashier for 10 years.  I make 12.70/hr, and have to live paycheck to paycheck.  I find it hard to support my family, and even as a full-time Walmart associate, I'm still unable to afford health insurance for two my teenagers.
I've gotten a lot of my strength from my mother.  She was a hard worker, you know, the type who never gave up and always taught her kids to keep fighting.  When I was younger I was bullied, and now my daughter is being bullied.  Today, I hear stories about bullied kids taking their own lives, and it makes me think that all of us need to stand up and not let people bully us.  We cannot dwell on what the bullies tell us we are or how sometimes they make us feel; if we do it will make us weak and we will eventually give in to the idea that we have no power and that the bullies are right.  My husband Steven is with me on this trip, and he is also one of the biggest reasons I am here.  He helps me stay brave when I begin to feel afraid, and I know that I would not be on this caravan if it wasn't for my husband Steven.
In my store, I have yet to really see someone stand up for themselves.  What I do see are employees going into the store manager's
office, then coming out crying.  Nobody is able to stick up for themselves.  Recently, my manager brought me into her office and told me that she was going to take me from full-time to part-time.  She tried to trick and intimidate me into believing that I (not management) was the reason for my low hours the past week, and tried to make me sign a document agreeing to be taken down to part-time status.  I told her that it was in fact her fault for scheduling me that way and instead we signed an agreement stating that there will be no change to my full-time status.  My coworker applauded me for standing up to management, and without my involvement in OUR Walmart, I doubt I would have been able to stand up to her.  I probably would have signed the paper, and now be a part-time employee.
To me, being a member of OUR Walmart means that I really do have rights.  I see workers who are willing to stand up for what's right, and community and family who want the best for us.  I now have the courage to stand up for myself, and it's amazing that everything I've learned from being a member of OUR Walmart has turned out to be true.  My rights as a worker were always there, and now with the help of OUR Walmart, I understand how to exercise them with my coworkers.
I am going to Bentonville because Walmart needs to stop retaliating against those who speak out.  I would like to see Walmart treat associates with respect, and end their attempts to silence those who speak out for change.
This is my first experience on strike, and in the beginning I was extremely nervous.  When my coworkers and I presented our letter of intent to strike to our store manager, I thought he was going to cause a huge commotion or possibly fire me on the spot.  I was surprised at how discreet he was, as he calmly asked to speak to us outside the store.  After I told my manager I was going on strike I felt like I had power, like yeah, you know, I can really do this!
It's awesome to see how many people are involved in the strike and how there are so many new members like myself.  So far it's been a neat experience, as I've never done anything like this before.  I think it's great that people like me are able to come together on this trip to fight for the same things.  It's amazing!"
Don't forget to pledge your support for Walmart strikers like Esmeralda here.
***
Legal Disclaimer: UFCW and OUR Walmart have the purpose of helping Wal-Mart employees as individuals or groups in their dealings with Wal-Mart over labor rights and standards and their efforts to have Wal-Mart publically commit to adhering to labor rights and standards. UFCW and OUR Walmart have no intent to have Walmart recognize or bargain with UFCW or OUR Walmart as the representative of Walmart employees."