ACLU to Greyhound: Keep Border Patrol Off the Bus
Greyhound allows U.S. Customs and Border Patrol agents to carry out random searches for undocumented immigrants on their buses without a warrant. The ACLU wants passengers left alone.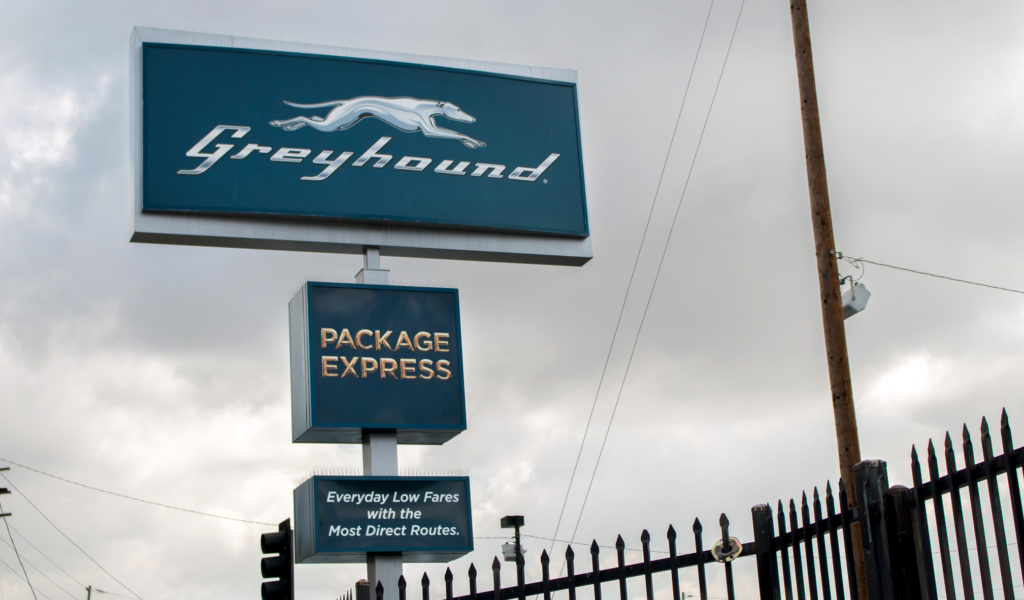 Riding a bus while brown is not illegal, of course, but the letter of the law and how laws are actually enforced are not often the same thing. According to the American Civil Liberties Union, having skin that's darker than pale is an increasingly common reason for U.S. immigration agents to interrogate a passenger — without a warrant, without probable cause — on private buses across the country, far from any border.
U.S. Customs and Border Patrol would deny any bias, but it defends its practice of boarding Greyhound buses in an effort to detain undocumented immigrants. "For decades," a spokesperson said, "the U.S. Border Patrol has been performing enforcement actions away from the immediate border" — per U.S. law, as many as 100 miles away from one, encompassing two-thirds of the U.S. population.
But the ACLU says that doesn't mean anyone need consent to what it sees as unreasonable searches of people whose only crime, the group argues, is being perceived as foreign.
On March 21, the ACLU sent a letter to Greyhound imploring the company not to cooperate with CBP agents whose "intrusive encounters often evince a blatant disregard for passengers' constitutional rights." The letter cites news reports where passengers alleged bias — in Vermont, for example, a woman said CBP agents appeared to focus on "people who had accents or were not white."
A spokesperson for Greyhound did not return a request for comment. The company has previously said only that it is required to comply with federal law.
Outside a Greyhound station on the outskirts of downtown Los Angeles, the ACLU of Southern California took the message to those riding Greyhound's buses on Friday.
"We really want passengers to be aware of what their rights are," Sandra Kang, a paralegal with the group, said in an interview. "They have the right to remain silent; they have the right to refuse consent to a search without a warrant; they have the right to record," she noted. Behind her, ACLU volunteers held postcard-size enumerations of those rights that they planned to pass out for the next two hours.
The practice of boarding buses and quizzing passengers on their citizenship is not new, having taken place under the Obama administration as well. But, following criticism from immigrant rights advocates and civil liberties groups, the practice was reportedly ended in September 2011, according to the Associated Press.
The searches have begun again under President Donald Trump, and with renewed vigor, spurring allegations of prejudice around the country and in California, especially, where more than 10 million immigrants — and tens of millions of their descendents — reside.
In January, a man in Riverside County told the local CBS affiliate that CBP agents harassed him and demanded two forms of identification after they saw him filming their interrogations on a Greyhound bus; the man was a U.S. citizen targeted, he felt, over his Mexican heritage. In February, CBP agents told another local resident that they they had stopped him from boarding a Greyhound bus because his "shoes looked suspicious," according to the ACLU.
Craig Byrnes, a local attorney, said he came out to the ACLU's action on Friday because was outraged over such alleged incidents of bias on the part of federal law enforcement agents.
"Customs and Border Patrol is going on Greyhound buses and harassing people based on what they look like — what the color of their skin is — and that," Byrnes said, "is not the kind of country I want to live in."
Buyer's Remorse: Why Did McFarland End Its ICE Contract?
The closure of an immigrant detention center could represent a setback for the Trump administration's aggressive immigration enforcement policies.
---
California currently jails about 4,500 ICE detainees — more than any other state except Texas.
---
For four years the farm community of McFarland, Calif. (population 15,000), quietly earned extra cash through a contract with Immigration and Customs Enforcement. ICE's Byzantine protocols allowed the agency to jail 400 undocumented immigrants in the nearby city of Bakersfield — while McFarland collected a fee from the GEO Group, the private prison firm that actually runs the facility. No one questioned the arrangement until California's attorney general and its state auditor started asking questions last summer.
Now McFarland has announced it will terminate its agreement to operate the Mesa Verde Detention Center, effective in mid-March, although questions remain about exactly how and why McFarland came to its decision, and about the town's motives — were they political or strictly financial?
---
ICE often contracts with local governments to get detention centers up and running quickly and under the public radar.
---
McFarland's decision to sever ties with ICE was made behind closed doors, but letters and emails Capital & Main obtained through a public records request reveal that state sanctuary laws — and an attorney general's investigation authorized through one of them — prompted the move. Indeed, the McFarland case could be seen as an early victory for California in its efforts to rein in ICE, and proof that the state's sanctuary laws have teeth and are not merely political gestures. The city's pivot could result in the closure of the facility and represent a setback for the Trump administration's aggressive immigration enforcement policies, which depend on an ample supply of detention beds.
ICE often contracts with local governments like McFarland's to get detention centers up and running quickly and under the public radar. Using Intergovernmental Service Agreements, the agency can handpick a private prison firm while legally bypassing open competitive bidding that is otherwise required in federal contracting.
---
If localities continue to terminate contracts, ICE operations could get complicated, said one former senior ICE official.
---
California currently jails about 4,500 ICE detainees — more than any other state except Texas. They're held in county jails and private prisons from Marysville to Adelanto to Calexico.
But the number of California's detention sites is declining. Last summer, Contra Costa and Sacramento counties also terminated ICE detention contracts. If the trend accelerates, ICE operations could get complicated, said one former senior ICE official who asked not to be named.
"There are limited facilities," she said. "If a few thousand beds dropped off the radar, it would be a challenge."
In Sacramento and Contra Costa counties, activists had protested subpar detention conditions and demanded that elected officials take a close look at the facilities.
*   *   *
Nationwide, reports of detainee abuse compiled by human rights groups and the Department of Homeland Security Inspector General include accounts of spoiled food, unsanitary living quarters, unwarranted use of solitary confinement, medical neglect and preventable deaths that have become commonplace.
---
In 2016, ICE's own inspectors found Mesa Verde deficient in 12 of 16 standards it reviewed.
---
"I think we're chasing dollars at the risk of being morally bankrupt," said Sacramento County Supervisor Patrick Kennedy last June as he announced he'd vote against renewing an ICE contract that brought $6.6 million annually to county coffers.
But McFarland came to no such public reckoning — city officials had been tight-lipped about their reasons for canceling their ICE contract, despite reports of substandard conditions at Mesa Verde by the American Civil Liberties Union and local activists, who recently raised concerns with the city about a suicidal detainee who was placed in solitary confinement and denied an outside visitor.
In 2016, ICE's own inspectors found Mesa Verde deficient in 12 of 16 standards it reviewed, including those covering sexual assault prevention, medical care, use of force and telephone access.
---
McFarland didn't provide minutes of the city council meeting in which the termination was agreed upon.
---
McFarland's city manager, John Wooner, explained in a letter to GEO Group executive vice president Amber Martin that the city's ICE contract "has been a satisfactory arrangement for the City until recent adoption by the state of California of legislation impacting facilities such as Mesa Verde…. and the recent demands by the State Attorney General and Auditor …"
*   *   *
Rural McFarland is one of California's poorest cities. It enjoyed a moment in the spotlight when it was featured in McFarland, USA, a 2015 Disney film about a local high school's underdog cross country team that beat the odds to win nine state titles. It's home to three  private prisons operated by the GEO Group.
In 2015 McFarland officials made it possible for the company to also run Mesa Verde in Bakersfield; the lockup takes in at least $15 million annually, based on ICE's daily per-detainee rates. The city agreed to sign an Intergovernmental Service Agreement with ICE for the facility's operations — even though Bakersfield had declined to sign such an agreement. "The City of Bakersfield has chosen over the years not to own, operate or seek out prisons," city manager Alan Tandy wrote to Capital & Main in a 2017 email, which Tandy says represents his current view. "It is not our preferred means of building the tax base. Several of the smaller cities in Kern County have chosen the opposite path."
---
McFarland appeared unprepared for scrutiny from California's attorney general and state auditor.
---
Wooner assured McFarland's mayor and city council in a January 2015 memo that the city would have no actual role in running Mesa Verde, which, after all, is located 25 miles away. Instead, it would collect $35,000 a year for acting as an intermediary, passing GEO Group invoices on to ICE, and collecting GEO's payments.
Such arrangements are in place with at least 16 other local governments around the country.
In practice the city had nothing to do with operations at Mesa Verde. However, on paper its ICE contract makes the city responsible for everything from providing medical care to hiring qualified staff, and it appears state officials tried to hold the city accountable.
Last August, both the state attorney general's office and the California state auditor announced they would visit Mesa Verde and demanded a slew of documents about the detention center's operations. The Joint Legislative Audit Committee also tasked the state auditor with investigating California's immigration jails last year.
McFarland appeared unprepared for the state's scrutiny; Wooner and City Attorney Tom Schroeter hired an outside law firm to handle the matter and fired off emails to GEO for guidance.
---
Today the fate of Mesa Verde and its nearly 400 detainees is unclear.
---
In a closed-door meeting with the city council in September 2018, Wooner said he had none of the records the state requested and that the city had no control over scheduling at Mesa Verde, the meeting minutes show.
However, Wooner suggested that if the price were right, maintaining the city's detention contract would be a good move. He advised the city council to threaten GEO with termination of the ICE contract if it didn't raise the city's fee to a quarter of a million dollars, comparable to what Wooner said Adelanto receives from the company. The council voted 3-2 to accept Wooner's plan.
But it ultimately terminated its ICE agreement, giving the agency 90-day notice on December 19.
GEO Group spokesman Pablo Paez denied in an email that the city of McFarland asked for a raise.
It's unclear how the city arrived at its decision because it didn't provide minutes of the city council meeting in which the termination was agreed upon. City officials argued the minutes are not disclosable under the state public records act, and Wooner didn't return phone calls for comment.
*   *   *
Now, the fate of Mesa Verde and its nearly 400 detainees is unclear.
By law, California cities and counties are barred from entering into new ICE contracts, making it unlikely ICE could find another local government with which to partner. It would presumably have to put the Mesa Verde contract out for bid to continue operating the facility. However, in Taylor, Texas, ICE continued to operate the T. Don Hutto Detention Center through a "short-term contract extension" with prison firm CoreCivic two weeks after officials in Williamson County ended their contract with ICE, the Austin American Statesman reported.
Paez declined to answer questions about whether Mesa Verde would remain open, referring queries to ICE, which also didn't respond.
Immigrant rights activists say they'd applaud a closure; they're currently protesting the lack of information about the facility's fate.
"We're trying to reduce detention," said the Rev. Deborah Lee, a leader in the fight to end Contra Costa County's ICE contract. "If they don't have the beds, they'll be forced to go to alternatives."
Jordan Wells, an attorney with the ACLU of Southern California, said he worried that detainees could lose their legal representation or be forced to stay in detention longer if their cases were delayed as a result of a move out of state.
"We're concerned about lack of transparency and for the rights of people in Mesa Verde with connections to attorneys and families, and how transferring them out of state would infringe on those rights," he said.
The ACLU was among more than 70 civil rights and grassroots groups that signed a statement this month demanding a "fair and just closure" if Mesa Verde ceases operations, along with answers to questions about any plans in place "for the transfer, relocation or release of those detained at the facility."
Meanwhile, the state attorney general's report on California's detention centers is expected February 26.
---
Copyright Capital & Main