Abbott & Costello's Vintage Union Bashing
This week a DVD of The Abbott and Costello Show's 1953-54 season was released amid nostalgic fanfare. The old comedy team is mostly remembered today because of its immortal "Who's on First" baseball routine – an almost Beckettian example of miscommunication that's been enshrined in Cooperstown's Hall of Fame. However, the two Jersey boys also enjoy an afterlife in conservative circles through a very similar sketch, "The Loafers Union," in which straight man Bud Abbott proudly announces to sidekick Lou Costello that he has landed a "loafing" job at a bakery. From this spare description, fans of "Who's on First" can pretty much guess the kind of linguistic linguine the two former Vaudevillians will make of this double entendre:
Abbott: I got a job at a bakery.
Costello: Good! What're you doing there?
Abbott: Loafing.
Costello: Loafing?
Abbott: Loafing!
Costello: Where?
Abbott: In a bakery.
Costello: You working?
Abbott: Well, certainly.
Costello: Doing what?
Abbott: Loafing!
Unlike "Who's on First," the bakery sketch soon acquires a political edge as the gag about the making of loaves being confused with gold-bricking takes a potshot at the presumed slack work ethic of union members.
Abbott: I work for the baker, I'm loafing there.
Costello: You loaf — you don't do a thing! How much do they pay you at the baker store?
Abbott: A dollar and a half an hour.
Costello: For loafing.
Abbott: I'm a union man! I belong to the union!
Costello: I'm loafing here, and I don't get nothing for it!
Abbott: You're not supposed to get money for that kind of loafing!
Costello: Can I loaf there with you?
Abbott: I should say not; you've got to join the union.
Costello: I gotta join a union of loafers?
Abbott: You can't loaf without belonging to the union.
Costello: Well, what do you think of that? You mean I gotta join a union in order to loaf?
Abbott: Well, certainly!
Costello: Don't say nothin' but I was loafing here [without] the union knowin'.
Abbott and Costello were not known for their offstage politics, although Costello's daughter, Chris Costello, has written that her father was convinced of a Communist plot to dominate Hollywood. (An ardent supporter of Senator Joe McCarthy, Costello insisted that all his employees sign anti-Communist petitions.) The only other union reference that I know to be associated with the comedy duo comes up in the film Abbott and Costello Meet Frankenstein, where Costello's baggage handler character seems to be trying to gouge a wax museum owner into paying him more money than he deserves:
Wilbur (Costello): Well, then it's gonna cost you overtime because I'm a union man and I work only 16 hours a day.
Mr. McDougal: A union man only works eight hours a day.
Wilbur: I belong to two unions!
By 1948 (the time of Abbott and Costello Meet Frankenstein's release) union militancy in Hollywood was ebbing and the entertainment blacklist had just begun. "The Loafer's Union" probably first appeared in the early 1950s, just as membership in the American labor movement was cresting – and around the time that anti-union propaganda began depicting union members as lazy, pampered "loafers." (Bud Abbott's $1.50 an hour wage at the bakery was double the minimum wage in 1952.) That loafing trope has persisted to this day as a cornerstone of the American right's mythology about unions and, really, workers in general – especially in its attack against public-sector employees.
Some oft-quoted figures from the Bureau of Labor Statistics, however, tell a far different story. Between 1947 and 1973, the productivity of American workers rose 104 percent; between 1973 and 2013, it rose 108 percent. No one can really hold a grudge against Abbott and Costello for playfully helping to create, so many years ago, the myth of the indolent American worker. We can only wish Bud and Lou the very best in whatever right-to-work heaven they reside in. But when we laugh at their shtick about bakeries, loafing and unions, it is only because we're aghast at how wrong two guys could be.
'Skeleton Crew' Is a Play With a Moral Spine
Set in a Detroit automobile outfitting plant, Dominique Morisseau's drama grabs you from the start with its focus on blue-collar men and women, and their struggle for dignity and self-respect.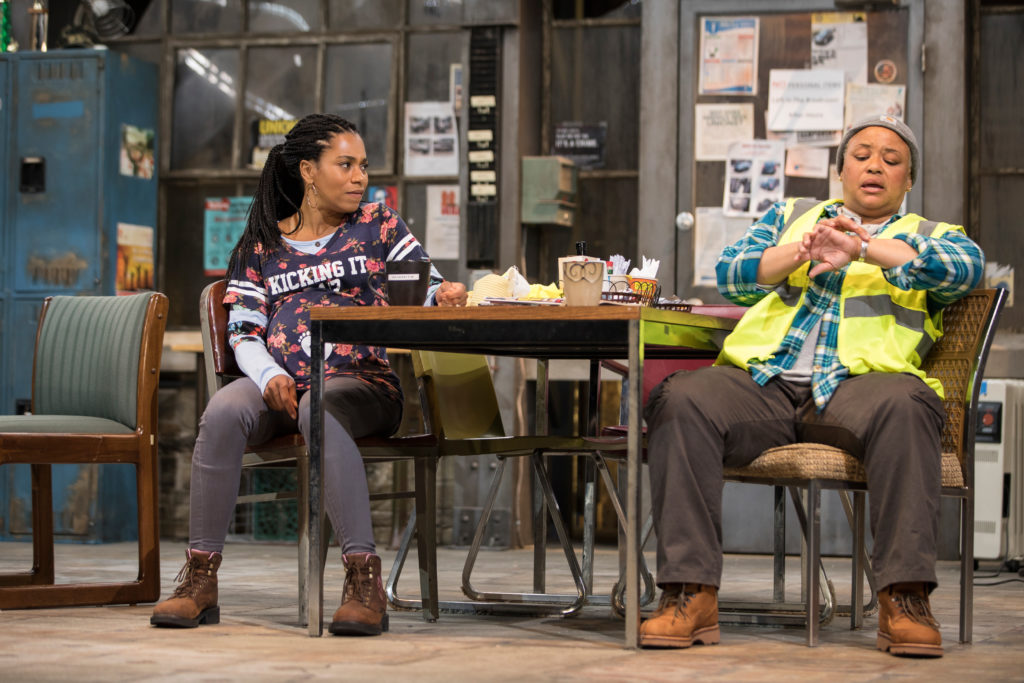 Working-class men and women of color are rarely front and center in today's media and, likewise, are presented all too occasionally on the American stage. So it's buoying to see that trend bucked in playwright Dominique Morisseau's percipient and well-crafted drama, Skeleton Crew. The play is the final installment in her Detroit  Project Trilogy; the first, Paradise Blue, is set in the 1940s amidst displacement caused by urban renewal and gentrification, while the second, Detroit '67, transpires on the eve of the 1967 Detroit riots sparked by a police action.
Directed by Patricia McGregor at Los Angeles' Geffen Playhouse, Skeleton Crew is a play with a moral spine. It takes place in 2008, when the shrinking U.S. auto industry is being further downsized. Morisseau's engaging quartet of characters — Faye (Caroline Stefanie Clay), Dez (Armari Cheatom), Shanita (Kelly McCreary) and Reggie (DB Woodside) – are employed at an automobile outfitting plant. Faye, Dez and Shanita are workers on the line while Reggie (who has a wife and kids, and has pulled himself together after a troubled youth) is their supervisor.
The first three customarily mingle in their break room (designer Rachel Myers' impressively cluttered, dingy and detailed set), trading the sort of familiar barbs and genuine concern for each other common among longtime co-workers. They also face off on philosophy: Upper-middle-aged Faye and the younger, pregnant Shanita take pride in their labor, while Dez, though a good worker, is a malcontent scornful of management and firm in the belief that everyone needs to watch out for himself. He's a thorn in Reggie's side, for while Reggie wants to be supportive of his workers, he must act at the behest of higher management. For his part, Dez resents Reggie's authority, and a palpable unease exists between them.
Besides this male matchup, we're made privy to Dez's attraction to Shanita, who mostly turns away his advances, but every now and then displays a hint of interest. Most poignant is Reggie's regard and affection for the lesbian Faye, which has roots in his boyhood when she loved, and lived, with his now-deceased mom.
These people's various predicaments intensify when rumors spread of the plant's shutdown — a disaster for all, but a particular calamity for the already near-broke Faye who, one year short of retirement, would lose her pension. The crisis forces each of these people to make a choice.
A sound piece of social realism, Skeleton Crew grabs you from the start in its focus on blue-collar men and women, and their struggle against odds for dignity and self-respect. Morisseau not only furnishes these characters a platform for their travails, she endows them with strong values, big hearts and the opportunity to choose between right and wrong.
Unfortunately, the performance I attended did not soar. Many exchanges lacked a fresh edge. The actors certainly had their characters down, but too often they appeared to be coasting on technique. (This seemed particularly true of Clay, who performed the role to great accolades in Washington, DC in 2017, also under McGregor's direction). Additionally, some of the stage movement was not entirely fluid; in confrontations, actors sometimes would just stand and face each other in an artificial way. And Cheatom's interpretation of Dez struck me as a bit overly churlish and depressive: I needed more glimpses of the intelligence and edge that would secretly attract the strong, self-directed Shanita.
The most compelling moments belong to Woodside, well-cast as a man trying his best in difficult circumstances to do the right thing.
---
Gil Cates Theater at the Geffen Playhouse, 10886 Le Conte Ave., Westwood Village; Tues.-Fri., 8 p.m.; Sat., 3 & 8 p.m. Sun., 2 & 7 p.m.; through July 8. (310) 208-5454 or www.geffenplayhouse.org