"Happy New Year!" is the salutation we use to greet each other around the turn of every year. We talk as if what is past has disappeared in the rear view mirror and that what's ahead will be brand new, novel and something completely different. In newspapers, blogs, magazines and cartoons, we survey the events of the year past and make predictions about the year ahead.
In reality not much ends on December 31st except the calendar hanging in our kitchen. Instead, the issues of one year carry over into the next. The behaviors of one year become the practices of the next. In the real world, matters of conflict and tension continue over years, even over decades.
This is the baggage that we'll continue to carry with us in the new year:
Our national health care program, still in its first roll-out process, will surely continue to expose its bugs and complications. While the government smooths out its kinks, the wrinkles on the corporate side are just beginning to show up. It will take some time to discover just what problems Congress embedded in this new system and how to take care of them.
Immigration reform has not budged off of last year's stalemate, although House leaders are making noises. The principles they present will likely serve a re-election strategy more than they will aid the families stranded between citizenship and deportation, between survival and working off-the-books jobs, between an education and restrictions to higher achievement. Families have been torn apart because one parent is a citizen, the other not; because both parents arrived undocumented and their children were born here; because people discover they were born in another country years after they were brought to America as infants. Theses disruptions will not go away easily.
The gap between rich and poor still plagues America – nothing has changed the factors that carved that chasm. The newest free trade agreement fast-tracked by the Obama administration carries no more requirements for manufacturers to build things in this country than the one Congress passed 20 years ago under Bill Clinton. The malefactors who created the financial meltdown six years ago have not been prosecuted or punished. Low-income workers are still earning a minimum wage at starvation levels. We have heard lots of rhetoric, but no action has changed any of the elements that perpetuate the shrinkage of the middle class.
To this list of ongoing issues we could add climate change, worker's rights, corporate malfeasance and political gridlock. But change never happens overnight. Martin Luther King Jr. famously said, "The arc of the moral universe is long but it bends toward justice." I believe that it does. But it does not bend quickly, nor does it shift without persistent struggle, nor does it curve over without many people committed to making justice real.
So we must keep our faith intact, keep organizing for change, keep working on issues together – these are the signs of hope I look toward in 2014.
The Tests Facing California's New Governor
Gavin Newsom now leads the state with the nation's biggest economy and largest population — and one riven by economic inequality. What will be his most important challenges?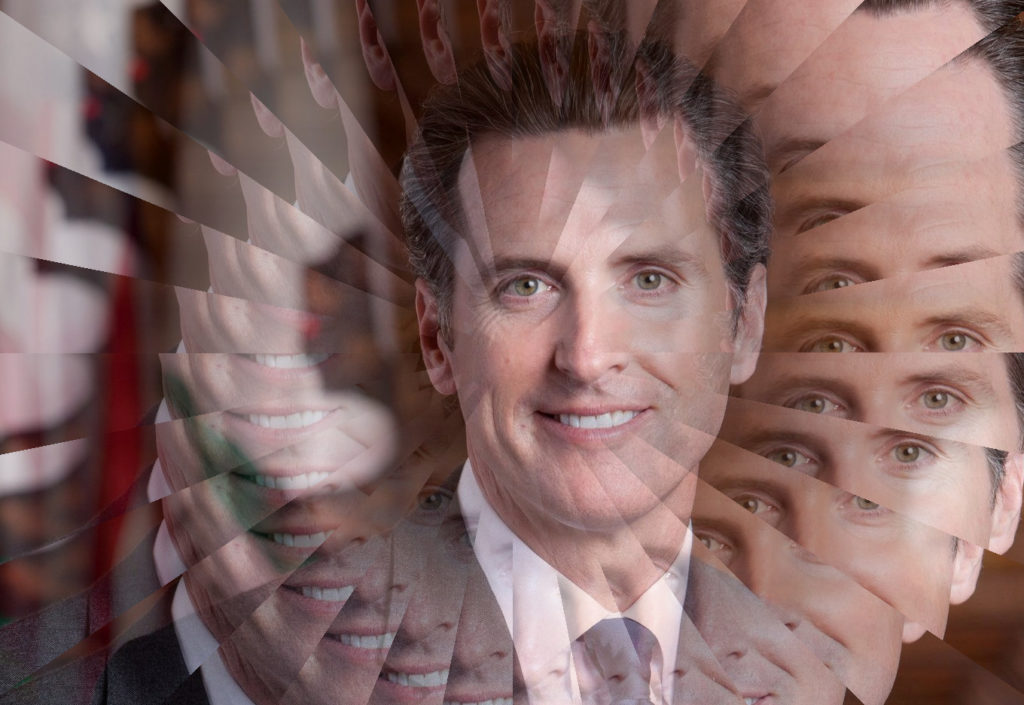 Gavin Newsom inherits a state that should be any governor's dream: A California that is the cradle of the tech revolution and brims with prosperity, a one-party state with supermajorities in both chambers for Newsom's Democrats. But there are clouds darkening the horizon: Daily prophecies tell of coming economic storms; legislative initiatives taken on behalf of immigrants, retirement security and the stemming of global warming are increasingly thwarted by a bellicose White House. And that Democratic Party monopoly in Sacramento masks a deepening ideological fault line dividing pro-business moderates and progressives – the latter of which have largely chafed for the last 16 years under the thrifty administrations of Jerry Brown and Arnold Schwarzenegger, and are eager to burst out with far-reaching (if pricey) legislation.
Then, there are memories of three high-riding liberal governors (Pat and Jerry Brown, and Gray Davis) whose programs or careers were derailed by resentful taxpayers. There are more recent memories, too: Of an impulsive, hard-partying San Francisco mayor whose blunted ambitions led him to spend eight years in the ceremonial wilderness of the lieutenant governor's office. Newsom is said to have matured into a more circumspect, pragmatic politician, although some of the old doubts were fanned back to life by an unflattering New Yorker profile that appeared shortly before his landslide victory November 6.
Perhaps overriding all these auguries is the undeniable fact that despite its enviable economy, its abundance of billionaires-in-residence and laudable array of social services, California still has the highest poverty rate in the U.S., nearly half of its children live in poverty or near-poverty, and merely finding an affordable place to live has become an existential challenge for many. These and similar factors superimpose on the state another kind of fault line, that of economic inequality. Most of the new governor's time will be spent wrangling crises that spring from this disparity. Which is why the following Capital & Main stories primarily focus on the inequality that separates so many Californians from one another.
Affordable Housing, by Jessica Goodheart.
Single-Payer Health Care, by Gabriel Thompson.
Climate Change and Big Oil, by Judith Lewis Mernit.
Inequality Interviews with Manuel Pastor, Ann Huff Stevens and David Grusky.
Early Childhood Education, by Bill Raden.
Inequality in California: Six Takeaways.
---
Copyright Capital & Main