A University of California, for California
As the June 15th deadline for a California budget approaches, Kevin McCarty finds himself a power broker in a fight over billions of dollars of funding for the University of California.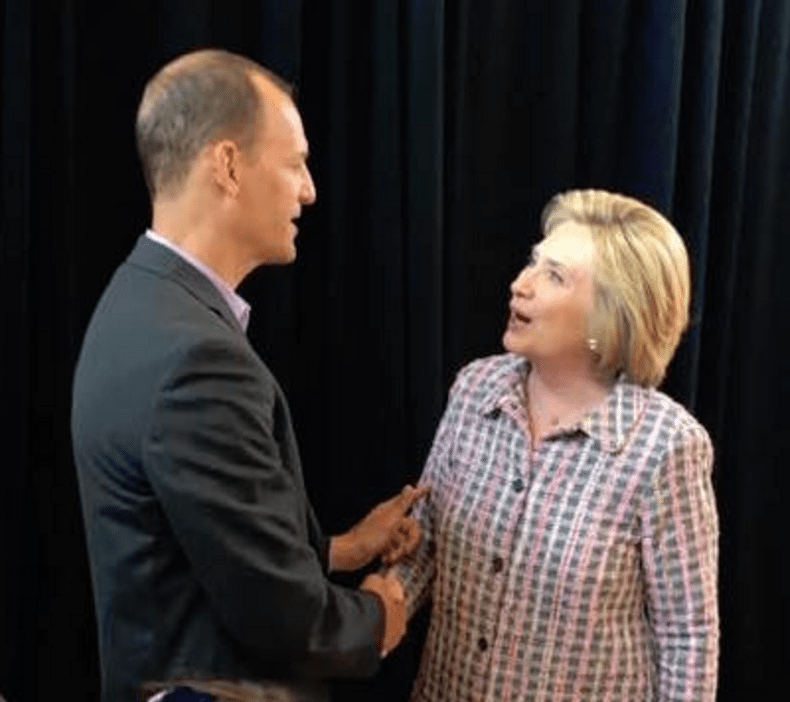 Assemblymember Kevin McCarty with Hillary Clinton.
Kevin McCarty (D-Sacramento), a lanky and energetic assemblyman, inhabits a cramped windowless office in the state capital. He is a freshman after all, low on the seniority list when it comes to choice offices. But as the June 15th deadline for a California budget approaches, McCarty finds himself a power broker in a fight over billions of dollars of funding for the University of California. A game-changing proposal McCarty is backing even spilled out to the presidential race after presumptive nominee Hillary Clinton embraced it.
McCarty is the chairman of the Assembly Budget Subcommittee on Education Finance.
That's not a very flashy sounding position, but McCarty is making the most of it. Earlier this spring McCarty took on UC Davis Chancellor Linda Katehi, siding with students who occupied an administration building and called on Katehi to be fired or resign.
At the outset, the controversy was about Katehi's judgement in accepting positions on the boards of Devry University, a chain of for-profit schools under investigation by the U.S Justice Department, and textbook publisher John Wiley and Sons. The chancellor received hundreds of thousands of dollars in additional income from her board appointments.
Initially, UC President Janet Napolitano acknowledged that the chancellor had made mistakes, but she said none were so grievous that they warranted the respected Greek-born engineer's removal as chancellor.
Support for Katehi unraveled when details emerged about $175,000 in contracts she approved partly to scrub from the internet references to a 2011 pepper spraying incident of students by UC Davis police. Napolitano suspended Katehi in late April. Few suspect that she will be reinstated.
McCarty remains unyielding in his criticism. "She was a great fundraiser, but she could have been a great fundraiser and still been ethical. She could have avoided serving on corporate boards that profit off of college students," McCarty told Capital &Main.
The controversy has hurt UC's image and and caused many to question whether one of California's most venerable institutions has a values crisis. As Los Angeles Times columnist Michael Hiltzik wrote last weekend, "universities are getting cozier with businesses and industrialists, and less discerning about the pitfalls of these relationships, which include accepting donations with strings attached."
With the budget, McCarty is taking aim at a bolder and more systemic change. That effort comes in the form of AB 1711. The legislation calls for the approval of a modest increase in funding proposed by Governor Jerry Brown of $20.2 million, bringing UC's overall budget to $26 billion.
But there is a big string attached.
McCarty's measure calls for a total reversal of what has been a major trend at UC: increasing number of higher-paying out-of-state students. Systemwide in the last decade, the number of out-of-state students has soared at UC, from 5 to to nearly 16 percent. At more elite campuses like UC Berkeley and UCLA the number is closer to 25 percent.
The rise of students in the system not hailing from the golden state is intentional. Out-of-state students pay nearly three times more in tuition. Those tuition dollars were supposed to boost funding for in-state students. But a scathing state audit released in March found that in too many cases, the additional money is going for opaque and bloated administrative costs, while space for instate students is shrinking.
The audit also found that in a ten-year period UC had a lower standard for out-of-state students. According to the audit, an estimated 4,500 Californians were rejected in favor of out-of-state students whose scores were worse or the same as the California students they displaced. "Over the past several years, the university has failed to put the needs of residents first," the report concluded.
A legislative analysis found further evidence of the shrinking number of in-state slots. At the flagship UC Berkeley, the analysis found, since 2010 in state students have decreased 7% while the number of out of state students has increased 108%.
"The ticket to the middle class and a good paying job now is a college degree," McCarty said. "And a UC degree based on those degrees are some of the best paying jobs around. More importantly report after report says that California needs to produce way more graduates than we are doing today." McCarty points to one report by the Public Policy Institute of California, which found that the state will have a shortage of a million college graduates in 2025, unless access to college is increased.
Napolitano and UC vehemently opposes McCarty's proposal. A UC spokesperson underscored a growing schism in Sacramento between legislators and the UC administration, telling Capital & Main, "we are concerned the approach of the bill will have the exact opposite effect of what is intended–the enrollment of more Californians."
What's remarkable is how little sway UC's perspective is having. Last week AB 1711 passed the Assembly 78-2. McCarty says there is also concurrent language which is being negotiated as part of the budget.
McCarty says the reason mandating more slots for instate students is such a popular position is because his colleagues are tired of hearing from constituents about how their kid didn't get into a good school even when they had a 4.0 and stellar SAT scores. "I get Facebook messages, I talk to people at the grocery store, at the soccer field, saying 'right on!' People are just astounded that we are rationing access for Californians while we have quadrupled access for people with a big pocketbook. There is a collective outrage."
Part of that collective outrage is misdirected says Mark Paul, a historian whose book California Crack Up chronicles the boom and bust cycles of California budget cycles and the legacy of Proposition 13. "If you starve a man at home, how can you object if he seeks a meal elsewhere? Over the last two decades, state leaders and voters have made K-12 education, health care, public employee pensions, and tax cuts higher priorities than supporting UC."
BROWN REPORTEDLY CALLS FOR A LID
Of course the biggest player in budget negotiations is Governor Jerry Brown. McCarty says he has spoken to Brown and that the governor supports the concept of rolling back the number out-of-state students who are accepted to UC. "The devil is in the details of how we are going to do it, but the governor told me he supports some type of cap on this policy, that it's gotten out of hand. He used the word lid."
Last week McCarty's bill got an unexpected boost from democratic frontrunner Hillary Clinton, as she sought votes to put her over the top in California's primary.
The race to be be the Democratic nominee has been infused with lofty rhetoric about addressing the high cost of college. During his stump speeches, Bernie Sanders' lines about making public higher education free have been met with rousing applause. While not veering that far left, Hillary Clinton has also called for reducing the cost of university and making community college free.
During a meet and greet between Clinton and community leaders at a Mexican restaurant in Perris, California, McCarty's bill came up. "I have to say, I approve of that," Clinton said, adding "we have got to get back to using public colleges and university for that they were intended. If it is in California, for the children in California. If it is in New York, for the children in New York."
At a rally at a community college in Sacramento on Monday, McCarty met with Clinton before helping introduce her on stage. "I told her thank you for standing up for my legislation, which says the focus should be UC for Californians. And she said 'absolutely, but we need to fund them too.'"
---
Joe Rubin is an Emmy award winning investigative journalist. He has traveled the world, reporting for PBS Frontline/World, Al Jazeera, ABC's Nightline, and NPR. Based in Sacramento, these days Joe reports on complex topics with global significance and relevance to people across California.

Mentors Under Siege: California's DACA Teachers
Of California's roughly 223,000 DACA recipients, an estimated 5,000 are working teachers, according to the Migration Policy Institute, a Washington think tank.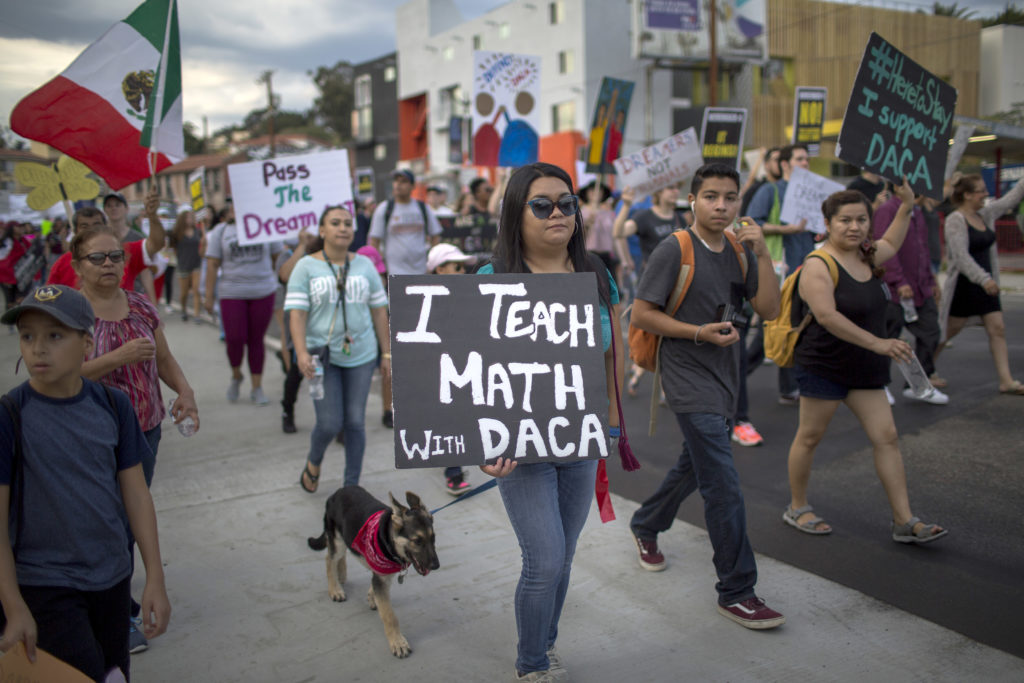 "I don't understand why they're trying to kick us out and recruiting people with our same qualifications when we're already here."
— San Bernardino math teacher
---
"Students were crying," says Cristian Aguilar, recalling the Wednesday after Election Day, 2016. "Parents were calling me; there was just a lot of tension, a lot of emotions. … Because whether or not they were born here, they still felt threatened. They knew someone — either their families, their friends or their neighbors — that were [going to be] affected." The man who had famously launched his candidacy by slurring America's Latino immigrants was now the president-elect.
Most of all, the students of San Jose's nearly 80 percent Latino Hoover Middle School were acutely aware that if Donald Trump made good on his threats to revoke DACA (Deferred Action for Childhood Arrivals), Aguilar, their 25-year-old public school teacher, would soon again be living under the murky cloud of deportation. Ironically, he had long made it a point to share his own immigration tale with his kids as a means of inspiring them and to connect with their families.
For a melting pot like California, his story is far from unique. Of the state's roughly 223,000 DACA recipients, an estimated 5,000 are working teachers, according to the Migration Policy Institute, a Washington think tank. But with a March 5 deadline looming, California's DACA teachers may soon find themselves locked out of jobs and careers.
Trump has lately rejected bipartisan immigration compromises that would have granted eventual citizenship to young immigrants like Aguilar, but which didn't provide any funding for the president's proposed border wall, or include White House demands for the termination of the current visa diversity lottery and deep cuts to the country's traditional family reunification priorities.
"[Trump] wants to decrease legal immigration by about half, which is not something that's ever been done in our country's history," pointed out California Sate University, Los Angeles anthropology professor Beth Baker, who specializes in immigration. "That's very disconcerting, particularly because immigrants are really the motor of the economy."
But for California's DACA educators, losing their right to teach would be a crippling setback to a public school system in the throes of a chronic teacher shortage and in which one in eight school children have an undocumented parent. It would also mark a bitter reversal to what has been a quintessentially American odyssey of immigrant resolve and aspiration. Here are three of those 5,000 DACA teacher stories.
---
The Organizer
Aguilar was 10 when he crossed the border from Mexico with a brother in order to join his parents, who had been drawn here by the promise of a better life. Despite growing up without the legal rights and expectations taken for granted by birthright Americans, he quickly distinguished himself as a math prodigy after a bilingual teacher recognized his ability and tutored him, in Spanish, after school.
"It wasn't until junior and senior year that I really found out what that meant, being undocumented," he recalled. "Not being able to drive; not being able to apply for financial aid when it came to college applications. … I started noticing the discrepancies between my peers' and my education."
Despite having the grades and being accepted by California State University, Stanford University and the University of California, he settled for De Anza, a two-year community college in neighboring Cupertino. That's when fate and Sacramento Democrats intervened with the introduction of 2011's California Dream Act, which extended state financial aid to undocumented students at public universities and colleges. As battle lines formed over the contentious measure, Aguilar threw himself into the political fight, organizing students throughout Northern California as part of a campus immigrant-rights group that also lobbied the legislature.
Though the new law paved his way into UC Berkeley, it was the 2012 implementation of DACA by the Obama administration and Aguilar's winning of temporary legal status that enabled him to set his sights on giving back to his community: "That's when I knew I wanted to be there for students, especially other students of color, who have been marginalized and who have been under-represented for so long. Knowing [first-hand] the difficulty of being part of an educational system that really pushed us out — students who 'don't belong.'"
The Object Lesson
Ever since being brought from Mexico as a young child to Southern California by a mother determined to leave behind a nightmarish marriage and secure the best possible future for her daughter, Elysa Chavez (her real name has been withheld at her request), a third-year DACA high school math teacher in San Bernardino County, has been preparing for the best but girding for the worst.
"I can't even believe that this is happening," Chavez said of the immigration impasse. "The administration talks about getting rid of chain migration and bringing in people based on their merits and degrees, and the basic language — but I have a degree in math, which not a lot of people like. I teach math in a low-income community. I have a master's degree. I speak the language. I pay my taxes. Everything that Trump is looking for, [DACA teachers] have. I don't understand why they're trying to kick us out and recruiting people with our same qualifications when we're already here."
She is not alone. In the months since Donald Trump announced the elimination of DACA and began threatening to abandon its recipients, Chavez has seen a pall of fear fall over her school's 85 percent Hispanic students, particularly among the freshman and even some sophomores, who were too young to make DACA's 15-year-old age threshold before it was canceled.
"What I have seen is students that are reluctant to share that they're undocumented, when a couple of years back it wasn't such a big deal," she explained.
To offer them hope and encourage them to open up, Chavez tells them her own up-by-her-bootstraps story of attending Cal Poly Pomona at a time when there was no DACA or chance of a teaching career, or even financial aid for undocumented college hopefuls. (Chavez graduated just before DACA came online.)
"It's tough, but it's something that can be done," she asserted. "So whenever they have questions, they come and they ask me. I have a feeling that I comfort them, but they do the opposite for me. They just make me worried, because I'm like, 'Oh my goodness, what's going to happen with them, and are they going to see education as something that is valuable?' Because I have a feeling that they might think, 'What's the point of me getting good grades if at the end of the day I might get deported?'"
The Activist
Like many California DACA teachers, 25-year-old Angelica Reyes, who is a first-year Advanced Placement history teacher in South Los Angeles, traces her decision to become an educator to the inspiration provided by her own high school history teacher.
"I grew up in East L.A. and I saw a lot of disparities, both in the education that we were receiving, but also in huge wealth inequity," she remembered. "This teacher used to engage me in a lot of really interesting conversations and challenged me to go beyond just inquiring, to try to change something in my community. So, I was involved in the project that brought in a grocery store to the community."
Reyes said this campaign transformed the way that she saw herself and her relationship to the community. "I felt like the best way to make folks feel empowered and like they mattered was through education."
So, that's what she did. She was at Pasadena City College when she received DACA protections soon after the program came into being. That enabled her to do what had previously been unthinkable: complete both her undergraduate degree at the University of California, Los Angeles and enter a master's program in UCLA's school of education.
"There wasn't ever a question in my mind of whether I was going to go to college," she recalled. "I knew that I was going to be more … My mom would always remind me that folks who have an education have more power, more agency and they're able to better advocate for themselves and for folks like them. Of course, I was worried about not being able to work in the field that I've chosen, but that's still a fear today."
It hit home in September with Trump's decision to rescind DACA. Like the other teachers in this story, Reyes came to school that day to find her kids terrified both for her sake and by the specter of the uncertainty and instability it would bring if she were removed as their teacher.
"That day," she remembered, "it was a lot of validating their existence, their feelings, and also making sure that they understood that DACA in the first place wasn't something that was granted to us. It's something that a lot of folks fought for, and that's where our communities get their power from, from advocacy and from grassroots organizing. I let them know that our federal government is very strong, but our communities are strong, too, when we come together. We can stop deportation."
---
Copyright Capital & Main