A University of California, for California
As the June 15th deadline for a California budget approaches, Kevin McCarty finds himself a power broker in a fight over billions of dollars of funding for the University of California.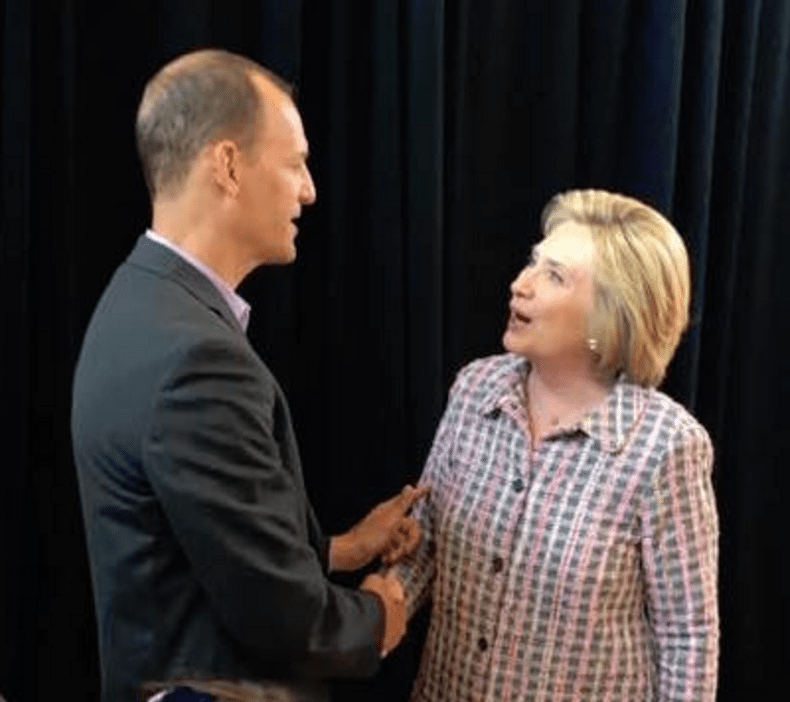 Assemblymember Kevin McCarty with Hillary Clinton.
Kevin McCarty (D-Sacramento), a lanky and energetic assemblyman, inhabits a cramped windowless office in the state capital. He is a freshman after all, low on the seniority list when it comes to choice offices. But as the June 15th deadline for a California budget approaches, McCarty finds himself a power broker in a fight over billions of dollars of funding for the University of California. A game-changing proposal McCarty is backing even spilled out to the presidential race after presumptive nominee Hillary Clinton embraced it.
McCarty is the chairman of the Assembly Budget Subcommittee on Education Finance.
That's not a very flashy sounding position, but McCarty is making the most of it. Earlier this spring McCarty took on UC Davis Chancellor Linda Katehi, siding with students who occupied an administration building and called on Katehi to be fired or resign.
At the outset, the controversy was about Katehi's judgement in accepting positions on the boards of Devry University, a chain of for-profit schools under investigation by the U.S Justice Department, and textbook publisher John Wiley and Sons. The chancellor received hundreds of thousands of dollars in additional income from her board appointments.
Initially, UC President Janet Napolitano acknowledged that the chancellor had made mistakes, but she said none were so grievous that they warranted the respected Greek-born engineer's removal as chancellor.
Support for Katehi unraveled when details emerged about $175,000 in contracts she approved partly to scrub from the internet references to a 2011 pepper spraying incident of students by UC Davis police. Napolitano suspended Katehi in late April. Few suspect that she will be reinstated.
McCarty remains unyielding in his criticism. "She was a great fundraiser, but she could have been a great fundraiser and still been ethical. She could have avoided serving on corporate boards that profit off of college students," McCarty told Capital &Main.
The controversy has hurt UC's image and and caused many to question whether one of California's most venerable institutions has a values crisis. As Los Angeles Times columnist Michael Hiltzik wrote last weekend, "universities are getting cozier with businesses and industrialists, and less discerning about the pitfalls of these relationships, which include accepting donations with strings attached."
With the budget, McCarty is taking aim at a bolder and more systemic change. That effort comes in the form of AB 1711. The legislation calls for the approval of a modest increase in funding proposed by Governor Jerry Brown of $20.2 million, bringing UC's overall budget to $26 billion.
But there is a big string attached.
McCarty's measure calls for a total reversal of what has been a major trend at UC: increasing number of higher-paying out-of-state students. Systemwide in the last decade, the number of out-of-state students has soared at UC, from 5 to to nearly 16 percent. At more elite campuses like UC Berkeley and UCLA the number is closer to 25 percent.
The rise of students in the system not hailing from the golden state is intentional. Out-of-state students pay nearly three times more in tuition. Those tuition dollars were supposed to boost funding for in-state students. But a scathing state audit released in March found that in too many cases, the additional money is going for opaque and bloated administrative costs, while space for instate students is shrinking.
The audit also found that in a ten-year period UC had a lower standard for out-of-state students. According to the audit, an estimated 4,500 Californians were rejected in favor of out-of-state students whose scores were worse or the same as the California students they displaced. "Over the past several years, the university has failed to put the needs of residents first," the report concluded.
A legislative analysis found further evidence of the shrinking number of in-state slots. At the flagship UC Berkeley, the analysis found, since 2010 in state students have decreased 7% while the number of out of state students has increased 108%.
"The ticket to the middle class and a good paying job now is a college degree," McCarty said. "And a UC degree based on those degrees are some of the best paying jobs around. More importantly report after report says that California needs to produce way more graduates than we are doing today." McCarty points to one report by the Public Policy Institute of California, which found that the state will have a shortage of a million college graduates in 2025, unless access to college is increased.
Napolitano and UC vehemently opposes McCarty's proposal. A UC spokesperson underscored a growing schism in Sacramento between legislators and the UC administration, telling Capital & Main, "we are concerned the approach of the bill will have the exact opposite effect of what is intended–the enrollment of more Californians."
What's remarkable is how little sway UC's perspective is having. Last week AB 1711 passed the Assembly 78-2. McCarty says there is also concurrent language which is being negotiated as part of the budget.
McCarty says the reason mandating more slots for instate students is such a popular position is because his colleagues are tired of hearing from constituents about how their kid didn't get into a good school even when they had a 4.0 and stellar SAT scores. "I get Facebook messages, I talk to people at the grocery store, at the soccer field, saying 'right on!' People are just astounded that we are rationing access for Californians while we have quadrupled access for people with a big pocketbook. There is a collective outrage."
Part of that collective outrage is misdirected says Mark Paul, a historian whose book California Crack Up chronicles the boom and bust cycles of California budget cycles and the legacy of Proposition 13. "If you starve a man at home, how can you object if he seeks a meal elsewhere? Over the last two decades, state leaders and voters have made K-12 education, health care, public employee pensions, and tax cuts higher priorities than supporting UC."
BROWN REPORTEDLY CALLS FOR A LID
Of course the biggest player in budget negotiations is Governor Jerry Brown. McCarty says he has spoken to Brown and that the governor supports the concept of rolling back the number out-of-state students who are accepted to UC. "The devil is in the details of how we are going to do it, but the governor told me he supports some type of cap on this policy, that it's gotten out of hand. He used the word lid."
Last week McCarty's bill got an unexpected boost from democratic frontrunner Hillary Clinton, as she sought votes to put her over the top in California's primary.
The race to be be the Democratic nominee has been infused with lofty rhetoric about addressing the high cost of college. During his stump speeches, Bernie Sanders' lines about making public higher education free have been met with rousing applause. While not veering that far left, Hillary Clinton has also called for reducing the cost of university and making community college free.
During a meet and greet between Clinton and community leaders at a Mexican restaurant in Perris, California, McCarty's bill came up. "I have to say, I approve of that," Clinton said, adding "we have got to get back to using public colleges and university for that they were intended. If it is in California, for the children in California. If it is in New York, for the children in New York."
At a rally at a community college in Sacramento on Monday, McCarty met with Clinton before helping introduce her on stage. "I told her thank you for standing up for my legislation, which says the focus should be UC for Californians. And she said 'absolutely, but we need to fund them too.'"
---
Joe Rubin is an Emmy award winning investigative journalist. He has traveled the world, reporting for PBS Frontline/World, Al Jazeera, ABC's Nightline, and NPR. Based in Sacramento, these days Joe reports on complex topics with global significance and relevance to people across California.
L.A. Charter School Teachers Also Flex Strike Muscles
Obscured by Los Angeles' massive public teachers strike, a separate charter-schools walkout targets many of the same issues.
---
Teachers at three charter schools are decrying a lack of job protections and rising health-care costs.
---
A day after more than 30,000 teachers in the country's second-largest school district went on strike, 80 teachers at three South Los Angeles charter schools coincidentally also walked out, marking only the second charter school teacher strike the nation has seen.
Earlier this month 99 percent of the teachers at the three schools operated by The Accelerated Schools (TAS) voted to authorize a strike. Their demands, aside from a pay increase, have been different from those of other United Teachers Los Angeles (UTLA) teachers who walked off on Monday.
TAS and UTLA had reached an agreement in March 2018 for an average salary increase of 17 percent for teachers working 195 days in the current school year. But sticking points remained, including binding arbitration to enforce the contract, "just cause" language to govern terminations or nonrenewals, so that teachers can't be fired arbitrarily, and competitive health benefits. According to Hong Bui, UTLA's Charter Representative, TAS management proposes to freeze the company contributions, so that any future increase in health-care premiums is borne by employees. Bui noted that binding arbitration and just cause are "enjoyed by 90 percent of unionized teachers in Los Angeles County."
---
Grandmother: "There is no excuse that we're at this point. The money is there. We are not investing in the kids' education as was promised."
---
"Most unionized charter schools have some due process and just cause, but TAS schools do not," Bui said. "Without these protections, the employer can and has made life unbearable for those teachers who speak up."
Bui added that between 2016 and 2018, TAS schools had nearly a 50 percent staff turnover.
On Monday TAS co-founder and CEO Johnathan Williams said, in a prepared statement: "TAS presented UTLA with a new offer that included a process for teachers with strong performance evaluations to receive a guaranteed two-year contract with a $2,000 bonus upon completion. UTLA refused the offer. Teachers who are doing a great job for students will always have a place at TAS. On behalf of our students, we implore UTLA to work with us to find a reasonable resolution that puts kids first."
Los Angeles has the nation's most charter schools, with 277 independent and affiliated schools serving more than 154,000 students. The breakdown can get complicated: District-affiliated charter schools are directly operated by the Los Angeles Unified School District (LAUSD) and their teachers are part of the larger strike that began Monday against the LAUSD.
---
Union: Between 2016 and 2018, The Accelerated Schools had a nearly 50 percent staff turnover.
---
Thirty-seven independent charter schools are unionized, and some of those unionized schools, like TAS, are represented by UTLA, while others are represented by the California Teachers Association. (Disclosure: The CTA is a financial supporter of this website.) But their collective bargaining agreements are negotiated with the charter school management, not LAUSD. The California Charter Schools Association (CCSA) estimates that 30 percent of charter schools in the state have some form of a collective bargaining agreement or representation.
At a news conference last week, teachers emphasized that their goal is to improve teacher retention by increasing teacher protections. German Gallardo, who has taught 12th-grade history at Wallis Annenberg High School for the past two years, says that educational progress cannot be made with high teacher turnover. "I have students who have missed teachers for a year, and that inconsistency hurts when we send them off to college," he said, referring to students who had substitutes for an entire school year.
---
Randi Weingarten: Educators are not the ones who have framed public schools and charters as competitors. "That's done by people like Austin Beutner."
---
Second-grade teacher Simone Barclay told Capital & Main that TAS instructors are technically "at will" employees without the ability to appeal dismissals, and who don't know whether their contracts will be renewed year to year. "It creates anxiety and stress and doesn't allow us to advocate for our students, whether it is [for] special education or resources for our classroom. And it leads to much higher turnover," Barclay said.
The TAS strike comes after the release of a report by a state-appointed fact-finding panel that included recommendations for resolving many of the outstanding contract issues at TAS.
In the past year there has been a groundswell of public teacher walkouts and strikes in states including West Virginia, Arizona, Oklahoma, North Carolina, Kentucky and Colorado. But until December's walkout of 500 charter educators in Chicago, strikes at charter schools were unheard of. According to the American Federation of Teachers (AFT), between 10 and 12 percent of the charter school sector nationwide is unionized, and the rapid growth of charter schools is outpacing the growth of unionization. (Disclosure: AFT is a financial supporter of this website.)
California's explosive charter growth and competition for students have made charter detractors worry about those quasi-public schools siphoning resources from traditional schools. UTLA president Alex Caputo-Pearl said teachers are asking for "common-sense regulations on charter school growth" as part of their contract demands, making the concurrent strikes by TAS and LAUSD school educators, in theory, somewhat awkward, although teachers at both schools have told Capital & Main that, no matter where they work, they are in solidarity with one another.
---
Until last December's walkout of 500 charter educators in Chicago, strikes at charter schools were unheard of.
---
Randi Weingarten, president of AFT, said educators are not the ones who have framed public schools and charters, per se, as competitors. "That's done by people like [LAUSD Superintendent] Austin Beutner . . . and that creates a survival of the fittest. For years they have said that competition in schools is good, but this is a very wrongheaded premise."
"The charter school industry said their teachers are private school employees," Weingarten added, "but most charter schools by laws are public schools funded by taxpayers and must enable a voice for parents and educators."
Charter school supporters, such as TAS founding member and grandmother Hilda Rodriguez-Guzman, say that charters ideally provide a higher quality and more robust education with more flexibility.
"But that's not what's happening [at TAS]," Rodriguez-Guzman recently admitted. "There is no excuse that we're at this point. The money is there. We are not investing in the kids' education as was promised. It is not acceptable that we keep losing good quality teachers and having substitutes. Sometimes we have computers teaching kids in high school, when they need that human instruction and interaction."
---
Copyright Capital & Main