A Topsy-Turvy Week for Charter Schools and School-Choice Tax Credits
A teachers' pension fund is in the money . . . Is a Kevin De León bill in the IRS's crosshairs? . . . The State Board of Education greenlights yet another Oakland charter school.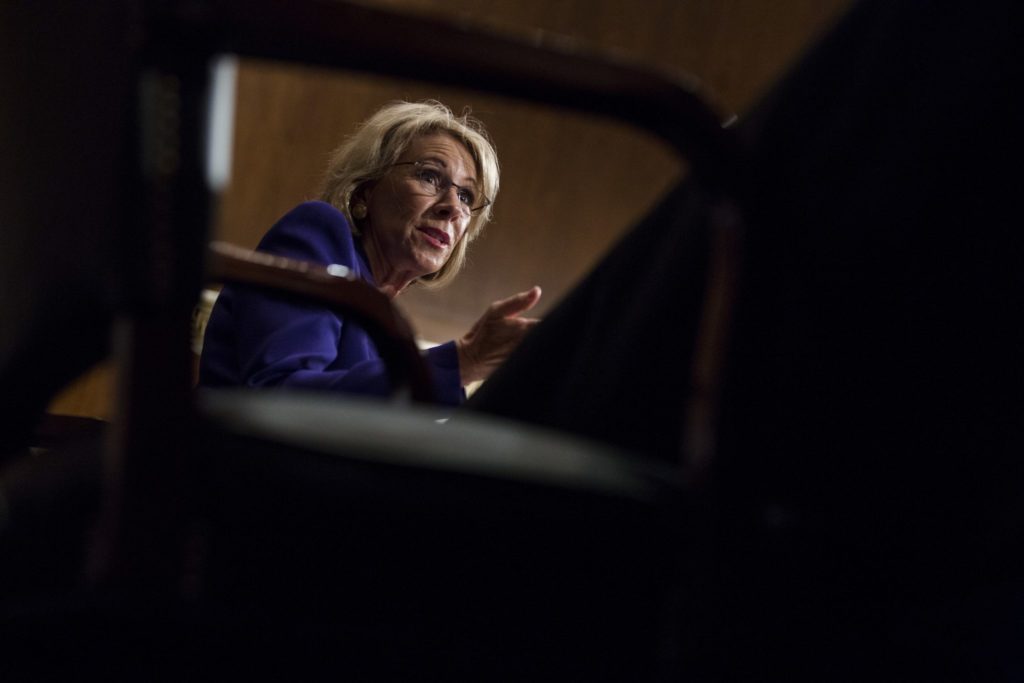 ---
"Learning Curves" is a weekly roundup of news items, profiles and dish about the intersection of education and inequality. Send tips, feedback and announcements of upcoming events to  braden@capitalandmain.com, @BillRaden.
---
California's public school and community college teachers got good news Friday when the now-$223.8 billion California State Teachers' Retirement System (CalSTRS) posted a nine percent return for the 2017-18 fiscal year, beating its official seven percent discount rate for the second year running. Coming on the heels of the robust 8.6 percent return announced last week by the California Public Employees' Retirement System (CalPERS), the twin earnings reports should buy some political breathing space for public sector pensions in California, where retirement security for public employees continues to top neoliberal hit lists.
"When public sector pension funds hit their mark or do better than the market, [the anti-union media] downplay it, and every time they go below the mark, it's 'the sky is falling and [we] have to take everybody's pensions away,'" chairman of Californians for Retirement Security Dave Low quipped to Learning Curves. (Disclosure: Low sits on this website's board of directors.)
On the other hand, the L.A. Times reported this week that so-called neovouchers, which have been embraced by Betsy DeVos and are popular with school-choice proponents, are among more than 100 charitable tax-credit programs now endangered by IRS blowback to dueling tax measures from DC Republicans and resistance states like California.
Proposed IRS rules that target blue state legislative workarounds to the $10,000 cap for state and local income taxes (SALT) in last year's $1.5 trillion, Republican tax bill would almost certainly also eliminate deductions for neovouchers. In the crosshairs is SB 227, the public education charity proposed by state Senator and U.S. Senate candidate Kevin De León (D-Los Angeles) that Californians could use to make up the pre-SALT write-offs.
"Even before the tax rule, there were things in this gray area between charity and public services," explained Kim Rueben, a Public Policy Institute of California adjunct fellow and Urban-Brookings Tax Policy Center senior fellow. "If they're going to try and put a bright line in and say that people can't take this as a charitable deduction because of the value in terms of savings from their state taxes, that same value is already accruing to people across this country from these existing tax credits."
Charter school politics don't get more topsy-turvy than in Sacramento, where the State Board of Education (SBE) is charged with doing good for California's 6.2 million-student system of public schools, but which last week nudged Oakland's financially stricken school district closer to the brink by saddling it with another new charter school that parents, students, the historically pro-charter OUSD board and an Alameda County Grand Jury say it neither needs nor can afford.
"It shows how disconnected they are from what's going on in our cities … or what's happening with underfunded public schools in California," said activist Mona Treviño of the green light given at SBE's July 12 meeting for Latitude charter high school to open its doors in the fall.
The unexpected at the board's otherwise business-as-usual session came with a mea culpa offered by the state's chief deputy superintendent of public instruction, Glen Price, who also called for "modernizing" 1998's dated AB 544, the Reed Hastings-lobbied law that transformed California's formerly benign Charter School Act into a poison pill for districts, by making it illegal for authorizers such as local school boards to consider the financial damage charters inflict on their hosts.
"At some point we have to consider the whole ecosystem — the whole community that we're operating in when making these decisions," Price reasoned. "There's no other area of local or community planning where we would not consider the financial impact of a decision."
---
Copyright Capital & Main
Bill Aims to Fix Hollow 'College Promise' Aid Program
Also this week: Governor Gavin Newsom chooses a new state education board president, Oakland teachers move closer to a strike and the money continues to flow in an L.A. school board race.
---
"Learning Curves" is a weekly roundup of news items, profiles and dish about the intersection of education and inequality. Send tips, feedback and announcements of upcoming events to  braden@capitalandmain.com, @BillRaden.
---
Governor Gavin Newsom on Tuesday filled the state's most powerful unelected education post, appointing Stanford University professor emeritus Linda Darling-Hammond as president of California's State Board of Education. In his State of the State address, Newsom said that the nationally renowned K-12 education researcher would work alongside new schools superintendent Tony Thurmond to confront problems plaguing California's public schools.
Darling-Hammond, who currently chairs the California Commission on Teacher Credentialing and is president of the Learning Policy Institute, a Palo Alto education think tank, is the first African-American woman to head the 11-member board. The acclaimed expert in teacher preparation and educational equity has more recently come under fire for a report on school choice she co-authored that embraced portfolio districts but ignored the negative impact that charter schools have on the viability of neighborhood public schools.
Oakland high school students staged a one-day sickout Friday in support of Oakland Unified teachers, who have been working without a contract for two years. Four days earlier, the Oakland Education Association overwhelmingly voted to authorize a strike. Defying a prerecorded call and email sent on Thursday by the district that urged parents to keep their kids in class, hundreds of students from across Oakland took to the streets, marching down Broadway from Oakland Tech High School to a rally in front of Oakland Unified's downtown headquarters.
The strike vote clears the deck for OUSD teachers to walk off the job should tomorrow's release of fact-findings by a state-appointed mediation panel fail to broker a settlement. In addition to reduced class sizes and more school counselors and nurses, OUSD teachers are demanding an end to a district plan to shutter up to 24 neighborhood schools. On February 11, the OUSD school board delayed a vote on authorizing $20.2 million of an anticipated $30 million in spending cuts in the face of mounting opposition. A coalition of advocacy groups criticized the cuts in a letter to the board, saying the budget process had "not been transparent, inclusive or accountable to the board or community." That vote was rescheduled for February 25.
California's College Promise turns out to be a hollow pledge for the majority of the 2.1 million students attending California Community Colleges, charged CCC's student government president last week. In a CalMatters interview, Iiyshaa Youngblood, a student at Moreno Valley College, described the tuition scholarship program, which currently covers a year's worth of fees for first-time, full-time community college students, as helping "people who can already afford college." Assembly Bill 2, which is currently sitting in the Assembly Committee on Higher Education, proposes to expand the program for the second year of community college.
---
The net college costs of attendance for low-income community college students end up being far more than at a California State University or University of California campus.
---
According to Youngblood, the students who are most in need are ineligible for College Promise — the part-timers that make up more than two-thirds of the community college enrollment but who are too burdened with jobs and family commitments to manage a full-time course load. The scholarship program further falls short, according to a January report from the Institute for College Access and Success, by not covering non-tuition expenses like food, transportation and textbooks. Instead, the net college costs of attendance (all costs minus financial aid grants) for low-income community college students end up being far more than at a California State University or University of California campus.
The latest update on the money race in Los Angeles Unified's March 5 special election to fill out the term of disgraced Board District 5 member Ref Rodriguez comes courtesy of intrepid ed blogger Sara "Redqueeninla" Roos. In a must-read, granular analysis, Roos breaks down the race's campaign donations by profession or "affinity." The results? "An awesome display of the power of machine politics" reflected in the number and size of donations from city contractors, developers, commissioners, public employees and appointees, political consultants and public-private partners.
Of the top four money recipients, Camino Nuevo Charter Academy executive Allison Bajracharya drew 75 percent of the charter-related donations in the race, which comprise 45 percent of her campaign's receipts. Former Eric Garcetti aide Heather Repenning is second, with 15 percent of all charter donations (or seven percent of her campaign's overall contributions). Though Repenning, who also leads the top four with a whopping .81 patronage rating, has pledged that she would refuse charter school money, the independent expenditure committee backing her candidacy has already banked a $5,000 check from millionaire businessman and charter super-patron Bill Bloomfield.
---
Copyright Capital & Main