A Talk With Demos' Miles Rapoport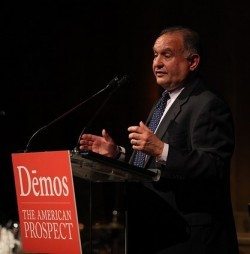 Miles Rapoport (Image: Demos)
At a small gathering in Los Angeles last week, Miles Rapoport, president of the 13-year-old progressive think tank Demos, declared that although the U.S. economy is struggling at best, the gap between rich and poor is ever-widening and a host of other seemingly intractable problems are worsening, we've arrived at a key historical moment: Everything we need to address these crises is at hand.
Demos is a Manhattan-based nonpartisan research and advocacy organization dedicated to "a democracy where everyone has an equal say and an economy where everyone has an equal chance." Demos has done pioneering work on such issues as reducing the role of money in politics, expanding voter access, ending predatory credit card practices and raising wages.
Demos is also an institutional platform for leading and emerging writers and thinkers. Its Fellows Program includes Bob Kuttner, Bob Herbert, Nomi Prins, Richard Benjamin and David Callahan. Its reports are often cited in the media, and Demos staff and fellows, including Miles and vice presidents Heather C. McGhee and Tamara Draut, appear regularly on radio, TV and in other media.
Miles' talk and the ensuing discussion were inspiring, but some of us remained skeptical. I wanted to know specifically why Miles is a true believer, as opposed to so many public figures who purport to offer hope simply by saying "I'm an optimist!" or "I have to be optimistic to do this job" (or "write this book" or "run for this office").
Following is Part 1 of a follow up Q&A in which Miles elaborates on his optimism.
What gives you confidence that that the gap between the 99 percent and the one percent can be reversed, given the march of technology, job outsourcing and other structural changes that benefit the bosses at the expense of the middle class and the poor?
Miles: After World War II, a set of conscious policies and investments, made possible by a consensus among business, labor and government, brought unprecedented prosperity and created a broad middle class. Beginning in the '70s, business withdrew from that consensus, and fought and won policies — low taxes, deregulation and destroying unions — that created vast wealth at the top and inequality and insecurity for the rest of us. But that string has now run out. People are realizing that we can't be a country with a tiny group of super wealthy at the top, economic insecurity for the vast majority, and low wages and poverty for over 30 percent or our people. Fast food walkouts and California's new $10 minimum wage are harbingers, but the conversation is taking place throughout the country and is gathering steam.
The Left has the values and policy prescriptions to right the ship, but has been less than successful in bringing that message to a majority of Americans. Is that changing?
Miles: For 40 years, the Right has successfully practiced wedge politics, carefully repeating messaging to create "others" who were outsiders and "less than" to keep the majority of people in support of the status quo. But changing demographics, widening insecurity for so many, and the rigidity and exclusion politics of the Republican Party are making those politics hollow caricatures of themselves. A new coalition is taking shape — immigrants, young people, unions, communities of color, women and democracy advocates — that will change those politics forever.
While in L.A., you attended the AFL-CIO Convention. Why doesn't the diminution of unions and labor organizing in America put a dent in your optimism?
Miles: The AFL-CIO Convention was a very interesting case in point. The AFL has long had the reputation of an exclusive, mostly white organization principally concerned with its own members only. But this year was welcoming, diverse in age, race and gender, and the unions committed themselves to supporting immigration reform, LGBTQ rights, campaign finance reform, reproductive choice and much more. There was a fundamental recognition that they had to change and that all of the 99 percent had to come together. If they do, it truly will be an unstoppable force.
Voter suppression efforts have metastasized all over the country. How can things get better as long as the neediest Americans don't or can't vote?
Miles: Yes, voter suppression is the last refuge of scoundrels and they are still swinging for the fences. But in the 2012 elections, highly successful efforts were waged to fight back against these efforts and the pushback was successful. In 13 of 16 states that passed restrictive voting bills, all but three were set aside — by the courts, by referendum or by the Justice Department. Turnout was higher than expected and President Obama was re-elected. We now are working on an affirmative agenda to enforce the National Voter Registration Act — including at the new Health Benefit Exchanges — enact Same-Day Registration and pass other voter access reforms. I think these trends and more robust voting, will continue.
(Michael Sigman is a writer/editor, media consultant and the president of Major Songs, a music publishing company. His post first appeared on Huffington Post and is republished with permission.)
Government Shutdown's Silver Lining: A Corporate Hiring Guru Speaks Out
Co-published by Fast Company
Ending the shutdown won't curtail the hiring opportunities for corporate recruiters, says one expert. It's like divorce: Once you start thinking about leaving, the odds that it will happen go up dramatically.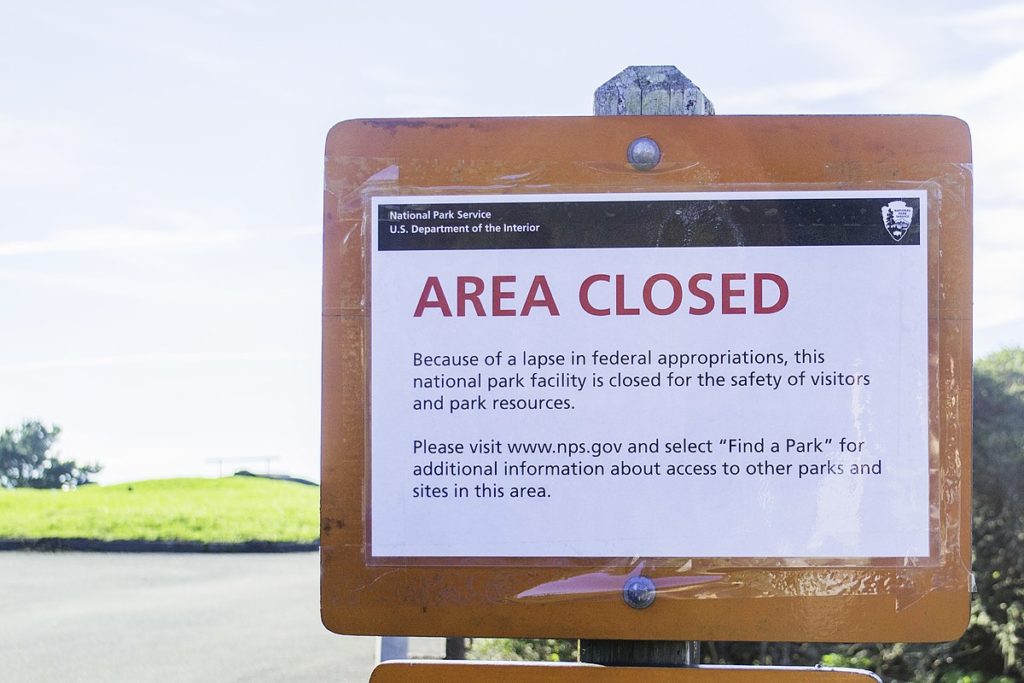 ---
In the new economic climate, even the most mission-driven of federal workers might be forgiven for abandoning the nation's parks, airways and regulatory agencies.
---
Co-published by Fast Company
When the federal government shut down for 16 days in 2013, corporate hiring guru John Sullivan advised companies on how to raid federal government workplaces for talent.
A blog post he penned at the time caused some to charge him with being unpatriotic, he said recently, while others thanked him for the reminder that federal workers were ripe for the plucking.
This time around, the climate is even better for corporations looking to cull staff from a workforce that is already well-trained and also known for its loyalty, Sullivan tells Capital & Main by phone. He describes the current moment—with hundreds of thousands of federal employees forgoing paychecks and, in many cases, sitting at home — as tantamount to "a sale on Black Friday."
---
Congresswoman:  The shutdown could have a long-term impact on the federal government's ability to attract workers with IT skills.
---
"If you've been screaming for the last two years" about the skills-and-talent shortage, "this week there isn't one," says Sullivan, who heads the human resource management program at San Francisco State University's College of Business.
The partial shutdown, that began on December 22 when President Trump failed to secure funding from Congress for his border wall, has impacted employees at a host of federal agencies, including the departments of Agriculture, Commerce, Homeland Security, Housing and Urban Development, Interior, Justice, State, Transportation and Treasury and the NASA.
What makes this particular shutdown so suitable for raiding federal workplaces? It's not just that employee morale has taken a nosedive, thanks to a president who is at war with many of the agencies he oversees. Nor is it only the fact that Trump threatened to keep the government closed for as long as a year, a notion that "really scares people," says Sullivan.
---
With Amazon's opening new offices in the District of Columbia area, three out of four IT workers in DC say they would consider leaving their current jobs for the tech behemoth.
---
It's also the economic climate. Companies are growing. Unemployment is low. Remote work is increasingly an option. Technical advances have made looking for a job easier than it was in 2013. "You can say 'boo' to your phone and apply for a job," adds Sullivan, delivering his matchmaking pitch with such force that even the most mission-driven of federal workers might be forgiven for abandoning the nation's parks, airways and regulatory agencies.
Congresswoman Robin Kelly (D-IL), the ranking member of the House Subcommittee on Information Technology, worried, in a statement last week, that the shutdown would have a long-term impact on the federal government's ability to attract workers with IT skills. The federal government has generally struggled to attract young tech workers, and Amazon's new offices in the District of Columbia area has three out of four IT workers in DC saying they would consider leaving their current jobs for the tech behemoth.
Tech workers — and upper-salaried talent — are not the only employees coveted by the private sector, says Sullivan. Forest Service employees. Coast Guard workers. Transportation and Safety Administration agents. Any unpaid workers could be lured away, especially in states like California and Texas, where economies are strong, he maintains. An employment agency for California's casinos recently put this shout out on Twitter: "Any @TSA employees looking for new opportunities, PTGaming is hiring!" along with the popular hashtag, #shutdownstories.
The shutdown could also prompt federal employees to throw scruples to the wind and step into the infamous revolving door that leads workers from government jobs to the private sector and back again. When Sullivan was advising companies in 2013, he helped firms hire from agencies that regulated them.
"And by the way," asks Sullivan, persisting with his siren song, "if I was a regulator, [with] President Trump eliminating all those regulations, why am I needed? Why not go to the private sector?"
Sullivan, who says he is an underpaid government worker in his own right, is concerned about the public cost of his and others' efforts to lure away the federal government's top talent. The best employees will leave first, and "literally billions" in training dollars will be lost, he predicts.
But he puts the blame squarely on a public sector that undervalues its workers. Corporations that pilfer federal government workforce for talent offer a kind of public service and corrective by demonstrating the price that must be paid "for degrading public service and unnecessarily frustrating federal employees," he wrote in his 2013 post.
Ending the shutdown won't curtail the hiring opportunities for corporate recruiters, says Sullivan. "It's like divorce. Once you start thinking about [leaving], the odds [that it will happen] go up dramatically."
---
Copyright Capital & Main