A Special Earth Day for Los Angeles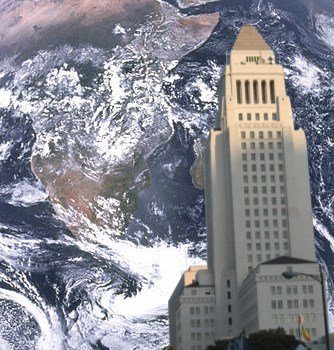 Earth Day is the birthday of the modern environmental movement in the U.S. and across the globe.  Today, on this 44th Earth Day, the City of Los Angeles – the second largest in the nation and a mighty economic engine on the West Coast—celebrates its commitment to environmental protections and sustainability with a model Zero Waste ordinance just signed into law by  Mayor Eric Garcetti. The days when the city sent three to four million tons of trash to landfills every year from apartment and commercial buildings are ending. Now, Los Angeles is set to achieve the highest recycling rates and best standards of environmental protection from the greenhouse gas emissions, air and groundwater pollution, and loss of recyclable material resources associated with our waste management.
Landfilling or burning millions of tons of trash subjects our residents and our environment to a distressing assault. Landfills and poorly regulated facilities disproportionately impact low income communities of color—as these communities are either employed or housed in close proximity, and overexposed to the emissions and traffic caused by constant waves of trash trucks rumbling into their neighborhoods.
Fortunately, one of the most obvious changes, as the policy becomes fully implemented in 2017, will be seen in the fleets of trash hauling trucks—we can expect them to be less damaging to our families' lungs and to street pavement.  Currently, most haulers use their most aged and poorly maintained dirty-fueled trucks to transport trash in L.A. because they are not subject to regional air quality standards. To add insult to injury, they move through a grid of inefficient routes where trucks overlap throughout the city, spewing diesel particulates and leachate into neighborhoods. Each truck burns approximately 8,400 gallons of fuel per year–a dismal three miles to the gallon. The fact that they cause 9,000 times the damage to pavement as an SUV, also spreads the misery of poor gas mileage to other drivers, thanks to the resulting potholes and congestion.
Another environmental gain from the newly adopted exclusive franchise/Zero Waste system will be reductions in greenhouse gases emitted by buried or burned trash, now that we won't be relying much on those outdated waste management practices. According to the City of L.A., a Zero Waste system will help it achieve 23 percent of its goal to reduce carbon dioxide emissions by 18.9 million metric tons by 2030, the equivalent of removing 40 percent of the city's two million passenger vehicles from the road.
Furthermore, failure to divert landfill waste poses a contamination threat to our precious groundwater resources since this waste turns into a toxic chemical and biological soup that can seep far into the ground. It should be welcome news for those working in L.A. that we are safeguarding our local water supply sources, like the San Fernando Valley groundwater basin, from further pollution. Moreover, this new Zero Waste system will require competitive haulers to include an organic waste composting pilot program in their bids, so that this  otherwise rotting resource can be turned into organic and nontoxic soil and fertilizer.
On this very special Earth Day, Los Angeles' Zero Waste system is a dazzling gift to our planet, people and future generations.
(Linda Escalante is the Natural Resources Defense Council's Policy Advocate for its California and Latino Advocacy programs.)