A Parade Passed By: Rethinking Our Democracy
The Fourth of July parade rolled down Main Street in Santa Monica while I sat at the computer writing this. Only half a block away, I could hear the sirens and the bands and the sound trucks. What kept me here instead of there was a desire to reflect, not celebrate. Twice a year – on Martin Luther King's birthday in January and now – I think about the state of American democracy.
I believe in democracy. I believe that democracy is the best form of government human beings have devised to date because it allows people to actually make changes in the government when they feel it's required. Monarchies, aristocracies, dictatorships and oligarchies preclude that option. In Western civilization, this country broke the tradition of absolute power to create a  republic – although participation was narrow: Voting was limited to male property owners. Over the next 150 years those rights expanded.
Voting rights expanded because people struggled for them. Women who demonstrated for the right to vote were arrested, went to jail, held hunger strikes, were beaten and raped and killed. African Americans suffered the same fate — first in the post-Reconstruction era when Jim Crow laws and civilian violence crushed African American rights, then again during the Civil Rights movement of the 1950s and '60s. Voting rights did not expand in a straight line – nor even along a straight line of struggle. Sometimes, for example, African Americans had the right to vote, as in New York during the early 1800s, and then those rights were taken away.
Now the evidence suggests that voting rights are contracting again. You might have thought that Florida would have learned from its registration purge scandal of 2000 that targeted African Americans in particular, but Florida actually continues the practice. Seven states now require government-issued photo identity cards: four in the Deep South, two border states, one Northern state. These laws limit voter participation – especially among African American, Latino, older and poorer voters whose capacity to secure birth certificates, document citizenship or pay for such is limited.
More than legal maneuvers remove people from the voter roles. Usually people take themselves out of the polls. They just don't vote. Maybe they are too busy or overworked, or out of town or too poor to even care. While everybody seems to hold political opinions, not everyone pays close enough attention to vote – which is their power to do something about those opinions.
But mostly people are distracted by the clatter and chaos American culture provides. The country seems enthralled by the shrillness of rhetoric in the media and the only way the news media play an issue is through conflict. He Said/She Said seems to be the only school of journalism in session in this country – which hardly helps voters reflect on problems and their solutions.
They are also distracted by the sight of huge displays of glittering lights. A baseball game must also have fireworks. Movies need to be in 3-D or offer more fear and mayhem than the last one. Sports competition must be extreme. The more spectacle there is, the more delighted we appear — and the more distracted from the seriousness required for democracy to survive.
Carl Jung said, "Fear seeks noisy company and pandemonium to scare away the demons." Since 9/11 we have all felt afraid, and candidates, elected officials, airport security, wars, counter-terrorism bureaucracies and economic recession all enhance the degree of our collective fear. In such an atmosphere, distraction makes perfect sense. Which is why I sat at my desk and reflected, instead of standing on the curb watching the parade pass by.

A Woman's Art Is Never Done: The Feminae Exhibition
A striking juxtaposition between the past and present courses throughout the small gallery. Celia Blomberg's "International Women's Day March 8" can't help but make one think of 2017's Women's March, which occurred 37 years after the print's first appearance.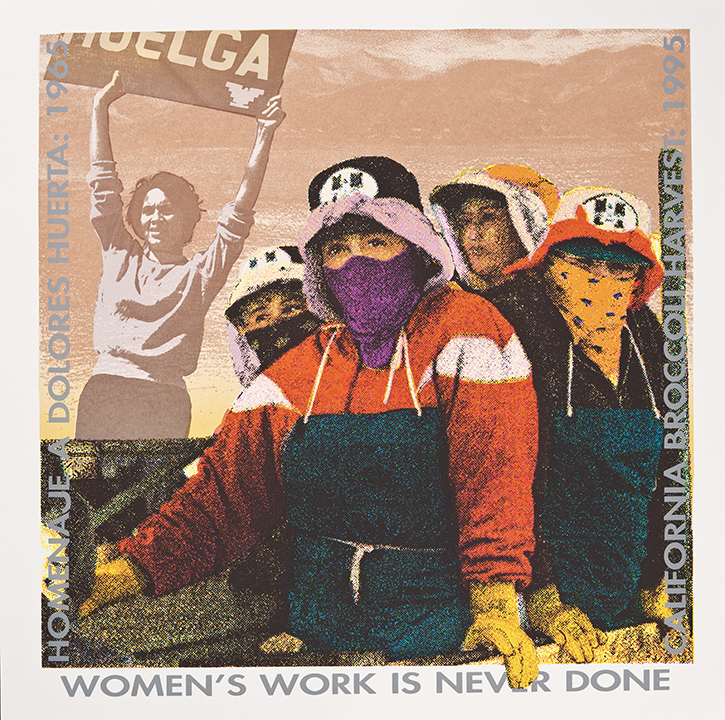 Among the 50-plus works in the Feminae: Typographic Voices of Women By Women exhibit is Yolanda Lopez's "Women's Work is Never Done." Lopez's title is particularly ironic, given the exhibit's gender-based subject matter. The show spans work from the past 50 years, making it easy to understand how much society is still grappling with its themes of gender inequality. Culled from the archives of the Center for the Study of Political Graphics, the graphic images of protest, persuasion and empowerment are truly works of art in their own right.
However, political posters aren't made to merely spruce up walls, but to help figuratively bring barriers down as well.
Two silkscreens from the 1970s, Liliana Porter and John Schneider's "This Woman is Vietnamese" and See Red Woman's Workshop's "So Long As Women Are Not Free People Are Not Free," are particularly powerful, underscoring, as they do, the fact that the subjugation and persecution of women crosses borders and cultures as an unfortunate shared global experience. These two pieces' stark simplicity exemplifies most of the work in the exhibit. In the former, a New York Times photo of a distraught Vietnamese woman with a gun held to her head is centered above these basic words typed out in a typewriter font: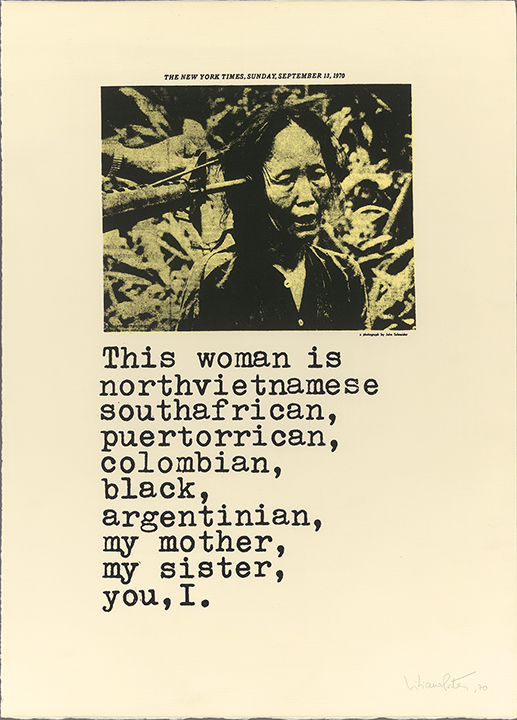 This woman is
northvietnamese
southafrican
puertorrican,
colombian,
black,
argentinian,
my mother,
my sister,
you, I.
By juxtaposing the photo with these words, the creators take the plight of this woman and immediately globalize her pain. In the latter, three female demonstrators are silkscreened in red onto a yellow background. They are marginalized by being stuck in the lower left third of the poster, but two of them are raising their fists skyward and their mouths are open, screaming in defiance. Its non-serif, eponymous type reads: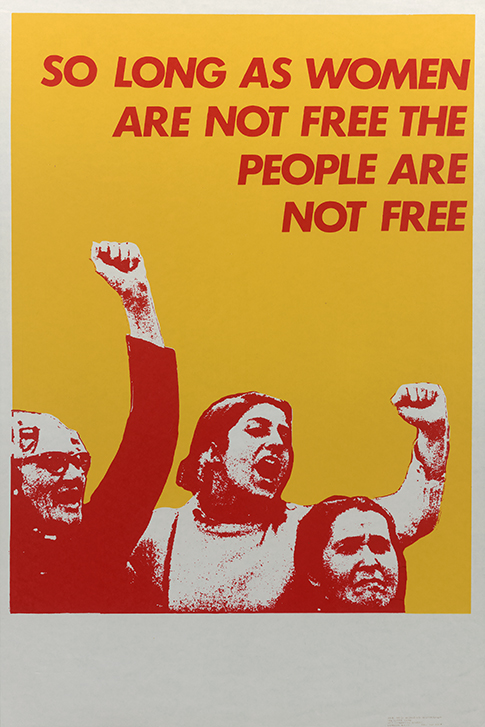 SO LONG AS WOMEN
ARE NOT FREE THE
PEOPLE ARE
NOT FREE
This piece's message takes the global message even farther, making the plight of women a human one — a common theme in the exhibition.
There is also a striking juxtaposition between the past and present that seethes throughout the small gallery. Celia Blomberg's "International Women's Day March 8" can't help but make one think of 2017's Women's March that would take place 37 years later. See Red Woman's Workshop's 1977 "Black Women Will Not Be Intimidated" could easily be repurposed to address the recent spate of blue-on-black brutality. Notable works by Barbara Kruger, Sister Corita Kent and the Guerilla Girls are also included.
Ironically , while it can be surmised that most of these works were made as populist posters to be distributed at the time as banners of protest, their beautiful simplicity and nostalgic elegance probably have resulted in the originals (mostly now found in art museums) sporting hefty vintage-resale prices.
But it is not just the art that has stood the test of time. The fact that the issues addressed in the show — feminism, choice, gender equality, war, immigration, police brutality or violence against women — are all issues at the forefront of debate in 2018 ultimately engenders conflicting feelings.
On one the hand, it is inspiring to see a vibrant exhibit that showcases such diversity in artistic styles, no doubt spawned by the diversity of the artists' own backgrounds. On the other hand, there is a realization that while there has been some progress over the past half century, there is so much work to be done.
Art Center's Hoffmitz Milken Center for Typography, 950 South Raymond Ave., Pasadena; through May 15.
---
Copyright Capital & Main