A Parade Passed By: Rethinking Our Democracy
The Fourth of July parade rolled down Main Street in Santa Monica while I sat at the computer writing this. Only half a block away, I could hear the sirens and the bands and the sound trucks. What kept me here instead of there was a desire to reflect, not celebrate. Twice a year – on Martin Luther King's birthday in January and now – I think about the state of American democracy.
I believe in democracy. I believe that democracy is the best form of government human beings have devised to date because it allows people to actually make changes in the government when they feel it's required. Monarchies, aristocracies, dictatorships and oligarchies preclude that option. In Western civilization, this country broke the tradition of absolute power to create a  republic – although participation was narrow: Voting was limited to male property owners. Over the next 150 years those rights expanded.
Voting rights expanded because people struggled for them. Women who demonstrated for the right to vote were arrested, went to jail, held hunger strikes, were beaten and raped and killed. African Americans suffered the same fate — first in the post-Reconstruction era when Jim Crow laws and civilian violence crushed African American rights, then again during the Civil Rights movement of the 1950s and '60s. Voting rights did not expand in a straight line – nor even along a straight line of struggle. Sometimes, for example, African Americans had the right to vote, as in New York during the early 1800s, and then those rights were taken away.
Now the evidence suggests that voting rights are contracting again. You might have thought that Florida would have learned from its registration purge scandal of 2000 that targeted African Americans in particular, but Florida actually continues the practice. Seven states now require government-issued photo identity cards: four in the Deep South, two border states, one Northern state. These laws limit voter participation – especially among African American, Latino, older and poorer voters whose capacity to secure birth certificates, document citizenship or pay for such is limited.
More than legal maneuvers remove people from the voter roles. Usually people take themselves out of the polls. They just don't vote. Maybe they are too busy or overworked, or out of town or too poor to even care. While everybody seems to hold political opinions, not everyone pays close enough attention to vote – which is their power to do something about those opinions.
But mostly people are distracted by the clatter and chaos American culture provides. The country seems enthralled by the shrillness of rhetoric in the media and the only way the news media play an issue is through conflict. He Said/She Said seems to be the only school of journalism in session in this country – which hardly helps voters reflect on problems and their solutions.
They are also distracted by the sight of huge displays of glittering lights. A baseball game must also have fireworks. Movies need to be in 3-D or offer more fear and mayhem than the last one. Sports competition must be extreme. The more spectacle there is, the more delighted we appear — and the more distracted from the seriousness required for democracy to survive.
Carl Jung said, "Fear seeks noisy company and pandemonium to scare away the demons." Since 9/11 we have all felt afraid, and candidates, elected officials, airport security, wars, counter-terrorism bureaucracies and economic recession all enhance the degree of our collective fear. In such an atmosphere, distraction makes perfect sense. Which is why I sat at my desk and reflected, instead of standing on the curb watching the parade pass by.

'Skeleton Crew' Is a Play With a Moral Spine
Set in a Detroit automobile outfitting plant, Dominique Morisseau's drama grabs you from the start with its focus on blue-collar men and women, and their struggle for dignity and self-respect.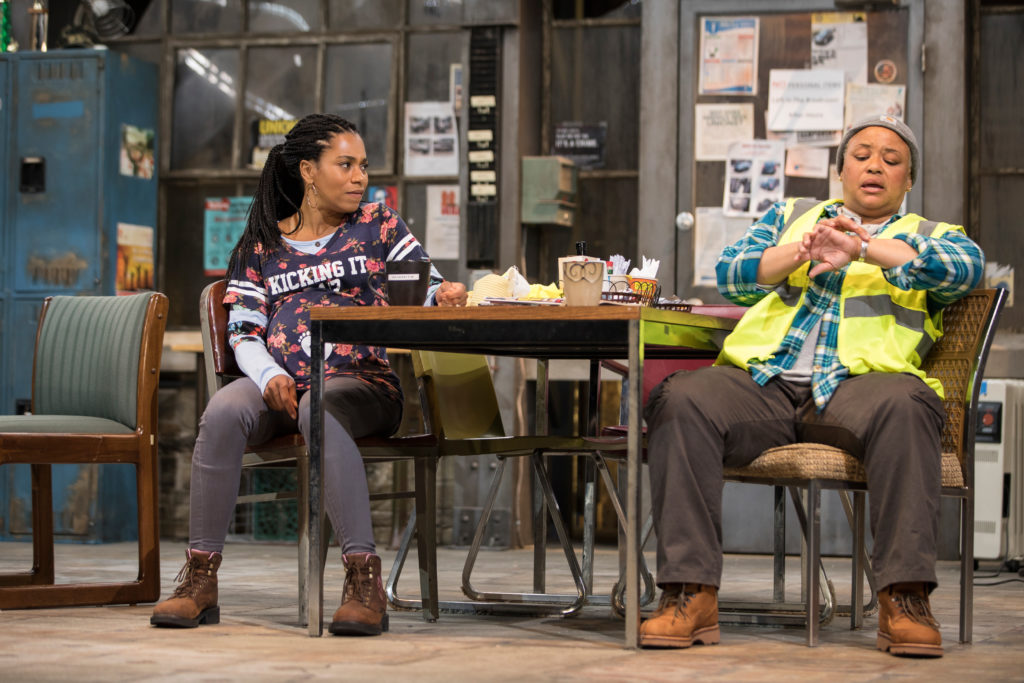 Working-class men and women of color are rarely front and center in today's media and, likewise, are presented all too occasionally on the American stage. So it's buoying to see that trend bucked in playwright Dominique Morisseau's percipient and well-crafted drama, Skeleton Crew. The play is the final installment in her Detroit  Project Trilogy; the first, Paradise Blue, is set in the 1940s amidst displacement caused by urban renewal and gentrification, while the second, Detroit '67, transpires on the eve of the 1967 Detroit riots sparked by a police action.
Directed by Patricia McGregor at Los Angeles' Geffen Playhouse, Skeleton Crew is a play with a moral spine. It takes place in 2008, when the shrinking U.S. auto industry is being further downsized. Morisseau's engaging quartet of characters — Faye (Caroline Stefanie Clay), Dez (Armari Cheatom), Shanita (Kelly McCreary) and Reggie (DB Woodside) – are employed at an automobile outfitting plant. Faye, Dez and Shanita are workers on the line while Reggie (who has a wife and kids, and has pulled himself together after a troubled youth) is their supervisor.
The first three customarily mingle in their break room (designer Rachel Myers' impressively cluttered, dingy and detailed set), trading the sort of familiar barbs and genuine concern for each other common among longtime co-workers. They also face off on philosophy: Upper-middle-aged Faye and the younger, pregnant Shanita take pride in their labor, while Dez, though a good worker, is a malcontent scornful of management and firm in the belief that everyone needs to watch out for himself. He's a thorn in Reggie's side, for while Reggie wants to be supportive of his workers, he must act at the behest of higher management. For his part, Dez resents Reggie's authority, and a palpable unease exists between them.
Besides this male matchup, we're made privy to Dez's attraction to Shanita, who mostly turns away his advances, but every now and then displays a hint of interest. Most poignant is Reggie's regard and affection for the lesbian Faye, which has roots in his boyhood when she loved, and lived, with his now-deceased mom.
These people's various predicaments intensify when rumors spread of the plant's shutdown — a disaster for all, but a particular calamity for the already near-broke Faye who, one year short of retirement, would lose her pension. The crisis forces each of these people to make a choice.
A sound piece of social realism, Skeleton Crew grabs you from the start in its focus on blue-collar men and women, and their struggle against odds for dignity and self-respect. Morisseau not only furnishes these characters a platform for their travails, she endows them with strong values, big hearts and the opportunity to choose between right and wrong.
Unfortunately, the performance I attended did not soar. Many exchanges lacked a fresh edge. The actors certainly had their characters down, but too often they appeared to be coasting on technique. (This seemed particularly true of Clay, who performed the role to great accolades in Washington, DC in 2017, also under McGregor's direction). Additionally, some of the stage movement was not entirely fluid; in confrontations, actors sometimes would just stand and face each other in an artificial way. And Cheatom's interpretation of Dez struck me as a bit overly churlish and depressive: I needed more glimpses of the intelligence and edge that would secretly attract the strong, self-directed Shanita.
The most compelling moments belong to Woodside, well-cast as a man trying his best in difficult circumstances to do the right thing.
---
Gil Cates Theater at the Geffen Playhouse, 10886 Le Conte Ave., Westwood Village; Tues.-Fri., 8 p.m.; Sat., 3 & 8 p.m. Sun., 2 & 7 p.m.; through July 8. (310) 208-5454 or www.geffenplayhouse.org