A Model of Downtown Los Angeles, 1940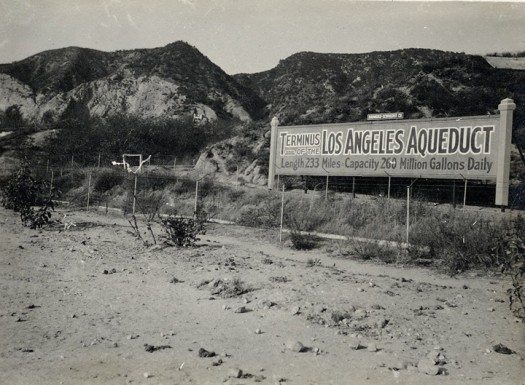 It's a bright, guilty world.
–Orson Welles in The Lady from Shanghai
But there is no water.
–T.S. Eliot, The Wasteland
The oldest Mercedes in California adorns
the crowded foyer of the L.A. County Museum
of Natural History, and babies shriek like bats
in the elevator that lowers my daughter
and me to the basement.  There, among the faint,
intermingled drifts of ammonia and urine
from the men's room, phantom display lights
luring the shadows over the inventions of Edison
and Bell, and dusty monuments to a century
of industrial progress, lies the mock-up L.A.,
whose perusal has been assigned to my daughter's
fourth-grade class in California history.
Fallen into ruin, its plexiglass sky yellowing
and covered with cracks, the fault lines of heaven,
it is soon to be hauled off with the duplicate
rhino horns and kachina dolls dulled with varnish.
Sarah circles the city, her face looming
large as a god's over buildings, across avenues
and boulevards from Vignes to Macy, then back
around the to the borders of Beaudry and Eighth Street,
where in 1938 my father sat alone
in the Tiptop Diner and made tomato soup
from a free bowl of hot water and catsup.
Across the street was the office of the L.A. Times
where several upstanding Christian men had conspired
to steal the water from the Owens Valley.
Our farm became a scrap yard of rotted pears,
a bone yard, irrigation canals dried up
And turned to sage.  A thousand lives in ruin
while L.A.'s San Fernando Valley rose
from desert into orange groves, and overnight,
made a fortune for the city fathers.  One day
our hayrack caught fire and there was hell
in the air.  On the roof, my father saw
in the distance a Hindu city with camels,
water buffalo, and four elephants:  Gunga Din.
water gone, vultures circling, Hollywood
was moving in.  We followed Mulholland's
aqueduct south to L.A. and the cool dark
of the Pantages Theatre in blazing August
while my father hunted for cheap housing
shacks with swamp boxes near Echo Park.
Each day he rode the classifieds
until the bars looked better, drank warm Pabst
at Mickey's Hideout where Franz Wefel
sang Verdi arias and told him stories
of Garbo, Brecht, Huxley, and Thomas Mann.
Later, he worked the rigs on Signal Hill
for a dollar a day, slinging the pipe tongs
and coming home smelling of oil and mud.
The days:  morning light opening the streets
like a huge hand, then the bruised fist
of evening, that incredible pink and blue
bleeding into night, and the homeless
in Pershing Square claiming their benches again.
That summer he was shipped to Okinawa,
the Japanese trucked like crates of oranges
to Manzanar near Lone Pine in the Owens Valley,
and I wandered among the jacarandas
and birds of paradise at the Public Library
reading the Communist Manifesto
and plotting revenge.  But I was a child.
Now I study Blake's Songs in rare editions
at Huntington's Museum and Botanical Gardens
and imagine the great patron and his pals
looking down on L.A. from the veranda
and sighing, Bill Mullholand made this city,
as the sun pales once more beneath a purple fist.
So, here is the Hall of Records, and Union Station
where my father, returned from the Pacific,
swore that we would head back north again.
Last night on television a man named Rodney King
showed how the city had progressed beyond
its primitive beginnings, how the open hand
of the law could touch a man in his very bones.
And there, staring back from the west end
of Spring Street, is my daughter learning her lessons
as she bends down for a closer look, pale blue eyes
descending slowly over the city, setting like
twin suns above the Department of Water and Power.
—————————————————————-
Author Note:  Although the story of the Owens Valley/Los Angeles aqueduct is generally well known (and debated) in California, it may be less known elsewhere other than through the film, Chinatown, which is not, obviously, not a documentary but a drama loosely based on the incidents leading to the construction of the aqueduct.  In 1905, encouraged by repeated headlines in the Los Angeles Times declaring a state of drought, citizens of Los Angeles voted for a bond issue to finance the building of an aqueduct from the Owens Valley 230 miles northeast of the city, a project of astonishing proportions successfully carried out by the brilliant, self-taught engineer, William Mulholland.  But the aqueduct was brought not to Los Angeles but rather to the San Fernando Valley a few miles northwest of L.A., where a group known as the San Fernando Valley land syndicate—including the owner of the Los Angeles Times, Henry Huntington, Moses Sherman (a member of the L.A. water board), and other fabulously wealthy men—had purchased thousands of acres of cheap land that would now be worth tens of millions of dollars.  Two years after construction was completed, the San Fernando Valley was annexed to Los Angeles (thus Noah Cross's famous line in Chinatown, "Either you bring the water to L.A., or you bring L.A. to the water").  Over the years, the effect upon farmers in the Owens Valley was disastrous, but the economic benefit to L.A. was beyond measure; it would be fair to speculate that without the aqueduct, L.A. today would be a small city about the size of Tulsa, Oklahoma.  In my poem, the story is told from the point-of-view of a former resident (and victim) in the Owens Valley; Franz Werfel, author of Song of Bernadette and friend of Kafka, was part of the European émigré community in L.A. during the late thirties and forties, along with Mann and the others named here; Manzanar was a prison camp for Japanese U.S. citizens during World War II; the Rodney King beating, widely televised, culminated in the L.A. riots of 1992.
—————————————————————-
Source:  The Art of the Lathe (1998), published by Alice James Books.
The son of a lathe operator, B.H. Fairchild grew up in small towns in Texas and Kansas.  He's won numerous awards, including the William Carlos Williams Award, Kingsley Tufts Poetry Award, and the California Book Award.
—————————————————————-
Five Poems the Next Mayor Should Read
These poems by some of L.A.'s finest poets are intended to help Mayor-elect Eric Garcetti look closely at our city and listen with care to its diverse voices,  from janitors to sidewalk fruit sellers to donut shop insomniacs. They are also an antidote to the platitudes of the campaign trail, and a reminder that the best political speech—and acts—can tap into people's deepest emotions and aspirations.

'Skeleton Crew' Is a Play With a Moral Spine
Set in a Detroit automobile outfitting plant, Dominique Morisseau's drama grabs you from the start with its focus on blue-collar men and women, and their struggle for dignity and self-respect.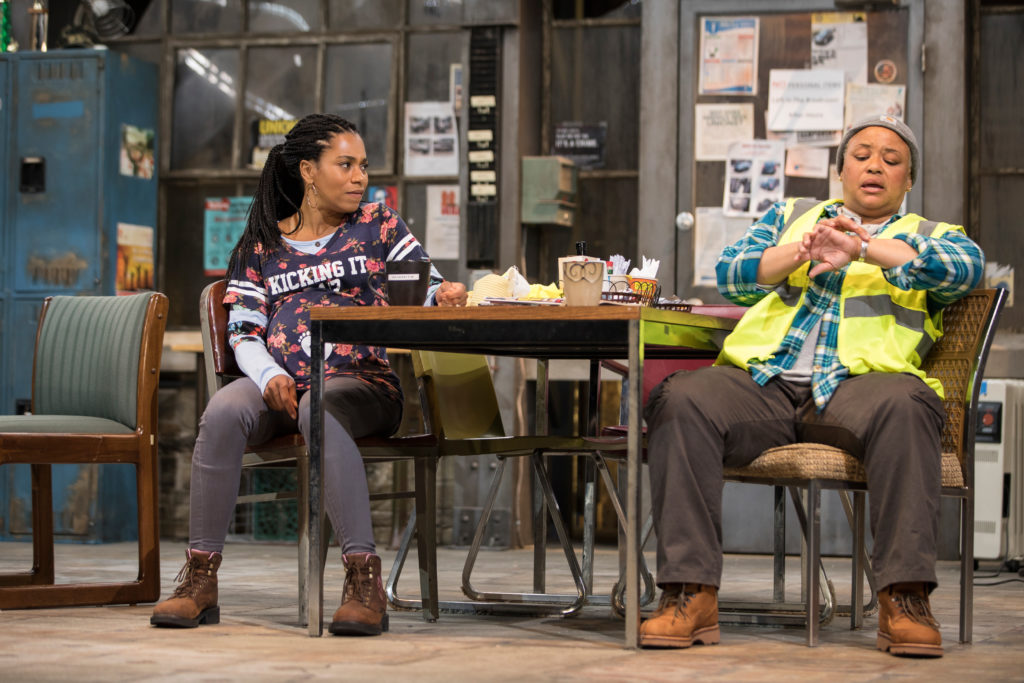 Working-class men and women of color are rarely front and center in today's media and, likewise, are presented all too occasionally on the American stage. So it's buoying to see that trend bucked in playwright Dominique Morisseau's percipient and well-crafted drama, Skeleton Crew. The play is the final installment in her Detroit  Project Trilogy; the first, Paradise Blue, is set in the 1940s amidst displacement caused by urban renewal and gentrification, while the second, Detroit '67, transpires on the eve of the 1967 Detroit riots sparked by a police action.
Directed by Patricia McGregor at Los Angeles' Geffen Playhouse, Skeleton Crew is a play with a moral spine. It takes place in 2008, when the shrinking U.S. auto industry is being further downsized. Morisseau's engaging quartet of characters — Faye (Caroline Stefanie Clay), Dez (Armari Cheatom), Shanita (Kelly McCreary) and Reggie (DB Woodside) – are employed at an automobile outfitting plant. Faye, Dez and Shanita are workers on the line while Reggie (who has a wife and kids, and has pulled himself together after a troubled youth) is their supervisor.
The first three customarily mingle in their break room (designer Rachel Myers' impressively cluttered, dingy and detailed set), trading the sort of familiar barbs and genuine concern for each other common among longtime co-workers. They also face off on philosophy: Upper-middle-aged Faye and the younger, pregnant Shanita take pride in their labor, while Dez, though a good worker, is a malcontent scornful of management and firm in the belief that everyone needs to watch out for himself. He's a thorn in Reggie's side, for while Reggie wants to be supportive of his workers, he must act at the behest of higher management. For his part, Dez resents Reggie's authority, and a palpable unease exists between them.
Besides this male matchup, we're made privy to Dez's attraction to Shanita, who mostly turns away his advances, but every now and then displays a hint of interest. Most poignant is Reggie's regard and affection for the lesbian Faye, which has roots in his boyhood when she loved, and lived, with his now-deceased mom.
These people's various predicaments intensify when rumors spread of the plant's shutdown — a disaster for all, but a particular calamity for the already near-broke Faye who, one year short of retirement, would lose her pension. The crisis forces each of these people to make a choice.
A sound piece of social realism, Skeleton Crew grabs you from the start in its focus on blue-collar men and women, and their struggle against odds for dignity and self-respect. Morisseau not only furnishes these characters a platform for their travails, she endows them with strong values, big hearts and the opportunity to choose between right and wrong.
Unfortunately, the performance I attended did not soar. Many exchanges lacked a fresh edge. The actors certainly had their characters down, but too often they appeared to be coasting on technique. (This seemed particularly true of Clay, who performed the role to great accolades in Washington, DC in 2017, also under McGregor's direction). Additionally, some of the stage movement was not entirely fluid; in confrontations, actors sometimes would just stand and face each other in an artificial way. And Cheatom's interpretation of Dez struck me as a bit overly churlish and depressive: I needed more glimpses of the intelligence and edge that would secretly attract the strong, self-directed Shanita.
The most compelling moments belong to Woodside, well-cast as a man trying his best in difficult circumstances to do the right thing.
---
Gil Cates Theater at the Geffen Playhouse, 10886 Le Conte Ave., Westwood Village; Tues.-Fri., 8 p.m.; Sat., 3 & 8 p.m. Sun., 2 & 7 p.m.; through July 8. (310) 208-5454 or www.geffenplayhouse.org