A Ground Game for Progress
I grew up playing soccer and everyone I knew played it. It was the highlight of the week – AYSO owned my city, Ventura, and most cities across Southern California. So I never understood why most Americans don't love soccer the way the rest of the world does. Until last Sunday.
Of course, I'd heard all of the usual complaints. "It's a low-scoring, boring, non-physical game." Is it "low-scoring"? Well, from the American perspective, it is. The average final score is about 2 to 1. But American football could be a low scoring game if touchdowns only gave a team one point instead of six. Football allows for three points just for kicking a ball between two posts.
But is it "boring"? Absolutely not! Who can forget when France's Zinedine Zidane was sent off the 2006 World Cup final game for head-butting Italy's Marco Materazzi's chest in retaliation to his verbal insults of Zidane's sister. And non-physical? Really? Soccer players engage in heavy one-on-one contact that results in yellow cards and serious injuries on a regular basis. Yet, the "boring critique" endures and Americans retain their superiority complex against soccer.
Then it hit me when I was watching the U.S. destroy El Salvador in the CONCACAF finals. We won 5-1, and it still seemed sluggish because of the way the camera captured the game. The camera always filmed from a broad, high perspective, and never on the ground near the players. This is very different from what we experience watching basketball, football, and baseball. We feel LeBron James' heat, we chase after Adrian Peterson's steps. Soccer fans never get to be on the field where Lionel Messi holds his secrets.
Perhaps soccer is the metaphor of our nation's moment in history. The "bird's-eye-perspective" on issues only goes so far before becoming boring and therefore unyielding. "Equality," for example, is a nice term, but it gets old and useless when there is no ground game. The LGBT community has courageously changed hearts and minds throughout the country because its members have shared their personal stories and have made those experiences real in homes, at school, in the military and all areas of society. It becomes increasingly unmanageable for homophobia to continue when friends, daughters, sons, parents and coworkers only seek what their straight counterparts take for granted under the law.
We see this courage locally in Santa Monica, where hotel workers are standing up for dignity and respect as a whole wave of new hotel development is occurring that may change the entire city for worse. It's one thing for us to talk about "community benefits" when projects come for city approval. It is another for Edith Garcia, a hotel housekeeper, to share her story of survival, from immigrating to this country to fighting for a living wage against harassment and intimidation. Mahatma Gandhi referred to this practice as "Satyagraha," loosely translated as the "insistence on truth." It is bearing witness to that which we may not want to address, but which may be the only path to our goal.
We progressives then need to keep our movements for social change on the ground. We live in tense times, and it is always easy to disengage or keep the conversation broad and therefore insignificant. But we must follow the lead of the LGBT movement and hotel workers and keep the conversation urgent, up close and personal.
(Rachel Torres is a research analyst for Unite Here Local 11.)

'Skeleton Crew' Is a Play With a Moral Spine
Set in a Detroit automobile outfitting plant, Dominique Morisseau's drama grabs you from the start with its focus on blue-collar men and women, and their struggle for dignity and self-respect.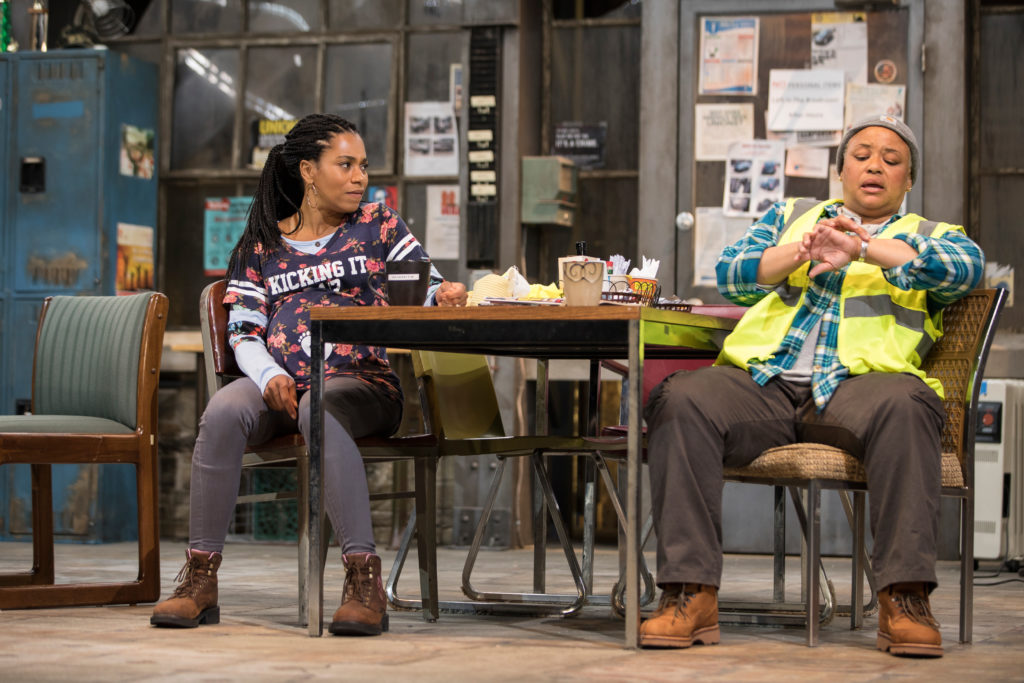 Working-class men and women of color are rarely front and center in today's media and, likewise, are presented all too occasionally on the American stage. So it's buoying to see that trend bucked in playwright Dominique Morisseau's percipient and well-crafted drama, Skeleton Crew. The play is the final installment in her Detroit  Project Trilogy; the first, Paradise Blue, is set in the 1940s amidst displacement caused by urban renewal and gentrification, while the second, Detroit '67, transpires on the eve of the 1967 Detroit riots sparked by a police action.
Directed by Patricia McGregor at Los Angeles' Geffen Playhouse, Skeleton Crew is a play with a moral spine. It takes place in 2008, when the shrinking U.S. auto industry is being further downsized. Morisseau's engaging quartet of characters — Faye (Caroline Stefanie Clay), Dez (Armari Cheatom), Shanita (Kelly McCreary) and Reggie (DB Woodside) – are employed at an automobile outfitting plant. Faye, Dez and Shanita are workers on the line while Reggie (who has a wife and kids, and has pulled himself together after a troubled youth) is their supervisor.
The first three customarily mingle in their break room (designer Rachel Myers' impressively cluttered, dingy and detailed set), trading the sort of familiar barbs and genuine concern for each other common among longtime co-workers. They also face off on philosophy: Upper-middle-aged Faye and the younger, pregnant Shanita take pride in their labor, while Dez, though a good worker, is a malcontent scornful of management and firm in the belief that everyone needs to watch out for himself. He's a thorn in Reggie's side, for while Reggie wants to be supportive of his workers, he must act at the behest of higher management. For his part, Dez resents Reggie's authority, and a palpable unease exists between them.
Besides this male matchup, we're made privy to Dez's attraction to Shanita, who mostly turns away his advances, but every now and then displays a hint of interest. Most poignant is Reggie's regard and affection for the lesbian Faye, which has roots in his boyhood when she loved, and lived, with his now-deceased mom.
These people's various predicaments intensify when rumors spread of the plant's shutdown — a disaster for all, but a particular calamity for the already near-broke Faye who, one year short of retirement, would lose her pension. The crisis forces each of these people to make a choice.
A sound piece of social realism, Skeleton Crew grabs you from the start in its focus on blue-collar men and women, and their struggle against odds for dignity and self-respect. Morisseau not only furnishes these characters a platform for their travails, she endows them with strong values, big hearts and the opportunity to choose between right and wrong.
Unfortunately, the performance I attended did not soar. Many exchanges lacked a fresh edge. The actors certainly had their characters down, but too often they appeared to be coasting on technique. (This seemed particularly true of Clay, who performed the role to great accolades in Washington, DC in 2017, also under McGregor's direction). Additionally, some of the stage movement was not entirely fluid; in confrontations, actors sometimes would just stand and face each other in an artificial way. And Cheatom's interpretation of Dez struck me as a bit overly churlish and depressive: I needed more glimpses of the intelligence and edge that would secretly attract the strong, self-directed Shanita.
The most compelling moments belong to Woodside, well-cast as a man trying his best in difficult circumstances to do the right thing.
---
Gil Cates Theater at the Geffen Playhouse, 10886 Le Conte Ave., Westwood Village; Tues.-Fri., 8 p.m.; Sat., 3 & 8 p.m. Sun., 2 & 7 p.m.; through July 8. (310) 208-5454 or www.geffenplayhouse.org