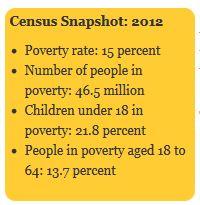 Recovery?
What recovery? The economic outlook may have picked up for some Americans, but not for those in the bottom income brackets – and especially children — according to figures released by the U.S. Census Bureau on Tuesday.
In fact, there were nearly seven million more people living in poverty in 2012 than there were in 2008, the beginning of the Great Recession.
Overall, 46.5 million people were living at or below the poverty line last year, according to the agency's major annual report on the issue, the Current Population Survey. And more than one-fifth of children, or 16 million youth, were living in poverty, the survey showed.
"They are still the age group suffering the most poverty," Deborah Weinstein, executive director of the Coalition on Human Needs, said in a statement.
It was the 11th year in the last 12 that poverty "worsened or failed to improve," according to the Center on Budget and Policy Priorities. Overall, real household income declined 8.3 percent since 2007, the year before the economic downturn, the Census report said.
Changes in the 2012 real median household income levels and the poverty rate were not statistically significant from the prior year's survey. Essentially, the data show that despite a rising economy, both the middle class and the poor are still stuck.
One reason for this stagnation is an explosion of low-wage and part-time work, according to the Center for American Progress, which noted that more than 40 percent of job growth was in low-wage sectors. Meanwhile, the wealthiest households have experienced increases in their income of 5.2 percent, further widening the income inequality gap.
The data released Tuesday also included information on health insurance coverage. Slightly more people had health insurance last year than in 2011. However, there are still 48 million people without coverage, the Census Bureau reported.
(This post first appeared on Equal Voice News and is republished with permission.)