Documented: Pomona College's Shame
By Jennifer Medina
(Note: This feature appeared on the New York Times Web site February 1.)
CLAREMONT, Calif. — The dining hall workers had been at Pomona College for years, some even decades. For a few, it was the only job they had held since moving to the United States.
Then late last year, administrators at the college delivered letters to dozens of the longtime employees asking them to show proof of legal residency, saying that an internal review had turned up problems in their files.
Seventeen workers could not produce documents showing that they were legally able to work in the United States. So on Dec. 2, they lost their jobs.
Now, the campus is deep into a consuming debate over what it means to be a college with liberal ideals, with some students, faculty and alumni accusing the administration and the board of directors of betraying the college's ideals. The renewed discussion over immigration and low-wage workers has animated class discussions, late-night dorm conversations and furious back and forth on alumni e-mail lists. Some alumni are now refusing to donate to the college, while some students are considering discouraging prospective freshmen from enrolling.
For the last two years, many of the dining hall workers had been organizing to form a union, but the efforts stalled amid negotiations with the administration. Many on campus believe that the administration began looking into the employees' work authorizations as a way to thwart the union effort, an accusation the college president, David W. Oxtoby, has repeatedly denied. But that has done little to quell questions and anger among the fired workers and many who support their efforts to unionize.
"We were here for a very long time and there was never a complaint," said Christian Torres, 25, a cook who had worked at the college for six years. "But now all of the sudden we were suspect, and they didn't want us to work here anymore."
Mr. Torres, who still greets dozens of people on campus by first name, had been one of the primary leaders of the effort to create a union until he lost his job in December.
Dr. Oxtoby said the board of trustees received a "specific, credible complaint" from an employee in early 2011 about the college's hiring policies and moved to investigate the accusations.
For months, officials said, lawyers from the law firm Sidley Austin combed through the university's records and met with administrators. By the time the investigation was complete, the law firm had identified deficiencies in the files of 84 employees, including dining hall and maintenance workers as well as professors and students working for the college. Each employee received the same letter asking for documents to re-verify their work status. Of the 17 employees who ultimately lost their jobs, 16 were dining hall workers.
Dr. Oxtoby said that when he heard the results, he "knew immediately this would be an explosive issue."
"This is a very sensitive issue especially in Southern California, and many of our students and faculty are immigrants themselves or are descendants of immigrants," he said. Still, he said, he had no doubt that the workers would need to leave the college. "The law is very unforgiving, and unfortunately we have to obey the law even though it really hurt the community."
The idea that the college had mounted the effort to stop the union drive was the opposite of the truth, he said. "We've been trying to improve the relationship with workers for some time, and this has been a big setback," Dr. Oxtoby said. "Rationally, it would have not made strategic sense."
Dr. Oxtoby and the college's trustees repeatedly said there was no choice but to fire the workers. In a letter from the law firm, lawyers for the college said the college would have left itself open to investigation and punishment from federal immigration authorities had it not fully examined the employment files.
Pomona is part of a consortium of seven colleges whose campuses intertwine here. In December, a day before the Pomona workers were fired, a human resources officer at Scripps College, another member of the consortium, called seven employees there asking them to complete a new work authorization form.
The next day, the Scripps president, Lori Bettison-Varga, sent an e-mail to students and the staff saying that "as soon as the calls came to the attention of the President's Office, they were halted." Further, she said that employment forms were stored off campus, and added, "There is no reason for any further questions or actions to be pursued." A spokeswoman for the college said that the human resources official was not acting on any complaint.
That e-mail only prompted more anger and suspicion among those involved at Pomona, who argued that Scripps showed that the college could have taken less aggressive measures.
While the investigation of the workers' immigration records has generated the most controversy, it was hardly the first time that students had vocally criticized the administration's treatment of the people who served their food each day. Months before, students had complained that renewed enforcement of a rule barring dining hall employees from talking to students in the cafeteria during their breaks was a way to stop any union effort.
"We're told that we are a community, that everyone on campus matters, but that's really not what we see now," said Isabel Juarez, a junior who participated in a fast to demand that Dr. Oxtoby meet with workers in November.
Ms. Juarez emigrated to Chicago with her parents from Guatemala when she was a teenager and draws parallels between her parents' struggles in the United States and the college workers' troubles. "You contrast this with the way students are treated here, where we really get everything. These are the people who serve us every day and they are just asserting their rights — we would be outraged if we were treated that way."
Dr. Oxtoby said the college made tremendous efforts to support the workers who lost their jobs. Each was given a severance of two weeks pay for every year of employment, as well as health insurance through June.
Still, it does little to reassure Carmen, 30, who asked that her last name not be used for fear of alerting immigration officials. Carmen had worked at the college for 11 years, using the money she earned to put herself through a public college. But she never looked for another job, fearing that she would not be able to produce the proper documents. For years she made about $8 an hour, but in recent years raises had increased her wages to nearly $17 an hour. She and her husband bought a modest home in nearby Pomona this fall and moved in just two weeks before she was fired.
"I really don't know what I am going to do," she said, adding that her options were to look for work that paid in cash or move back to Mexico with her 2-year-old son while her husband, an American citizen, stayed here. "I'm still in shock. This is the only thing I've really ever known."
California Tries to Close Its College Degree Equity Gap
It's been no secret that public higher education in California is badly broken, following four decades of disinvestment and tuition hikes.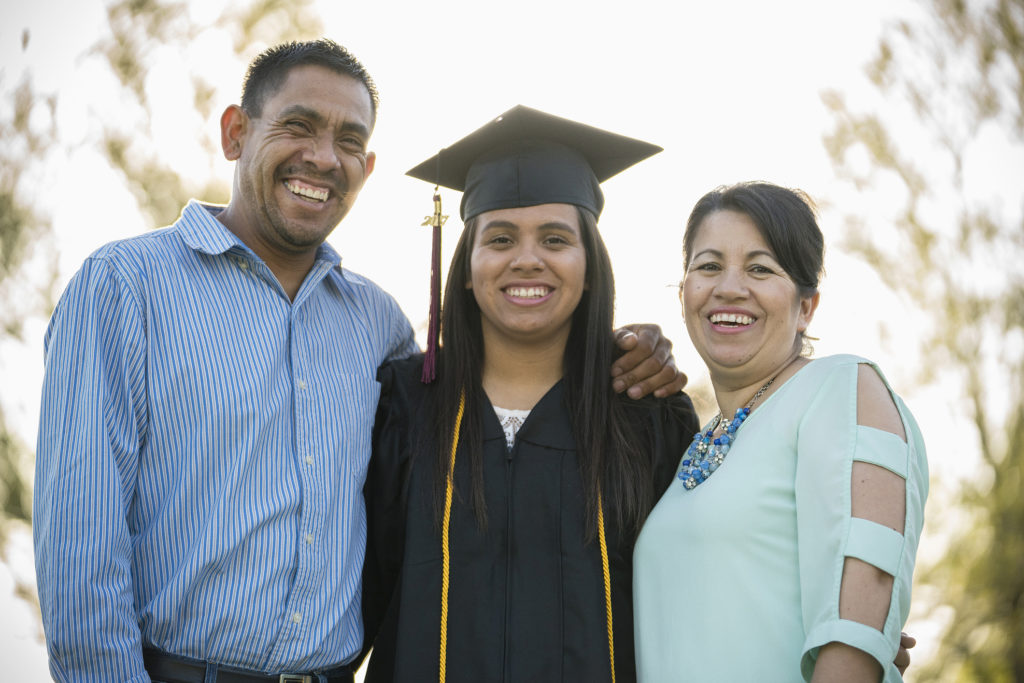 Today, with California's higher education system cartwheeling from one crisis to the next, the state's vaunted Master Plan for Higher Education, which in 1960 revolutionized matriculation with a modern, multi-segmented system of public colleges and research universities, is being attacked as an obstacle to opportunity. Its outworn ideas of access and excellence have been rendered so thoroughly obsolete by demographical change and austerities that education reformers won't waste their breath or political capital on a master plan redesign. Instead, change advocates are focused on improving delivery.
"We don't need another blue ribbon commission or task force to study it," argues Audrey Dow, senior vice president at the research and advocacy group Campaign for College Opportunity. "What we need is a governor who's going to take action and say, 'Okay, I'm setting the goal. I'm going to take these policies and make sure that ones [already] on the books are implemented. And then I'm going to add this, and then with my January budget, this is what I'm going to do.'"
That person would be Governor-elect Gavin Newsom, who, on the campaign trail, embraced the idea — if not an actual number — of a state college completion goal. Sacramento has already passed a handful of reforms aimed at streamlining on-time graduations. After inauguration, Newsom will launch "California Promise," his sweeping education agenda that includes some of the college access, affordability and infrastructure pieces that advocates like Dow insist are needed to close equity gaps.
It's been no secret that public higher education in California is badly broken. Four decades of disinvestment and dizzying tuition hikes, on top of some of the country's highest costs of living, have put its world-renowned, formerly low-cost degrees disproportionately out of reach for low-income students and students of color. This year, that sustained neglect was formally recognized when the university system that gave the world its fifth-largest economy slipped from its top rankings spot in the annual QS World University Rankings.
"The big story here is, we've had tremendous historical success," notes John Douglass, a senior research fellow at the University of California, Berkeley's Center for Studies in Higher Education, who has written on the crisis. "But this system is starting to break down, and it's just not clear where we're going, and nobody's offered a vision on how we can maintain access for Californians to our higher public ed system and the robust relationship of the universities with economic development."
It's little wonder that an election eve poll conducted by the Public Policy Institute of California (PPIC) found that a majority of likely voters said the level of state funding for public higher education was insufficient, and 61 percent thought there is not enough government funding for scholarships and grants for students who need financial help. That's almost exactly the same percentage that cast their ballots for Newsom, who promised to make affordability and degree completion a top priority.
Better late than never. For the past decade PPIC has issued warnings that California risks crippling its economy if it doesn't close what the nonpartisan research group says by 2030 will otherwise be a workforce skills gap of 1.1 million baccalaureate degrees. For a state that increasingly relies on — and rewards — highly educated workers to grow its knowledge economy, a degree deficit will translate into lower wages, reduced tax revenues and a widening chasm of income inequality.
Similar concerns in 2009 led the new Obama administration to set a national goal to have 60 percent of all 25-to-34-year-olds complete at least an associate degree by 2020. By 2017, 45 states had adopted or were considering their own college attainment targets. California, however, conspicuously failed to follow suit.
"There's really been at the state level no real leadership to say, 'Hey, this is the gap, this is how we're going to close it, and we're going to align policy and budget to that, to ensure we set an attainment goal, and hit that attainment goal," explains Dow.
The irony, she adds, is that more Californians are going to college — and graduating — than ever before. This includes Latinos, who now account for half of the state's K-12 students. But those numbers are too few and rising too slowly to meet the projected demand. Which is why the College Opportunity campaign has been lobbying Newsom to adopt a statewide college credential attainment goal of 60 percent of adults — or 1.7 million additional degrees — by 2030.
"Within that goal we have to be closing racial equity gaps," she emphasizes. "There's just no way that it's mathematically possible for California to hit 60 percent without closing racial and ethnic gaps in attainment."
What is possible is for Newsom to combine political leadership with an arsenal of research-proven strategies developed to mitigate the worst completion rates in the state. The 70 percent share of all California's public college students who attend the 114-campus community college system is an artifact of the Master Plan, which designed the two-year colleges to take all the mostly underserved students whose grades left them ineligible for the elite four-year University of California, and who couldn't get into the California State University system. Unfortunately, the 2.1 million community college students have only a 47 percent chance of graduating, transferring to a four-year school, or earning some sort of certificate after six years.
One of the more divisive methods being proposed to boost completions is a Jerry Brown pay-for-performance funding scheme from the Gates Foundation that would withhold part of the schools' $6.7 billion in general funding until specific transfer targets are met. Newsom has remained noncommittal. An early success at clearing a transfer path to the CSUs was the Associate Degrees for Transfer program, in which any student with the certificate is guaranteed admission. Its effectiveness persuaded UC to sign onto a similar program last spring. There's also Assembly Bill 705, which requires community colleges to consider high school grades rather than placement tests in order to reduce non-credit remedial coursework. Which was also the point last year of CSU's controversial decision to simply do away with remedial classes altogether as it tries to double its 19 percent four-year graduation rate to 40 percent by 2025.
It is to eliminate such frictions that Newsom has vowed to revive a version of the defunct California Postsecondary Education Commission (CPEC) to coordinate student-centered reforms across the UC, CSU and community colleges. Jerry Brown had eliminated CPEC in a 2011 line-item budget veto, claiming it had become "ineffective," then vetoed a subsequent effort to revive it. The new commission will also oversee what could be Newsom's most impactful proposal — an integrated data system to both track student progress and act as early-intervention radar by anticipating problems on the degree track. But as promising as that might sound on paper, university veterans of past budgetary battles may require convincing.
"At the moment, I don't really know how high higher education is in Newsom's agenda," Douglass says warily. "I think it could be like Jerry Brown's, which was not very high. The only issues he really cared about was the politically popular issue of freezing tuition, not looking at, well, what is the financial model? How can the system grow with the state's population and needs?"
But Newsom's campaign trail commitments to degree equity and to expanding affordability have already persuaded Dow and other college education advocates. The real proof will come in how much he'll include for higher education in his first, January budget, and in how soon he'll honor his campaign pledge to double the state's current year of free community college or to expand Cal Grant B Access awards for low-income students as a pathway to a debt-free degree.
"Those are the costs that really put students into debt or keep students from going full time," Dow argues. "We have to be thinking about time-to-degree as an affordability issue. When students at a community college take six years to complete, that's four additional years that they're paying for tuition when it should have been two years."
The truth is, Dow would have good reason to be optimistic about any young governor entering office at the head of a mandate-like blue wave of legislative Democratic supermajorities, and with a projected $14 billion surplus to turn his promises into policies.
"We will see what happens," she says.
---
Copyright Capital & Main