The GOP's Doublespeak Lexicon
Frank Luntz, the Republican pollster and messaging guru, gave a recent talk where he described his 10 biggest Do's and Dont's for talking about the economy in the post-Occupy Wall Street environment. It's worth reviewing these 10 points and reflecting on what Luntz's insights on behalf of the 1% tell us about how we can successfully talk about the issues we care about, on behalf of the 99%.
The main thing – the frightening thing – is that Luntz has a history of actually succeeding at changing the debate in America. Why? Because Republicans like Luntz are masters of the reductive fear phrase and it comes out all over his suggestions. These are the guys, after all, who turned inheritance duties into "death taxes" and from that, advisory health committees into "death panels." But they're clearly on the defensive here – for the time being.
Luntz begins his talk to the Republican base by admitting, "I'm so scared of this anti-Wall Street effort. I'm frightened to death."
Yipeeeeee! Enough said.
Now for Luntz's Do's and Don'ts – and what our responses should be.
1. Luntz says, Don't say "capitalism."
We say: "Capitalism. Capitalism. Capitalism." Capitalism – in its current, mostly unregulated form – is hurting a lot of people and needs to be reformed.
2. Luntz says, Don't say government "taxes the rich." Say, government "takes from the rich."
We say: The rich need to pay their fair share so that we can all live a decent life. That's why government needs to tax the rich.
3. Luntz says, Republicans should forget about winning the battle over the "middle class." He suggests that Republicans talk about "hard-working taxpayers."
We say: We care deeply about the middle class — and the fact that there isn't one anymore. We can't have a successful democracy without a strong middle class. No country can.
4. Luntz says, Don't talk about "jobs." Talk about "careers." In his talk to what I imagine was a room full of very well-off people, he asked people to raise their hands if they cared about having "a job" versus having "a career." No one did. Big surprise.
We say: We care a lot about jobs, especially good jobs and lots of them. Of course we want people to have careers. But mostly we want everybody to have a good, steady income and a decent life.
5. Luntz says, Don't say "government spending." Call it "waste."
We say: When you cut to the bone, as we have with government spending, it's pretty hard to argue that there's fat or waste left over – although I'm sure Luntz and his friends would argue for draining the marrow. We need government to spend in order to take care of our most important community needs, like roads and education and healthcare and good jobs for everyone.
6. Luntz says, Don't ever say you're willing to "compromise." For Republicans, that's "selling out." Say "cooperation."
We say: On this point, we agree wholeheartedly with the right wing of the Republican Party. We need to stand on our own values. We can and should cooperate but we should not be compromising our fundamental values, like taking care of our children, our elderly, our common needs as a society.
7. Luntz says, The three most important words to say to an Occupier: "I get it."
We say: it's not about "getting it." It's about coming up with real solutions that deal with the out-of-control greed on Wall Street and in corporate America. That's why we need the focus to stay on Wall Street and on capitalism and on the creation of good jobs and a healthy environment.
8. Luntz says, Out: "Entrepreneur." In: "Job creator." Use this and "small business owners" instead of "entrepreneurs" and "innovators."
We say: This issue is about responsible business that commits to creating good jobs and a healthy environment for all. We need government to set the rules of the road so that responsible businesses in our country aren't undermined by bottom-feeding sharks that call themselves "job creators."
9. Luntz says, Don't ever ask anyone to "sacrifice."
We say: Actually, we need some of those rich people to sacrifice a little bit and help out the rest of us. They may feel like it's a sacrifice to give up their 10th car and their fifth home, but so be it.
10. Luntz says, Always blame Washington.
We say: It's about Wall Street greed and capitalism run amok. Always blame the source: Wall Street.
As a bonus, Luntz adds that the Republicans should never say "bonus." He suggests that they talk about "pay for performance." I say that we're really talking about income excess and the fact that the greediest 1% are giving themselves bonuses for hurting so many people and undermining our democracy.
In the end, what Luntz's talk really confirms is that – for the first time in many years – we have the chance to talk about what's actually wrong with our economy and the importance of joining together to make things better for the 99%. Finally we get to talk about those greedy capitalists. Greedy capitalists. Greedy capitalists. Greedy capitalists.

'Skeleton Crew' Is a Play With a Moral Spine
Set in a Detroit automobile outfitting plant, Dominique Morisseau's drama grabs you from the start with its focus on blue-collar men and women, and their struggle for dignity and self-respect.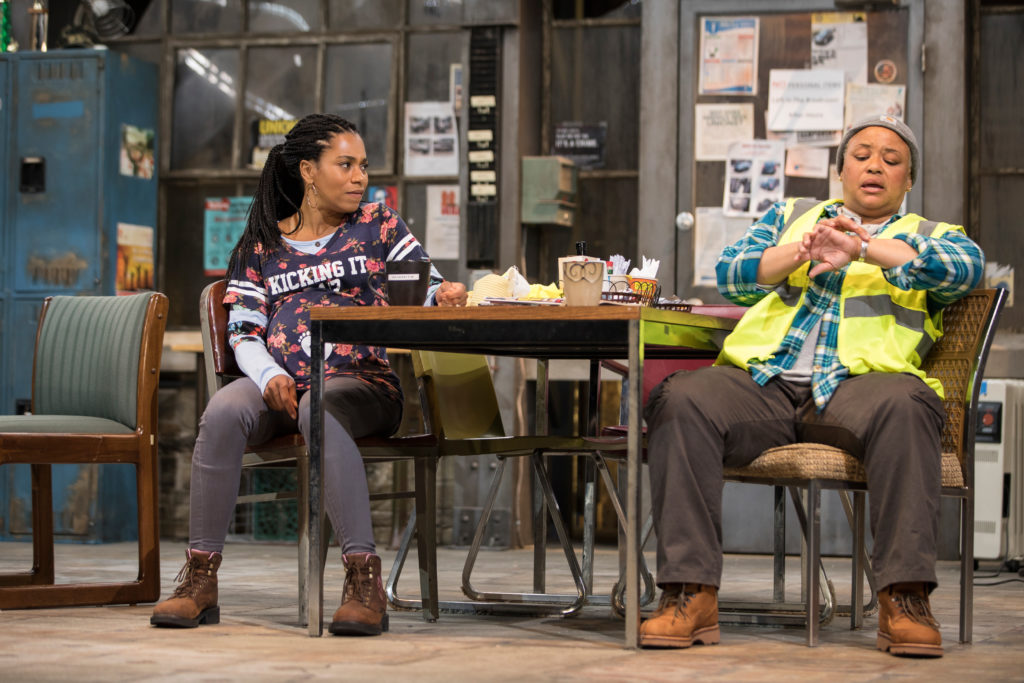 Working-class men and women of color are rarely front and center in today's media and, likewise, are presented all too occasionally on the American stage. So it's buoying to see that trend bucked in playwright Dominique Morisseau's percipient and well-crafted drama, Skeleton Crew. The play is the final installment in her Detroit  Project Trilogy; the first, Paradise Blue, is set in the 1940s amidst displacement caused by urban renewal and gentrification, while the second, Detroit '67, transpires on the eve of the 1967 Detroit riots sparked by a police action.
Directed by Patricia McGregor at Los Angeles' Geffen Playhouse, Skeleton Crew is a play with a moral spine. It takes place in 2008, when the shrinking U.S. auto industry is being further downsized. Morisseau's engaging quartet of characters — Faye (Caroline Stefanie Clay), Dez (Armari Cheatom), Shanita (Kelly McCreary) and Reggie (DB Woodside) – are employed at an automobile outfitting plant. Faye, Dez and Shanita are workers on the line while Reggie (who has a wife and kids, and has pulled himself together after a troubled youth) is their supervisor.
The first three customarily mingle in their break room (designer Rachel Myers' impressively cluttered, dingy and detailed set), trading the sort of familiar barbs and genuine concern for each other common among longtime co-workers. They also face off on philosophy: Upper-middle-aged Faye and the younger, pregnant Shanita take pride in their labor, while Dez, though a good worker, is a malcontent scornful of management and firm in the belief that everyone needs to watch out for himself. He's a thorn in Reggie's side, for while Reggie wants to be supportive of his workers, he must act at the behest of higher management. For his part, Dez resents Reggie's authority, and a palpable unease exists between them.
Besides this male matchup, we're made privy to Dez's attraction to Shanita, who mostly turns away his advances, but every now and then displays a hint of interest. Most poignant is Reggie's regard and affection for the lesbian Faye, which has roots in his boyhood when she loved, and lived, with his now-deceased mom.
These people's various predicaments intensify when rumors spread of the plant's shutdown — a disaster for all, but a particular calamity for the already near-broke Faye who, one year short of retirement, would lose her pension. The crisis forces each of these people to make a choice.
A sound piece of social realism, Skeleton Crew grabs you from the start in its focus on blue-collar men and women, and their struggle against odds for dignity and self-respect. Morisseau not only furnishes these characters a platform for their travails, she endows them with strong values, big hearts and the opportunity to choose between right and wrong.
Unfortunately, the performance I attended did not soar. Many exchanges lacked a fresh edge. The actors certainly had their characters down, but too often they appeared to be coasting on technique. (This seemed particularly true of Clay, who performed the role to great accolades in Washington, DC in 2017, also under McGregor's direction). Additionally, some of the stage movement was not entirely fluid; in confrontations, actors sometimes would just stand and face each other in an artificial way. And Cheatom's interpretation of Dez struck me as a bit overly churlish and depressive: I needed more glimpses of the intelligence and edge that would secretly attract the strong, self-directed Shanita.
The most compelling moments belong to Woodside, well-cast as a man trying his best in difficult circumstances to do the right thing.
---
Gil Cates Theater at the Geffen Playhouse, 10886 Le Conte Ave., Westwood Village; Tues.-Fri., 8 p.m.; Sat., 3 & 8 p.m. Sun., 2 & 7 p.m.; through July 8. (310) 208-5454 or www.geffenplayhouse.org