1992 Remembered: Prophets and Prisoners of War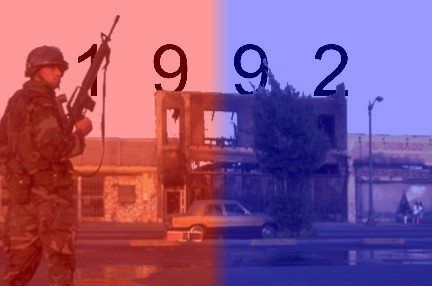 Ruben Martinez is a professor of literature and writing at Loyola Marymount University; his most recent book, Desert America: Boom and Bust in the New Old West, will be released in August. At the time of 1992's civil unrest, he was a reporter for the L.A. Weekly. Martinez spoke to Frying Pan News about his coverage during that volatile week.
Frying Pan News: What was your assignment that first day?
Ruben Martinez: I was at the courthouse in Simi Valley, camped out with Eric Spillman of KTLA – I couldn't get inside, there were too many people there already. Outside, all the veteran journalists had their lawn chairs and umbrellas — they'd been there for weeks. The spectacle of it impressed me.
Did the acquittals shock the media?
Yes. A really motley crew of people – reporters, trial watchers and random Valley people — were there that day. One guy was dressed as an Old Testament prophet, complete with a "Repent" sign and a conch shell.
What was your role, once everything exploded?
I became the "on the scene" reporter in the Latino neighborhoods like Pico-Union. During the first night the flames were contained to South L.A. But then there was a moment when we looked north and saw smoke on the horizon — Downtown. The way I explained it was that those neighborhoods north of the 10 Freeway were ready to explode as strongly as those in South L.A.
What did you see during that critical second day?

Generalized panic. What people didn't understand is that the looting in the beginning came from moms getting diapers and food – they realized, "Oh shit the city's going up in smoke, how am I going to feed my family?"
Back then I'd been on this track where I'd travel from L.A. to Mexico City and San Salvador. And now I had this sense that time and place had collapsed: L.A. was in San Salvador and San Salvador was in L.A. The city was the living representation of race and class in 20th Century America.
When did you figure out the enormity of it?
Probably the second night. I was also working at KCET's Life and Times and we could smell Circuit City burning across the street while we were live on TV. During the fourth day, on the corner of Sunset and Crescent Heights, I saw a road-rage incident between a white guy in a BMW and some black kids. The kids leapt out of their car with gats and the guy in the BMW threw his hands up – like he was a prisoner of war!
Did you feel resentment about being sent into a war zone?
Yes and no. There was a moment at the Weekly when I snapped at the managing editor and used the word "cracker" or something. The discourse of the city that week was so raw, wounded, angry and sad. I totally sensed I was being summoned by the Weekly  to "represent," but in the moment I knew this was what I had to do. I took it on as a personal, political mission – my city was in flames. The resentment came after the fact, a couple of years later – it was kind of like post traumatic stress disorder.
Were there big changes in the aftermath?
Hell yeah – millions of dollars from the Clinton administration rolled in, along with foundation money that went to community organizations. Nonprofit budgets doubled and tripled overnight. The change in the LAPD was slower and clunkier, but the process of reform had begun, even there.
And today?
It's a similar situation to 1992 with the exception of the LAPD — that's fundamentally different. I'm not predicting a riot tomorrow. L.A.'s come into its own and has gotten so many things right — Hollywood has begun to reflect the city better, and there have been big changes in Mexican-American political participation.
But back then there was no escape valve – the police would ticket kids in Pico-Union just for jaywalking. Yet today there are still the crazy differentials in economics and there's still this gulf between the two L.A.s in the new media. Sitcoms, with their perfectly diverse casts, do a better job of reflecting the city than the L.A. Times.
Click here for more 1992 Remembered stories.

'Skeleton Crew' Is a Play With a Moral Spine
Set in a Detroit automobile outfitting plant, Dominique Morisseau's drama grabs you from the start with its focus on blue-collar men and women, and their struggle for dignity and self-respect.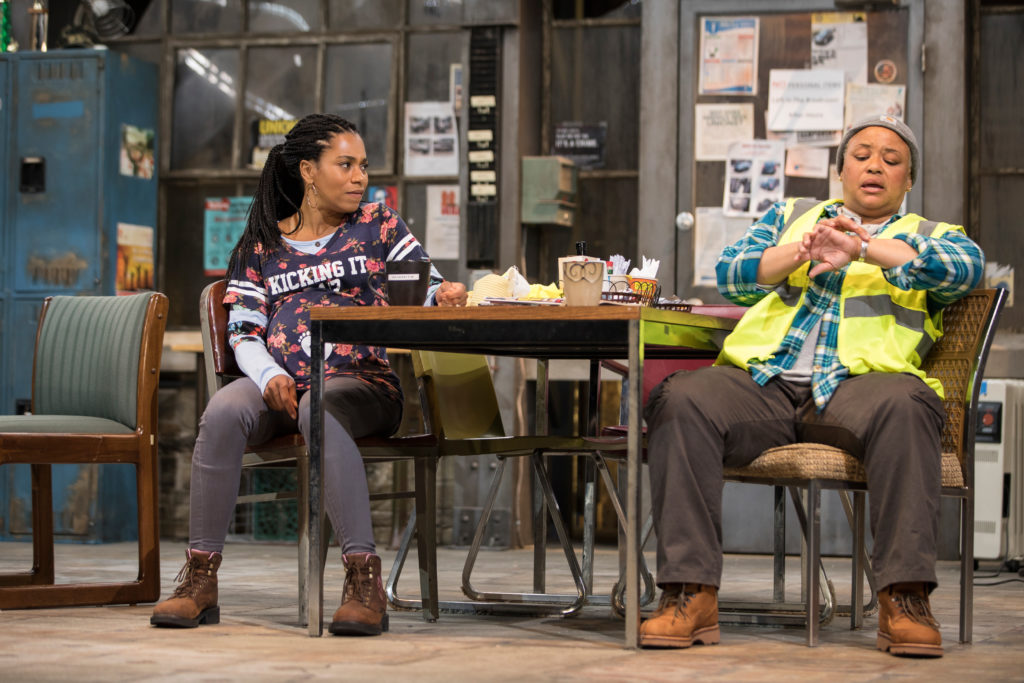 Working-class men and women of color are rarely front and center in today's media and, likewise, are presented all too occasionally on the American stage. So it's buoying to see that trend bucked in playwright Dominique Morisseau's percipient and well-crafted drama, Skeleton Crew. The play is the final installment in her Detroit  Project Trilogy; the first, Paradise Blue, is set in the 1940s amidst displacement caused by urban renewal and gentrification, while the second, Detroit '67, transpires on the eve of the 1967 Detroit riots sparked by a police action.
Directed by Patricia McGregor at Los Angeles' Geffen Playhouse, Skeleton Crew is a play with a moral spine. It takes place in 2008, when the shrinking U.S. auto industry is being further downsized. Morisseau's engaging quartet of characters — Faye (Caroline Stefanie Clay), Dez (Armari Cheatom), Shanita (Kelly McCreary) and Reggie (DB Woodside) – are employed at an automobile outfitting plant. Faye, Dez and Shanita are workers on the line while Reggie (who has a wife and kids, and has pulled himself together after a troubled youth) is their supervisor.
The first three customarily mingle in their break room (designer Rachel Myers' impressively cluttered, dingy and detailed set), trading the sort of familiar barbs and genuine concern for each other common among longtime co-workers. They also face off on philosophy: Upper-middle-aged Faye and the younger, pregnant Shanita take pride in their labor, while Dez, though a good worker, is a malcontent scornful of management and firm in the belief that everyone needs to watch out for himself. He's a thorn in Reggie's side, for while Reggie wants to be supportive of his workers, he must act at the behest of higher management. For his part, Dez resents Reggie's authority, and a palpable unease exists between them.
Besides this male matchup, we're made privy to Dez's attraction to Shanita, who mostly turns away his advances, but every now and then displays a hint of interest. Most poignant is Reggie's regard and affection for the lesbian Faye, which has roots in his boyhood when she loved, and lived, with his now-deceased mom.
These people's various predicaments intensify when rumors spread of the plant's shutdown — a disaster for all, but a particular calamity for the already near-broke Faye who, one year short of retirement, would lose her pension. The crisis forces each of these people to make a choice.
A sound piece of social realism, Skeleton Crew grabs you from the start in its focus on blue-collar men and women, and their struggle against odds for dignity and self-respect. Morisseau not only furnishes these characters a platform for their travails, she endows them with strong values, big hearts and the opportunity to choose between right and wrong.
Unfortunately, the performance I attended did not soar. Many exchanges lacked a fresh edge. The actors certainly had their characters down, but too often they appeared to be coasting on technique. (This seemed particularly true of Clay, who performed the role to great accolades in Washington, DC in 2017, also under McGregor's direction). Additionally, some of the stage movement was not entirely fluid; in confrontations, actors sometimes would just stand and face each other in an artificial way. And Cheatom's interpretation of Dez struck me as a bit overly churlish and depressive: I needed more glimpses of the intelligence and edge that would secretly attract the strong, self-directed Shanita.
The most compelling moments belong to Woodside, well-cast as a man trying his best in difficult circumstances to do the right thing.
---
Gil Cates Theater at the Geffen Playhouse, 10886 Le Conte Ave., Westwood Village; Tues.-Fri., 8 p.m.; Sat., 3 & 8 p.m. Sun., 2 & 7 p.m.; through July 8. (310) 208-5454 or www.geffenplayhouse.org