1992 Remembered: Mike Davis' Tale of Two Riots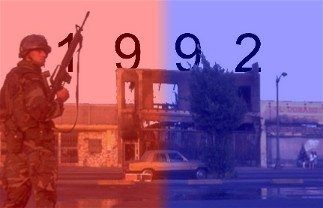 This month Frying Pan News is presenting personal stories of the April 29-May 4, 1992 explosion that has been called everything from a riot to a rebellion. These recollections do not represent the point of view of this blog or its sponsor, the Los Angeles Alliance for a New Economy. They do, however, present snapshots of a moment in a city's troubled history — as well as opinions about how far we still need to go to make Los Angeles work.
Today's post comes from Mike Davis, author of City of Quartz and Ecology of Fear. He teaches creative writing at U.C. Riverside.
A Tale of Two Riots
I was protesting at Parker Center when the Simi Valley verdict was announced. I spent the evening in South Central, talking to people and watching the fires. The next day I walked from my apartment in Angeleno Heights to Pico Union. There was looting and some arson (historic Andrews Hardware on Seventh Street, for instance) but no violence.
I had lived in the curfew area during August, 1965 so I had some eyewitness basis for comparing the two riots. The Watts Rebellion for the most part was a unitary revolt of black youth against police brutality and de facto segregation. The Rodney King explosion, in contrast, was a series of separate but simultaneous detonations: kids against police in the wake of Operation Hammer, a more or less targeted attack on Korean businesses, and a postmodern food riot that expressed the acute economic distress of poor Latino neighborhoods.
Or, to look at it from a slightly different perspective, it was an archipelago of events with specific local histories: In Compton, for instance, black and Latino kids burned down businesses owned by absentee black developers; in Latino Huntington Park, Cuban-owed businesses were trashed; and in Hollywood, persons unknown stole Madonna's underwear from a Frederick's display window. Several kids I interviewed at a gang unity event in Inglewood scorned the idea that the Rodney King beating was an instigation; they spoke instead of Latasha Harlins, the black teenager shot the previous year by a Korean storeowner — who was sentenced to probation rather than to prison.
I later wrote that the most important image of that week was actually taken the Christmas before: a Times photograph of thousands of women and children standing in the cold for a free handout of a chicken and a toy. L.A. had not seen such hardship since the late 1930s. But the impact of the recession on poor immigrant neighborhoods — the ultimate prime-mover of most of the looting — went otherwise unreported.
In contrast to the aftermath of the 1965 riot, which produced the whitewashing McCone Commission report that was followed by eloquent and fierce rebuttals, there was no official interest in unpacking the separate but convergent causes of 1992, or looking at the mass repression and violation of civil liberties that followed.
The only significant reflection was an ACLU report that showed that the majority of the arrestees were not African-African, and that most in fact had been taken into custody either north of Adams Boulevard or outside the city limits — facts that hardly support the dominant stereotypes of black gangs looting the city. The television news, reported from helicopters hovering at 500 feet or paraphrased from police spokespeople, was particularly egregious.
The failure to understand the real lessons of 1992 — especially the links between the revolt and the crisis of daily life in poor neighborhoods — ensures the possibility of a third iteration. "Rebuild L.A." did not include jobs or significant public investment in the flatlands; the bursting of the real estate bubble meanwhile has erased the equity and savings of several hundred thousand working-class families. Although a reinvigorated L.A. labor movement won a series of important contracts and policy victories in the decade after the riot, momentum has slowed; the unions have again become mired in the swamp of Democratic intrigue and internecine warfare.
Progressives in L.A. and elsewhere need to be as uncompromising as the Christian Right. We must define a baseline human needs agenda and punish any politician who is not unwaveringly committed to the preservation and extension of that social safety net. No more Villaraigosas.
Other 1992 Remembered Posts:
Mike Davis: A Tale of Two Riots
Lovell Estell III: Hold the Flak Vest
Judith Lewis Mernit: The Ecology of Riot
Ted Soqui: A Photographer Follows the Smoke

LISTEN: How Two African-American Entrepreneurs Are Determined To Change Diets In The Black Community
On the latest episode of "The Bottom Line" podcast, Naturade's Claude Tellis and Kareem Cook share how their own families' experience with diabetes has spurred them to promote healthy eating options.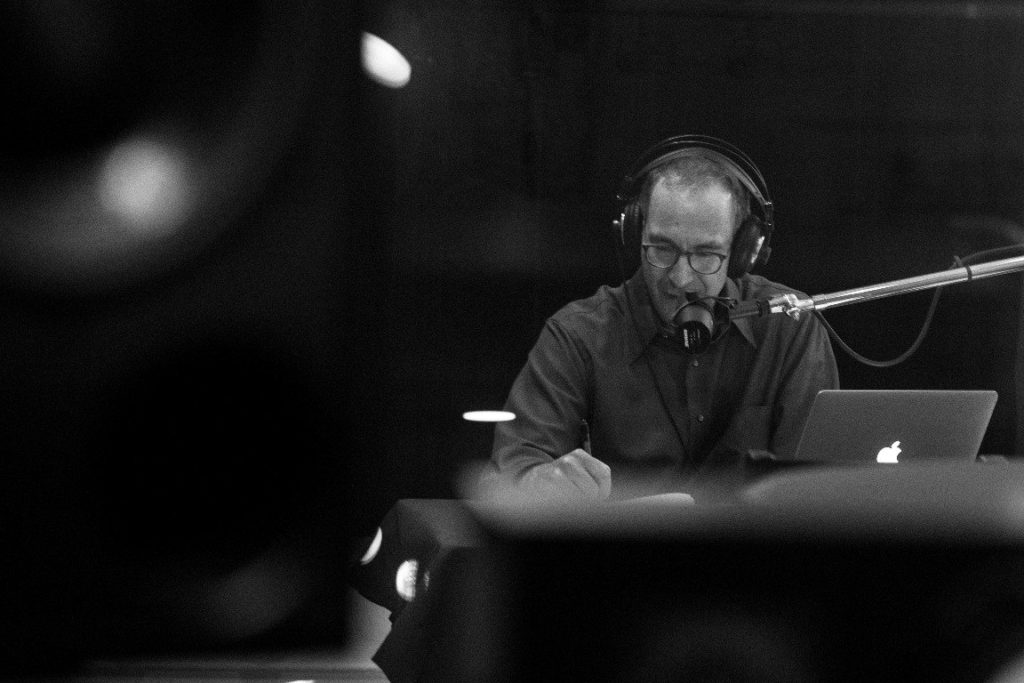 Many entrepreneurs pride themselves on solving some sort of "pain point" for their customers. But as Claude Tellis and Kareem Cook, the co-owners of health-products provider Naturade make clear, some pain points are a lot more serious than others.
"I had an uncle that went into the doctor, wasn't morbidly obese or anything, lived in Louisiana and . . . the family was faced with, 'Do we amputate both of his legs or not?'" Tellis told me on the latest episode of my podcast, The Bottom Line. "He never made it out of the hospital. He died, and he was about 55 years old."
Another uncle, says Tellis, who serves as Naturade's CEO, "was faced with losing a couple toes." Eventually, "they had to take his leg from the knee down."
In the African-American community, dealing with this grim loss of life and limb—often brought on by diabetes and peripheral arterial disease—has become disturbingly routine. "You just kind of grew up with insulin in the refrigerator," says Cook, Naturade's chief marketing officer.
And so Tellis and Cook have set out to combat this crisis by helping underserved populations—especially those in black neighborhoods—eat better. Their vehicle for sparking change is Naturade, which they acquired in 2012 for $8 million.
Although the Orange, Calif., company is nearly a century old, Tellis and Cook have revamped it completely, including introducing a new product that is now their No. 1 seller: VeganSmart, a plant-based meal replacement that is high in protein, low in sugar, and full of vitamins and minerals. Its suggested retail price is $35 for 15 servings.
"What we really wanted," says Tellis, "was something that had Whole Foods quality that could be sold to a Walmart consumer."
To achieve that vision, they've built the brand methodically. Step one, Tellis says, was making sure that vegans bought in, so that "people when they look online will see that there's an authenticity and there's a rigor" to what's being offered.
From there, they handed out VeganSmart at Wanderlust yoga festivals, aiming to attract a hip, upscale crowd. This helped advance a "premium viewpoint of the product," Tellis says.
Finally, there came the last step: bridging into urban America. To catch on there, they've adopted an influencer strategy, tapping rappers like Styles P and Da Brat and professional basketball players to promote VeganSmart. (Grant Hill, soon to be inducted into the NBA Hall of Fame, is an investor in Naturade.)
The result is a profitable company that is now selling into, among other retailers, both Whole Foods and Walmart—just as Tellis and Cook had planned it.
Not that any of this has come easy. The duo, who met as Duke University students in the early 1990s, have played in the health-food space for more than 15 years now.
Their first venture, launched in 2002, was a vending machine company called Healthy Body Products, which supplied nutritious snacks and drinks instead of junk food and soda. The business won contracts with the Los Angeles Unified School District, but it was difficult to scale. So Cook and Tellis ultimately sold the venture—but not before gaining some insight into what it takes to persuade those in the mainstream to eat right.
At one point, they brought in actor Michael Ealy (then fresh off one of the Barbershop films) to talk to the students about the importance of maintaining a good diet. "One of the biggest things we learned in our first business was how to make it cool," Tellis explains.
And, of course, if that doesn't work as a motivator, there's always a second message to fall back on. "Everyone wants to be cool," says Cook. "And no one wants to die."
You can listen to my entire interview with Tellis and Cook here, along with Bridget Huber reporting on Impact America Fund's efforts to help improve low- to moderate-income areas, and Karan Chopra laying out what small rice farmers in West Africa can teach American business leaders.
The Bottom Line is a production of Capital & Main.