1992 Remembered: Hold the Flak Vest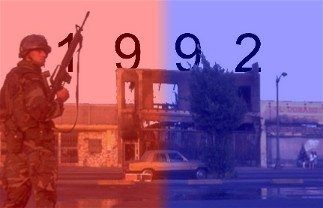 Twenty years ago Los Angeles exploded in a confusing nightmare of violence, triggered by the jury acquittal of four police officers accused of beating black motorist Rodney King. For the next month Frying Pan News will present personal stories of the incendiary events that have been called everything from a riot to a rebellion. Today's post comes from Lovell Estell III, a longtime L.A. Weekly theater critic.
Hold the Flak Vest
I was in the fourth month of an internship at the Silver Lake-based L.A. Weekly on that day in April. There was a lead-dense atmosphere of tension in the building – but also an electric current of excitement. Earlier in the day, publisher Mike Sigman had asked me if I wouldn't mind doing a bit of field reporting, after which he handed me a flak vest. I politely declined both the vest and his offer of potential journalistic immortality. (Or mortality, if I happened to catch a bullet.)
Later that night, I went to Micelli's in Hollywood for dinner, but couldn't get home to Victoria Park, near Pico Boulevard, because by 7 p.m., bus service was shut down citywide. I stayed with a friend that evening, and we passed the time at the Holiday Inn on Highland — huddled in the bar with a crush of skittish citizens watching the city burn on the big screen. The Reginald Denny beating was played over and over. Little did I know that night that my riot experience was far from over.
I had to walk home from Hollywood the next day. It really wasn't so bad, because there were cops and media trucks everywhere you looked, and the streets were filled with the curious. But the moment I walked in the door at home, my mother hit me with the news that my dear, sweet grandmother had made an appointment to get her hair done, and nothing was going to change her mind — not even the fact that the city was going up in flames and people were getting assaulted. To make matters worse, my grandmother had spent some of her life "passing" — she looked white, which was even more distressing when I thought of what was happening on the streets.
It took me nearly two hours to drive eight miles. I hit every side street I could think of, but I got her to her appointment. Six hours later, we were both at home, thank God, enjoying dinner.
The most productive changes since then have been within the LAPD. The "knuckle-dragging, head-bashing" brand of policing has been long gone, and the force has become more professional and — dare I say — "user friendly." Also, I don't think that there is nearly as much animosity between our black and Korean citizens now. But there is still work to be done. Poverty, despair and hopelessness still impact many of our citizens and their communities, and until something is done to address these root causes and conditions, the tinder box may very well ignite once again.
Other 1992 Remembered Posts:
Mike Davis: A Tale of Two Riots
Lovell Estell III: Hold the Flak Vest
Judith Lewis Mernit: The Ecology of Riot
Ted Soqui: A Photographer Follows the Smoke