1992 Remembered: Driving Into the Wreck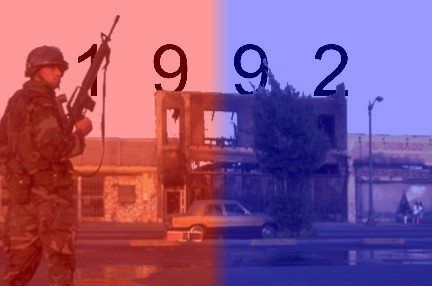 It was a Wednesday night and my son was watching the news on TV in his room while I fixed dinner. "Dad," he called from the bedroom, "Dad, you better get in here and see this."
"This" turned out to be the beginnings of the worst urban social upheaval in American history. Its early moments were caught on film by a news helicopter high over the intersection of Florence and Normandie. We watched, transfixed, as some black kids pulled a white truck driver out of his cab and one of them hit him with a brick. An Asian woman was threatened as she tried to make a right turn off Normandie onto Florence, her face etched with fear. Car windows were broken. The news commentators called them "hoodlums" and the police were nowhere in sight. Then we watched as the city began to burn.
I was an undergrad at UC Santa Barbara when Watts upended L.A. in 1965, and now, in 1992, I wanted to see for myself what the aftermath of a night of riots looked like. So I put on my clerical collar – my defense against universal disorder – climbed in my old VW bug, and drove the streets of South L.A. I haphazardly drove to every United Methodist Church south of the I-10. From Vernon and Budlong to Normandie and 65th Street, to Grammercy near Manchester, over to 85th and Main, down past 103rd and Central, then back north toward the I-10.
The streets were relatively quiet in the morning-after hangover. Not many cars. Police units with officers crammed in, four-to-a-car, guns bristling. Latino families pushing shopping carts from looted supermarkets piled high with boxes of diapers, bottled water, canned food.
Every church I saw – including the ones I passed that weren't Methodist, were locked up, closed. The ministers were home safe, apparently. Except for an older minister I knew at one place. He had spent the night at the church, he told me. He knew the gangs in the neighborhood and in the early morning hours he had pushed a flaming mattress away from a wall of the community center across the street that the church operated. Alone, he had talked down some kids in the neighborhood who were on a rampage.
Later up on West Adams, my long-time mentor, Rev. Jim Lawson, was also at his church, Holman United Methodist. He was the one who had invited Martin Luther King Jr. to Memphis to support the garbage workers' strike and who had trained Nashville's non-violent demonstrators. From his office window we now watched the smoke curling up from a dozen fires around the basin. We felt saddened by the events and the destruction, and we were aware of how much more there was to come before things turned around.
In 1965, the official response examined the needs in South L.A.: the bureaucracy of welfare, the neglect of schools, the absence of supermarkets, the segregated housing, the dearth of hospitals, the barest representation at City Hall, an occupying force of a nearly all-white police force. These were the results of a white Los Angeles that was not paying attention. As my then-bishop at the time said, "I didn't know."
In 1992 the response looked at the assets of South Los Angeles. Bankers took bus tours to places they had never seen and realized there were healthy loan opportunities there. Studies examined the amount of groceries people from the area purchased but could not buy in South Los Angeles, so firms promised to build supermarkets and strip malls. The school district geared up the largest municipal bond issue in American history to build new schools across the inner city. The media acknowledged and acclaimed the richness and diversity of cultural experience throughout the area. The city identified 52,000 jobs in South L.A. — where conventional wisdom said there were none — and initiated job creation and work-readiness projects.
In 1965 Los Angeles looked at the neglected needs of South Los Angeles. In 1992 it focused on asset analysis and the results attracted investments from both private and public sectors. The work is not done. Some of it has stalled, but in the aftermath of that upheaval the tone and the tenor shifted – and even the results – from despair to possibility. Those were changes my son and I would never have imagined as we sat in his room that night watching TV as L.A. burned.
The Big Chill: L.A.'s Homeless Face the Winter With Fewer Beds Than Before
With more money than ever to spend on homelessness, Los Angeles County offers fewer winter shelter beds than last year. Why?
"Everything that goes wrong in a city" gets blamed on the program and its clients, says the executive director of one homeless service provider.
---
It's a December evening at the Hope of the Valley Rescue Mission's winter shelter in Pacoima, a working-class neighborhood in Los Angeles. A mix of homeless men and women talk quietly, in English and in Spanish, while they eat their franks and beans, as others are still having their bags searched at the door, and still others are grabbing blankets and staking out cots.
Ken Craft, the mission's soft-spoken CEO, is seated at one of end of the large, brightly lit room. He seems worried. As the weather grows colder and homeless Angelenos learn how to access the shelter through its various pickup locations, this 138-bed facility will reach capacity and homeless people will be turned away, he predicts.
Los Angeles city and county officials are stepping up efforts to combat homelessness, and residents have voted to tax themselves to pay for an increase in homeless services overall. But this year, the county has 21 percent fewer winter shelter beds than last year, according to data from the Los Angeles Homeless Services Authority (LAHSA), the county's main administrator of homeless services. The number of winter shelter beds available during the coldest months of the year dropped from 1,451 to 1,146.
This should be cause for concern. From January 1, 2016 to December 21, 2018, hypothermia was listed as the primary or secondary cause of death for 10 homeless people, according to the Los Angeles County Coroner's office.
---
Seven of 10 homeless hypothermia deaths happened in December or January. Most who died were men in their 50s and 60s.
---
In 2017, county voters—faced with an exploding homeless population of more than 50,000—supported Measure H, a 0.25-cent sales tax hike intended to increase homeless services and prevention. (The prior year, city voters had approved Measure HHH, a $1.2 billion bond measure intended to fund 10,000 units of permanent housing over the next decade.) This year, $120 million of Measure H dollars went to funding "interim housing." The goal is to add 3,250 year-round shelter beds to what's already available and move homeless people into permanent housing, according Phil Ansell, director of the County of Los Angeles Homeless Initiative.
But those funds are not paying for more beds for the winter shelter program, a 15-year-old hypothermia prevention effort that providers say is a critical resource, if not the most effective way of connecting homeless people to permanent housing and services. Such shelters are generally open from early December through March and house people for just 14 hours daily, creating logistical challenges for service providers and their homeless clients, who must be rousted from their beds in the early mornings and find their way back in the evening. Homeless people benefit from more stable housing, from where they can look for jobs and take advantage of services.
Many providers who ran winter shelter programs in the past are now running year-round facilities and no longer have the capacity to open separate shelters for the winter, according to Raquel Ziegler, Crisis Housing Coordinator for LAHSA.
---
Managers of winter shelter programs often face exacting fire safety requirements and operational hassles — as well as neighborhood opposition.
---
Ziegler is not satisfied with the number of beds available through the winter shelter program, however. "It would be great if we had an additional 2,000 emergency shelter beds pop open during the season," Ziegler said. But those managing the program often face exacting fire safety requirements and operational hassles — as well as neighborhood opposition.
"Everything that goes wrong in a city" gets blamed on the program and its clients, says Laura Duncan, executive director of Ascencia, a homeless service provider in Glendale that ran a winter shelter last year. At Forest Lawn Memorial Park, during a recent Ascencia-sponsored memorial service for homeless people who died last year, Glendale City Councilwoman Paula Devine rattled off other challenges: "It's so expensive," "you have to find a huge facility," and it attracts "homeless from all over."
Seven of those 10 homeless hypothermia deaths happened in December or January. Most who died were men in their 50s and 60s. Last March, in Orange County, a homeless family of four, including two young children, were found dead in their van, apparently of carbon monoxide poisoning, when their car was left running to keep them warm while they slept.
Some regions have seen a dramatic decline in winter shelter beds this season. The vast Antelope Valley—with its thrashing desert winds and freezing night temperatures — has only 50 beds this winter compared to 178 last year, according to LAHSA.
There are costly consequences when homeless people have to find their own source of heat. Last Saturday, a fire that started at 7:10 a.m. at a homeless encampment in Palmdale caused $50,000 worth of damage to a business, according to the Antelope Valley Press. However, the lack of available beds might not be the only problem, as the nearby winter shelter reportedly had empty beds at the time.
Homeless clients may not want to leave their encampments for shelters only to be "booted out" before returning "to wherever it was that their encampment was," said Carol Crabson, CEO of Lancaster-based Valley Oasis, who ran a winter shelter last year and would like to see the program provide 24-hour shelter, which it can do now only under extreme weather conditions. With temperatures plunging to the "mid-20s" at night, she said, her staff is "seeing a lot of people who are really sick."
---
To satisfy neighbors' concerns about loitering homeless people, the latter are not allowed to approach one Pacoima shelter by car or foot, but must wait for a van to fetch them.
---
For planning purposes, the county divides itself into eight regions or "service planning areas." The South Los Angeles region has experienced a 30-percent decrease in winter shelter beds. And the South Bay/Harbor planning area has seen a 40-percent decline in winter shelter beds, even though its percentage of unsheltered homeless jumped by six percent last year. The East L.A. planning area has no winter shelters listed on its flyer this year, nor did it have any last year, even though the number of unsheltered homeless in the area also rose in 2018.
Early last year, Los Angeles Mayor Eric Garcetti pledged to cut his city's unsheltered population of homeless in half during the next five years. Overall, the region saw a small decrease in homelessness in 2018 (four percent in the county and six percent in the city). However, more people are also falling into homelessness for the first time due to the county's affordable housing shortage and the lack of good jobs, says Phil Ansell, director of the Los Angeles County Homeless Initiative. "We are successfully taking more water out of the boat than ever before," he said. "But there remains a very significant hole in the bottom of the boat."
Back in Pacoima at the Hope of the Valley winter shelter, Cheryl Jackson, who has been homeless since last February, is one who has fallen through that hole. She has struggled to support herself since moving to Los Angeles from Texas in 2007, even though, she says, she has a cosmetology license, has worked for years as an administrative assistant for medical centers, and still works as a home-health aide.
To satisfy neighbors' concerns about loitering homeless people, Jackson, who is 57, is not allowed to approach the shelter by car or foot. Instead, she must wait in the winter dark for a white van to fetch her at one of five pick-up locations.
---
One woman arrived at the shelter at 9 p.m., only to be sent away to a pick-up spot. "Why do I have to go away? I'm here," she asked.
---
That system was the result of a "good neighbor" policy, which L.A. City Councilwoman Monica Rodriguez says she spearheaded in 2017 after Pacoima residents, joined by their "five-year-olds with signs," protested the reopening of the Hope of the Valley shelter for the winter.
Neighbors were concerned about homeless people loitering as they waited each evening for the opening of the facility, which is located near two elementary schools. In addition to the establishment of pick-up sites, the policy required the hiring of a security and sanitation workers and the establishment of a feedback hotline, which Rodriguez said has received "zero calls."
"Faced with the homelessness crisis, I had one of two options," Rodriguez says. "I could either be that person that said, 'No, we're not going to do this,' or figure out how to address the community's concerns."
On my mid-December visit to the Pacoima shelter, one woman with dark, shoulder-length hair arrived at 9 p.m. only to be sent away to a pick-up spot, where staff promised they would fetch her. She's seemed frustrated and bewildered. "Why do I have to go away? I'm here," she said.
But most people I met there, like Tabatha Kauhola and her boyfriend, Hampton, understood the system. Kauhola appreciated the welcoming staff and the warm meal, and didn't complain about the austere cots, crammed together row by row. Her main grievance: the early wake-up time of 5 a.m., needed so the clients can be back in the van by 7.
Homeless since 2014, Kauhola says she has lived in hotel rooms, at friends' homes, in a car and in a tent beside the 405 Freeway. Domestic violence that led to head trauma precipitated her becoming homeless, she said. Prior to that, she had a job as a home-health-care aide, and an apartment in Van Nuys.
Now she and Hampton are hoping to find permanent housing and eventually reunite with their three young children. "Once we get housed, the light will be brighter. Then they will be able to come to our home," she said.
A few tables away, Cheryl Jackson journals, a practice she has kept for almost 40 years and has passed on to a daughter, a University of California, Los Angeles graduate, who she nursed through hospitalizations connected to a blood disorder. She works to keep a hopeful outlook.
"I'm not bitter. I'm just maturing and learning how to put this together," says Jackson, with a bright, disarming smile. "There is still something very wonderful happening."
---
Copyright Capital & Main