1992 Remembered: A Photographer Follows the Smoke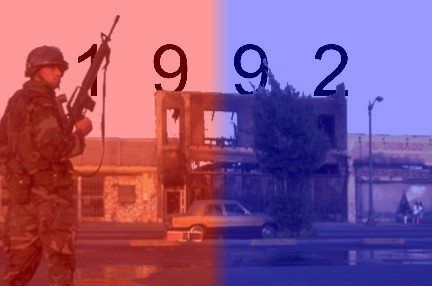 Photos by Ted Soqui
(Photographer Ted Soqui's account of the 1992 events, as told to Frying Pan News, appears below. He covered the violence for the L.A. Weekly and created some the unrest's most memorable images. In 2011 his photograph of an Occupy L.A. protester was used by Shepard Fairey to produce Time magazine's Person of the Year cover. This Wednesday afternoon, April 18, Soqui will speak at the Central Library about his experiences as part of the Los Angeles Public Library's Photographer's Eye lecture series.)
I was at the Simi Valley courthouse when the jury came in – nobody could believe the verdict, but no one thought the city would blow up. Later I heard something on AM radio about rocks and bottles being thrown at Florence and Normandie, but didn't know the full situation and so didn't go down there.
There was no Internet or cell phones then and I got the news on KFWB: "There's a crowd forming at Parker Center." I drove there that night with a Nikon and three lenses – a 24mm, a 105mm and a 180mm. I didn't use a flash because cops were yelling, "Don't blind me with your flash!"
I parked next to a police car, thinking it was the safest place to be. But the mob turned it over and set it ablaze. Then they started rocking my car. I tried to get them to stop but they wouldn't. All of a sudden they scattered  – the ammo in the burning cop car started exploding. I took my chance and drove off, up the wrong way on a one-way street. I went home and developed my film — I also bought some more at Pix Camera. I was their last sale before a burst of gunfire went off and the owner shut down the store.
The next morning [Thursday, April 30] I met Doug Burrows, another photographer, at the Brite Spot diner in Echo Park – a big cop hangout. The idea was to get intel on what the LAPD was planning and then follow them. But we didn't get any because the cops didn't know what was going on — there was a feeling of unconcern in the diner.
So we just followed the smoke. That became the plan – you see smoke, you know there's a photo there.
We shot from Doug's car — sometimes we got out and I shot through a paper bag with a hole cut out for the lens, which I hid with my hand until I was ready to shoot. The only other person with a camera I saw was a famous war photographer who had two bodyguards with him – that was when I knew this was a big story.
As soon as we pulled into this one street the fire guys told us to leave – they said some other journalists had gotten robbed a while before and there was nothing the firemen could do for them. We did see some neighborhood people pulling together to put out fires, but it was mostly people taking advantage of the situation.
For the first two days after the National Guard arrived, they had guns but no ammo – and were told to hide that fact from photographers. Part of the Guard were the Tunnel Trolls – they'd taken so much fire that they spent nights sleeping in the Coliseum's tunnels. At one point some Playboy Playmates arrived to cheer up the Guard that were camped out at the Coliseum. I thought that was just weird and borderline inappropriate.
May First was "Mother's Day" – the day county checks come in. The Guard was there at the Hancock Station Post Office, on South Vermont, to make sure people could pick up their checks because there was no mail delivery. Everyone got paid that day.
Today there are very few visual scars of the rioting left. You can still see a section of distressed, black-and-white floor tiles on the corner of Vermont and Manchester. I think today people are more thoughtful in their responses to events like the King verdict  – you can see that with Trayvon Martin.
When I was taking some 20-years-after photographs for Los Angeles magazine, a Korean-American kid came up to me at Western and Sixth, and asked what I was doing. I explained that there had been a riot here with Korean stores singled out by angry mobs, but he couldn't understand the riot's racial mechanics – his best friend was black. But in 1990, 1992, it was all about race.
Other 1992 Remembered Posts:
Anthony Ausgang: The Artist's Story
Mike Davis: A Tale of Two Riots
Lovell Estell III: Hold the Flak Vest
Judith Lewis Mernit: The Ecology of Riot