Joe Burns: Bring Back the Strike!
Photo: Library of Congress
The American labor movement needs a jolt and Joe Burns' new book, Reviving the Strike,  delivers just the right shock treatment.
Debunking commonly held assumptions about labor's inevitable decline and extinction, Burns, a veteran union lawyer, argues clearly and persuasively that worker power is still possible — but will require a dramatic shift in thinking and strategy.
Don't expect standard academic or progressive bromides about "coalition-building," "corporate campaigns," "organizing-to-scale" or "social unionism." In taking on some of the labor left's sacred cows — living wage campaigns, worker centers, etc. — Burns praises and honors the commitment, brains and tenacity of activists. But these approaches, he suggests, lack the singular component necessary to transform power relations in the political economy. That, he contends, is the capacity to stop production.
Burns makes his case in a tightly-written narrative. After the union insurgencies of the 1930s, Congress and the courts imposed a system he calls "labor control," one designed to disable unions' principal and primary weapon: the strike. While acknowledging the disastrous impact of communist purges and union bureaucratization, Burns also holds progressive unionists complicit in labor's decline. In his chapter, "Why Organizing Cannot Solve the Labor Crisis," he alleges of their failure:
The main strategy that [the contemporary] labor movement has engaged in to deal with its dwindling numbers is "organizing the unorganized"  . . . [T]he idea that the labor movement can resolve its crisis simply by adding new members — without a powerful strike in place — actually constitutes one of the greatest theoretical impediments to union revival.
Although Burns challenges many other popular ideas,  including prevailing assumptions about "union density," I found myself agreeing with him more often than not. I enjoyed his sometimes counter-intuitive observations, such as his belief that on matters of strike theory and economics, the conservative Samuel Gompers and other early labor leaders in America were more radical than their descendants in today's labor left.
Burns also does a nice job describing his vision of working-class solidarity:
In the process of striking, the workforce develops a group consciousness. The most militant workers pull along their hesitant co-workers. This prompts people to do things they might not do as individuals. Ultimately, this is how large social movements are built.
Though his book's premise is sound and provocative, I was a little let down by Burns' conclusion that the strike somehow offers a new and radical alternative to what he sees as three decades of failure. I suppose no one really knows how to bring the strike – and the labor movement – back to its glory days. But Burns does us a favor by raising important questions. For union activists trying to recover from the disappointments of the Obama administration, Reviving the Strike may light a spark and get us talking.
REVIVING THE STRIKE: How Working People Can Regain Power and Transform America  By Joe Burns. IG Publishing, 224 pages. $15.95.

A Woman's Art Is Never Done: The Feminae Exhibition
A striking juxtaposition between the past and present courses throughout the small gallery. Celia Blomberg's "International Women's Day March 8" can't help but make one think of 2017's Women's March, which occurred 37 years after the print's first appearance.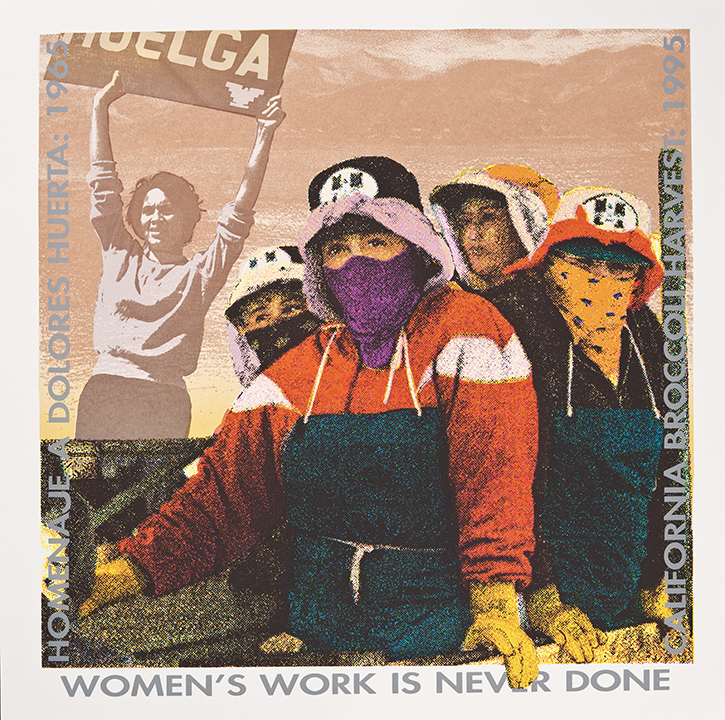 Among the 50-plus works in the Feminae: Typographic Voices of Women By Women exhibit is Yolanda Lopez's "Women's Work is Never Done." Lopez's title is particularly ironic, given the exhibit's gender-based subject matter. The show spans work from the past 50 years, making it easy to understand how much society is still grappling with its themes of gender inequality. Culled from the archives of the Center for the Study of Political Graphics, the graphic images of protest, persuasion and empowerment are truly works of art in their own right.
However, political posters aren't made to merely spruce up walls, but to help figuratively bring barriers down as well.
Two silkscreens from the 1970s, Liliana Porter and John Schneider's "This Woman is Vietnamese" and See Red Woman's Workshop's "So Long As Women Are Not Free People Are Not Free," are particularly powerful, underscoring, as they do, the fact that the subjugation and persecution of women crosses borders and cultures as an unfortunate shared global experience. These two pieces' stark simplicity exemplifies most of the work in the exhibit. In the former, a New York Times photo of a distraught Vietnamese woman with a gun held to her head is centered above these basic words typed out in a typewriter font: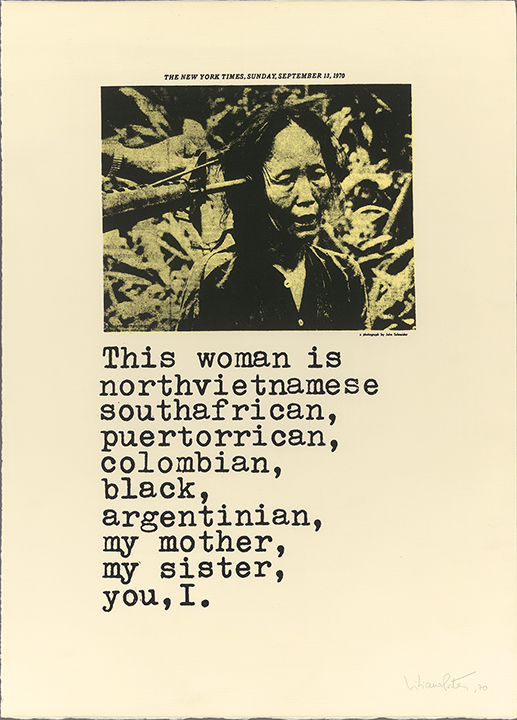 This woman is
northvietnamese
southafrican
puertorrican,
colombian,
black,
argentinian,
my mother,
my sister,
you, I.
By juxtaposing the photo with these words, the creators take the plight of this woman and immediately globalize her pain. In the latter, three female demonstrators are silkscreened in red onto a yellow background. They are marginalized by being stuck in the lower left third of the poster, but two of them are raising their fists skyward and their mouths are open, screaming in defiance. Its non-serif, eponymous type reads: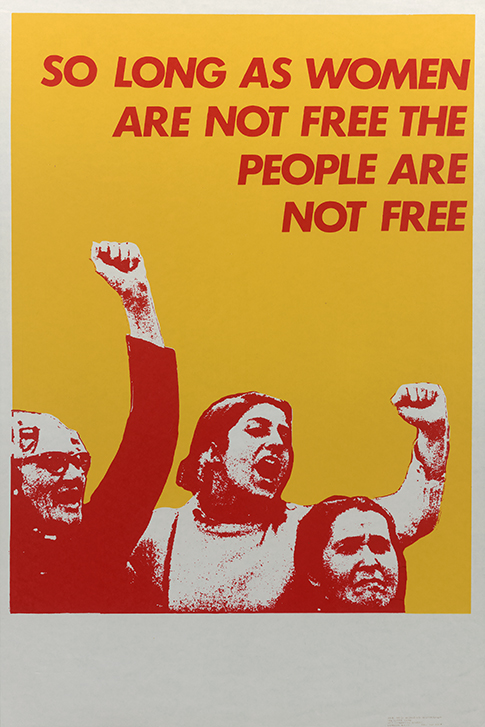 SO LONG AS WOMEN
ARE NOT FREE THE
PEOPLE ARE
NOT FREE
This piece's message takes the global message even farther, making the plight of women a human one — a common theme in the exhibition.
There is also a striking juxtaposition between the past and present that seethes throughout the small gallery. Celia Blomberg's "International Women's Day March 8" can't help but make one think of 2017's Women's March that would take place 37 years later. See Red Woman's Workshop's 1977 "Black Women Will Not Be Intimidated" could easily be repurposed to address the recent spate of blue-on-black brutality. Notable works by Barbara Kruger, Sister Corita Kent and the Guerilla Girls are also included.
Ironically , while it can be surmised that most of these works were made as populist posters to be distributed at the time as banners of protest, their beautiful simplicity and nostalgic elegance probably have resulted in the originals (mostly now found in art museums) sporting hefty vintage-resale prices.
But it is not just the art that has stood the test of time. The fact that the issues addressed in the show — feminism, choice, gender equality, war, immigration, police brutality or violence against women — are all issues at the forefront of debate in 2018 ultimately engenders conflicting feelings.
On one the hand, it is inspiring to see a vibrant exhibit that showcases such diversity in artistic styles, no doubt spawned by the diversity of the artists' own backgrounds. On the other hand, there is a realization that while there has been some progress over the past half century, there is so much work to be done.
Art Center's Hoffmitz Milken Center for Typography, 950 South Raymond Ave., Pasadena; through May 15.
---
Copyright Capital & Main